SR's Fab 5 is exclusively sponsored by Edmonson Electric • AC • Security – the official smart home and security company of PewterReport.com.
For the past 40 years, Edmonson Electric • AC • Security has proudly served central Florida with electric services and now proud to add state-of-the-art "Smart Home" technology, security systems and air conditioning to its roster.
Whether it's surveillance cameras, home theaters, or smart lighting, Edmonson Electric • AC • Security is automating your dream home. Visit EdmonsonElectric.com to find out more about controlling, monitoring and securing your home or call 813.910.3403 for additional information.
Control. Monitor. Secure.
FAB 1. White Comes Up Big In Bucs' Playoff Win
When Buccaneers general manager Jason Licht selected LSU inside linebacker Devin White with the fifth overall pick in the 2019 NFL Draft it raised some eyebrows around the league.
Not so much in the Tampa Bay area because Bucs fans that read PewterReport.com knew that the Bucs loved the play-making White from the fact that he was featured in nearly every mock draft we did starting with our first one in January of 2019. Yet there were some who criticized the selection, specifically in the national media, because the rule of thumb is that off-the-ball linebackers weren't worth drafting that high.
But the 6-foot, 240-pound White has 4.42 speed and was no ordinary off-the-ball linebacker. He was the play-maker the Bucs needed to pair with Lavonte David on defense.
After a promising rookie season that saw him make plenty of plays and finish with 91 tackles, 4.5 tackles for loss, four fumble recoveries, three forced fumbles, 2.5 sacks, two defensive touchdowns and one interception, White had an even better year in 2020 – and 2021 looks to be his best yet.
Sunday's 30-20 playoff win at New Orleans was one of the greatest Buccaneers' victories of all time (I list the Top 10 in Fab 2) because White had one of his greatest games in his young, two-year career. Returning from a two-game hiatus due to COVID-19, White was a difference-maker against the Saints, finishing with 11 tackles, a tackle for loss, a fumble recovery and an interception, which was his first of the season.
"It was great," said Bucs head coach Bruce Arians. "Just to see Devin make those plays – that's what he's capable of making. Everybody was criticizing how he can't cover anybody – I think he just proved that he can."
When asked if White's performance at New Orleans in the Bucs' divisional playoff win was the best of his young career, Arians said it was up there.
White's Top 5 Career Games In Tampa Bay
2020: 31-27 win at Atlanta – 12 tackles, 4 TFLs, 3 sacks 2 PBUs
2020: 30-20 win at New Orleans – 11 tackles, TFL INT, FR
2020: 45-20 win at Las Vegas – 11 tackles, TFL 3 sacks, FF
2019: 28-11 win at Jacksonville – 7 tackles, TFL, INT, FR, TD
2019: 40-34 OT loss at Seattle – 12 tackles, 2 FFs, 0.5 sack
"I would say it's one of them," Arians said. "He's had some really, really good ones. Obviously, the splash plays – the interception, the fumble recovery. The rest of it is just typical Devin – flying around making tackles. It was exactly what we expect of him. But the splash plays help make it one of his better games."
After the big win in his home state, the Louisiana native and LSU product deflected any individual praise.
"We did it all together," White said. "It ain't no individual credit for me. I'm just thankful – the only was Round 3 and we came down here to knock them out."
And knock them out they did – thanks to White's two takeaways in the second half that led to two Tampa Bay touchdowns. The first one came after safety Antoine Winfield, Jr. punched the ball out of Saints tight end Jared Cook's hands.
"I was in a certain defense I had the running back and I pushed the running back towards the safety single high," White said. "I saw Winfield kind of got beat inside, but I saw him punch at the ball. I was going in for the big hit because the tight end caught the ball. Winfield got it out, and it popped right into my hands. It was time to get busy. I turned into a running back."
White, who played running back and linebacker in high school, returned the fumble 18 yards, throwing a stiff arm as he rambled down to the New Orleans' 40-yard line.
"On my interception I was in a certain defense and I knew he was going to try to get the ball to Alvin Kamara," White said. "My coach already told me we would get a heavy dose of Alvin Kamara because he was really the only playmaker right now. I just knew wherever he was I was that's where I was going to be and I was going to make a play. I just want to shout out to God for allowing me to make that play and allowing me to overcome the COVID stuff. I'm just happy to be back with my squad."
White, who was named as a team captain in 2020, made plenty of splash plays for the Bucs during the regular season, leading the team with 140 tackles, 18 tackles for loss, nine sacks, four passes defensed, a forced fumble and a fumble recovery. Despite beating Atlanta in Week 17 and winning at Washington in the wild card playoffs, the Bucs defense missed White's play-making ability and the energy he brings to the defense during his COVID-related absence.
"It's huge, especially for him coming off a two-week hiatus, dealing with what we had to deal with. And then coming back in a big, key game for us playing against a division opponent in a divisional round of the playoffs, it was something that we expected out of him – him coming out with a lot of energy ready to fly around. He made a bunch of plays for us to win that football game. That's just Devin being Devin – just out there being a play-maker, having fun with it and doing what he loves."
In Tampa Bay's win at New Orleans, Bucs defensive coordinator Todd Bowles deployed a healthy dose of press-man coverage and blitzing that helped force four Saints turnovers on Sunday night. That was the same strategy he turned to in the second quarter of the Bucs' 38-10 come-from-behind win against Green Bay in Week 6, as Aaron Rodgers threw two interceptions and was sacked five times, including once by the blitzing White.
"It's all a team effort," White said. "I think the number one thing is Todd Bowles said, 'We're going to be feisty, we're going to challenge those guys' and he's going to take us over them. I said the same thing. I said, 'Man, I'm going to take my guys over their guys.' I know one thing – we might be young, but we can get after it when we've got our minds set to it. Everybody's saying it – 'Where's the Tampa Bay defense from the Green Bay game?' We were really feisty with them, we were really challenging them at the line of scrimmage and we were really getting after the quarterback. I think we had that same mentality."
White and the Bucs will need to keep that same mentality as they travel to Green Bay for a rematch with Rodgers and the Packers at Lambeau Field on Sunday in the NFC championship game.
"Man it was so hard going through COVID because I enjoy going to work," White said. "This is what I do. Man, this is what I always wanted to be growing up – an NFL football player. Now that I got it, I'm not taking it for granted.
"At the end of the day, it's a hard league. I went from not being in the playoffs last year to going to the NFC championship. What a difference a year makes."
And what a difference a difference-maker like White makes for the Bucs defense.
FAB 2. Bucs' Playoff Win Versus Saints Is One For The Ages
Tampa Bay posted an incredible playoff victory last Sunday in New Orleans, as the Bucs beat the Saints, 30-20, to advance to the 2020 NFC championship game at Green Bay. Where does that win rank in Bucs history? Let's take a look at the 10 biggest wins – which naturally includes all of the team's postseason victories – in Tampa Bay since the team's inception in 1976.
1. Bucs Beat Raiders, 48-21, In Super Bowl XXXVII – 2002
It's Tampa Bay's pinnacle achievement – the reason why every NFL team plays the game – to win a Super Bowl. The Bucs did just that during the 2002 season as the team caught lightning in a bottle in Jon Gruden's first year as head coach. After firing popular head coach Tony Dungy after another first-round exit in the playoffs with a loss at Philadelphia, the Glazers traded for Gruden in early February, and his offense paired with Monte Kiffin's dominant defense led the franchise to the Promised Land. The Bucs finished with a 12-4 record, the best in team history, and the defense, led by NFL Defensive Player of the Year Derrick Brooks and Pro Bowler Warren Sapp, wound up scoring nine defensive touchdowns that season, including three in Super Bowl XXXVII against Gruden's former team.
2. Bucs Beat Eagles, 27-10, In NFC Championship Game – 2002
Tampa Bay exorcised its demons, finally beating the Eagles in Philadelphia as Gruden's offense finally came to life with a big 73-yard catch-and-run from Joe Jurevicius to set up a touchdown run by Mike Alstott, the first touchdown scored by the Bucs offense in the last three trips to Veterans Stadium. The Bucs defense was magnificent with Ronde Barber's 92-yard pick-six being the best play in franchise history, sending Tampa Bay to its first ever Super Bowl. That play shut down The Vet in style.
3. Bucs Beat Eagles, 24-17, In NFC Divisional Playoffs – 1979
In just four short years, Tampa Bay went from expansion team to the NFC championship game, thanks to John McKay's potent ground game led by Ricky Bell, who rushed for 142 yards and two touchdowns, and the league's top defense, featuring NFL Defensive Player of the Year in Lee Roy Selmon, who had two scks. What was even sweeter was the fact that the Bucs' first ever playoff game was at home before a raucous sold out crowd at Tampa Stadium. The victory propelled the Bucs to the NFC championship game the next week at home where Tampa Bay would lose to the Los Angeles Rams, 9-0, in disappointing fashion.
4. Bucs Beat Saints, 30-20, In Divisional Playoffs – 2020
Similar to the team's 2002 playoff win at Philadelphia, Tampa Bay exorcised some recent demons win a massive victory at New Orleans against a Saints team that had beaten the Bucs five straight times. Tampa Bay's defense came to life with four turnovers, including three interceptions against Drew Brees that led to 21 points. Quarterback Tom Brady accounted for three touchdowns in a win that punched the Bucs' ticket for this Sunday's NFC championship game at Green Bay in a Week 6 rematch against Aaron Rodgers and the Packers.
5. Bucs Beat Saints, 33-14, For First Ever Win – 1977
After losing its first 26 games in franchise history, Tampa Bay finally won an NFL game, beating the Saints in New Orleans. McKay's Bucs went 0-14 in their inaugural season and then started off the 1977 season with a 0-12 record before a monumental victory against Archie Manning that would lead to the Saints firing head coach Hank Stram following the season. The Bucs defense recorded six interceptions, including three pick-sixes, to race out to a 26-0 lead. Thousands of Bucs fans greeted the team at the airport and team headquarters after Tampa Bay's first-ever win.
6. Bucs Beat Redskins, 14-13, In Divisional Playoffs – 1999
The 11-5 Bucs won the NFC Central division title for just the third time and hosted the Redskins in what became an epic defensive battle, as both teams' offense failed to produce even 200 total yards. Washington led 13-0 in the third quarter before John Lynch picked off Brad Johnson to spark Tampa Bay in the second half. Alstott raced about 25 yards laterally to dodge Redskins defenders on a 2-yard touchdown run, and rookie quarterback Shaun King threw a 1-yard touchdown pass to backup tight end John Davis to finish off the Bucs' comeback. Tampa Bay would lose at St. Louis in the NFC championship game the following week.
7. Bucs Beat Lions, 20-10, In Wild Card Playoffs – 1997
In just the second year of the Dungy era, the Bucs went 10-6 and ended a 14-year playoff drought by qualifying as a wild card team. Tampa Bay hosted NFC Central division foe Detroit and corralled Barry Sanders, holding the future Hall of Famer to just 65 yards on 18 carries. The Bucs' stingy defense knocked starting quarterback Scott Mitchell out of the game after Anthony Parker picked him off, and backup quarterback Frank Reich did little to move the offense. Warrick Dunn had 72 yards rushing and Alstott had 68 yards, including a 31-yard touchdown to propel the Bucs to just their second postseason victory in franchise history. Tampa Bay would lose the following week at Green Bay in the divisional playoffs.
8. Bucs Beat 49ers, 31-6, In Divisional Playoffs – 2002
Gruden's miracle playoff run as Tampa Bay's head coach included facing three teams he previously coached for, starting with San Francisco against good friend Steve Mariucci. Gruden's offense came to life with four first half touchdowns, including two scoring runs from Alstott and two TD passes from Johnson. Tampa Bay's defense sacked Jeff Garcia four times and forced five turnovers, including three interceptions from Garcia, who would later play QB for Gruden and the Bucs from 2007-08. After vanquishing the 49ers quite easily, the Bucs would get a shot at redemption against the Eagles in Philadelphia in the 2002 NFC championship game.
9. Bucs Beat Washington, 31-23, In Wild Card Playoffs – 2020
Brady's first postseason game with the Bucs is one for the ages as he threw for 381 yards and a pair of touchdowns in a game the team never trailed in. Running back Leonard Fournette rushed for 93 yards and a touchdown, while receiver Mike Evans caught six passes for 119 yards as Tampa Bay ended a 12-year playoff drought. Washington backup quarterback Taylor Heinicke played well, accounting for 352 yards and two touchdowns to give the Bucs defense a scare, but the team just didn't have the firepower to keep up with Tampa Bay's offense, which generated 507 yards of total offense. Tampa Bay would advance to the divisional round to play at New Orleans next.
10. Bucs Beat 49ers, 13-6, In Season Opener – 1997
The only other regular season win that had any major significance to compare to a postseason victory was the 1997 season opener – and for a lot of reasons. First, it would be the final season in the Big Sombrero, as construction had begun on the new Raymond James Stadium, which would open in 1998. Second, it was the debut of the Bucs' new pirate flag logo and red and pewter uniforms. Third, and perhaps most importantly, Tampa Bay was a big underdog against Steve Young and Jerry Rice and the 49ers, but Hardy Nickerson and Sapp proceeded to knock both out of the game with injuries in the first half. That win put the Bucs on the cover of Sports Illustrated and propelled a five-game winning streak that turned into a 10-6 playoff season.
So where would the Bucs beating the Packers in this week's NFC championship game rank in terms of the best victories in Tampa Bay history? That triumph would be inserted into the No. 3 spot right behind the 2002 NFC championship win at Philadelphia as the Bucs would be headed to just their second-ever Super Bowl – one that would be held at Raymond James Stadium.
FAB 3. Rewind Divisional Playoffs – Fast Forward NFC Championship Game

Not having open locker room at One Buccaneer Place and restricted media access to players this year due to COVID-19 has forced me to do less feature segments on players and more analysis on the games. So I'm using the Fab 3 section – called Rewind – Fast Forward – to share some observations from the Bucs' last game as well as my analysis in previewing the next one. Enjoy.
REWIND: Divisional Playoffs at New Orleans
• Tampa Bay's defense not only helped the offense by creating four takeaways that led to 21 points, but also covering a lot of ground to help ensure that the Bucs got the ball in the end zone. Tampa Bay had 83 return yards on the three Drew Brees interceptions and also Devin White's fumble return. Sean Murphy-Bunting returned Brees' first pick 36 yards down to the New Orleans' 3-yard line, leading to a 3-yard touchdown catch by Mike Evans on the next play. White returned his fumble recovery 18 yards to the New Orleans' 40-yard line, and ran his interception back 28 yards to the Saints' 20-yard line. Tom Brady capped off those drives with a TD pass to Leonard Fournette and a 1-yard scoring plunge.
• Bucs slot cornerback Sean Murphy-Bunting has been one of Tampa Bay's most productive defenders in the playoffs with three pass breakups and two interceptions in wins over Washington and New Orleans. Murphy-Bunting recorded just three pass breakups and one interception in 16 regular season games during the entire 2020 campaign. Battling through injuries and confidence issues earlier in the season, Murphy-Bunting is playing his best football right now when the Bucs need that level of play the most.
FAST FORWARD: NFC Championship Game at Green Bay

• It's incredible to think that Bucs nose tackle Vita Vea will suit up and play against Green Bay after suffering a fractured ankle in Week 5 at Chicago. The 340-pound nose tackle returned to practice and moved well, according to head coach Bruce Arians. Vea missed the Bucs' 38-10 win over the Packers in Week 6 because he suffered his ankle injury the week before, but he could play a vital role in not only run defense, but helping inside linebacker Devin White rush the passer on A gap blitzes.
• Speaking of White, the Bucs will need another dominant performance by their middle linebacker against Green Bay. In Tampa Bay's 38-10 win in Week 6, White helped shut down Packers running back Aaron Jones, holding him to 15 yards rushing and a touchdown on 10 carries. White had 10 tackles, three tackles for loss and a sack in that game. The Packers have a three-headed monster in the ground game, which is led by Jones, but also features capable big backs in Jamaal Williams and rookie A.J. Dillon. Jones and Dillon averaged over 5.2 yards per carry during the regular season, while Williams averaged 4.2 yards per carry. Against Tampa Bay in Week 6, Williams averaged 8.5 yards with four carries for 34 yards, while Dillon averaged 6.2 yards with 31 yards on five carries. The lopsided score favoring the Bucs prevented the Packers from giving those two young backs more touches, as Green Bay finished the game with a collective 94 yards rushing and a 4.5-yard average in the first meeting this year.
• I wonder if the Bucs switch things up offensively, using Mike Evans on the right side of the formation as opposed to the left side. Evans is Tampa Bay's split end or "X" receiver, playing on the side opposite of where the tight end lines up when he's not lining up in the slot for some favorable match-ups. That's usually the right side, and that would mean matching up with Kevin King. Green Bay's 6-foot-3 cornerback typically plays on the right side of the Packers defense. The 6-foot-5 receiver can win that match-up because he's more talented, but Evans' big frame could become even more of an advantage against Jaire Alexander. While Alexander is the best cornerback on Green Bay's defense, he's only 5-foot-10, 196 pounds. Alexander plays on the left side of the Packers defensive alignment, so don't be surprised if Evans lines up on the right side against him to create a seven-inch size mismatch that favors Tampa Bay.
• Bucs wide receiver Antonio Brown will be a game-time decision on Sunday due to a knee injury, but Tampa Bay's offense has plenty of firepower without him. It's not even the A-list stars like receivers Mike Evans and Chris Godwin and tight end Rob Gronkowski that can pose a threat to Green Bay's defense. It's also role players like tight end Cameron Brate, running back Leonard Fournette and reserve receivers like Scotty Miller and Tyler Johnson that can make plays for Tom Brady, too. Brate leads the Bucs in receiving yards in the postseason with 130 on nine catches, while Fournette has 83 yards and a touchdown on nine catches. In last week's 30-20 win at New Orleans, Miller came up with a big, 29-yard catch on third down in the fourth quarter, and Johnson made an acrobatic, 15-yard catch on third down to keep the chains moving.
FAB 4. 4 Match-Ups To Watch – Bucs at Packers
Bucs OLB Jason Pierre-Paul vs. Packers LT Billy Turner
Turner played right tackle in Week 6 at Tampa Bay and struggled with a 47.9 overall Pro Football Focus grade, including a 42.9 pass blocking grade. Turner gave up six pressures, including four hurries, one QB hit and one sack to Pierre-Paul in a 38-3 loss to the Buccaneers. Turner is not a bad player, he just had a bad game, as the Packers have moved him over to the left side to replace David Bakhtiari, who had a 91.8 overall grade from PFF with 91.6 pass protection grade before suffering a torn ACL on December 31 in practice. For the year, Turner has allowed 18 hurries, six QB hits and two sacks.
Pierre-Paul, who had a 66 overall grade from PFF and a 69.6 pass rush grade during the season, had 1.5 sacks against the Packers in the last meeting. Pierre-Paul, the Bucs' lone Pro Bowler, has struggled over the last five weeks, failing to register a sack over that span and recording a combined five tackles in two playoff games. Pierre-Paul has a 46.5 PFF grade in the postseason and a 56.5 pass rushing grade. The Bucs need Pierre-Paul to return to Week 6 form when he recorded six tackles and 1.5 sacks, including a half sack against left tackle Rick Wagner, who replaced Bakhtiari in the second half of that game.
ADVANTAGE: Push
Bucs CB Carlton Davis III vs. Packers WR Davante Adams
Adams has had a monster season for Green Bay despite missing three games, recording 124 receptions for 1,440 yards and 19 TDs, including last week's playoff win against Los Angeles. Adams has an unreal connection with quarterback Aaron Rodgers and has a 92.4 overall grade from PFF this year in part because he only had one drop during the entire 2020 campaign. Adams, who has an ideal mix of size, speed and route-running ability, has produced seven 100-yard games this season.
Davis, who led the Bucs with four interceptions this season, has a 69.4 overall grade from PFF and a 68.4 coverage grade. Davis played a huge role in holding Saints star receiver Michael Thomas to zero catches in Sunday's 30-20 win at New Orleans. Davis did a solid job of covering Adams last time in Week 6, limiting him to 61 yards on six catches, recording a 72.9 overall PFF grade for that game, including a 72.4 coverage grade. Both of Rodgers' two interceptions were on passes in which Adams was targeted and Davis was covering Adams on Rodgers' second INT.
Advantage: Push
QB Tom Brady vs. SS Adrian Amos
Amos is one of Green Bay's top defenders with an 89.1 PFF grade and a 91.5 coverage grade. The six-year safety was the Packers' top tackler with 83 stops along with nine pass breakups, two interceptions and two sacks, proving that he can affect opposing passers in different ways. Amos will occasionally see some time playing deep in Green Bay's Cover 2 looks, but Darnell Savage, who leads the team with four interceptions, typically is the deep safety with Amos playing in the box and guarding tight ends in man coverage. Amos posted three tackles in Green Bay's Week 6 loss at Tampa Bay and wasn't much of a factor in that game.
Brady, who has a 93.3 overall PFF grade and a 92.3 passing grade this season, completed 17-of-27 passes for 166 yards with two touchdowns and no interceptions in the Week 6 game against the Packers. Brady often does a masterful job of manipulating safeties with his eyes to create favorable one-on-one match-ups downfield for his receivers, but seven of Brady's 12 interceptions this year have come from safeties. He'll need to be aware of where Amos is lined up on every play and be wary of his blitzes.
Advantage: Brady
Bucs WR Mike Evans vs. Packers CB Kevin King
The job of guarding Evans will fall to King as he primarily plays right cornerback in Green Bay's defensive alignment while top cornerback Jaire Alexander plays almost exclusively on the left side. Because Evans plays the split end position, he typically likes up on the left side of the Bucs' formation and will go against King, who didn't play in the Week 6 game at Tampa Bay due to injury. King hasn't had a great year in coverage, with a 51.2 grade in that area from PFF and a 55.3 overall grade. While he doesn't have any interceptions and just five pass breakups in 12 games in 2020, King hasn't allowed a touchdown, either.
Evans was banged up in the first meeting against Green Bay this year and finished with just one catch for 10 yards. Because of the lopsided score with the Bucs winning 38-10, Tampa Bay didn't need much production out of Evans in Week 6, but that won't be the case in the NFC championship game. Evans has a 75 overall grade from PFF this year and scored a single season-record 13 receiving touchdowns in 2020, adding another TD catch in the postseason in last week's win at New Orleans. He'll need a big day against King to help the Bucs advance to the Super Bowl.
ADVANTAGE: Evans
FAB 5. SR's Buc Shots
• BALDY BREAKS DOWN DEVIN: Fox Sports NFL analyst Brian Baldinger did a great job with a video breakdown of Tampa Bay inside linebacker Devin White's performance against Green Bay in Week 6. Definitely worth your time – give it a watch.
.@packers v @Buccaneers @DevinWhite__40 and the #Packers had no answer for his speed in the wk 6 matchup. While it is a totally different game this Sunday; you have to game plan is speed and speed of recognition. He can blow up your run game if you don't. #BaldysBreakdowns pic.twitter.com/vm1SDJsEjU

— Brian Baldinger (@BaldyNFL) January 19, 2021
• GOOD NEWS FOR THE BUCS: CBS Sports dug out a statistic that should excite the Buccaneers and their fans this week as Tampa Bay travels to Green Bay to play in the NFC Championship Game.
The Buccaneers are trying to become the 4th Wild Card team since 1990 to make the Super Bowl.

ALL 3 teams before them WON the Super Bowl. pic.twitter.com/gt1XNE8DuP

— CBS Sports HQ (@CBSSportsHQ) January 20, 2021
• BUCS AT PACKERS NFC CHAMPIONSHIP GAME PREVIEW ON THE PEWTER REPORT PODCAST: The Pewter Report Podcast is energized by CELSIUS and broadcast live four episodes per week – post-game on the weekend after the game with additional episodes on Monday, Wednesday and Thursday – with a new time during the playoffs at 7:30 p.m. ET – to recap all of the action from the previous Bucs game and get you ready for the next one.
We'll be live on Sunday evening 30 minutes after Tampa Bay's divisional playoff game at New Orleans, in addition to Pewter Report Podcasts on Monday, Wednesday and Thursday next week to prep you for the team's Super Bowl appearance if the Bucs advance.
Watch us live on our PewterReportTV channel on YouTube.com and please subscribe (it's free) and add your comments. All of our Pewter Report Podcasts will be posted there so you can go back and watch the recorded episodes if you missed it live.
The audio versions of the Pewter Report Podcasts will continue to be found on iTunes and Soundcloud. Here are links to a few of the most recent episodes, including Wednesday's Bucs at Packers preview podcast and Thursday's podcast, which featured The Athletic's Ted Nguyen.
Pewter Report Podcast Episode 273: How To Stop Aaron Rodgers 101 with Ted Nguyen
Pewter Report Podcast Episode 272: NFC Championship Preview – Bucs at Packers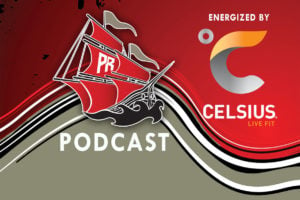 There is no better time to listen to a new Pewter Report Podcast – energized by CELSIUS – than right now or early Saturday morning during your workout or while running errands.
The popularity of the Pewter Report Podcast continues to grow. In addition to listening to the Pewter Report Podcasts on PewterReport.com you can also subscribe to the free podcasts at PodBean by clicking here and on SoundCloud by clicking here. And of course the Pewter Report Podcast is also available on iTunes and YouTube. Make sure you subscribe so you don't miss a single episode.
• WHITE REVEALS BUCS' IDENTITY: On Sunday's post-game Zoom conference call with the media, Bucs inside linebacker Devin White discussed Tampa Bay's turnaround from November in which the team lost three of four games prior to the bye week. White said that head coach Bruce Arians gave them a fiery talk that helped fix the Bucs' mindset, as Tampa Bay has now won six straight games since the bye week.
"We had to look at ourselves in the mirror and challenge ourselves on who we wanted to be," White said. "Everybody always asks what was our identity. You know we didn't have an answer. Coach B.A., he had an answer. He said, "We're some mother-*#$&ers that are going to find a way to win a game, and that was the best thing I ever heard because I went on Good Morning Football and they asked me the same thing (earlier) and I didn't really know. I said we were going to figure it out, but when he said that it really clicked. In this league the only thing that matters is winning. With him saying that, it just did it for everybody."
Share On Socials