SR's Fab 5 is exclusively sponsored by Edmonson Electric • AC • Security –
the official smart home and security company of PewterReport.com.
For the past 40 years, Edmonson Electric • AC • Security has proudly served central Florida with electric services and now proud to add state-of-the-art "Smart Home" technology, security systems and air conditioning to its roster. Whether it's surveillance cameras, home theaters to watch the Bucs play, or smart lighting, Edmonson Electric • AC • Security is automating your dream home.
Visit EdmonsonElectric.com to find out more about controlling, monitoring and securing your home or call 813.910.3403 for additional information.
Control. Monitor. Secure.
FAB 1. Would The Bucs Trade For Watson?
Some NFL team will trade for Deshaun Watson this year once his legal situation stemming from alleged sexual assault/misconduct is resolved.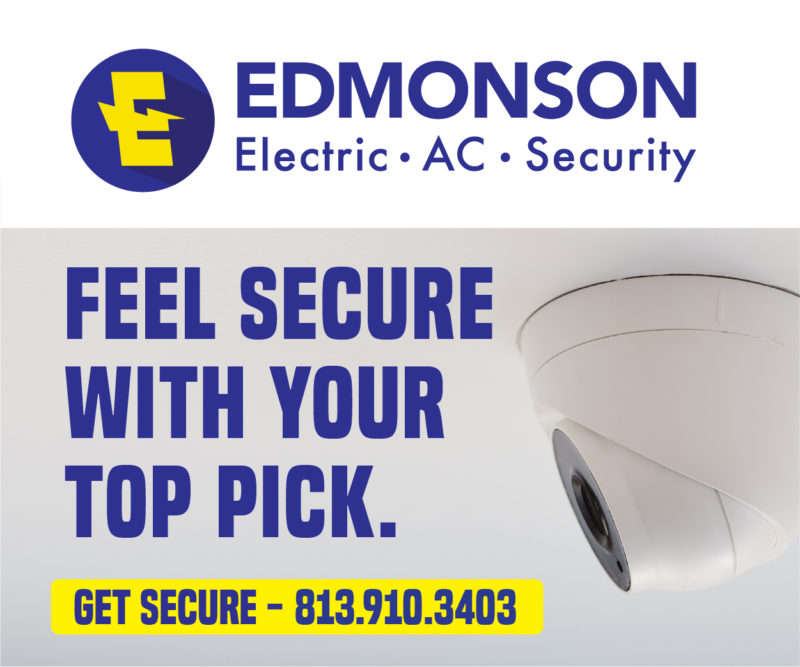 Why not Tampa Bay?
A report this week from ESPN's Jeremy Fowler suggested that Watson is investigating possibly playing for the Bucs or Vikings. He has a no-trade clause in his contract that gives him control regarding which team he could be traded to. Tampa Bay is also doing its due diligence on Watson's legal situation now that Tom Brady has (allegedly) retired after two seasons in red and pewter.
To avoid any potential tampering charges because Watson is under contract with the Texans, his agent told CBS Sports' Josina Anderson that Watson has not talked to teams about a possible trade.
I spoke with Deshaun Watson's agent. He says there's no truth that Watson is eyeing the Bucs, Vikings or any teams ahead of free agency. "We haven't had any talks among ourselves or with teams about possible destinations as we are focused on clearing Deshaun's name at this time."

— IG: JosinaAnderson (@JosinaAnderson) February 17, 2022
Watson is being accused of inappropriate touching by 22 women, including multiple massage therapists, and other sexual misconduct including allegations of forced oral sex. Ten of those women have also filed police complaints against Watson.
Of course if Watson is criminally charged with indecent assault and sent to jail then all bets are off. That would likely be the case too if the NFL decided to suspend Watson for an exorbitant amount of time, such as a year, due to violating the league's code of conduct.
It would be hard to justify trading multiple premium draft picks for a player that couldn't help the Bucs for a whole season.
Former Pittsburgh quarterback Ben Roethlisberger was originally suspended six games in 2010 over sexual assault allegations. But that ban was reduced to four games. Even former Tampa Bay QB Jameis Winston was suspended six games in 2018 for allegedly groping a female Uber driver. But that suspension was lowered to three games when he agreed not to appeal.
That leads us to the Bucs franchise and the players that have had sexual assault allegations levied against them. Tampa Bay general manager Jason Licht and head coach Lovie Smith used the first overall pick to draft Winston in 2015 despite sexual assault allegations at Florida State hanging over his head.
Winston later settled with his accuser after being drafted by the Bucs. No criminal charges ensued, which was key.
Then the Bucs stood by Winston during his NFL suspension in 2018 regarding the Uber driver allegations. That was another incident where he settled civilly with his accuser and avoided any criminal wrongdoing. Again, that was key.
Tampa Bay even signed wide receiver Antonio Brown in 2020 with a sexual assault allegation hanging over his head. That civil case was also settled, and there were no criminal charges stemming from the incident.
My point is that – right or wrong – the Bucs have taken chances with multiple players that have had sexual assault allegations levied against them. It certainly can happen again in Tampa Bay with Watson if he can avoid being charged criminally.
There will be some Bucs fans turned off by the allegations of Watson's 22 accusers if a trade happens. We'll get into that in a moment. But Tampa Bay won a Super Bowl in 2020 and this fan base got awfully used to winning in a hurry. That can happen to a franchise after not making the playoffs for a dozen years.
That's why a large contingent of Bucs fans are hoping (and praying) Licht and head coach Bruce Arians can swing for the fences and land a big-time quarterback to succeed Brady and keep the good times rolling.
It's doubtful it happens with Green Bay's Aaron Rodgers or Seattle's Russell Wilson. Both are NFC quarterbacks and teams typically prefer not to trade within the conference. But a trade for Watson might actually be more doable for one big reason – he's actually on the trading block right now.
Watson's Legal Issues Clouds Any Trade – Right Now
Houston is looking to deal Watson after paying him his $10.54 million salary not to play last year. The Texans are asking for three first-round picks and a pair of second-round picks as compensation. Miami reportedly came close to pulling the trigger last year before the trade deadline.
It is believed that the Dolphins would have dealt for Watson if he had settled the 22 civil suits prior to the trade. That didn't happen and Watson has maintained his innocence. He has not made any known attempts at settling any of the civil suits so far.
The Bucs and other interested teams are waiting for the outcome of the investigation by the Houston Police Department into the 10 criminal complaints, which should happen within the next few weeks. No charges have been filed yet and no indictments have been issued.
The criminal complaints have gone to a grand jury for investigation and that is expected to conclude in a matter of weeks. It is believed that the prosecutor would be seeking indecent assault charges, which are a misdemeanor and not a felony, which is good news for Watson.
There is also the chance that whatever team that trades for Watson this year might have to deal with a suspension in the 2023 season – even if he is not charged criminally. NFL insiders John Clayton and Ben Maller have both reported that Watson won't be deposed for his civil suits until February 22, 2022.
"As has been reported, Watson won't be deposed until Feb. 22, 2022. The court systems in Houston are so slow that the next step won't happen until right after the Super Bowl," Clayton wrote. "Maller projects that trials won't start until May of 2022. Even though Watson could try to look to settle the cases, his attorney says that won't happen. The cases could go through June and July of next year.
"Maller points out the NFL usually doesn't go back and utilize "time served" when it comes to suspensions. So if Watson is found guilty next year after the start of camp, the league could suspend him into the 2023 season."
So there could be a scenario where a team like Tampa Bay trades for Watson and he's not forbidden to play in 2022 by the league if no criminal charges are filed and his civil suits haven't reached a conclusion. Should those civil suits conclude later this year or in 2023, then the league could suspend him for multiple games in the 2023 season.
Watson's Contract Situation
Watson, who was the 12th overall pick in the 2017 NFL Draft, has played four years in the league before sitting out the 2021 season. He and the Texans signed a four-year, $156 million contract extension on January 28, 2021 – shortly before news broke in March of Watson's alleged sexual assaults.
Watson's extension, which runs through 2025, included a $27 million signing bonus and $110,717,123 in guaranteed money. His contract pays him an average of $39 million per season. The Bucs paid Brady $25 million per season by comparison.
Watson is scheduled to earn a base salary of $35 million in 2022, $20 million in 2023, and $32 million in both 2024 and 2025. Of course the Bucs – or any team trading for Watson – could restructure his deal to lower his salary cap number for the 2022 season. Tampa Bay would undoubtedly have to do that upon trading for him to free up enough cap space to re-sign the likes of wide receiver Chris Godwin and other free agents.
If Watson is found to have violated the league's personal conduct policy, which will likely happen, any guaranteed money in his contract may be voided.
Watson's Fit With The Bucs
Rodgers will be 39 in December. Minnesota's Kirk Cousins turns 34 in August. Wilson will turn 33 in November. Those are the three most talked about quarterbacks when it comes to trade rumors aside from Watson.
Watson will only be 27 in September. He didn't play last year so that saved a year's worth of wear and tear on his body. If the Bucs could land a star franchise quarterback under the age of 30 it would be quite a coup, and a nice follow-up from Brady.
Watson has a strong, accurate arm that is capable of functioning well in Arians' vertical-based passing attack. He completed 67.8 percent of his passes in Houston for 14,539 yards with 104 touchdowns and 36 interceptions.
After an 11-5 season in 2018 and going 10-5 as a starter in 2019, Watson had his finest statistical season as a pro in 2020 despite the Texans finishing 4-12. Watson completed 70.2 percent of his passes for 4,823 yards with 33 TDs and 7 INTs.
While he is considered to be a pocket passer, Watson brings tremendous mobility to the table. That's an added dimension that none of Arians' starting quarterbacks really had. Winston is the most mobile QB that Arians has coached since Ben Roethlisberger, but even he isn't the scrambler that Watson is. Watson ran for at least 400 yards in each of the last three seasons and has 1,677 rushing yards in his NFL career. He's averaged 5.5 yards per carry and scored 17 rushing touchdowns.
Watson's scrambling will get him in some trouble with sacks, though. He was sacked 174 times in four years in Houston, including a league-high 62 times in 2018. In his last season with the Texans, Watson was sacked 49 times in 2020.
The three-time Pro Bowler (2018-20) led the Texans to the playoffs in 2018 and 2019. He's 1-2 in the postseason with a 22-19 win over Buffalo during the 2019 campaign. Watson has completed 63.5 percent of his passes for 870 yards with four TDs and one INT in three playoff games. And he's carried the ball 28 times for 168 yards (6.0 avg.) with two touchdowns.
What Would It Take To Land Watson?
Texans general manager Nick Cesario and Licht have a good relationship dating back to their time together in the Patriots organization. That could help any possible trade talks. While the supposed price of three first-round picks and a pair of second-round picks seems like a steep price for the Bucs to pay, keep in mind that Tampa Bay picks No. 27 this year.
With each NFL Draft really only having maybe 15-20 players with legitimate first-round talent, the Bucs would essentially be surrendering a second-rounder this year. The hope is that with Watson at the helm, Tampa Bay would become a perennial playoff team and that each of those first-round picks that would be dealt to Houston would be late first-rounders.
It would be a different story if the Bucs picked 10th or 12th. The Bucs' late first-rounder could be a detriment if other teams with higher draft picks are interested in taking the chance and dealing for Watson. Those teams might win out in the Watson trade sweepstakes – should it ever materialize. With Houston having Davis Mills at quarterback, Tampa Bay could deal Kyle Trask to the Texans in lieu of a second-round pick. That could create competition in Houston for the QB job in 2022.
I'm not saying that there is a great chance of the Bucs pulling off this trade. But Tampa Bay is legitimately investigating the situation and could be interested in making a deal for Watson. The Bucs have a pair of "no risk it, no biscuit" guys at the helm in Licht and Arians. The Glazers, the Bucs owners, have pulled off a couple of mega trades before in landing Keyshawn Johnson from the Jets in 2000 and Jon Gruden from the Raiders in 2002. And the franchise has a track record for rolling the dice on players embattled in sexual assault allegations.
Watson could be Brady's successor in Tampa Bay – if can avoid criminal charges.
FAB 2. If Brady Didn't Sign, Bridgewater Might've Been Bucs QB
The Bucs hit the jackpot in 2020 when Tom Brady was signed in free agency.
Have you ever wondered who the Bucs would have signed if they didn't land Brady? It wasn't going to be re-signing Jameis Winston, who Arians lost faith in after throwing 30 interceptions, including his NFL-record seventh pick-six just seven seconds into overtime in a loss to Atlanta in the season finale. That was the moment Arians was done with Winston for good.
So who was the backup plan if Brady didn't come to Tampa Bay?
In Bruce Arians' second book with Lars Andersen, which is called "A Season In The Sun," the Bucs head coach revealed that it would have been Teddy Bridgewater. In 2019, Bridgewater went 5-0 for New Orleans in relief of Drew Brees, who broke his thumb. One of those wins came against Arians and the Bucs that season.
"So initially we really zeroed in on Teddy Bridgewater," Arians said. "He was going to be our primary target."
Andersen details why Bridgewater was the other target, with the Bucs believing Brees was going to re-sign with the Saints for one final season.
"Bridgewater had started five games for the Saints in 2019, completing 67.9 percent of his passes, throwing nine touchdowns and only two interceptions, and compiling a career-high 99.1 passer rating. Arians loved the fact that Bridgewater rarely threw interceptions: the anti-Winston. Bridgewater was from Miami, Florida, which meant he would be used to playing in hot and humid conditions. And he was an accurate passer, a skill that Arians has long believed can't be taught once a quarterback has reached his sophomore year or so of college. 'You either have accuracy as a quarterback by the time you're about twenty years old or you don't,' Arians said. 'It's that simple. Sure you can improve a little on it, but not much. Accuracy is the number one most important physical skill a quarterback must have to me. It's much more important than arm strength.'"
So with Brady supposedly retiring after 22 seasons, the Bucs are on the lookout for another quarterback to lead a team with enough talent to make the playoffs for a third straight season. While backup QB Blaine Gabbert remains an attractive option due to his four years in Arians offense and a current chemistry with the Bucs receivers, tight ends and running backs, is Bridgewater still an option?
Bridgewater is a more accurate quarterback. And you just read about how important accuracy is to Arians. But what is an acceptable amount of accuracy for Arians?
Brady, the greatest quarterback of all time, completed 65.7 percent of his passes in his first year in Tampa Bay in 2020. Last year, Brady's accuracy improved to 67.5 percent. By comparison, Winston completed 60.7 percent of his passes in 2019, which was his only season in Arians' vertical-based offense.
Bridgewater has a 66.5 career completion percentage, and completed 69.1 percent of his passes in Carolina in 2020. But he threw just 15 touchdowns and 11 interceptions while going 4-11 as a starter. Last year in Denver, Bridgewater completed 66.9 percent of his passes with 18 touchdowns and seven interceptions. He went 7-7 as a starter with the Broncos.
So with 33 touchdowns and 18 interceptions and a starting record of 11-18 as a starter, the bloom has come off Bridgewater's rose. He's not as accurate as he was in New Orleans, nor is his touchdown-to-interception ratio as favorable. Bridgewater's record as a starter is not as good, either. And that's putting it mildly.
By comparison, Gabbert has a career 56.3 percent completion percentage, which is lower than Bridgewater's. As a starter for six games in Arizona, Gabbert completed 55.6 percent of his passes with six TDs and six INTs. In his three years in Tampa Bay, Gabbert has completed 59.3 percent of his passes with two touchdowns and no interceptions in limited relief duty.
Arians' last starting quarterback before he came to Tampa Bay, Carson Palmer, had a 62.5 percent career completion percentage. He had completed 61 percent of his passes in his two years in Oakland before Arians traded for him. He wound up completing 62.5 percent of his passes with Arians in Arizona.
So is Bridgewater still an option for the Bucs? Maybe – if Tampa Bay can't pull off a trade for a better quarterback. It might be a situation where Bridgewater is signed and Gabbert is re-signed. Then Arians lets both veterans duke it out with Kyle Trask for the right to start in a camp. That scenario may not be ideal for the Bucs and their fans, but it may be a realistic outcome in free agency.
FAB 3. Brady's Parting Shot At The Bucs?
Weeks ago, before Tom Brady made up his mind to announce his retirement from the NFL, I speculated that head coach Bruce Arians fired a salvo in Brady's direction when he announced that he would take over as play-caller if Byron Leftwich left Tampa Bay for a head coaching job after the season.
I think Arians wanted to assure Brady that if he returned he would have an experienced play-caller to deal with. Not an experienced coordinator like Kevin Garver or Thaddeus Lewis. Both Garver, the Bucs receivers coach, and Lewis, Garver's assistant, would be considered to replace Leftwich had he landed a head-coaching job.
On last Monday's "Let's Go! With Tom Brady, Larry Fitzgerald and Jim Gray" podcast, Brady may have fired a salvo at his own towards Tampa Bay. Brady, who has supposedly retired – without actually uttering the words "retired" or "retirement" – may be sending the Bucs message about "going for it" again in 2022. Brady spoke about the Rams' "all-in" approach to 2021, which culminated in winning Super Bowl LVI on Sunday.
"And I think Matt [Stafford] found that in the Rams and they found that in Matt. Matt was a very talented quarterback and he went to a very competitive organization where you have Aaron Donald there and you have Jalen Ramsey. And I know those guys are great competitors. He had Sean McVay who is a great young coach. And then they bring in, in the same year, they bring in Odell [Beckham], they go all in with Odell and he has a great first quarter and a half of that game. And they go and they trade for Von Miller. I really believe in that. You gotta go for it.
"No one's gonna hand deliver you these trophies. I think so many people in the NFL think that their time will come. And the reality is you gotta make it happen. You gotta go out there and you gotta do whatever it takes to get the job done and to put yourself in the positions to win Super Bowls, because these things are really hard to earn. You can't buy 'em, you gotta go earn 'em. And when you watch the Rams approach and, you know, they could go the other way, but it's not from lack of effort. That's an organization that's determined to go out there and win Super Bowls, and I have a lot of respect for that."
Is Brady sending a message to the Bucs that they need to "go for it" in free agency and make some real power moves and then he'll consider returning in 2022? I'm sure the team would love some assurances from Brady that he would consider returning to Tampa Bay this summer for training camp, after he spends some time with his family if they were aggressive in the offseason. If not, the Bucs need to prepare for life without Brady. Move on and find a new quarterback for 2022 and beyond.
FAB 4. Former Bucs In The News – And Not For Good Reasons
A couple of former Buccaneers made the news recently. I didn't have the chance to address these debacles on the Pewter Report Podcast. So I figured I would do so in this week's SR's Fab 5 column. Enjoy!
Houston, YOU Have A Problem
The Texans hired former Bucs head coach and Illinois head coach Lovie Smith to replace David Culley, who lasted just one season. What an absolutely awful hire. The Texans, Lions and Jaguars are all in the running for the worst franchise in the league. Houston might have just taken the lead.
The last time Smith was a good head coach was back in Chicago in 2012. That was a decade ago. He had a disastrous two-year run with the Bucs. He was actually worse than Greg Schiano, the coach he replaced. Smith went 2-14 in 2014, including a dubious 0-8 mark at home. The Bucs went 6-10 in 2015 before firing Smith after a horrible 8-24 record in Tampa Bay.
I was the first to call for Smith's firing after the Bucs blew a 24-0 lead at Washington. Tampa Bay lost, 31-30. I dubbed that game the "collapse at the capital." That loss dropped the Bucs to 2-4 on the season. I then doubled down on my call for Smith to be fired after losing to Chicago, 26-21 in the second-to-last game of the season.
Smith then went to the college ranks, where he suckered Illinois into hiring him. In five years at Illinois he had a record of 17-39, winning an average of just three games per season. His best year came in 2019 when he went 6-6 before losing the Redbox Bowl to Cal, 35-20. The Fighting Illini did upset No. 6 Wisconsin, 24-23, that year. That was Smith's signature win – but his team still finished with a losing record at 6-7 following its bowl defeat.
So why did the Texans hire Smith? Well, he was their defensive coordinator in 2021, and obviously Houston wanted some continuity. Heck, the Texans have achieved continuity – they had back-to-back four-win seasons. Houston went 4-12 in 2020 and 4-13 in 2021 under Culley and Smith.
Anyone who dares call Smith a defensive guru should have his or her head examined. Smith was a defensive guru back when the Tampa 2 scheme worked. Now there are so many offenses that have "two-beaters" in their playbook. The Tampa 2 can only be used as a change-up defense – not a staple.
With his job on the line, Smith kneecapped defensive coordinator Leslie Frazier in 2015. And he took over Tampa Bay's defense that season. The Bucs finished with the 26th-ranked scoring defense, allowing 26 points per game.
So how did Smith fare in Houston last year in his first season back in the NFL? The Texans had the 27th ranked scoring defense, allowing – you guessed it! – 26 points per game. Houston also ranked 31st in yards allowed. Smith's defense couldn't stop the run either, ranking 31st in rushing defense.
Good luck, Houston. If you wanted to go the defensive route, Todd Bowles would have been a much better hire.
Hargreaves' Super Blunder
It's almost impossible that the most boneheaded play in Super Bowl LVI came from an inactive player.
It's almost impossible that an inactive player can draw a penalty during the Super Bowl – or any NFL game.
Yet it happened to former Bucs cornerback Vernon Hargreaves III. After Bengals safety Jessie Bates picked off a pass in the end zone before halftime he was mobbed by teammates.
Including Hargreaves, who dashed onto the field from the sidelines wearing a hat, cut-off hoodie, shorts, socks and slides.
What were you thinking, Vernon?!
What an absolutely dumb-ass move!
Hargreaves drew an unsportsmanlike conduct penalty that backed the Bengals up to their 10-yard line. Cincinnati picked up a first down, but had to punt on fourth-and-14 from its own 17-yard line.
Antonio Brown wasn't the only NFL player who should have been fired on the sidelines of a game this year. If I were Zac Taylor, I would have cut Hargreaves on the spot.
Hargreaves was Tampa Bay's first-round pick in 2016. He allowed the most receptions (80) and the most yards (1,065) of any cornerback in the league that year. Hargreaves was cut after a 30-27 win against the Cardinals in the 2019 season because he was loafing.
It's fair to say Hargreaves gave great effort and was hustling during his end zone celebration in the Super Bowl. That might be the last time he steps foot on an NFL field after that blunder, though.
FAB 5. SR's Buc Shots
• WHO WOULD BUCS BE COMPETING WITH FOR WATSON OR ANOTHER QB ON THE TRADE MARKET? With several lowly teams like Jacksonville (Trevor Lawrence), the New York Jets (Zach Wilson), Chicago (Justin Fields), and San Francisco (Trey Lance) investing first-round picks in quarterbacks last year, and the Giants committing to Daniel Jones for another season, which teams would be competing with Tampa Bay to trade for Deshaun Watson or another veteran QB? The teams to keep an eye on are New Orleans, Carolina, Denver, Washington and Pittsburgh. Other teams that could part ways with their current starter to seek an upgrade at the QB position would be Indianapolis, Cleveland, Miami and possibly Las Vegas.
• MOST BUCS FANS POLLED WOULD FAVOR A TRADE FOR WATSON: The Athletic's Greg Auman put up a Twitter poll asking Bucs fans how they would feel about the team acquiring Deshaun Watson. A majority (47.3 percent) of the 6,277 respondents said they would support it. Next was 27.3 percent of the respondents saying they weren't sure. Only 25.4 percent said they would be opposed to it.
As a fan, how would you feel about the Bucs acquiring Texans QB Deshaun Watson?

— Greg Auman (@gregauman) February 16, 2022
In a similar poll conducted on our PewterReportTV YouTube channel that has over 650 votes so far, 53 percent of Bucs fans would support trading for Watson with 33 percent opposed and 14 percent not sure. Feel free to visit the poll and cast your vote.
• BUCS OFFSEASON OUTLOOK DISCUSSED ON THE PEWTER REPORT PODCAST: The Pewter Report Podcast is energized by CELSIUS and broadcasts four live episodes each week. Pewter Report Podcasts will be on Monday, Tuesday, Wednesday and Thursday typically at 4:00 pm EST unless we have a special guest. Last week the Pewter Report team featured every offseason position with an Offseason Outlook podcast. This week we'll discuss the latest Bucs news and preview free agency.
Jon Ledyard and Scott Reynolds discussed the future of the Bucs quarterback position on Monday.
Reynolds and JC Allen analyzed Tampa Bay's running back position for the 2022 season on Tuesday.
Ledyard and Reynolds broke down the Bucs offensive line situation heading into free agency on Wednesday.
Ledyard, Kasey Hudson and Matt Matera previewed receiver and tight end positions on Thursday's show.
Watch the Pewter Report Podcasts live on our PewterReportTV channel on YouTube.com and please subscribe (it's free) and add your comments. We archive all Pewter Report Podcasts. So you can watch the recorded episodes if you missed them live.
There is no better time to listen to or watch a new Pewter Report Podcast – energized by CELSIUS – than Friday afternoon on the way home from work. Or early Saturday morning during your workout or while running errands.
The popularity of the Pewter Report Podcast continues to grow. In addition to listening to the Pewter Report Podcasts on PewterReport.com you can also subscribe to the free podcasts at PodBean by clicking here and on SoundCloud by clicking here. And of course the Pewter Report Podcast is also available on iTunes and YouTube. Make sure you subscribe so you don't miss a single episode.
• IS TAMPA READY FOR BANDIT BALL 2.0? If you already miss football and don't want to wait until NFL preseason games kick off in August, the USFL has been reborn and begins play in April. The Tampa Bay Bandits are back with a similar logo and red, white, black and silver uniforms. The Bandits were one of the newer USFL teams when the league began in 1982 with Tampa Bay's franchise starting in 1983. Coached by Steve Spurrier, the Bandits finished with a 35-19 record in three seasons before the league folded in 1985.
Back in the early '80s, the Bandits were quite popular, drawing tens of thousands of fans to the old Bucs stadium. Actor Burt Reynolds was one of the minority owners, and country music legend Jerry Reed sang the Bandit Ball theme song.
The 2022 Bandits, who will be coached by Todd Haley, are one of eight teams in the new USFL. The others are the Michigan Panthers, Pittsburgh Maulers, Philadelphia Stars, New Jersey Generals, New Orleans Breakers, Houston Gamblers and Birmingham Stallions. The league introduced the uniforms for the Bandits and the other teams on Thursday, February 17.
The problem with the USFL is that all games will be played in Birmingham, which is where the league is headquartered. There won't be any games in Tampa Bay or the other team cities. In the first year, the league is trying to reduce expenses for travel, so all eight teams will be stationed in Birmingham. Not a great way to foster interest in a new league in other markets. We'll see how long the USFL lasts, or if it folds quickly like the XFL did a few years ago.
Share On Socials