Each week I'll look back at and break down the Bucs' most valuable plays from their past game, in terms of Expected Points Added.
Expected Points Added, or EPA, is a statistic that was created to measure the value of each play during a football game in terms of points. EPA is essentially trying to put a value on how many net points a team can expect to gain based on the result of an individual play, while taking the down-and-distance and the team's field position into account.
For example, a 5-yard run from the 50-yard line on first-and-10 is weighed differently than a 5-yard run inside the opponents 10-yard line on third-and-2.
You can read all about Expected Points Added here, including examples.
The plays shown are measured from the offense's perspective, so plays made by Tampa Bay's offense will result in a positive EPA for the Bucs and plays made by Tampa Bay's defense will result in a negative EPA for their opponents.
Below are the Bucs' highest-valued plays by Expected Points Added, per rbsdm.com by Ben Baldwin, from their big Week 8 victory over the New York Giants.
Sean Murphy-Bunting, Interception: -4.9 EPA
After taking a 2-point lead late in the third quarter on a field goal from Graham Gano, the Giants forced Tampa Bay to punt on their ensuing drive and New York took over at their own 43-yard line looking to extend their late lead.
In four plays the Giants had pushed across midfield, up to the Tampa Bay 34-yard line and faced a second-and-5 from right on the edge of field goal range.
The Bucs showed a Cover 3 look pre-snap against the Giants' 2×1 formation. On the field side, New York ran a vertical route from their wide out and a pivot route from Golden Tate in the slot. On the boundary side, tight end Evan Engram leaks out in the flat while Austin Mack runs a deep over behind the Bucs' linebackers.
The Bucs' coverage is strong but Jones hesitates and misses Mack, his only free target on the play, as Lavonte David sinks down on the running back. By that point the pressure from Tampa Bay's defensive line, rushing just four, reaches Jones and forces him out of the pocket. Instead of throwing the ball away Jones makes an ill-advised throw intended for Tate, out of a potential sack from Shaq Barrett and it allows Murphy-Bunting to come up with the interception.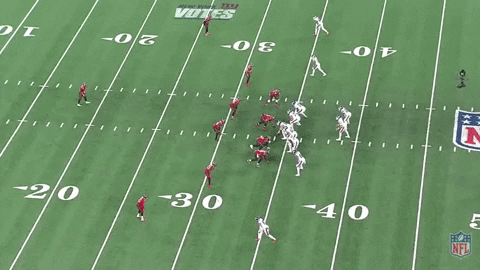 Carlton Davis, Interception: -4.2 EPA
After driving down the field in a two-minute drill to end the first half, Tampa Bay was forced to settle for a field goal and head into the locker room trailing 14-6 with New York receiving the kickoff to start the third quarter.
A great return from Dion Lewis set up the Giants at their own 44-yard line and following a 2-yard run on first down New York was facing a second-and-8.
When looking at this interception it looks awfully similar to the previous play shown here. The Giants run a long-developing divide concept into the teeth of the Bucs' Cover 1 defense while the Bucs feign Double A-gap pressure. Tampa Bay's inside linebackers then drop into coverage post-snap and Murphy-Bunting comes out of the slot with a delayed blitz.
Once again, Barrett provides the pressure and Jones feels it, and once again instead of throwing it away he panics. He gets caught between wanting to get rid of the ball or stepping up in the pocket but eventually sails a duck that falls far short of his intended receiver at the sideline, leading to one of the easiest interceptions that Carlton Davis may ever get.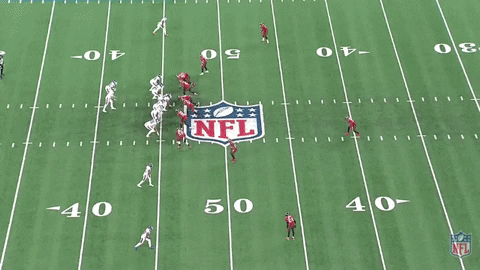 Tom Brady/Jaydon Mickens, Fourth Down Conversion: 3.3 EPA
On the drive following the Davis interception the Bucs were driving into New York territory and looking to cut into the Giants' lead.
Then, at the New York 40-yard line, the Bucs faced a fourth-and-2 outside of field goal range. Bruce Arians – correctly – opts to go for it and Tampa Bay comes out with a 3×1 formation with a bunch to Brady's left side. The bunched receivers look to space out the Giants' zone defense as Tanner Hudson runs a flat route, Mike Evans runs a deep dig over the linebackers and Jaydon Mickens runs a sit route underneath.
No one is able to find space early for Tampa Bay and despite excellent pass protection, the pocket eventually begins to break down. Brady rolls out to his right and Mickens improvises, leaving his coverage behind and finding just enough space to give Brady a window for the fourth down conversion as the outside linebacker vacates to chase the sack.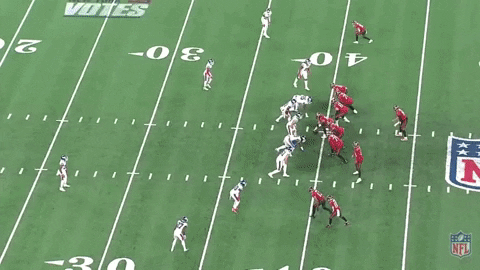 Devin White, Sack: -2.8 EPA
In the second quarter the Gaints led 7-3 and after starting at their own 4-yard line had marched down the field in 12 plays, up to the Tampa Bay 30-yard line.
This is a massive play from White – even more so when looking back at a game that resulted in a two-point victory – because the sack on third-and-7 forced the Giants out of field goal range.
The Bucs ran Cover 1 man coverage and sent six in pressure, with White and Winfield coming delayed out of a five-man front. Looking to counter an almost-assured pass play, Tampa Bay subbed Jordan Whitehead off of the field in favor of Mike Edwards. Edwards played the single-high role as Antoine Winfield Jr. moved into the box and lined up over the Giants' bunch formation.
Three of the Giants' routes were down the field and took far too long to develop for Jones to even have a chance, but the pressure came so quick that Jones couldn't even let his receiver get out of a shallow pivot route with Jamel Dean in coverage. With just a five-man protection White came through nearly untouched for the sack, his fourth in two weeks.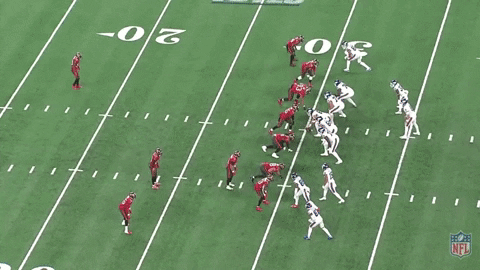 Tom Brady/Cam Brate, 34-Yard Gain: 2.2 EPA
This right here is a beautiful play call from offensive coordinator Byron Leftwich.
Following the Murphy-Bunting interception, Tampa Bay had moved up to the New York 43-yard line following a 20-yard completion to Tyler Johnson on the play before.
On first-and-10 the Bucs came out in 13 personnel with Brate, Rob Gronkowski and Antony Auclair all on the field with just one lone wideout in Miller and the Giants responded with their base defense and a seven-man box. Miller motions to the weakside of the formation before the play and runs a vertical route that cleared the right side of the field as New York scrambled to fall into their zones after biting on the Bucs' play action.
Auclair and Gronkowski ran check-and-release routes that broke into a shallow hook and a deep dig while Brate had outside leverage for a deep out behind Miller. Brady hit Brate for a big gain up to the New York 17-yard line and a personal foul penalty on defensive back Isaac Yiadom for lowering his head to initiate contact pushed Tampa Bay up to the 8-yard line.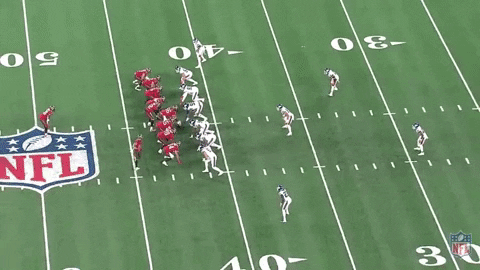 Hidden Gems
While these plays didn't quite stack up as some of the Bucs' most valuable plays from Sunday in terms of EPA, these are some other crucial plays from the Bucs' Week 8 victory over the Giants.
This week I wanted to look at some of Brady's best throws from the contest.
Tom Brady/Cam Brate, 10-Yard Reception: 1.4 EPA
Brate's first catch of the day came on the Bucs' first drive of the game, facing a third-and-2 from the Giants' 33-yard line.
A failure to convert this pass would have resulted in a 50-yard field goal attempt for Ryan Succop, so a completion here was key. Technically the Bucs came out in 10 personnel, with one running back and no tight ends, but had both Gronkowski lined up in the slow to the field side and Brate lined up in the backfield.
Pre-snap Brate motioned inline to the left and Tampa Bay ran double curl routes with their wide outs, double seam routes with their slot receivers and a pivot route to Brate. Brate used his size to get a leverage, but not much separation, out of his route and Brady delivered a perfectly placed pass right on time and away from the defender for a first down.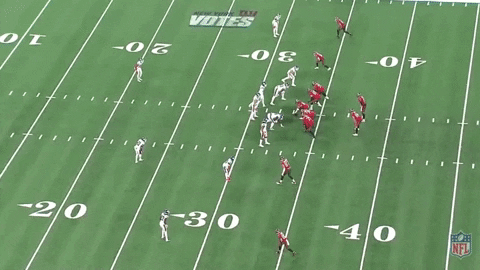 Below is an alternate angle of the pass.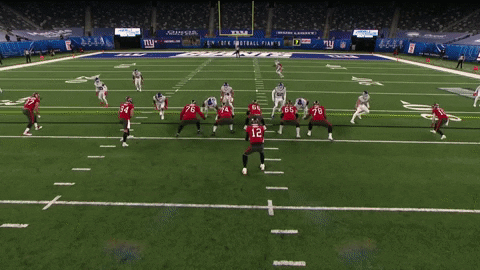 Tom Brady/Mike Evans, 8-Yard Touchdown: 1.8 EPA
Evans' targets and yardage totals are down in 2020 with Brady at the helm, however his seven touchdown receptions through eight weeks are tied for the league lead largely due to his targets near the goal line. In fact, of Evans' seven touchdowns this year, only one has come from deeper than this 8-yard score, with four of them coming from the 1- or 2-yard line.
On the play below Tampa Bay lines up in a 3×1 formation with Brady in the gun, with Evans as the lone receiver to the boundary side of the field. Brady identifies the press man coverage on Evans with no safety help over the top and fires a goal line fade to the corner of the end zone immediately out of the play action. Evans uses his physicality to gain separation at the line and Brady left him with a dime that only his receiver could come down with.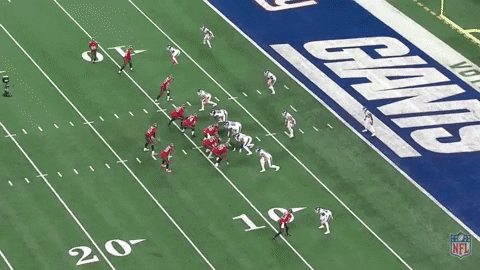 Share On Socials