Each week I'll take a closer look at the snap count distribution for the Bucs offense and defense, assessing what we can learn from who played the most and who played the least on game day.
Here's a look at which Bucs played the most – and the least – in the team's 29-19 loss to the Washington Football Team in Week 10.
Bucs Offensive Snap Counts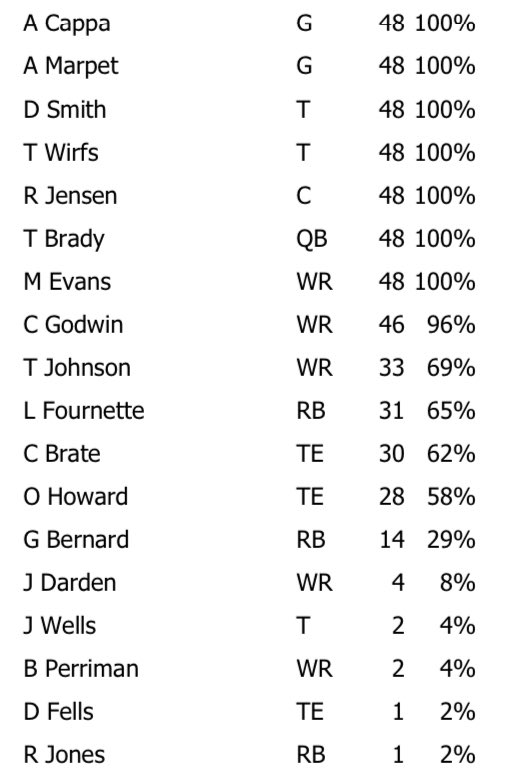 The 48 offensive plays is by far the Bucs lowest offensive total in a single game this season. That's a true testament to how miserable this group was against one of the league's worst defenses. Chris Godwin missed just two snaps, a testament to his health and the game's dismal situation. Also, this was the first time in Mike Evans' career that he played 100 percent of the Bucs' offensive snaps. Pretty crazy.
Tampa Bay remains obsessed with two-tight end sets despite not having Rob Gronkowski. This is limiting their offense a lot due to Cam Brate and O.J. Howard's struggles to get open. Brate barely out-snapped Howard, 30-to-28. Tyler Johnson wasn't much better, however, failing to separate on several targets. The game plan did little to scheme open receivers in Week 10. If Byron Leftwich and Bruce Arians are going to be this stubborn in their offensive approach, the WR3 spot must be better.
Jaelon Darden barely played, but managed to make the game's costliest error in his four offensive snaps. Newly-signed Breshad Perriman played just two reps, while tight end Darren Fells saw one rep.
Speaking of one rep, that's how much playing time Ronald Jones II got in this one. It's clear that the Bucs have no interest in playing Jones when they are behind or in a close game. Giovani Bernard saw 14 snaps to Leonard Fournette's 31. Both Fournette and Bernard finished the game with a drop. Bernard could have been credited with a second drop as well.
Defensive Snap Counts
I noticed Mike Edwards playing a lot more in the slot in this game, but I didn't realize how much. Edwards essentially replaced Ross Cockrell at nickel cornerback coming out of the bye week. Cockrell played just nine snaps despite being one of three healthy cornerbacks to finish the game. It remains to be seen if this is a matchup-based move, or if Cockrell is being benched.
Elsewhere in the secondary, Dee Delaney replaced Richard Sherman (who replaced Carlton Davis) for 44 snaps. Then Delaney suffered a concussion, prompting Pierre Desir into the game for 29 snaps. The Bucs could get Sean Murphy-Bunting back for Week 10 against the Giants. Given the state of their cornerback room, they might need him.
At outside linebacker, curious decisions abound. Joe Tryon-Shoyinka again played just 19 snaps, despite the lack of effectiveness from Jason Pierre-Paul. Somehow, Pierre-Paul out-snapped Shaq Barrett by three reps, while playing with a torn rotator cuff. The veteran edge defender was already declining, but playing with all his injuries has really hurt his game. But defensive coordinator Todd Bowles seems to determined to run him as much as possible. It's baffling.
Speaking of baffling decisions, Ndamukong Suh playing 18 more snaps than Vita Vea is a choice. Suh also out-snapped Will Gholston by 27 reps! Considering Suh had been closer to Gholston in recent weeks, this one is hard to understand. Gholston has been the better pass rusher the past two seasons, and the Bucs needed more of that in this game. Playing your third-best interior pass rusher the most snaps could be a reason why Tampa Bay's 4-man pass rush is so bad.
Heading into Week 11, it's clear the Bucs have plenty of personnel and scheme issues to work out defensively.
Share On Socials