Each week I'll take a closer look at the snap count distribution for the Bucs offense and defense, assessing what we can learn from who played the most and who played the least on game day.
Here's a look at which Bucs played the most – and the least – in the team's 30-10 victory over the New York Giants in Week 11.
Bucs Offensive Snap Counts
Ali Marpet's early game injury marked the first time the Bucs have had to play more than a snap without a starting offensive lineman this season. Aaron Stinnie filled in admirably for 53 snaps.
At tight end, the Bucs were careful to ease Rob Gronkowski back into action on Monday night. The former All-Pro played 46 snaps, topping the position group by 11 reps. Cam Brate was the clear preference over O.J. Howard, another sign that Howard is trending the wrong direction in Tampa Bay despite outplaying Brate this season.
Leonard Fournette received only ten carries to Ronald Jones' eight, but played 31 more snaps than his younger counterpart. A week after playing just one snap, Jones scored and ran the ball well on Monday. 15 snaps was his biggest workload since Week 2, out-snapping Giovani Bernard by seven.
At wide receiver, Mike Evans and Chris Godwin filled their normal roles, while Tyler Johnson dominated the No. 3 receiver snaps. Still, Johnson did not have a catch until Blaine Gabbert hit him in the final 2 minutes of the game. After two snaps a week ago, Breshad Perriman got 18 chances to show something in Week 11. The former first round pick dropped a touchdown before halftime and failed to properly read a back shoulder throw in the second half. Opportunities were limited for Jaelon Darden until garbage time.
Defensive Snap Counts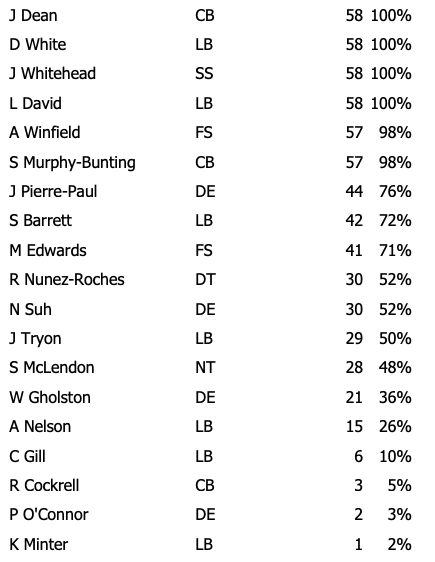 Despite talk of easing Sean Murphy-Bunting back into the lineup, the Bucs let him roll on Monday night. Murphy-Bunting played all but one snap, and that'll likely be his role moving forward as well. Until Carlton Davis returns, the Bucs starting four in the secondary is clear. And it seems Mike Edwards is officially the team's new slot cornerback, playing 41 snaps there against the Giants. We've only been clamoring for it since last season! Ross Cockrell played only three snaps in the victory, after nine reps against Washington.
Meanwhile, Jason Pierre-Paul continues his ineffective run while playing through a torn rotator cuff. Somehow, the injury and the lack of production on the field are not causing the coaches to think about diminishing his playing time a bit. Pierre-Paul topped Shaq Barrett in snaps again this week, leading the edge rusher room with 44. The defense only played 58 snaps total, so he was able to stay more fresh than normal.
Even with Pierre-Paul and Barrett putting up their normal workload, Joe Tryon-Shoyinka saw an increase in snaps. Finally. The rookie played 29 snaps against New York, piling up pressures and wreaking havoc in the backfield. Anthony Nelson picked up 15 reps, while Cam Gill chipped in six and a sack late in the game.
Replacing Vita Vea was always going to be a group effort, but I would never have bet on Ndamukong Suh playing his lowest snap count total of the season. With the Bucs heavily deploying 3 edge rushers in their pass rush packages (thank you, Todd Bowles!), Suh played 30 reps. Rakeem Nunez-Roches matched the elder statesman, and Will Gholston chipped in 21. Steve McLendon, fresh off being inactive several weeks in a row, somehow out-snapped Gholston by seven reps. And on his two snaps, Pat O'Connor nearly got a sack! Gill swiped it from him at the last second.
Share On Socials