Each week I'll take a closer look at the snap count distribution for the Bucs offense and defense, assessing what we can learn from who played the most and who played the least on game day.
Here's a look at which Bucs played the most – and the least – in the team's 30-17 victory over the Atlanta Falcons in Week 13.
Bucs Offensive Snap Counts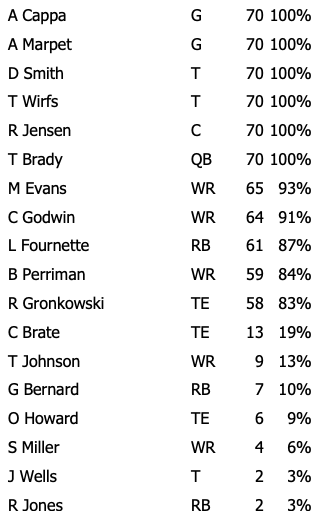 In 32 games covering the Bucs, this is probably the biggest surprise I've seen when checking postgame snap counts. Despite watching the entire game in earnest on Sunday, I had no idea Breshad Perriman completely dominated the WR3 snap counts. Perriman played 59 snaps to Tyler Johnson's nine! Scotty Miller played just four snaps.
The Bucs are desperately searching for answers at the WR3 position, and it's clear they believe Perriman can provide some. That hasn't borne itself out on the field, however. Perriman had three targets on the day, with one catch for five yards. The veteran receiver didn't get on the stat sheet against the Colts, and had two catches for 19 yards against the Giants, while also dropping a touchdown. It remains unclear why the Bucs believe he's deserving of 55 more snaps than Miller.
Although I don't understand the heavy Perriman usage, the Bucs deploying three wide receivers with regularity was smart. Cam Brate played only 13 snaps, while O.J. Howard saw the field for just six reps. Josh Wells and the jumbo package received just two plays. The Bucs wanted to spread the field and attack, and did so successfully all game.
At running back, Ronald Jones' illness allowed Leonard Fournette to play his highest percentage of snaps all season.
Defensive Snap Counts
I'm going to have to look at the cornerback alignments again, but it seemed that Jamel Dean was playing with Carlton Davis in base defense. Sean Murphy-Bunting aligned at nickel cornerback all game. When Dean went down with a concussion, Pierre Desir stepped in for him. Desir has clearly passed up Dee Delaney on the depth chart, and perhaps Richard Sherman as well. Sherman could be back from a calf injury next week.
At safety, Andrew Adams stepped up in place of Jordan Whitehead. The veteran played 58 snaps, his most in a game since 2019. Ross Cockrell stepped into a versatile role, playing some slot and some safety for 19 snaps. If Dean can't play next week, Desir might slot into a starting role, even with Murphy-Bunting healthy.
As the season progresses, the Bucs are finally beginning to accept reality at outside linebacker. Jason Pierre-Paul is a shell of himself while playing with a torn rotator cuff. The veteran has seen his snap counts drop off significantly over the past five weeks. Pierre-Paul's snap count percentage in order, during that time: 89 percent, 79 percent, 76 percent, 65 percent, 52 percent. Shaq Barrett paced the group with 54 snaps.
The Bucs depth edge rushers have stepped up over the past month, allowing Tampa Bay to play Barrett and Pierre-Paul less. Joe Tryon-Shoyinka finished with 28 snaps, while Anthony Nelson added 21. Cam Gill has been an effective fifth rusher, with a sack in seven snaps on Sunday.
On the interior defensive line, Vita Vea played less than 50 percent of the snaps again in Week 13. Since his return from a knee injury, Vea has played his lowest two snap count percentages of the season. Tampa Bay is able to keep him fresher thanks to their ability to play Tryon-Shoyinka inside as a pass rusher. The rest of the interior defensive line rotation remained relatively the same against the Falcons. The exception was Pat O'Connor, who got a season-high 15 snaps on Sunday.
Share On Socials