Each week I'll be taking a closer look at the snap count distribution for the Bucs offense and defense, assessing what we can learn from who played the most and who played the least on game day.
Here's a look at which Bucs played the most – and the least – in the team's 48-25 victory over the Atlanta Falcons in Week 2.
Bucs Offensive Snap Counts
After playing almost every snap against the Cowboys in Week 1, Mike Evans and Chris Godwin saw a dramatic decrease in usage during Week 2. Godwin missed just one rep against Dallas, but was off the field for seven in Week 2. Evans' drop-off was even more significant, going from 94 percent snap share in Week 1 to 73 percent on Sunday. Evans missed some time in the second half with either cramps or a lower leg injury. Antonio Brown's snaps also suffered, as he went from 42 plays against Dallas to just 28 in Week 2.
As a result, Tyler Johnson and Scotty Miller both saw big jumps in usage, but with little to show for it. Johnson went from three snaps in Week 1 to 17 in Week 2. Miller jumped from eight to 12 plays on Sunday. The Bucs also used more 12 personnel (two tight ends), with reserve tackle Josh Wells playing eight snaps at tight end after zero the week before, and O.J. Howard seeing the field for 11 plays. Twelve personnel ruled in Week 2 for the Bucs, which explains some of the WR snap count decreases.
Six snaps for Giovani Bernard? Six? In a game where Leonard Fournette and Ronald Jones II seemed intent to bumble it away, this is egregious. The Bucs were 4-of-12 on third down, with their "third down back" (per Bruce Arians) not on the field for at least half of those opportunities. It makes no sense. More on this coming in my column later today.
As for Jones and Fournette, the snap count distribution ended up pretty close. Fournette led the way with 31 reps, but Jones was close behind with 26. Yet Fournette had 15 touches to Jones' seven on Sunday.
Bucs Defensive Snap Counts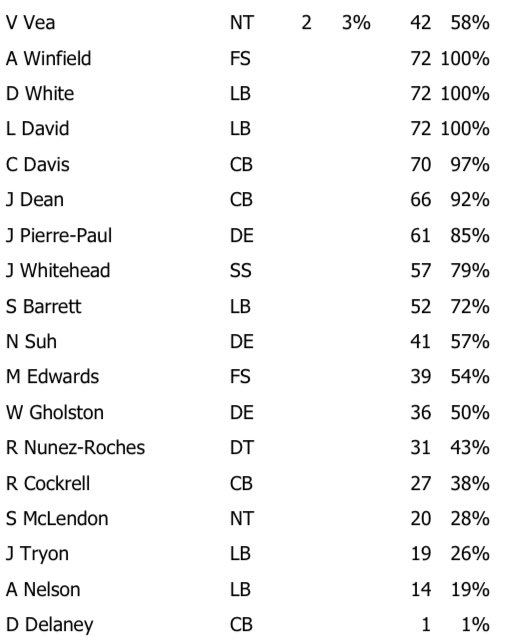 There were hardly any real surprises for the Bucs defensive snap counts in Week 2. Tampa Bay's four ironmen – LB Lavonte David, LB Devin White, S Antoine Winfield and CB Carlton Davis – played every snap except for the two Davis missed after getting banged up early in the game. Cornerback Jamel Dean also only exited the game when nicked up for six snaps.
Perhaps one of the more surprising stats is that we are still seeing a sizable role for Anthony Nelson. He had almost as many snaps as Joe Tryon-Shoyinka on Sunday. Nelson hasn't been very effective, and Tryon-Shoyinka flashed often in Week 2.
The Bucs played a lot more with three safeties on the field than they did with No. 3 cornerback Ross Cockrell. Is that a sign of things to come against the Rams in Week 2? It should be, after Edwards notched two pick-sixes from the slot. He's a playmaker, and the Bucs need playmakers in their secondary.
At defensive tackle, the Bucs seem determined to keep Vita Vea and Ndamukong Suh's snaps down, Rakeem Nunez-Roches may have gotten a bigger bump for the No. 4 defensive tackle role than normal, out-snapping Steve McLendon 31-to-20. That bears watching moving forward. Tampa Bay needs more pass rush from its interior defensive line, and right now they aren't getting it. Could Khalil Davis get an opportunity in the coming weeks, perhaps at the expense of McLendon? We'll see.
Share On Socials