Each week I'll look back at and break down the Bucs' most valuable plays from their past game, in terms of Expected Points Added.
Expected Points Added, or EPA, is a statistic that was created to measure the value of each play during a football game in terms of points. EPA is essentially trying to put a value on how many net points a team can expect to gain based on the result of an individual play, while taking the down-and-distance and the team's field position into account.
For example, a 5-yard run from the 50-yard line on first-and-10 is weighed differently than a 5-yard run inside the opponents 10-yard line on third-and-2.
You can read all about Expected Points Added here, including examples.
The plays shown are measured from the offense's perspective, so plays made by Tampa Bay's offense will result in a positive EPA for the Bucs and plays made by Tampa Bay's defense will result in a negative EPA for their opponents.
Below are the Bucs' highest-valued plays by Expected Points Added, per rbsdm.com by Ben Baldwin, from their Week 3 match-up against the Denver Broncos.
Pat O'Connor, Blocked Punt: 5.0 EPA
Quarterback Jeff Driskel led the Broncos' offense out for the first drive of the game, but after moving the ball up to just their own 43-yard line, Denver was forced to punt. Despite being held by long snapper Jacob Bobenmoyer, defensive lineman Pat O'Connor was able to block the punt from Sam Martin and recover the ball at the Broncos' 10-yard line.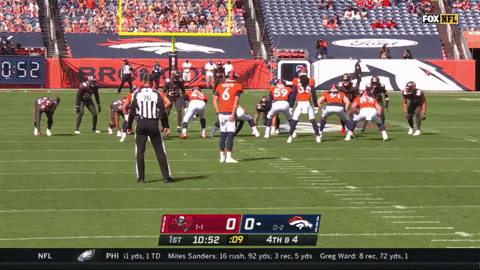 Mike Edwards, Interception: -4.6 EPA
After a hamstring injury sidelined cornerback Sean Murphy-Bunting, rookie safety Antoine Winfield Jr. was shifted to nickel and second-year defensive back Mike Edwards took over the free safety position across from Jordan Whitehead.
Down by 18 with less than four minutes remaining, third-string quarterback Brett Rypien moved Denver down the field and into Tampa Bay's red zone on 7/7 passing. But on fourth-and-1 from the 13-yard line Edwards hauled in his first career interception on a pass intended for receiver Jerry Jeudy, returning it to the 29-yard line.
On this play the Bucs lined up in man coverage and sent six on the blitz, leaving Edwards alone over the top to play the single-high safety spot. After the snap, Edwards' first step is toward the lower half of the screen, shading over the one-on-one match-up between cornerback Jamel Dean and receiver Tim Patrick, but a strong jam at the line by Dean allows Edwards to turn his attention back to the other side of the field and grab the interception as Jeudy beats Winfield at the top of his route.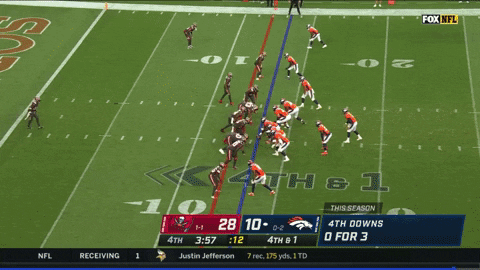 Below is an alternate angle of the interception.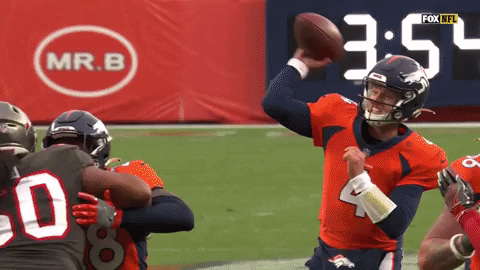 Tom Brady/Scotty Miller, 47-Yard Reception: 4.1 EPA
Up by a score in the second quarter, the Bucs were facing a potential three-and-out after a two-yard run from running back Ronald Jones and an underthrown ball from Tom Brady that just missed tight end O.J. Howard down the seam for a big gain.
On third-and-8 from the Tampa Bay 27-yard line, Scotty Miller was lined up on the inside of a 2×2 formation and ran a deep over, bending it vertically when he reaches safety Justin Simmons. With ample time in the pocket, Brady steps up and throws a strike downfield to Miller for a big gain to the Denver 26-yard line.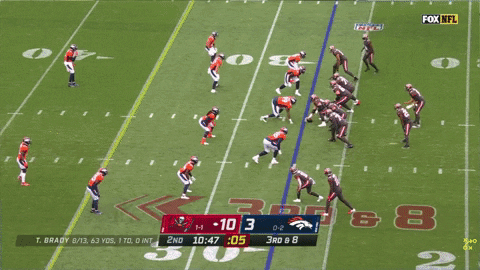 Below is an alternate angle of the route and the catch.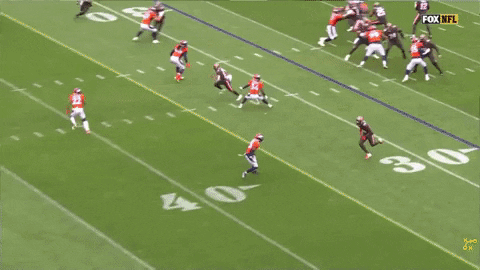 Lavonte David, Interception: -4 EPA
With Denver trailing by 15 late in the third quarter and facing a second-and-13 from their own 45-yard line, Tampa Bay came up with their first of two interceptions on the day.
In a clear passing situation, defensive coordinator Todd Bowles disguised where the pressure would come from on this five-man blitz by showing seven defenders along the line of scrimmage before dropping his linebackers into coverage at the snap. Second-year outside linebacker Anthony Nelson was able to create the pressure and the quarterback hit on Driskel, setting up an easy interception for David.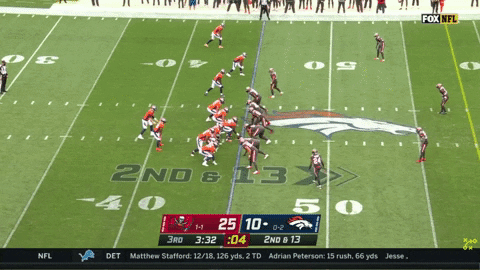 Tom Brady/Chris Godwin, 10-Yard TD: 3.2 EPA
Following the previously mentioned blocked punt from O'Connor, Tampa Bay took over at the Denver 10-yard line for a short field on their first offensive series of the day.
After a run by Jones for no gain and an incomplete pass also intended for Jones, Tampa Bay was facing a third-and-goal from ten yards out. Aligned on the left side of an empty set, Godwin motions down toward the offensive line before the snap. On the snap receivers Mike Evans and Tyler Johnson run vertically into the end zone, clearing space underneath for Godwin as he hauls in the third down pass on an out route and fights his way into the end zone, through two defenders, to give Tampa Bay an early 7-0 lead.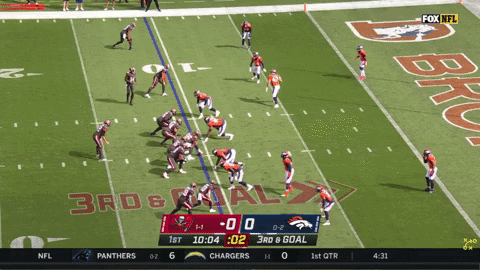 Hidden Gems
While these plays didn't quite stack up as some of the Bucs' most valuable plays from Sunday in terms of EPA, these are some other crucial plays from the Bucs' Week 3 victory in Denver.
Shaq Barrett, Sack/Safety: -0.2 EPA
Trailing by 13 in the third quarter, a punt from Bradley Pinion left the Broncos to start their drive from the shadow of their own goalpost at the 8-yard line. Two incomplete passes from Driskel and a holding penalty on Denver guard Graham Glasgow put the Broncos at third-and-13 from their own five-yard line.
Despite leaving a tight end and a running back in to block, Shaq Barrett was able to get to Driskel for his second sack of the day when Bowles dialed up another six-man blitz. Inside linebacker Devin White sent pressure up the middle, leaving Barrett one-on-one with rookie Lloyd Cushenberry as Winfield came delayed off the left edge. Barrett was able to beat Cushenberry with a quick cross-chop move to complete the sack/safety.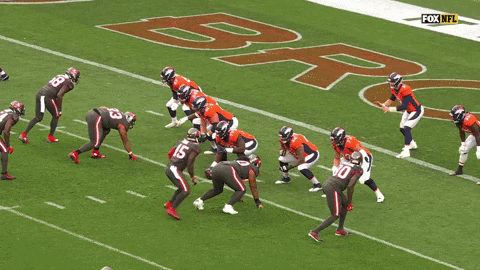 Tom Brady/Mike Evans, 1-Yard TD: 1.0 EPA
After pinning Denver back deep in their own territory on a three-and-out the previous drive, Tampa Bay was able to take over at their own 44-yard line after a 13-yard return from Jaydon Mickens, continuing to dominate the field position battle.
After a 33-yard pass to Howard and a 9-yard completion to Rob Gronkowski, back-to-back runs from Jones left Tampa Bay facing a second-and-1 from the goal line. Evans had already scored a one-yard touchdown on a quick screen pass earlier in the game, and on this trip down the field, with a tight formation to the right in 12 personnel, Evans was the lone receiver out wide one-on-one with Simmons.
Evans gave a stutter step release and broke outside for the goal line fade where he hauled in his second and final catch of the day, giving him a final stat line of two catches for two yards and two touchdowns on four targets.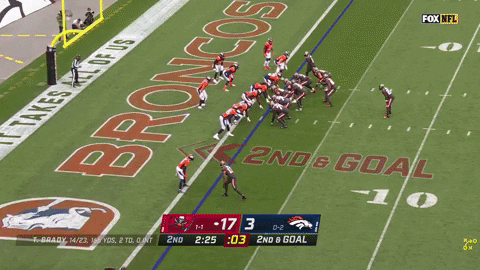 Share On Socials