Welcome to the very first edition of my weekly "Bucs Briefing" column where we'll tackle a plethora of Bucs and draft-related topics every Wednesday morning.
During draft season, this column is going to look heavily at prospects the Bucs could or should be interested in throughout the first three rounds of the draft. The goal is that by the time the draft rolls around, most of the players Tampa Bay could target with its three top 100 selections will have been profiled in depth right here.
Today let's kick things off with a prospect I know Bucs fans are extremely interested in, Georgia offensive tackle Andrew Thomas.
Round 1, Pick 14
Andrew Thomas, OT, Georgia Bulldogs
Height: 6-5
Weight: 320
Class: Junior
D.O.B.: 1/22/99
Statistical Profile: From his true freshman season until the end of his junior year, Thomas started every game that he played in for the Bulldogs, 26 at left tackle the past two seasons and 15 at right tackle in his debut campaign in 2017. Thomas was All-SEC and All-American his sophomore and junior seasons, while making the freshman All-American team in 2017.
Where He Wins: When I'm scouting offensive tackles, I'm really only interested in contests against the best level of competition. The NFL is simply loaded with pass rushers who threaten offensive tackles unlike anything you see in college football, so finding tape against quality opponents is a must for measuring offensive line play.
That's easy to do with Thomas, as the SEC and his schedule were loaded with some of the better edge defenders in college football. Over the year Thomas faced Notre Dame's Julian Okwara and Khalid Kareem, South Carolina's D.J. Wonnum, Florida's Jonathan Greenard and Jabari Zuniga, Auburn's Marlon Davidson, Tennessee's Darrell Taylor and LSU's K'Lavon Chaisson. That isn't even mentioning the match-ups he had last year with Jachai Polite, Josh Allen, Anfernee Jennings, Charles Omenihu and others.
Through these battles, we learned more about who Thomas is as a pass protector than probably any other offensive tackle in the draft except for maybe Alabama's Jedrick Wills. Thomas is a powerful, hulking tackle who ends pass rushers when he lands his mitts on them. Once he has control, very rarely do you see an opponent work off of his block.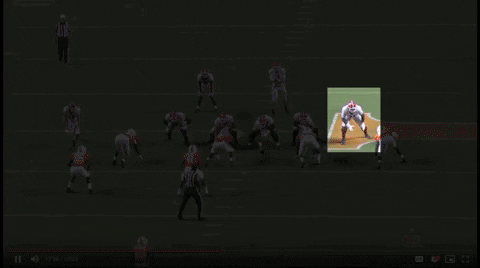 His inside hand is strong against counters, and when he's able to play at half-man with good footwork, it's hard to cross his face to the quarterback. Thomas' strike placement tends to be pretty wide, but on inside moves that works to his advantage because he crushes the edge rusher's inside shoulder with a vice-like grip.
For a guy that plays pretty upright, Thomas can still help a team's run game considerably. He's quick out of his stance and fairly nimble despite his lack of flexibility, creating good initial pop off the snap. The junior is deadly on double teams, staying shoulder to shoulder with his fellow guard or tight end to generate push up front. Georgia runs a lot of inside zone and uses plenty of combo blocks, both of which were areas Thomas impressed on tape.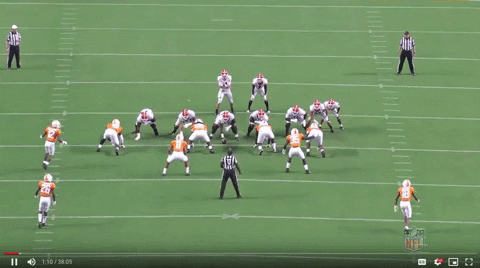 Thomas also plays with the mentality and smarts that will translate quickly to the NFL. He's physical, edgy and looks to finish when he can. His eyes and awareness against twists and late blitzers are already at a pro level, as some of his stunt work at Georgia is teach tape for passing off twisting rushers between a guard and a tackle.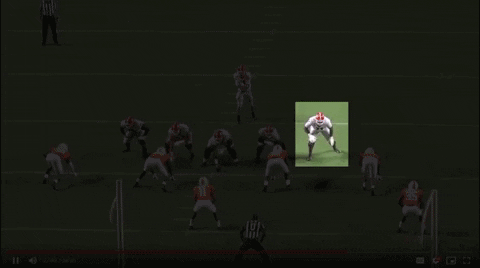 Where He May Struggle: Probably the least athletic of the consensus top tackles in the class, Thomas' struggles in pass protection come where you'd expect them to: against speed. When Thomas faced an edge rusher who threatened him on his edge with speed, his lack of set point range (ability to gain ground in pass sets to cut off cornering threats) was exposed, his footwork fell apart too often and he opened himself up to speed-to-power moves where defenders could finally beat him back inside.
One of Thomas' biggest issues is that he will abandon footwork and cross his feet to chase speed up the arc, which will open him up to long arms and hump moves in the NFL. He simply doesn't have the feet to recover inside if he over-sets, but sometimes he's forced to do so because it's the only way for him to cut off speed rushes.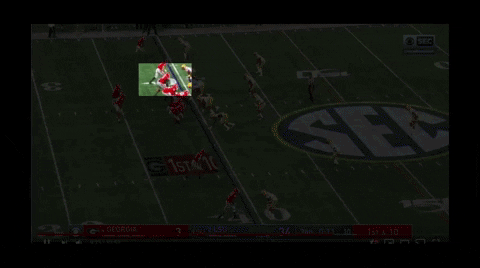 Thomas can improve in this area with more work on establishing half-man out of his stance a bit quicker, but he will probably always have limitations due to his lack of flexibility and athleticism. Of course, Jake Fromm's 10-12 yard deep drops didn't always make life easy on Thomas' pass sets either.
Thomas will also occasionally get walked back and crowd his quarterback a little bit, a result of playing too high and allowing defenders to get into his chest. This concern is more easily remedied, as Thomas can protect his frame better by landing more strikes between his opponent's shoulders rather than on them.
In the run game the biggest concerns with Thomas are his limitations in space and his struggles on solo blocks against more athletic defenders. His weight can get out over his toes at times and cause him to fall or be pulled off blocks by defenders that can work to his edge, but his grip strength does allow him to stay latched just enough more often than not.
The best way to summarize Thomas' game is that he won most of the time in college, but it didn't always look pretty and there is reason to believe his process and natural limitations could eventually expose some weaknesses against more dominant competition in the NFL.
Bucs Fit: Thomas hails from a collegiate offense that ran almost a polar opposite approach to Bruce Arians' scheme in Tampa Bay. Where the Bucs want to win through the air with a complementary ground game, the Bulldogs looked to grind down almost every opponent in the run game, while featuring a simple and efficient passing attack.
This was a great fit for Thomas, whose strengths in the run game and quick passing game were magnified, and some of his limitations weren't as exposed due to Georgia rarely facing ears-pinned-back edge rushers. Now that does not mean that Thomas couldn't be effective in the Bucs offense, just that it would be an adjustment.
The NFL has a tendency to play tackles that look and move like Thomas on the right side, even though I believe both left and right are equally difficult to play in the NFL. If anything, there are more great edge rushers that face right tackles than left. Perhaps NFL teams simply feel more comfortable scheming help to the right side of their offense, or allowing their quarterback a clearer sight-line to impending doom.
Whatever the reason, Thomas would obviously start on the right side in Tampa Bay, which he has experience doing as a freshman at Georgia. The fit isn't perfect, but it's good enough, especially considering that Thomas could also help Tampa Bay's run game as a clear improvement over the 34-year old Demar Dotson in that area.
I would be concerned about Thomas as a rookie on an island against top pass rushers in a typical Arians' drop-back offense, so it would be crucial to scheme him help in certain situations and match-ups. That said, he's a good player who is mentally and physically ready for NFL snaps, which is more than you can say for most rookie tackles. This is a pick that could definitely help the Bucs, even if the impact isn't as dominant or game-changing as Tampa Bay selecting a player like Alabama right tackle Jedrick Wills or South Carolina defensive tackle Javon Kinlaw at 14.
Share On Socials