As much as we've bemoaned the Bucs coverage woes over the past six weeks, the team's lack of a dynamic pass rush, especially given defensive coordinator Todd Bowles' propensity for creating pressure, was almost as big of a concern. The loss of Vita Vea loomed large, and it was fair to wonder if the Bucs 4-man rush was good enough to get home without blitzing heavily.
But Bowles and company came up big in Week 14 against the Vikings, harassing Kirk Cousins for six sacks and consistent pressure, especially as the game went on. Early on, Minnesota's run-heavy, play-action approach allowed them to keep Cousins in comfortable situations as a passer, but as the Bucs offense came to life and took the lead, the pressure mounted on Minnesota to step out of their offensive game plan and into Tampa Bay's defensive one.
Minnesota's offensive line is known for their run-blocking in an outside zone heavy scheme, not necessarily their pass protection, especially in a straight drop-back capacity. Bowles tested their talent and communication with consistent games up front, including T/E stunts that freed up Shaq Barrett for two critical sacks on Sunday.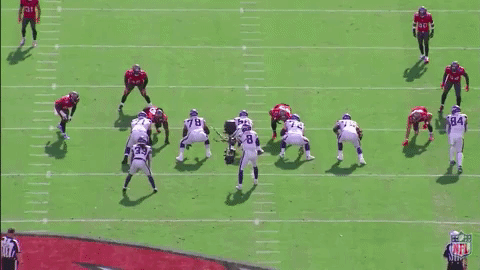 Barrett's first sack of the game took the Vikings out of field goal range and forced a punt, one of the most important plays of the entire contest after the Bucs defense was back on their heels on Minnesota's first drive. Nothing too complex here, as Steve McLendon crashes and Vikings left guard Dakota Dozier, who the Bucs clearly targeted with their pressure schemes, fails to pick up Barrett looping to the A-gap.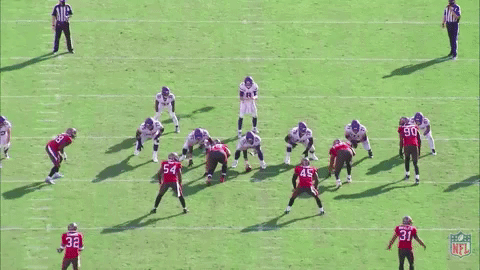 Things got more intense as the game went on. This stunt actually kind of breaks down when Jason Pierre-Paul gets stood up as the looper, but the Vikings offensive line is out of sorts and Will Gholston wrecks the center and right guard as a crasher, leaving no one to block Ndamukong Suh. Not exactly how Bowles drew it up and Cousins still finds a way to complete the pass under pressure, but you can see the issues so many games are causing for the Vikings up front.
Something that is lost on many defensive coordinators is that you don't always have to get a guy free with your blitz schemes. Sometimes, getting five-on-five is all it takes to create wins for your pass rush group. In the play below Ross Cockrell comes on a nickel blitz and is picked up easily by the Vikings right tackle, but his mere presence leaves everyone else on the Vikings OL one-on-one.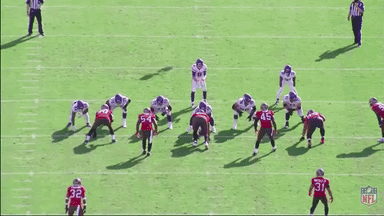 Obviously the Bucs liked their chances at exploiting at least one matchup across the board in this game, and William Gholston makes good on that assessment by driving Garrett Bradbury back into Cousins' lap to force a poor throw that is nearly intercepted by a diving Mike Edwards.
One thing the Bucs have not done very often this season is put Barrett and Pierre-Paul inside pre-snap, giving them advantageous matchups against guards or the opportunity to loop back outside on stunts. Against the Vikings, Bowles clearly saw very winnable matchups against Dozier and rookie Ezra Cleveland, and again Pierre-Paul proved him right with a big win to force a third down incompletion.
Jab step and a big club from Pierre-Paul, knocking Dozier aside and forcing Cousins to rush an off-target throw to Justin Jefferson. The reason I clamored all offseason for the Bucs to prioritize a third quality edge rusher was that Pierre-Paul is so much more effective as a pass rusher when he gets to kick inside. Because the Bucs don't really have a reliable pass rushing edge outside of Barrett and JPP, the veteran edge defender has had very few opportunities to play over guards and centers, but you can see how effective he is when he gets the chance.
Bowles didn't blitz very often through the first three quarters, but in the fourth quarter, with the Vikings becoming more predictable in a pass-heavy approach, the Bucs defensive coordinator opened things up.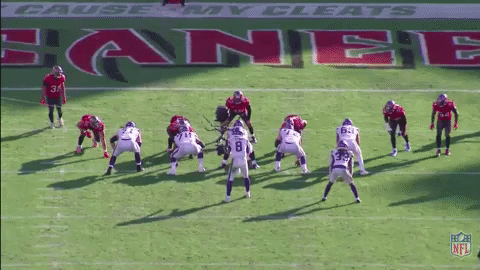 This is a brilliantly-timed blitz by Antoine Winfield Jr., who never falls for the play-action fake, blowing up Cousins for a huge sack that put Minnesota in a nearly impossible 3rd-and-goal from the 20-yard line. Winfield was a force as a blitzer early in the season, but his opportunities have been a bit more limited in recent weeks. Bowles would be wise to continue to find ways to use him around the line of scrimmage, where Winfield has been at his best this season.
For the nail in the Vikings coffin, Bowles went back to getting Barrett free on the very next play, this time with an E/T stunt (end/tackle) that saw Barrett slip inside backup right tackle Rashod Hill and drop Cousins for a loss of eight.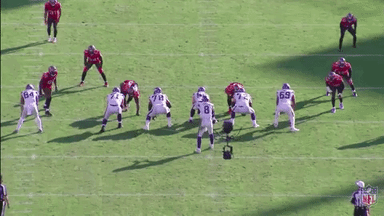 Back-to-back sacks off of various pressure schemes pushed the Vikings from the Bucs eight-yard line to their 28, resulting in a 46-yard missed field goal by Dan Bailey, his fourth missed kick of the game. The Bucs would go on to sack Cousins twice more on the Vikings final drive, destroying any hope Minnesota had of a late comeback.
I've been at the forefront of criticism for Bowles, and deservedly so. The Bucs defense hasn't been aided by the scheme in recent weeks, but on Sunday the long-time defensive guru found a way to scheme up key pressures throughout the game, and put his best pass rushers in position to win all game long.
In recent weeks, teams have abandoned even attempting to run the football on the Bucs because yards through the air were so easy to come by. The Bucs coverage group has clear concerns that probably won't be rectified this season, so it is imperative that Tampa Bay finds ways to consistently harass quarterbacks and help out the back end of their defense. On Sunday, the ability to create constant pressure was the biggest sign of life we've seen from a wilting defense since they shut down Aaron Rodgers back in Week 6. If the Bucs are going to have a prayer of regaining their early-season mojo on defense, this is the kind of impact they'll need from their front four and blitz packages through the month of December and into the playoffs.
Share On Socials