Bucs Briefing is exclusively sponsored by Locker Room: Tap In, Talk Sports – the official social audio partner of PewterReport.com.
Locker Room is changing the way we talk sports (and talk about the Bucs!). It's the only place for live audio conversations about the takes, rumors, news, and teams you care about.
React to sports news as it happens. Gather all your friends in watch parties for the biggest games. Rep your favorite teams and find your community. Better sports talk is just a tap away — download on the Apple App Store and join the conversation!
---
Not many current Buccaneers incite negative fan reaction like the mere mention of O.J. Howard's name. Selected in the first round of the 2017 NFL Draft, Howard was expected to be the next big thing at the position, eventually joining the likes of Travis Kelce and George Kittle atop the NFL. For a myriad of reasons, that expectation has not become reality.
I don't think it's necessary to spend column space re-hashing in detail Howard's career path. He was raw coming out of Alabama, flashed a bunch as a rookie, began to take off with an impressive 2018 season, got hurt 10 games in, struggled with injuries and a slow start under the Bruce Arians regime in 2019, then tore his Achilles after a hot start in 2020. The injury sidelined Howard for the final 12 games of the 2020 campaign and all of the postseason.
With the Bucs clinging to Howard's fifth-year option, the rangy tight end has one more year to deliver on his promise. Yes, Howard has to stay healthy, which has eluded him over the course of his career. Howard has missed 20 of his past 48 potential games while never playing all 16 contests in one season. Yes, he'll need to rebound from one of the more difficult injuries to come all the way back from in the NFL, especially when you add it to his previous nagging maladies.
But if Howard can do those two things, I still think a big year is coming for the Alabama product. What Howard showed in 2020 should give Bucs a ton of confidence that he can be a difference maker in Arians' offense, especially with Tom Brady at quarterback.
The Growth Of Howard
Back in August 2020, I wrote the following about Howard's game after an exciting offseason of growth, much of which the tight end credited to Brady.
Howard may have some inconsistencies, but he's not a bust – nor has he played like a player on his way to becoming one. Yes, he needs to finish more consistently in high-degree of difficulty situations and he needs to brush up his routes in order to reach Round 1 level of play, but Howard has already put enough positive plays on tape to prove he isn't just untapped potential. He's a good player with the ceiling to become a great one.
As a receiver, two key areas Howard needed to grow were route-running and finishing tough catches. Increased physicality helped Howard in both of those areas, as he consistently worked through contact in his routes, using his size and strength to his advantage.
Chargers dime linebacker Kyzir White tries to jam Howard at the top of his route, but the towering tight end wards off the blow and accelerates for the touchdown.
Off the line of scrimmage, Howard bulls through a chip from outside linebacker Anthony Chickillo, then wins down the seam with ease. Only an underthrown ball from Brady prevents a big play.
This catch against Denver was one of the toughest grabs of the year, by any player. The concentration, the timing, the strength, the hands … just an awesome finish by Howard on a 50-50 ball. That will earn Brady's trust in combat catch situations.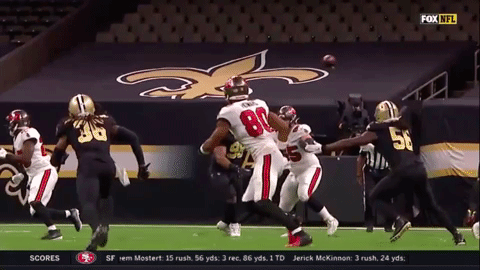 I think the most underrated part of being a receiver is catching low throws. It takes exceptional hand-eye coordination, balance and focus to dig out low throws while moving as quickly as you need to on a football field. Digging out low throws while getting hammered in the back is even more difficult. This is an overlooked, but exceptional catch from Howard back in Week 1.
Now, we are clearly talking about a ridiculously small sample size in 2020, as Howard caught 11 passes on 18 targets for 146 yards and two touchdowns before his injury in Week 4. I don't think Howard will ever be elite at creating separation as a route runner, and he's probably always going to have a few head-scratching drops every season. But his confidence, physicality and ability to win in contested situations was definitely better in 2020. That's a big step in the right direction.
Blocking Still Coming Along
There is no doubt that Howard improved as a blocker last season, but there is still work to be done. As Howard told me before last season, a lot of the issues stem from his footwork, which should be fixable over time. It got him in trouble a few times last season, but Howard still posted a career-high Pro Football Focus grade as a blocker with a 62.8.
One of the advantages for Howard was playing as the No. 2 tight end outside of Rob Gronkowski on many of his 59 run blocking snaps in 2020. That gave him more ideal match-ups and less situations against defensive ends. Howard was also on the backside of a healthy percentage of run plays, allowing him to be an athlete and cutoff pursuit rather than move people off the ball. It was a better fit for him than blocking in 11 personnel as the lone in-line tight end.
Still, if Howard ever wants to be a true No. 1 tight end playing every down in this offense, he needs to be able to handle the blocking. The tight end is a critical part of the Bucs run game, which is why Gronkowski is such a good fit. If Howard has his sights set on a second contract in Tampa Bay, this will be the area where he really needs to prove himself.
Ideal Situation For Howard
Don't get me wrong, it would be silly to expect an 800-yard season from Howard with all the Bucs weapons and the greatest tight end ever playing alongside him. But the situation is ideal for Howard to finally find stable footing in the NFL, especially in an offense well-suited for his skill set. Howard may never be a great cutter as a route runner, but in Arians' vertical passing attack, he doesn't have to be.
Lost in the struggle to pick up the entirety of Arians' offense (especially the blocking) and the injuries is the fact that this offense is perfect for Howard. Four of Howard's 11 catches last year went for 15 or more yards, including two over 25 yards. If he can continue to ascend as a blocker, he'll be on the field enough to produce as a receiver. When that happens, big plays will follow.
Howard may not be the most explosive receiver in his first couple steps, but his long speed is deadly. With the match-ups the Bucs can generate for him in 12 personnel packages, linebackers are going to be no match for Howard down the field. It was an issue for teams over the first couple games last season, and it'll be an issue again this year. Every time Howard is on the field, he'll have the most favorable match-up on paper. And he's way too talented for the opponent's weakest link to handle.
Howard Hasn't Been A Bust
In predicting a breakout year for Howard, it's critical to remember he has not been a bust in his NFL career. There have been ups and downs, but we are still talking about a guy who has been highly productive on a per catch and even per target basis during his NFL career. Staying healthy has been by far the biggest thing holding Howard back. I wrote the following about him in a Bucs Briefing last year.
Since 2000, only 22 rookie tight ends have had more than Howard's 432 yards in their debut season, and none have averaged better than the Alabama product's 16.6 yards per reception. Howard's six touchdowns are tied for the fourth-best mark for a rookie tight end in the past 20 years, another mark that shows how hot his start was compared to most at the position.
As a second-year player, Howard didn't just look ready to break out – he did break out. Yes, he still made the occasional mistake, but the big tight end dropped just two passes and completely eliminated the fumbles that plagued him the year before.
In the meantime, Howard made the most of his 47 targets, catching 34 passes for a ridiculous 565 yards and five touchdowns. That's an average of 16.6 yards per catch yet again for Howard, continuing to be a big-play machine in an offense where opportunities were hard to come by. Heading into 2019, Howard appeared to be on the cusp of breaking into the league's Top 10 tight ends.
Before his injury in 2018, Howard was on pace for a 54-catch, 903-yard, 8-touchdown season through 10 games. Production like that would have immediately vaulted him into the conversation as one of the next great tight ends in the NFL. 2019 was an underwhelming campaign for several reasons, but Howard seemed to turn the corner late in the year. From Weeks 13-16, Howard caught 16 passes for 226 yards, including several big plays down the field. He finished the year with a respectable, yet underwhelming 34 catches for 459 yards, but scored just once.
Howard seemed to be on pace for a bounce back in 2020, with a 44-catch, 584-yard, 8-touchdown trajectory before his injury. In this Bucs offense, those numbers would have represented a big impact, without many balls to go around.
The 2021 season can be the year that 2020 would have been for Howard, with the obvious caveat that he needs to stay healthy. Yes, the wait for Howard to become a stud has been far more turbulent than anyone wanted it to be. But there is tremendous talent here, and the situation is perfect for the big tight end to thrive. Howard may never be the star tight end he was drafted to be, but the best is still yet to come for the first-round pick.
Share On Socials