The time has come, and this is no April Fool's. In today's Bucs Briefing, I unveil my absolute top prospect for the Bucs at No. 14, an interior offensive lineman who could make an immediate impact in pass protection, and a Day 2 wide receiver who could fit perfectly into Bruce Arians' offense as a rookie.
All that PLUS my thoughts on possible Round 1 surprise moves by the other NFC South teams, including the possible beginning of a new era in New Orleans.
Enjoy!
Round 1, Pick 14
Jedrick Wills, OT, Alabama
Height: 6-5
Weight: 320
Class: Junior
D.O.B.: 5/17/99
Statistical Profile: Wills started 29 games in his three years at Alabama, including every game of his sophomore and junior season. All of his starts were at right tackle, which was left-handed quarterback Tua Tagovailoa's blind side.
Where he wins: Where doesn't he win? Wills faced the highest levels of competition in the toughest conference in the country for two straight seasons in an aggressive, NFL-style passing offense, and he consistently played at a high level. Many offensive linemen enter the NFL with unanswered questions due to their pass sets within their college offense or the lack of high-caliber pass rushers that they've faced in their careers. Wills' evaluation is nice and clean because we don't have to worry about any of that.
Just this past season, Wills faced LSU's K'Lavon Chaisson, Michigan's Josh Uche and Kwity Paye, Tennessee's Darrell Taylor and South Carolina's D.J. Wonnum. He's battle-tested against speed and power rushers, and as a junior he made a leap from solid to the elites at his position.
What I love most about Wills is how explosive he is out of his stance and how effortless he is to re-direct in pass protection. His movement skills are absolutely elite for an offensive lineman, and his technique is just as good. Wills carries himself with a flat-backed posture and sports a devastating punch to rock power rushers and stymie speed rushers. His ability to vary from vertical to 45-degree sets help him counter different types of pass rushers, and Wills easily possesses the range to protect the edge and stop cornering threats at the top of the arc.
Owned pic.twitter.com/nzOymKHGJ0

— Jon Ledyard (@LedyardNFLDraft) January 28, 2020
In the run game Wills' devastating power and elite flexibility allow him to consistently create movement up front. He can operate in any scheme, with rare grip strength and lightning quick feet. I've seen him corkscrew multiple defenders into the ground with unbelievable torque over the past two seasons. Due to his athleticism and body control, there is considerable upside to Wills as an in-space mover and/or puller that will be a huge asset to NFL screen games and perimeter run concepts at the next level.
Jedrick Wills tape is enjoyable pic.twitter.com/UQHTvzwZoy

— Jon Ledyard (@LedyardNFLDraft) January 28, 2020
Lol good luck to the rest of the OTs in this class trying to pass Wills in my rankings pic.twitter.com/V1JTU7heLg

— Jon Ledyard (@LedyardNFLDraft) January 28, 2020
Wills mental processing is outstanding, as he consistently identified late blitzers and twists/stunts in time. His toughness and desire to finish show up on a snap-to-snap basis, yet you never see Wills laboring or struggling to string together quality reps.
Prob one of the most agile OTs I've ever scouted pic.twitter.com/kZp08MrEIg

— Jon Ledyard (@LedyardNFLDraft) January 28, 2020
Believe it or not, there are some negatives.
Wills can reach any set point, but does have instances of over-setting pass rushers, leaving the B-gap exposed for quick counters. He improved a ton with his strike timing, speed and placement this past season, but there are still occasions where the defender attacks his hands and can get him momentarily off-balance.
The biggest flaw for Wills in pass pro (outside of his oversets) is he sometimes falls so in love with his strikes (which are deadly), that he gets a little over-eager and punches early, exposing his hands for more savvy rushers to attack. The league is full of edge defenders who know how to work over tackles with even one flaw, and although Wills has improved a ton in this area, it'll need further development at the next level.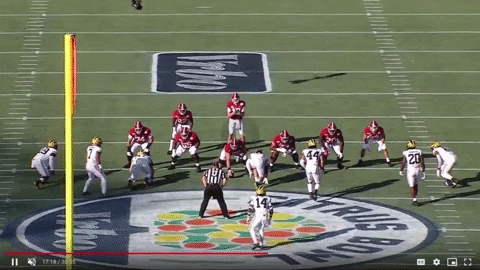 Hard to find a complaint with his work in the run game. Wills' zone steps can be improved to allow him to complete reach blocks with more regularity, as he'll sometimes struggle to secure his opponent completely. Sometimes in space he can get over-eager and take really aggressive angles to smaller targets, making it easier for them to maneuver around him.
Bucs Fit: There is no doubt in my mind that if Wills is on the board at No. 14, he should be the Bucs' pick. Obviously there is a good chance that he will be gone earlier than that with plenty of OT-needy teams ahead of Tampa Bay, but Wills is easily my favorite offensive tackle in the class.
Bruce Arians' offense demands a lot more in pass protection than it does in the run game from offensive linemen, but Wills is the best tackle in the 2020 draft in either area. He's also started his whole career at Alabama on the right side, which makes him a plug-and-play candidate to bookend Donovan Smith, even if Demar Dotson does return on a one-year deal. And when Smith's time in Tampa is over, Wills has all the traits to make the transition to the left side if the Bucs so desire.
Wills is a Top 5 player in this class, and getting him at No. 14 at a huge position of need would be an absolute coup, but I'm just not sure he'll be there.
Grade: First Round
Share On Socials