Win or lose this season, there is only one thing Bucs fans have wanted to know after each game: was Mike Evans open? And if he was, why didn't Tom Brady throw him the ball more?
Both are fair questions, and the answer has been different each week. Through the first 6-7 weeks of the season, Evans either wasn't healthy, was frequently double-covered or both. Injuries, limited practice time and extra attention from defenses definitely impacted the Tom Brady-Mike Evans connection throughout most of the first half of the season, but what about now? With wide receivers Chris Godwin, Antonio Brown and Scotty Miller along with tight end Rob Gronkowski sharing the field with Evans, why is the All-Pro receiver not getting more targets?
There were 14 offensive snaps for the Bucs before they were down 28-0 when Evans first got the ball. Two of those plays were Ronald Jones' runs and two of them were designed screens for Jones in the passing game. That leaves 10 snaps to potentially target Evans before things got out of hand.
How many times did the Bucs have the opportunity to actually get Evans the football? Was he really erased by Marshon Lattimore in coverage? Did Brady miss him a few times?
I clipped all 10 of these pre-blowout Evans' snaps to see if there was any way that targeting the big receiver more often could have helped the Bucs avoid a massive early deficit.
Evans' Route #1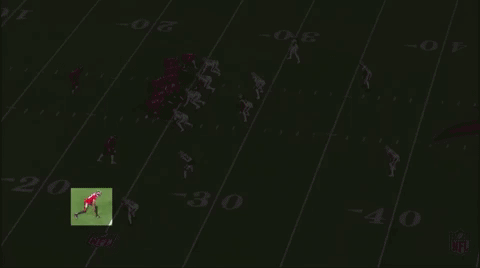 On the first snap of the game, Evans is outside the numbers running a vertical clear out route against man coverage from Lattimore. The play actually works pretty well – Evans takes the outside cornerback deep and Godwin's route forces the slot cornerback to grab him around the waist coming out of his break on the out route. But there is no flag and Brady is hit as he throws, preventing him from being able to put everything he has into the throw. The pass was incomplete, and Evans wasn't really a primary option on this play, nor was he open.
Evans' Route #2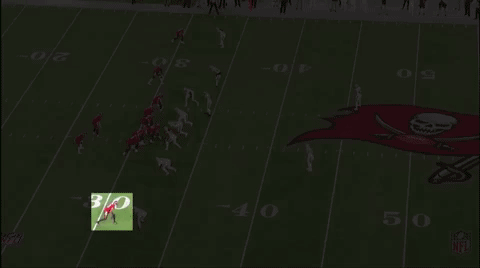 Brady's first progression is to the three-receiver side of the field, where the Saints are again playing man coverage. He tried to hit Gronkowski on the quick out on third-and-short, and again there is contact at the top of the route. No call (this one would have been ticky-tacky), and the incompletion forces another Bucs punt. Not a great play by Gronkowski, who has to be more physical out of his break to create some space.
Evans wasn't really part of the progression again, nor was he open, as Lattimore again does his job. If Brady had worked to the boundary side of the field, Antonio Brown out of the backfield would have netted him a first down. But with left guard Joe Haeg giving up immediate pressure, there was no chance for Brady to do anything but get the ball out quickly.
Evans' Route #3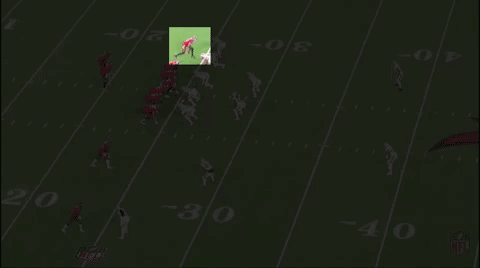 On the next possession the Bucs came out in a 3×1 look, with Evans again the isolated backside receiver. He's double-covered this time, with the cornerback playing outside leverage and the safety cutting any in-breaking route. Brady can see this one pre-snap, but he checks it post-snap right away anyway. He wants to go to Evans, but it clearly isn't there and he moves on.
To the field side, the Bucs are running a post-wheel combination, hoping to get a rub against man coverage to free up Godwin on the wheel route. The Saints played it wonderfully, with the slot defender getting over top of the mesh to cap the wheel route. Brady wanted Godwin to keep going anyway and take his chances on a 50-50 ball, but Godwin was looking for a back-shoulder throw with the defender in a great position to defend the vertical. It's the correct read by Godwin, but Brady is hit as he throws when Haeg is beaten again, so he doesn't really have time to process Godwin's adjustment when he moves to his second progression.
Hopefully three plays into this, you're getting a good feel for how many moving parts there are when assessing individual player performance. A lot goes into analyzing whether a throw or decision is good or bad. On the play above I would say Brady didn't make the correct decision to throw the vertical instead of the back-shoulder, but terrific defense by the Saints on his initial read and the subsequent quick pressure also didn't give him a great chance to succeed. Lots to consider.
Evans' Route #4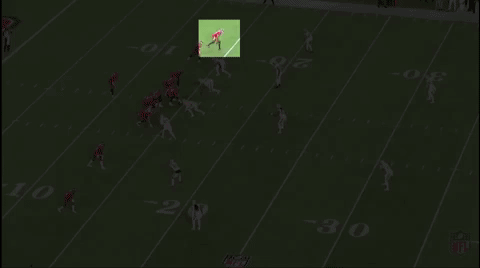 Following a Donovan Smith holding penalty, the Bucs faced a second-and-20 from their own 15-yard line. The Saints finally deployed some zone coverage, and Evans does work into space cleanly. He's open. But if you pause this right when Brady decides to throw the ball you can see the hook/curl defender sitting between Evans and Brady, making a throw tougher than it looks from an aerial perspective. If Brady waits a bit longer Evans might have a sliver of a window if he keeps moving, but even that gets condensed because the Saints dropped their left defensive tackle to replace the Tampa 2 linebacker as a middle zone defender.
Another outstanding call by Saints defensive coordinator Dennis Allen, and Brady knows on second-and-20 he has to get something to make third down manageable. I get his thought process completely, and a throw to Evans is probably ill-advised, but against a three-man rush I'd like to see Brady move to the opposite side of the field and find Brown on the post route, or even Godwin on the wheel. On 2nd-and-20, you probably need a bigger bite than a 6-yard checkdown to Jones. Again, it's a fine process by Brady, but post-wheel has a shot against Cover 2. I'd want to see him take it.
Evans' Route #5
This looks like a called shot play for Brown, with Evans again isolated backside of the 3×1 with Lattimore on him in man coverage and a safety over the top. I'm not positive where he is in Brady's progression, but based on the way the quarterback reads out the field, I think Evans is a last resort on this play. By the time he creates some space, the ball is already about to be launched. The pre-snap look isn't favorable for Evans here either with the safety looming, but he does run a good route.
What about maybe having Evans run one of the post-wheels on the last two plays, or the vertical Brown runs on this play? Why does the Bucs' offensive design feel the need to so doggedly feature Evans as the isolated X-receiver, making him easier to defend? This is 2020 in the NFL, and receivers can play all over and still be effective, still get vertical. Leaving Evans on an island through the majority of their first few drives isn't exactly feeding into the notion that you'd like to prioritize getting the ball in his hands, as Arians has said in multiple press conferences this season.
Evans' Route #6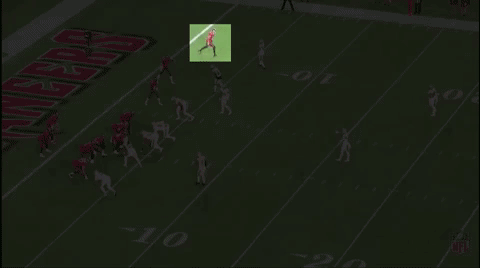 More man coverage from the Saints, with Evans finally joining the trips receiver side, but running another vertical with a safety over the top. Important to note: when you're consistently in third-and-long, life becomes much easier for defensive coverages, especially when it comes to taking away a vertical threat like Evans. Clearly the Pro Bowl receiver is not a good option on this play.
Brady again makes the correct read with Gronkowski creating a small window on the out route against Malcolm Jenkins, who is playing with inside leverage at the snap. Brady delivers an absolute dime under pressure, but Gronkowski's miserable night continues with a drop on third-and-8.
Evans' Route #7
Guessing this is one of the plays Arians was referencing about Mike Evans being open. He's screaming down the seam, wide open here. pic.twitter.com/k94yi6kKQc

— Daniel Jeremiah (@MoveTheSticks) November 9, 2020
Here's the play that will probably stand out to the common fan, and Daniel Jeremiah's vague tweet doesn't really help their understanding very much. The Bucs have a first-and-10 down 14-0 with zero first downs in the game. The Saints are playing Cover 3 Buzz, with the safeties rotating right after the snap. The boundary safety rotates single-high, and the field safety buzzes down to take away anything in-breaking short-to-intermediate from the trips side.
In this rotation, the deep safety should be over top of a vertical by Evans. It's only unclear if Marcus Williams would have been in position here because Brady holds him on the hash by opening to the single-receiver side, as he should have. It's a free access throw to Scotty Miller for an easy eight yards with the corner playing off in Cover 3. When the flat defender doesn't widen quickly, Brady pulls the trigger and Miller is somehow unable to get both feet down (we never got a good replay, it did look like his feet were down live).
Because Brady opens to the single-receiver side, Williams, the safety, hangs out on the hash a little bit rather than rotating hard to the center of the field to take away Evans' vertical. Maybe Brady could have worked back to Evans if he'd noticed, but there is no reason for him to work the safeties in this progression with what should be a free completion on the correct read right in front of him. The fact that right guard Alex Cappa is immediately beaten would have made it impossible for Brady to work progressions to the other side of the field in this specific situation. But even if that hadn't occurred, this is still the correct read and throw despite Evans being open.
Don't just listen to me, take it from TEST Football Academy quarterbacks coach Tony Racioppi, who clarifies Jeremiah's initial tweet.
It's 3 Buzz. Tom works access Out route which is correct away from rotation and flat defender in box. Maybe could have beat backside FS rotating to Middle Closed but it's a rhythm throw and and probably an alert.

— Tony Racioppi (@Tonyrazz03) November 9, 2020
Evans' Route #8
The Bucs did start moving Evans around as the game progressed, but the Saints still managed to defend him pretty well. Tampa 2 look here, with Brady hoping Evans' vertical stem pulls those underneath defenders off Godwin a little more. Good 7-yard gain on second-and-10 to get to third-and-manageable, well-executed by Brady and Godwin. The Saints' Tampa 2 linebacker has eyes on Evans the whole way as he breaks toward the middle of the field, and Brady makes the correct read and quick-trigger throw.
Evans' Route #9
One of the reasons the Saints are so good at defending Evans is that his route tree is way more predictable than most star receivers. He's so vertically based in his deployment, that the dropping linebacker isn't worried about his route breaking off early, and the safety is always alerted to him over the top, even when he's in the slot.
Still, this is one I'd just rip in there if I'm Brady because Evans has a step on his defender, who is in a trail position. This is probably the only time before the game got out of hand that I'd like to see Brady just gun this one into the window between the linebacker and the safety and ask Evans to be a stud and go make a play. You can see Brady wants to pull the trigger, but he comes off it and works back to Miller, who is well covered one-on-one on the outside, and the second-year receiver inexplicably breaks off his route.
But I'd have gone to Evans here. It isn't poorly defended by the Saints at all, but down 14-0, gotta take this shot and trust your receiver to make a play.
Evans' Route #10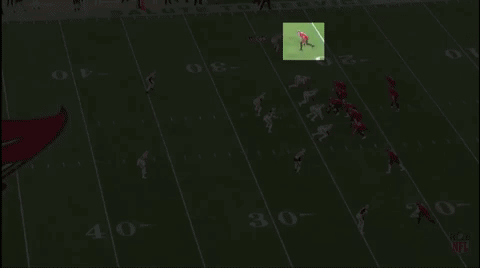 Back to the single receiver side for Evans, who gets jammed up by Lattimore and never creates any separation. At the bottom of the screen Tyler Johnson runs a terrific route, shaking cornerback Janoris Jenkins to pick up 11 yards and the first first down of the game for the Bucs, now down 21-0. Good read and delivery by Brady, right in stride.
The tipped/volleyball interception screen pass occurred on the next play, signifying that this just wasn't the Bucs night. Down 28-0 the next time they got the ball, the offense finally got Evans involved to a degree with his first catch coming inside the final two minutes of the second quarter, and he finished tied for the team lead with six targets, leading the way with 64 yards on four catches.
But at that point in the game, it was already over. As you can see from the 10 pre-blowout routes Evans ran, there were very few opportunities to get him the football before this game was out of hand. Part of that is such a small sample size of plays in which to make an impact, and part of it is using two of the Bucs' 12 pass plays as designed opportunities for the worst receiving option on the team – Jones – to get the football. A big part of it is also the Saints playing outstanding coverage football on Sunday night. One of the best games by a defense all season long.
When asked Monday afternoon about why Mike Evans wasn't more involved Sunday night, Arians claimed the opportunities were there.
"Mike was open a bunch in that ballgame," Arians said. "He didn't get targeted – that was all. Mike was open."
Ehhh. Arians doesn't specify a time frame here, so perhaps he's referring to opportunities later in the game. But before the contest was effectively over, Evans was rarely open and frankly wasn't a major priority in the offensive design. Granted, 10 plays is far too small a sample size to say the coaching staff isn't working hard enough to get him the ball, but if the Bucs are serious about getting Evans "10 targets a game" as Arians has said in the past, the team needs to be more creative and intentional about how they use him.
Evans was targeted six times on Sunday night, and has been targeted 10 times just once this year, which came in Week 2 against Carolina. He caught seven passes for 104 yards and a touchdown in the Bucs' 31-17 win.
The task of getting Evans involved is unquestionably more difficult because he's not a receiver that you scheme manufactured short touches for, or you prioritize getting in space so he can make plays with the ball in his hands. That's just not who he is. He's such a vertically-based receiver that making him a volume pass catcher is only going to happen a few times a year. It's why Evans only collected double-digit targets in five games last year – it's not high percentage offense to give him a ton of touches every game, unless his deployment changes to a degree.
"But he produced last year! What's the difference this year?"
The difference is many things, and yes, Brady is a part of it. Every year Evans has been in the NFL, his catch percentage has been one of the lowest marks in the league. It was 169th in the NFL last year, to be exact. That's not his fault. He's so vertically-based in his deployment that a healthy percentage of the throws that have gone his way throughout his career have been lower percentage deep throws by nature. They've led to a lot of big plays, a lot of incompletions and way too many interceptions – 16 over the past two years in passes intended for Evans. It's one of the reasons why the Bucs offense was a constant boom-or-bust roller-coaster when it ran primarily through Evans as the only option, but the maturation of Godwin changed that to a degree last year.
Arians can want Brady to play as carelessly as all his past quarterbacks have, but that is not going to happen. There's a reason why all of Arians' past signal callers have taken a ton of sacks and turned the ball with a higher than normal frequency – it's because he is always pushing the long ball, even when it isn't the correct read or it bypasses a higher percentage throw that can keep a drive on schedule.