Normally at this point in the week I would be writing up my weekly column, Most Valuable Plays, where I take a look at the Bucs' most valuable plays from their latest game in terms of expected points added and break down each one, showing why they were so successful for Tampa Bay.
This week however, as the Bucs were thoroughly dominated by the Saints on Sunday night, I didn't see much worth in breaking down the few individual plays that actually provided significant value to Tampa Bay. So for this week, I'll look at how the absence of Tampa Bay's elite left guard Ali Marpet – and the subsequent replacement by veteran Joe Haeg – impacted the Bucs.
To start, Marpet hasn't just been good for the Bucs in 2020, he's been elite. As Mark Cook wrote in The Hook last month, Marpet has been among the Bucs' best players this season and one of the best linemen in the league.
Through eight games this season Marpet carries an offensive grade of 84.9 from Pro Football Focus with a pass block grade of 78.9 and a run block grade of 82. Along the same lines, Marpet has allowed just seven pressures while failing to allow a single sack or commit a single penalty on 552 offensive snaps.
Haeg had played sporadically throughout the season before Sunday, getting all 40 of his prior snaps lined up as an extra blocker from the tight end position. In Week 9 Haeg played 50 offensive snaps at left guard, accruing an offensive grade of 40.7 and a pass blocking grade of 20.7 in a game where Tampa Bay ran the ball just four times. Against the Saints, Haeg allowed three quarterback hits and four hurries for seven pressures, numbers that are on par with Marpet's stats for the year despite playing less than 10 percent of Marpet's snaps at guard. And they would have been significantly worse marks if Brady hadn't gotten the ball out as quickly as he did on several occasions.
On the Bucs second play of the game, Haeg may have made his best play of the day, driving defensive tackle Malcolm Brown into the turf, with the help of Rob Gronkowski. From there it was all downhill.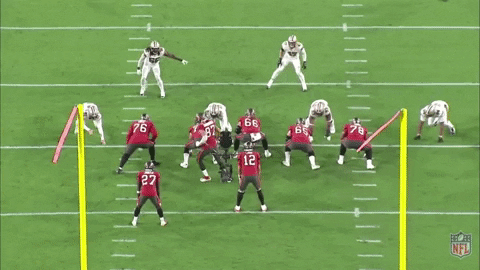 On the very next play, Haeg's day began to fall apart. On third-and-3, the Saints showed a five man front but rush just four as inside linebacker Demario Davis drops into coverage. This leaves Haeg one-on-one with Trey Hendrickson, who immediately wins with a cross chop and gets into the backfield. Haeg recovers slightly, but it's too late as Brady feels the pressure and fires quickly to his hot receiver, a covered Gronkowski on a quick out route just past the sticks.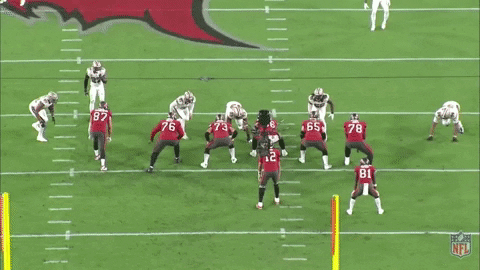 On the first play of the ensuing drive Tampa Bay opted to start the series with play-action again, this time with Brady in the shotgun. As the Saints rush four, Haeg is once again lined up with a one-on-one match-up, now across from defensive tackle David Onyemata.
Post-snap the Bucs deploy routes from just three receivers. Brady looks quickly to Evans, double-covered as the lone receiver on the left side of the formation, and tries to work through his progressions to the opposite side of the field. By the time Brady gets to his next read Onyemata has already won, forcing Brady to throw one up for Godwin, who was looking for a back-shoulder pass. After Brady is hit on his second consecutive first down pass, it leads to another second-and-10.
Later on in the second quarter with the Bucs facing a third-and-6, Haeg's struggles mounted. In a one-on-one situation, Haeg is beaten and gives up a quarterback hit that leads to another incompletion.
All-in-all, Tampa Bay converted just one of their 13 third down attempts.
Here's one more example for good measure, showing Haeg getting tossed to the ground by a nasty push-pull move in a one-on-one battle, allowing Brady to be hit on the completion. And keep in mind, all of these examples are coming before Tampa Bay and New Orleans went to the locker room for halftime.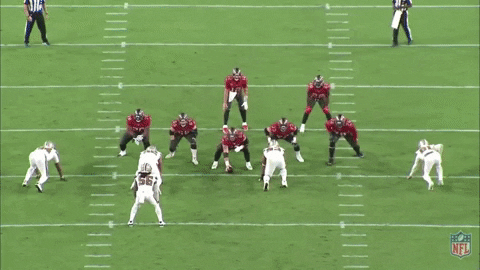 It wasn't all bad for Haeg on the day, but the numbers don't lie, the film doesn't lie and the "silver lining" moments were fleeting. Haeg was serviceable on some reps in pass protection, getting better as the game went on, and played fine on his few run game snaps. But the overall body of work was easily the worst game by a Bucs offensive lineman this season.
On the play below, Haeg worked well with Donovan Smith adjusting to the Saints' stunt to give Brady just enough time to let Godwin's route develop and hit him for a 20-yard completion. But even then, this "silver lining" moment is simply serviceable as Brady still gets rid of the ball just in time with a hand in his face.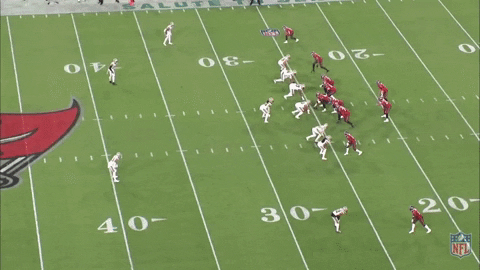 But when lined up in one-on-one battles in true pass protection sets, Haeg wilted and consistently needed assistance from a tight end or one of his fellow offensive linemen. It also didn't help that the Bucs trailed by a large margin early, forcing them to abandon the run and allow New Orleans to increase the pressure, the blitzes and the games they were running up front.
Haeg now has one start under his belt with Tampa Bay, and should Marpet be forced to miss another contest, it's clear that adjustments have to be made from the Bucs staff after watching the film from this week. Tampa Bay may have to consider moving Ryan Jensen to guard and playing A.Q. Shipley at center in order to avoid another Haeg meltdown in a huge divisional game.
Share On Socials