Welcome, Bucs fans, to the new look Bucs Briefing! During the season I'll be studying the All-22 tape of each game, and providing you with a comprehensive film breakdown of what went right and what went wrong for the Bucs on Sundays.
The hope is that Bucs Briefing will be live on the site early each Wednesday morning, but this week's edition is delayed and somewhat neutered due to the NFL failing to release the coaches' film of this week's game by Tuesday morning, as they are supposed to.
But have no fear, we've got plenty of broadcast and replay angles to go over this week, as we examine the positives and negatives from the team's performance on Sunday.
Offense
RT Wirfs' Hot Start
We spent all week talking about how the Bucs could help rookie right tackle Tristan Wirfs against a whale of a first assignment in five-time Pro Bowl defensive end Cam Jordan, but it turns out the rookie could handle his business just fine. Sure, Jordan got the better of him once or twice, but those players were by far the exception rather than the rule.
Here's a handful of snaps from Wirfs on the team's final drive, in all pass-obvious situations where he mostly had to handle Jordan on his own, while the star pass rusher was teeing off against the first-year tackle. Obviously this is just a small percentage of the snaps, but they are representative of Wirfs' performance throughout the entire game.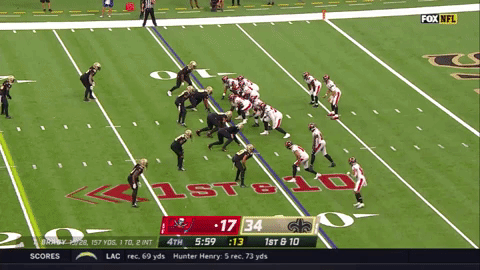 Let's give a shout-out to right guard Alex Cappa here too, who also played really well on Sunday. He and Wirfs flawlessly pass off this T/E (tackle/end) twist, staying on the same level and communicating well. They did this twice on the drive. Not bad for two young guys playing in their first game together.
Initially knocked back by Jordan's punch here, Wirfs does an exceptional job dropping anchor and winning the rep. In scouting I've often said that what separates good and great offensive linemen is the ability to win and survive reps when things don't go well. This started out looking like a win for Jordan, and Wirfs dropped anchor and handled him.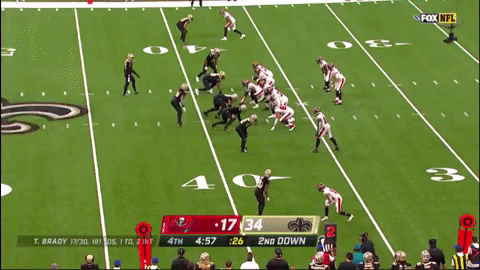 Jordan again tries the bull rush, and this time Wirfs lands the first blow, ending the fight early. It's amazing to me how physically prepared Wirfs is for a battle against a powerhouse like Jordan. He hardly got pushed around for a second.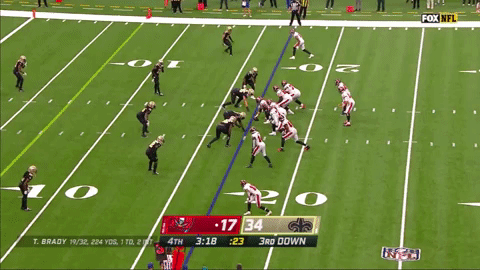 Not having any success with the bull rush, Jordan tries to cross chop and swim Wirfs around the edge. Nothing doing. Wirfs' hands are too quick, shooting a punch to Jordan's chest while the edge rusher sets up the cross chop. Then look how smoothly Wirfs opens his hips to mirror Jordan to the apex of the arc.
Wirfs' power, the way he moves, the way he handled an elite match-up with minimal offseason work and no preseason games … highly, highly encouraging start for the rookie.
LT Smith Struggling
On the other side of the line, Donovan Smith's struggles were one of the major reasons the Bucs offense struggled when it did. I want to be clear that Smith was not bad the whole game. He did some really good things in pass protection, but when you're making big money as a top-40 pick and you get lit up three to four times in a key game, those are the things people are going to remember, and in some ways rightfully so.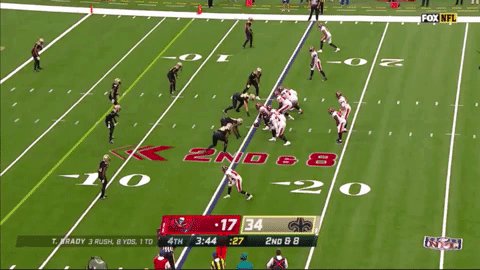 This is the Saints' No. 4 edge rusher taking Smith to school because the tackle's technique falls apart. Smith stops his feet and lunges at Carl Granderson, who easily dances around the veteran tackle for a strip-sack of Tom Brady. The worst part is that Brady stepped up in the pocket to help his tackles and still got strip-sacked.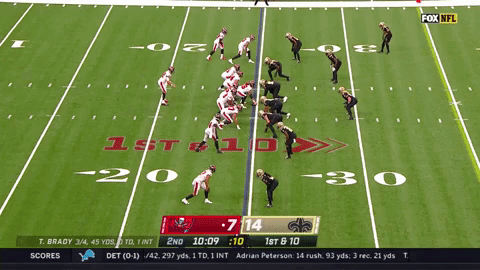 This play doesn't really even result in a pressure, but it's another example of Smith's technique just going out the window when the bullets start flying. Lunging at opponents, letting his weight get way out over his knees, and his footwork is a disaster. This isn't all or even most reps for Smith, but when things go south, they go south in a big way. That can't continue if the Bucs are going to be serious contenders this season.
Middle Read Concepts Expose Lack Of Cohesiveness
I wrote about both of these plays on Monday, but two of Brady's most criticized throws weren't his fault.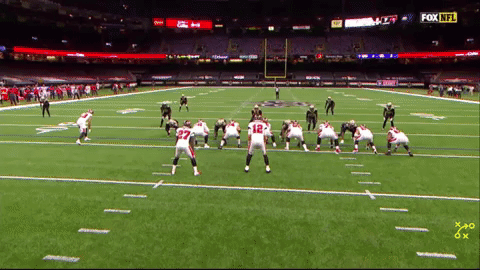 This is a middle read concept for Brady and Mike Evans, and the Bucs quarterback correctly identifies split safeties with no middle zone defender (typically a linebacker) dropping between the hashes. This means that Evans must continue his route into a post pattern, breaking toward the middle of the field and the top of his route. Instead, Evans incorrectly sits down after starting to run his post route, which leads to an uncontested interception for safety Marcus Williams.
"No doubt," Bruce Arians said to the media on Monday. "It wasn't Cover 2, it was quarters coverage and Mike should have been splitting, going down the middle and never stopping."
Now, Brady's decision is still a risky one, as linebacker Demario Davis identifies what Tampa Bay is trying to do at the last second and works vertically fast. It's gonna take a high throw to get it over Davis and to his target, so Brady puts it upstairs where he hopes a leaping Evans can win a combat catch against Williams. But because Evans wasn't where he should have been, we'll never know how this play would've gone. All we know is that Brady isn't at fault for a mental mistake or the turnover on the play.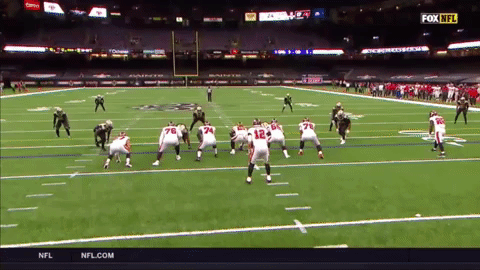 On this play, the Saints are running a Tampa 2 coverage, with two safeties splitting the deep portion of the field, and a linebacker (Alex Anzalone) running the seam as the trail defender underneath tight end Rob Gronkowski. The veteran tight end must see the middle of the field is open and adjust his route, bending away from the field safety (Malcolm Jenkins) to space.
Instead, Gronkowski just keeps running vertical, and Brady's pass to the perfect location is nearly intercepted. Jenkins made a good break on the ball from his alignment, so Gronkowski is definitely gonna have to make a catch in traffic here. Brady trusts him to do that though, so he gives him a chance with a well-placed throw while under duress. But on this play, Gronkowski simply makes a mental error.
This also happens to be the one play where Wirfs gets beat quickly by Jordan. If the defense drops eight and rushes three, yet still gets home right away, it's pretty brutal on the quarterback. Brady's teammates let him down a few times in key moments on Sunday, and they've got to be better moving forward. More practice time to work out these miscommunications will help.
Offensive Notes
• The Bucs did a great job of moving around a hamstrung Mike Evans to free him up from top cornerback Marshon Lattimore in coverage, deploying the Pro Bowl receiver in the slot on 22 snaps. That's the third-most snaps Evans has played in the slot during a game in his career, outside of his rookie season. If you add up the two defensive pass interference calls as receiving yards, the final numbers wouldn't look as bad for Evans. Still, Evans dropped a slant pattern, messed up the aforementioned post route on Brady's first interception and struggled to get separation from Lattimore on the outside, so it was still a difficult day for him overall, as he finished with just one catch for a 2-yard touchdown.
• What a breakout by Scotty Miller. It wasn't all simple stuff either, as Miller reeled in a 37-yard pass from Brady in which he tracked the ball beautifully over his shoulder while detaching from coverage with a late burst of speed. Earlier in the game he left cornerback Janoris Jenkins grasping at air on a slant pattern, and then beat cornerback Patrick Robinson down the right sideline, drawing another pass interference penalty to prevent a big gain. Huge performance from Miller, who had five catches for 73 yards and one run for six yards in New Orleans.
• Quietly, tight end O.J. Howard did some good things. He went low to dig out a throw or two from Brady on one drive, finishing on the ball despite contact over his back. I'm interested to see if his snap counts increase if the team decides to get away from a run-first approach (which they should). Howard finished with four catches for 36 yards and a touchdown.
• He didn't do much in the passing game, but Gronkowski was definitely an asset as a blocker, both in the run game and in pass protection. He's a clear upgrade over Howard and Cam Brate as a blocker, even if he's still working his way back into form. I'm totally lost as to why the Bucs kept trying to get him touches in the screen game though. That is not who he is as a player. Get him down the seam.
• Later this week I'm going to write about what actually went structurally wrong with the Bucs offense on Sunday, and why it can't continue if the team is going to reach peak success this season (hint: stop trying to establish the run). Be sure to look for it on PewterReport.com.
CLICK ON PAGE 2 TO SEE LEDYARD'S BREAKDOWN OF THE BUCS DEFENSE