Bucs Briefing is exclusively sponsored by Locker Room: Tap In, Talk Sports – the official social audio partner of PewterReport.com.
Locker Room is changing the way we talk sports (and talk about the Bucs!). It's the only place for live audio conversations about the takes, rumors, news, and teams you care about.
Ever since I started at PewterReport.com back in February 2020, one question has come my way again and again. Who do you think is better – Mike Evans or Chris Godwin?
At first glance, the question seems difficult to answer. The Bucs use both players very differently, and both have some different strengths and weaknesses…to a degree. But the more I thought about it, the more I became convinced that not answering the question was a cop-out.
We're not comparing Mike Evans to Jarvis Landry here. Yes, Godwin is utilized differently than Evans, but he still does plenty in the vertical passing game and has been a big play threat for the Bucs throughout his career. There's enough crossover in the two players' skill sets to make it easy to compare them – if you've got the stones for it.
We'll begin the comparison by clarifying that both players are clearly elite. Nobody is being disrespected here. It's also worth clarifying that this is a conversation about which player is better right now, not who has had the better career. Evans is a future Hall of Famer, while Godwin's career is just getting started. Perhaps someday we'll write about which player has had the better career. For now the question is 'who is better in 2021?', drawing evidence from mainly the past two seasons to reach a conclusion.
I ran both players through aspects of my wide receiver grading scale, rating their skill sets across ten categories. Here's the result:
Separation Quickness/Route-Running/Releases
I've combined three grading categories into one section here, with the overall focus on how both players separate from coverage, from their release to the top of their route. Neither Godwin or Evans will be confused for Amari Cooper or Stefon Diggs, but both are underrated separators, especially Evans.
Godwin typically gets credit for being a polished route-runner, and he certainly is. The Penn State product isn't the most explosive mover, but his consistent attention to detail and ability to sell fakes with his body language can make corners look silly. There's a subtle brilliance to Godwin as a route runner that gains him the separation other receivers obtain with suddenness.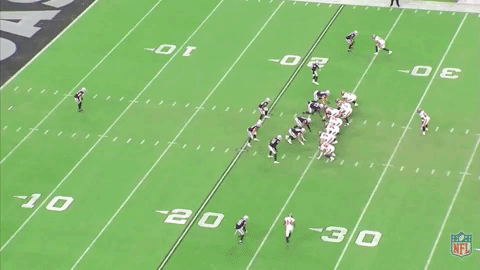 See how committed Godwin is to his fakes before he breaks the route off? The deliberate movement almost always forces corners to guess at the top of the route, and usually they don't guess right. Most defensive backs just aren't patient enough to hang with Godwin.
Evans isn't as crafty as Godwin, but he's a better pure athlete. At 6-5, 225 pounds, most wouldn't expect Evans to be able to drop his hips and separate the way that he does. The suddenness that he plays with at his size is pretty remarkable.
Evans excels at this stutter-and-go slot fade from a reduced split. This throw was late and incomplete, but you can see how he's able to obtain separation with quick feet and acceleration vs James Bradberry. Evans is also very good at avoiding jams and getting into his route clean. That's a testament to his change-of-direction and polished hand usage.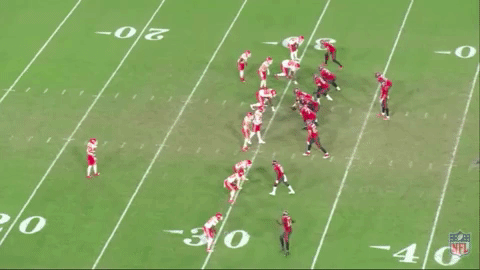 For some reason Evans has been thought of as a big, contested catch receiver who doesn't separate, when that couldn't be further from the truth. He's an outstanding separator in the intermediate and deep passing game, even if he may never be an ideal short game option. Not every receiver that excels at creating separation has to play like Cooper and Diggs.
So who is better in this section, Godwin or Evans? I think Godwin is the more savvy, creative route runner, while Evans might be better at creating natural separation with his traits. Evans is the better athlete of the two, and his size creates problems.
As for releases, both are among the best in the league. It's worth noting, however, that Evans sees far more press man coverage battles and far less cushions off the snap than Godwin, according to Next Gen Stats. Evans saw the 11th-lowest average number of cushion yards amongst all NFL receivers, while Godwin was ranked 74th.
It's a push for me.
Advantage: Push
Contested Catch/Ball Skills
This is an area where many would give Evans the nod based off reputation, but in reality Godwin is superior in contested catch situations and in his overall ball skills. Ball skills include tracking, catching the ball outside his frame, reliable hands and body control on the sideline/in the air.
Over the past two seasons, Godwin has caught 69.2 percent (9-of-13 in 2020) and 66.7 percent (16-of-25 in 2019) of his contested targets. That's 25-of-38 over a two-year span, or 66 percent. According to Pro Football Focus, Godwin ranked 2nd out of 79 receivers (50+ target minimum) in contested catch rate in 2019, and fifth in 2020. Add in the context of the tape, and there's a strong case to be made that Godwin is the best contested catch receiver in the NFL.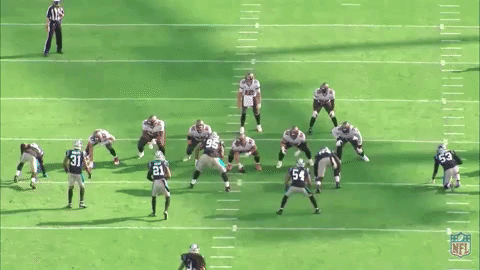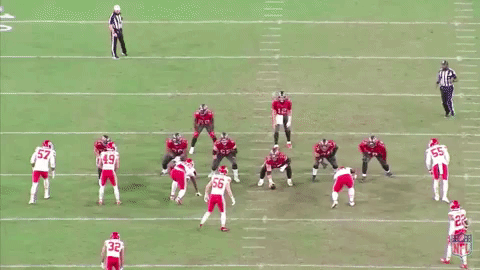 Godwin excels at catching the football in tight windows with defenders hanging all over him. His ability to stay focused and reel in fastballs while opponents rip at his hands is second to none. That strength, toughness and finishing ability is what makes Godwin so good in the middle of the field.
And if you want Godwin to make plays on the ball down the field, he might be the best in the league at that too.
In terms of ball skills and contested catch ability, Godwin lacks nothing. He's big and strong with elite concentration and terrific body control to adjust and finish. He'll make grabs with a defender working over his back, elevating over an opponent or going well outside his frame to finish. Godwin's tape is as elite as it gets in contested catch or high-degree-of-difficulty situations.
Now, here comes the shocking part. The numbers and the tape suggest that Mike Evans is just a good, not great contested catch receiver. I actually held this opinion in secret going into the 2020 season, and I think his performance last year confirmed it. Evans can certainly make contested catches and has plenty of tough grabs on his tape, but he simply isn't as consistent or as dominant as Godwin in those situations.
Over the past two seasons, Evans has caught 56.3 percent (9-of-16 in 2020) and 51.7 percent (15-of-29 in 2019) of his contested targets. That's 24-of-45 over a two-year span, or 53.3 percent. According to Pro Football Focus, Evans ranked 24th out of 79 receivers (50+ target minimum) in contested catch rate in 2019, and 23rd in 2020.
Throughout his career, Evans has won more with speed, route-running and separation ability than he has with his ball skills. Don't get me wrong, Evans can win above the rim and in tight spaces too. But he's more inconsistent than Godwin as a finisher. At times, Evans' tracking and adjustments to the ball can leave something to be desired.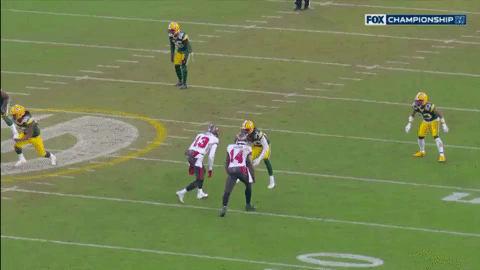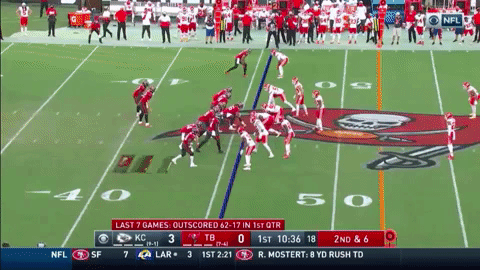 No conversation about ball skills is complete without talking about drops and catch rate. How often do you let catchable passes go off your hands? What percentage of targets that go your way end in a reception?
Over the course of his career, Godwin has six drops. In four seasons, Godwin has never dropped more than two passes in an entire regular season. That is simply ridiculous. Godwin caught over 78 percent of his targets in 2020, sixth in the NFL. In 2019 Godwin caught over 75 percent of his 114 targets, fourth in the NFL.
Things have gone a bit differently for Evans in recent years. The seven-year pro dropped eight passes in 2020, a year after dropping seven. Drops have always been a small concern with Evans, as he's dropped seven or more passes in five of his seven seasons. Catch rate has also been used against him fairly frequently, as Evans just posted a personal best 64.8 percent in 2020. That was only good enough for 56th in the NFL.
Now, Evans has a higher average depth of target than Godwin by a substantial margin, making many of his targets much more low percentage. Targeting Evans will never be as efficient as targeting other top receivers, but part of that is certainly due to his heavy downfield usage. There are no manufactured, quick-game touches for Evans, so you surrender some efficiency to obtain the big plays. Speaking of which…
Advantage: Godwin
Speed/Big Plays
Calling Chris Godwin a slot receiver perpetuates a misperception that he isn't a terrific vertical receiver. What makes Godwin so special is that he's able to do all the typical slot receiver stuff (separate short-intermediate, work the middle of the field, move the chains, pick up yardage on manufactured touches, block) at an elite level, without sacrificing downfield play-making.
Per Pro Football Focus, Godwin has reeled in 16-of-29 deep (20+ air yards) targets over the past two seasons. He's never dropped a 20+ yard throw in the regular season, but he isn't utilized deep as often as Evans is. Godwin's ability to do it all is notable, but in this category he's up against one of the game's all-time great vertical threats.
Mike Evans isn't fast for a big guy, he's just fast. Period. His combination of speed, physicality and route-running allow him to get consistent separation deep, even against top-tier press man corners.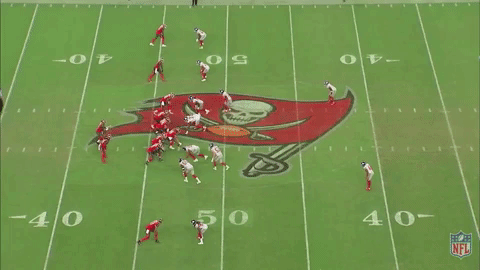 In 2020, Evans caught 52.2 percent of his 20+ yard targets, the best mark of his career. Playing with Winston early in his career dragged down Evans' efficiency numbers significantly. The former Bucs quarterback would often target Evans deep even when the receiver wasn't open, or was double-covered. The improved decision-making from the quarterback position helped Evans reach a career-high catch percentage in 2020.
If not for the presence of Evans, Godwin might be a more productive deep threat than we've already seen in his career. When Evans went down in Week 17, Godwin stepped in and caught 2-of-3 deep targets on his way to his biggest game of the season (5-133-2).
But for now, Godwin will allow Evans and Scotty Miller to do the majority of the deep passing game work, cashing in on his opportunities when they come. Evans is one of the premier vertical threats in the NFL, and having Brady as his quarterback has only made him that much more dangerous.
Advantage: Evans
YAC Ability
No reason to belabor this point. The biggest knock against Evans as a receiver is that he's just not a very effective post-catch threat. Sure, his speed is a factor in the open field, and his size allows him to fight through tackles for an extra yard or two. But Evans is not a creator with the ball in his hands, nor is he elusive or much of a tackle-breaker. He's also rarely been given catch-and-run targets during his career, because it isn't what he does well.
In 2019, Godwin was arguably the most effective receiver in the league after the catch, forcing 17 missed tackles and churning out 580 yards after the catch. That mark was good enough for second in the NFL, picking up an average of nearly seven extra yards per catch.
Last season, Godwin wasn't as productive after the catch, with the missed time and the addition of Antonio Brown playing a role in that. I'm guessing this is the area of his game we see take a jump again in 2021, as Godwin's strength and vision with the ball in his hands are underrated assets of his game.
Advantage: Godwin
Other WR Skills (Blocking, Versatility, Mistakes)
Alignment Versatility
Evans has been primarily an outside threat over the course of his career, while Godwin has played a ton from the slot and from the outside. Last year the two were as interchangeable as they've ever been, with Evans playing a career high number of snaps in the slot. Still, Godwin is clearly the more effective receiver from multiple alignments, and he's the wideout that stays on the field most often when the team goes 13 personnel (one running back, three tight ends).
If Evans can keep growing as a slot option, it'll help the Bucs get him away from opposing team's top corners. But for now, Godwin is clearly superior in this area.
Advantage: Godwin
Blocking
Godwin is one of the best blocking receivers in the NFL, frequently getting moved to the wing to handle insert or kick out blocks across the formation. He's a big part of the Bucs run and screen game because of his blocking. Evans will try hard and get in the way, but he's never been a great blocker.
Advantage: Godwin
Mistakes
I won't go into a ton of detail here, but Evans can be a little erratic in this area. Maybe it's because he's an emotional player or maybe it's because he's asked to run a ton of option routes based on how the safeties and middle-of-the-field defender present themselves post-snap. But whatever the reason, Evans has been on the receiving end of a healthy number of miscommunications in his career.
Quarterbacks have thrown a whopping 42 interceptions when targeting Evans in his career. Some of that is playing with Winston. But some of that is also on Evans. Brady only threw two interceptions when targeting Evans in the regular season, but both were the result of the receiver mis-reading the coverage.
Of course, when you're targeted as often as Evans, especially in the vertical game, mistakes are bound to happen. He's a highly-intelligent player who makes the right decision more often than not. But when you're pitted against a player as reliable and steady as Godwin, it's tough to win this category.
Advantage: Godwin
Conclusion – Godwin Or Evans?
When we begin from the premise that Mike Evans and Chris Godwin are both top ten receivers in the NFL, it becomes easier to juxtapose their skill sets and be honest about what the tape reveals. In the categories of ball skills, contested catch ability, YAC ability, blocking, versatility and reliability, it is hard to make a case that Evans is better than Godwin. Both are elite route runners, so I called that category a push.
Evans is the superior deep threat right now, but how much of that is usage? Godwin doesn't have the same deep ball production, but his downfield catch rate is superior to Evans over the past two years. If I wanted an outside, X-receiver to stretch the field, I would select Evans over Godwin. But it wouldn't be by much, and Godwin takes all the other categories.
The best argument for Evans superiority to Godwin is that he has consistently attracted the attention of top-tier opposing cornerbacks, while Godwin has not. Some of that is Evans being more established, and some of it is Evans aligning more often on the outside, where most top corners prefer to play. Godwin is the more difficult receiver to follow because of his versatility, forcing teams to focus on taking away Evans with their best corner.
Evans has had mixed results in some of those matchups, but over his career he has obviously won more battles than he's lost. Perhaps someday we'll see if Godwin can handle that kind of a role, but for now we're left to analyze the two players based on traits and abilities. Both players are clearly special talents at the position, and the difference of their roles does matter. But Godwin is a better all-around wide receiver than Evans, and should be slotted higher than him in rankings at the position.
Share On Socials