If not for a holding call on cornerback Jude Adjei-Barimah with less than two minutes left in regulation, the Bucs would've held Oakland on fourth down at the 5-yard line and all but sealed the victory. Everything from that point on would've been avoided.
Jameis Winston would've ended on a high note, instead of sputtering through three consecutive three-and-outs to finish the game. The defense, which was on the field for 94 snaps, wouldn't have been gassed and whiffed on tackles late. And Derek Carr, who had all day to throw, wouldn't have had arguably the best game for a quarterback this season, throwing for a Raiders' record 513 yards.
But an unfortunate mistake, on the opposite side of the field no less, kept the game alive.
"Can't have it happen," defensive tackle Gerald McCoy said in the locker Sunday. "Penalties will kill you at crucial times during the game. Definitely can't have penalties and we did. That was a crucial moment, that one penalty. Regardless of all the penalties they had, that one we had changed the game."
Cornerback Vernon Hargreaves, who played 93 snaps and was visibly exhausted towards the end, thought that fourth-and-3 play was the final stop.
"Of course, definitely did," said Hargreaves, who conceded that Raiders' Amari Cooper got the best of him Sunday. "But obviously, there was a penalty on the play so we have to keep playing. We have to finish the game."
The Bucs didn't finish the game, though, and there were plenty things to point to other than Adjei-Barimah's hold. On Monday head coach Dirk Koetter listed a few, going as far back to the first quarter to outline a game of missed opportunities.
"You can pick out a whole bunch of plays. We ran Mike [Evans] on an out-and-up and he was five yards behind the defense," Koetter said of a play in the first quarter with the Bucs up 10-0. "It would've been an [81]-yard touchdown, but we didn't hit it. Then we would've had a two-score lead. Pick your plays.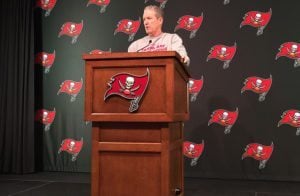 "We gave up a ton of passing yards, over 500," he added. "Is that good? No, that's not. We let them throw one over our head to Cooper [on third down in the third quarter]. We can't do that. We had a long PI penalty that might've been another touchdown had we not gotten the penalty. Those are all things that come up in a game."
Now the task is to move on to the next game. Preparing for a Thursday night contest is difficult, Koetter said, mainly for the player's recovery and coaches to get the game plan together. But the important thing is to not let the Raiders beat you twice.
Atlanta comes in with the NFL's No. 1 offense, Koetter noted, and while it helps that the Bucs are familiar with the Falcons, the accelerated week will be a test. Especially coming off a deflating loss.
Share On Socials