It's been trendy in 2020 to hear Devin White and Lavonte David described as the "best linebacker tandem in the NFL", but it hasn't always played out that way on the field. David has been his usual reliable self this season, while White has struggled through the ups-and-downs of finding consistency in the NFL as a second-year player.
One of the biggest struggles for White has been in coverage, and no matchup revealed those weaknesses more than the Bucs' Week 9 loss to the Saints, 38-3. In that game White was constantly picked on by Sean Payton and Drew Brees, allowing 11 catches on 11 targets for 79 yards and a touchdown while missing two tackles and allowing 31 yards after catch, according to Pro Football Focus. It was a brutal performance by White, but it was also one of the rare average games from David. The veteran wasn't targeted as much, but did allow five of seven passes that went his way to be completed for 57 yards and a touchdown, while also allowing 34 yards after the catch.
That's remarkably uncharacteristic for David, who is one of the best coverage linebackers in the NFL and one of the game's best tacklers in space. For White, his struggles against the Saints passing attack were the low point of a season full of concern in that regard, although his play in Weeks 15 and 16 suggest his coverage ability could be trending up. White broke up two passes against the Lions and did a better job of limiting the overall damage in his zone while still being used heavily as a blitzer as well.
As for New Orleans offense, there isn't much secret what they're going to do in the passing game. In Week 1 the Saints didn't throw it very often because they didn't need to, but White was still the most targeted Buccaneer with six targets on the afternoon, while David had two. In their second meeting with the Bucs, Brees and Taysom Hill targeted David and White a combined 18 times out of 34 attempts, a clear concerted effort to attack Tampa Bay's heralded linebacker tandem, especially White.
So, how can the Bucs fix it on Sunday?
The simplest solution is just to take White out of more passing situations and use him as a pass rusher. But blitzing Drew Brees comes at a cost, and Todd Bowles would be wise to limit how often he does it. White will have his moments as a blitzer, particularly in add-on situations if the running back stays in to block, and he'll need to make those count. But it's unlikely we see a role change for White like I've proposed in my past articles asking for the "Bleach" package.
The best thing the Bucs can do is get White to simply chill out. I'm not sure if it's the rivalry or the fact that both games against the Saints have been on national TV, but he's simply been too amped up to play with good technique and mental processing. Here's a few examples.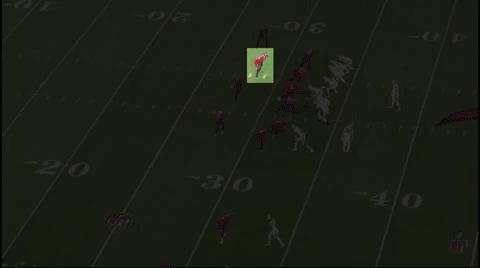 On a crucial third down just outside the red zone, White is in man coverage on Jared Cook. Instead of staying patient and reading the tight end's release, White jumps forward off the snap and is completely off balance when he attempts to turn and run with Cook. It's bad footwork and bad technique, and it results in a big conversion on a poor throw that was behind Cook. If White is in proper position, it's an interception or at least a pass breakup.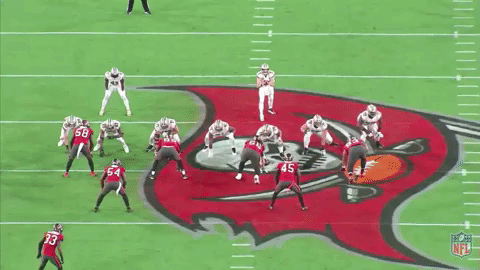 Again in Week 9 White is the target of Brees' brilliance, this time in zone coverage. The linebacker alertly stays on top of tight end Josh Hill in the middle of the field, but as the play breaks down and the Bucs momentarily lose contain on Brees, White accelerates downfield to stop the Saints' quarterback. But in the process he loses Hill in coverage, allowing Brees to find an outlet for 11 yards and a first down.
With Shaq Barrett in pursuit on Brees, the quarterback isn't going anywhere on this play if White does his job too. But again, the second-year linebacker is over-aggressive and too quick to play hero ball, allowing a completion on a play that should have brought up 2nd-and-10 or resulted in a sack.
In Week 1, the Saints scored a touchdown on a screen pass to Alvin Kamara after White took a bad angle and got himself blocked. White is in man coverage on Kamara, and as soon as he identifies that the running back is a target, he simply reacts and runs straight forward, into a block. Angles and finding effective paths to the ball are critical in the NFL, and White wasted some steps and took himself out of the play by reacting without processing here.
To his credit, White recognizes that he must do a better job of executing his assignment and not being too aggressive in his desire to make plays and carry his team to victory.
"It's Week [19] now," White said on Wednesday. "I'm a pro. I study the game. It helps that this is our third time [playing New Orleans], so I know the plays [and] I know the formations. I'm studying it even more and I just know that I've got to be in my spot. It's basically a 'do your job' thing. I can't go out there and try to overly make plays because I haven't played in two weeks. I know every man has a certain gap [and] I know every man needs to be in a certain spot on the defense. I'm not going to try to overshadow my team for my own success just to make a play.
"I think that's the number one thing – I respect Todd Bowles' system and I know he's going to put me in position to make plays. When it's time to make a play, I'm going to make a play. When I'm not making a play, I'm going to be doing my job. If it causes me to [cover] the running back flare, then I'm going to take the running back. But, to play the back side, I need to stay home and do my job. That's the number one thing and that's what we're preaching. It's team ball [and] team ball is going to win this game. Everybody staying together for four quarters."
I think the Bucs can trust David to play more like he did in Week 1 and less like Week 9, but for White this attention to detail in his technique will be critical. He can't be so anxious to make a play that he abandons proper form and responsibility in the field of play, because the Saints are a team that will take advantage of those kinds of mistakes. Missed tackles by David and White have been a tad too plentiful this season, and there will never be a game where that matters more than against the Saints ten-yards-and-in passing attack.
If the Bucs are to improve their defensive performance from when the last time these two teams met, it starts with the Tampa Bay linebackers. They're the most targeted defenders in the Saints passing attack, the most critical in defending a diverse run scheme and absolutely essential to identifying New Orleans' vast arsenal of screen passes and trick plays. If White and David play at an elite level, the Bucs defense could rise to the challenge on Sunday, but it'll take a significant step forward from their Week 9 performance, especially for White, who may need to be the player of the game for Tampa Bay's defense in the divisional round.
Share On Socials