Over the past eight years of my life, I've spent more time scouting edge defenders than any other position in football. From college tape to the NFL, understanding and evaluating the edge pass rusher position has been a huge passion of mine. I've created grading systems and evaluation criteria for edge defenders that are now used by several other film analysts, so when I make a statement about a player at that position, I don't make it lightly.
But…
Watching Joe Tryon move on Saturday night, the Bucs might have found themselves a really good player at No. 32 overall in the 2021 NFL Draft.
Anyone thinking Tryon might need to shake off some rust after opting out of the 2020 season was only right for about 5-6 plays. At that time Tryon became essentially unblockable the rest of the night, at least for Bengals RT Gunnar Vogel.
Yes, I'm not an idiot (well, not in this case). I know Tryon will face better competition that will make box score results harder to come by. But I'm not talking about results here, I'm talking about process. Watch how Tryon combines explosive feet, long strides and violent, timely hands to win on his way to the pocket.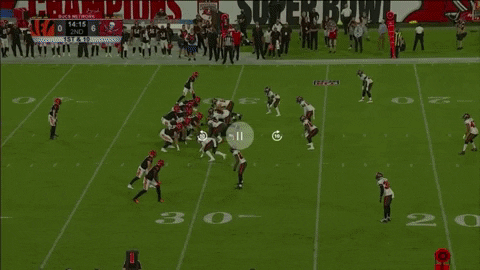 You've heard me talk about the four pillars of pass rush athleticism before: Burst, speed (ability to sustain burst over 5-10 yard distances), bend/flexibility (turning angles) and change-of-direction/stop-start ability. Tryon didn't show it all just yet, but the burst was undeniable on Saturday, especially on this rep. Explosiveness is arguably the most important trait for an edge rusher to possess, and Tryon showed it all night.
Remember after the draft, when I wrote how Tryon was more explosive with his hand down because his pre-snap stance from a stand-up alignment was too inconsistent? Tryon has improved his work from a 2-point, but the explosiveness with his hand in the dirt is undeniable. Vogel has no shot at blocking him, but a get-off like that will work, even against better competition.
The good news for Tryon is that even when he's a little late off the ball, his speed makes up for it.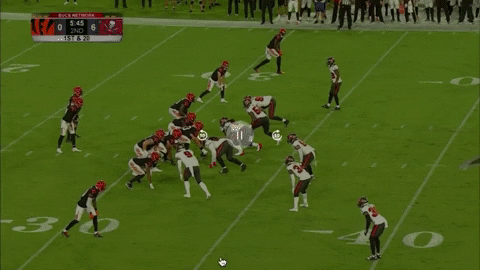 One of Tryon's issues in college is that he had too much wasted movement out of his stance post-snap. Instead of maximizing all that explosiveness, Tryon's jittery feet will sometimes force him into an off-balance false step. You see a little bit of that here, as Tryon's recoil delays his get-off just a bit. But once he starts moving forward, Tryon is a blur. His active inside hand is able to swat down Vogel's punch and sharpen his angle to the quarterback.
The disruption from Tryon helped lead to Javon Hagan's interception. After Hagan fumbled back to the Bengals, Tryon almost ended the drive a second time. The Washington product's violent sack of Allen resulted in a bogus flag, rather than the third-and-15 it should have created.
This rep is more about Vogel's failure than Tryon's success, but I included it because the Bucs' first-round pick is still thinking like a football player. Even with a pretty clean path to the quarterback, Tryon works that inside arm to make sure Vogel's flailing effort doesn't slow him down. That's good attention to detail, even on a play where Tryon may not have needed it.
Honestly, it was after the penalty that Tryon really cranked his game to 11.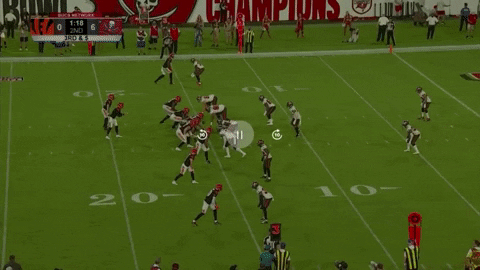 Tryon's hesitation cross-chop beats Vogel clean, but the stumbling tackle falls into Tryon as he goes to the ground. Yet the Bucs rookie shows off outstanding flexibility to bend through contact all the way to the pocket. Moving at that speed, it's not easy to get your hips and ankles pointed in a new direction without slowing down. If the Bengals quarterbacks weren't getting the ball out immediately, Tryon would have had a couple sacks on Saturday.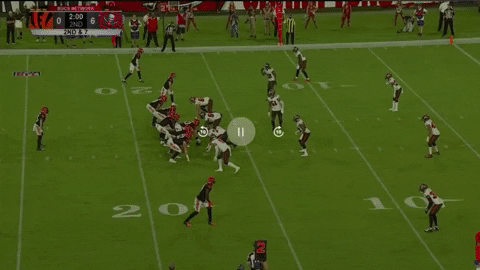 Tryon actually beats Vogel off the ball on this play, which makes me think he was picking up some cues on the snap count at this point in the game. Thanks to a lightning quick first step, Tryon nearly gets to the ball despite it being a handoff! This time Tryon goes right to the shoulder dip and bend, using his inside arm to rip under Vogel's punch. Even though Tryon doesn't make this tackle, watching him turn this corner with speed is pretty exciting.
To be fair and unbiased, Tryon does have some work to do in the run game. He's not getting bodied at all, and his burst and length help him stack up blocks really well. Where Tryon need to improve is in keeping himself a little cleaner to get off blocks. He gets tied up at the line of scrimmage and it delays his process in finding the ball. As he gains experience, Tryon will learn to look through blocks to find the football. Jason Pierre-Paul excels at this.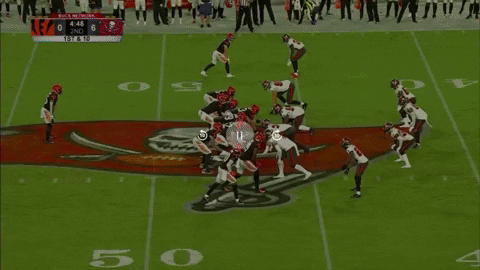 Still, Tryon's bull-in-a-china-shop style of play will result in some fun results, even in the run game. He destroyed this crack toss by blowing up the tight end and the crack block, eliminating the two pullers from reaching their targets. That gave Kevin Minter, Antonio Hamilton and Herb Miller clean paths to the ball to make the stop.
Considering Tryon played just 22 snaps on Saturday, it's remarkable how much his impact was felt. The first-year edge defender may not have shown up on the stat sheet, but a cursory glance at the film reveals how disruptive he was. The competition will improve significantly for Tryon, which will present new challenges.
But his first NFL action showed that there will be no athletic or physical limitations for the rookie. That's a marvelous starting point. Combine that optimism with his impressively polished pass rush approach, and I'm ready to bet on Tryon making an impact in 2021.
Share On Socials