Bucs left tackle Donovan Smith is off to a terrific start to the 2021 season. After last season's bye week, Smith took his game to another level and hasn't looked back. In the offseason, he was rewarded with a two-year, $31.8 million contract extension. This season he hasn't disappointed. Smith's 78.2 overall blocking grade is one of the league's best, per PFF Data. He's been dominant in the passing game grading out at an 82.7, while allowing only one sack and two quarterback hits. But Smith's impact stretches far beyond the field.
Supporting The Cause
Monday, October 25, will mark Smith's 3rd annual charity event to raise money for Autism Speaks. Last year's event was cancelled due to COVID-19. A foundation Smith has advocated for since entering the league, it is close to his heart. Smith's nephew Aiden was diagnosed with autism at a young age, and the 7-year veteran helped raise him and has been a big mentor in his life.
"My nephew Aiden, he's on the spectrum and has autism," Smith said. "So I just made it my point to get involved in the community as much as I can. My nephew is non-verbal, so we just have to use sign language and different communication things to get through to him. [He signs] 'Eat eat.' We know those things and every time he wants his iPad and stuff like that. So it's really just adapting and adjusting to the child."
The event began four years ago when Bucs head coach Bruce Arians became head coach. Arians campaigns for his players to find a cause and stand up for what they believe in. With Smith's personal connections, Autism Speaks was a natural choice. A hero for the cause, Smith does the annual Walk-A-Thon to help raise money for Autism Speaks here in Tampa. This includes walking laps around Raymond James Stadium, mingling with families affected and showing support to the tight knit autism community.
"You just really get a feel for the different ends of the spectrum with autism," Smith says. "There are all these different types of things where you're able to just learn from being around. Some kids they don't like this, some kids there's things they can handle and other things they can't. You're just learning along the way. That's why I think it's cool because not only am I able to get out there and raise awareness, I'm still learning as I'm going through as well."
About The Event
This year, Smith's event will take on a new twist. In past years it has been a bowling tournament. With health and safety guidelines at the forefront, the event will be an outdoors cornhole tournament. The outdoor venue allows for a safer environment and protects the guests and players.
In past years, Smith has had many of his Bucs teammates join him in the cause to raise money for Autism Speaks. The entire offensive line shows up, and players like Mike Evans, O.J. Howard, Devin White and many more roll through. It's a great time to meet some of your favorite players, get autographs and hang out with the defending Super Bowl champions, all while supporting an incredible cause. You can sign up to play in the tournament as well.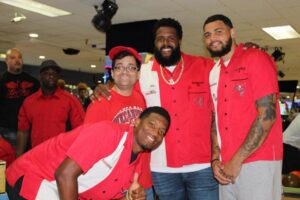 Donovan Smith's Cornhole for Autism kicks off on Monday October 25 at 6pm with registration starting at 5:15 pm. It will be held on the USF campus on Magnolia Fields located at 1200 USF Magnolia Drive in Tampa. There will be complimentary food and drink with purchase of your ticket, as well as a DJ spinning the latest hits and an airbrush artist. 100 percent of all proceeds go directly to Autism Speaks. Get your tickets at the link below.
Share On Socials