Last year, as loaded as the Bucs roster was, I still saw a path to the final 53 for a couple undrafted free agents. Two of those UDFAs, guard John Molchon and outside linebacker Cam Gill, survived a tumultuous first offseason/season and will contend for roster spots again this year. In 2021 the path to the final roster will be even more difficult for Tampa Bay's Day 3 selections, let alone the undrafted free agents that they sign. But South Carolina offensive lineman Sadarius Hutcherson could still find a way to outlast the competition thanks to his impressive set of physical and athletic tools.
Hutcherson On The Hoof
One of the first things that stands out about Hutcherson is his massive frame. At 6-foot-3, 321 pounds, Hutcherson carries his weight extremely well due to his prowess in the weight room. When Hutcherson arrived at South Carolina he was 230 pounds and in desperate need of more mass on his frame.
From that point on Hutcherson's transformation was amazing, as the former Gamecock added 44 pounds in five months before his freshman season. That takes an unbelievable level of commitment for an 18-year old kid, but Hutcherson never wavered, becoming the strongest player on the team by his final season. A ridiculous 36 reps on the bench press at his pro day put Hutcherson in the 96th percentile at his position. Hutcherson was renowned in the weight room per The Athletic's Dane Brugler, to the point where coaches had to limit his workouts to prevent injury.
But it isn't just Hutcherson's size and strength that make him such an intriguing prospect, it's his athleticism too. Hutcherson ran a 4.96 in the 40 and jumped 31.5 inches at his pro day, showing the explosiveness that made him a 3.5-year starter at South Carolina.
Intangibles & Versatility Matter
Following Hutcherson's physical transformation during his redshirt season, the versatile offensive lineman went on to start four games in 2017 before becoming a regular starter as a redshirt sophomore. Hutcherson started every game at right guard in 2018, every game at left tackle in 2019 and every game at right guard in 2020. That kind of versatility and experience is extremely rare at the college level.
Hutcherson is likely a guard in the NFL who could see some reps at center, but his football intelligence and heralded work ethic allow him to consistently overachieve. A team captain in 2020, Hutcherson refused to opt out because "My guys need a leader … it wouldn't be right for me to leave". The redshirt senior was often the voice of the team in media sessions, even as the program went through tumultuous moments during his final season.
Intangibles matter, especially to the Bucs coaching staff. Hutcherson's work ethic, intelligence, vocal leadership and professional mentality will be great assets when transitioning to the NFL. He takes zero plays off and is constantly looking to finish. Tampa Bay values offensive linemen who understand the psychological damage physical play exacts on the opposing team.
Hutcherson is left guard No. 50 in the clip below.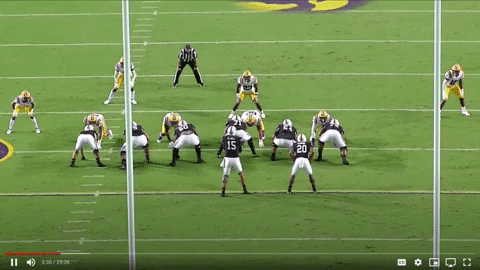 Great Scheme Fit
Hutcherson hails from a run scheme fairly similar to Tampa Bay's. South Carolina runs plenty of double teams up front, along with their typical inside zone run game. Hutcherson is at his best firing off the ball on double teams, capable of creating movement with leg drive and power up front. His playing style is violent and physical at all times, and when he catches a defender right Hutcherson can blow a hole open.
The weakness for Hutcherson is that he can be overly-aggressive and get off balance at times. He can also be late with his hands while winding up to deliver a blow, allowing opponents to cross his face and slip through gaps. Still, Hutcherson is sudden in his movements, capable of recovering enough to send defenders reeling, even if he just gets a piece of them.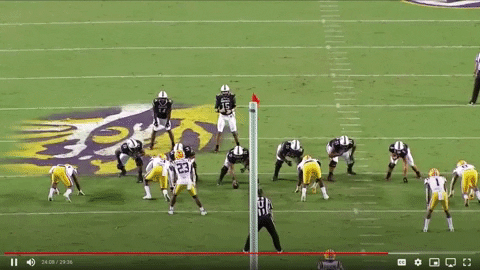 LSU DT No. 11 tries to cross Hutcherson's face, but the big lineman is able to recover and knock the defender down the line of scrimmage. His hands pack a lot of raw power, and if his technique can be improved a little, Hutcherson could be a real asset in the run game.
The Bucs didn't pull their linemen much last season, but it's the natural next step in the evolution of their run scheme. Hutcherson made an impact as a puller for South Carolina, logging ends and even hammering defensive backs in space.
Hutcherson In Pass Protection
The two biggest concerns in Hutcherson's game both manifest themselves in pass protection. First, the guard's hand placement is often too wide, allowing rushers into his frame. Rarely does Hutcherson gets successfully bull-rushed, but push-pulls and clean counter moves are common results when he doesn't fit his hands inside the defender.
When Hutcherson's punch gets wide and defensive linemen get into his pads, his aggressiveness can be used against him. Sometimes leaning further into his opponent to compensate for poor hand placement, Hutcherson can get knocked off balance too easily.
But when Hutcherson lands his mitts, the fight can be over quickly. Outstanding grip strength and a ferocious play demeanor often prevent defenders from accessing a counter move, which helps Hutcherson sustain blocks even when his weight distribution gets a bit off.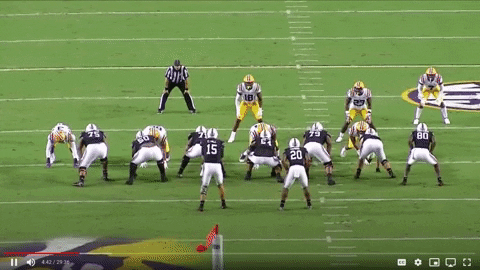 Even on a good rep however, you can see the second pass protection concern with Hutcherson. The guard plays a little high and stiff in space, with a wide base that can hurt his lateral movement when rushers cross his face. I think Hutcherson will crush bull rushers in the NFL, but quicker 3-techniques who can challenge him on his edges could be a trouble spot at the next level.
Hutcherson's Strengths Outweigh His Weaknesses
But even when accepting the limitations in Hutcherson's game, it stuns me that the hulking lineman went undrafted last weekend. Hutcherson has size, power, physicality, football intelligence, leadership, work ethic, athleticism, versatility and durability. That's usually more than enough to get you drafted, especially as a 3-year OL starter in the SEC.
GM Jason Licht did well to land Hutcherson after the draft, and now the guard will have a chance to earn a final roster spot. With the Bucs starting five and top reserves Aaron Stinnie, Josh Wells and Robert Hainsey set to make the team, Hutcherson will face an unproven slate of competition for the ninth OL spot.
Second-year guard John Molchon is the favorite, while tackle Brad Seaton returns from an opt-out season to throw his hat in the ring. Hutcherson's South Carolina teammate Donell Stanley and UDFAs Nick Leverett and Calvin Ashley round out the room.
Tampa Bay may be the most difficult team to make in the NFL, but I believe Hutcherson is the best candidate to assume the ninth offensive line spot. Hutcherson has the physical and athletic traits to become a strong backup in the NFL. Add that to his intangibles, and Hutcherson's performance this offseason should leave a lasting impression on the Bucs coaching staff.
Share On Socials