Everyone knows three things about Bruce Arians' quarterbacks – they throw for a ton of yards and points, a ton of interceptions and take a ton of sacks. From Ben Roethlisberger to Jameis Winston, all of those things were true year-after-year for Arians' quarterbacks, resulting in plenty of explosive, but inconsistent offensive performances.
Until this year. Well, more specifically, especially until Week 13 of this year. That's when the Bucs had their 2020 bye week, and the start of significant change in Arians' way of doing things offensively. I've already written about the Bucs increased use of play-action since the bye week, and their significant uptick in passing on first down, especially over the past three weeks. Those tactics have been instrumental in producing the most consistent offensive output we've seen from Tampa Bay all season.
The Bucs run/pass counts on first down yesterday

Pass: 20
Run: 10

Over the past 3 games, the Bucs have thrown the ball on 63% of meaningful first downs.

If you're looking for a reason for the offense stabilizing and finding consistent success, that's the biggest one.

— Jon Ledyard (@LedyardNFLDraft) January 4, 2021
The Bucs are also utilizing more motion, even motion at the snap rather than just the team's typical pre-snap motion, in order to confuse coverages. It's hard to find accurate data on motion available on the internet, but ESPN's Seth Walder was kind enough to pass on this chart of the Bucs motion rates throughout the 2020 season. As you can see, they've stabilized at close to their peak over the past few weeks.
I asked film guru and quarterback expert Mark Schofield of USA Today's Touchdown Wire what he's seen in studying the Bucs offense in recent weeks that has looked different than before the bye week, specifically in their route combinations and passing concepts. What he had to say was pretty enlightening.
"I think they've done a better job in recent weeks of attacking in the middle of the field by messing with coverage rules," Schofield said. "Switch releases, then concepts like Mesh, which we saw again this week (against Atlanta). They're messing with coverage rules, creating rubs and traffic, and this is all stuff I'm used to seeing Brady run in New England. Stuff he's probably familiar with."
After struggling in the middle of the field for most of the season, the Bucs have suddenly come alive between the numbers. With Brady zipping passes with remarkable accuracy in the middle of the field, Tampa Bay has given him throwing windows with more rub route concepts and motions to tight splits, freeing up receivers schematically rather than asking every pass-catcher to win 1v1 all the time. I almost cried when I saw the Bucs run mesh a few weeks ago against Atlanta. They've run some version of it in every game since then too.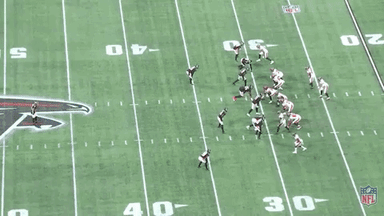 The increase in motion is another huge asset that has put stress on defenses to adjust their coverages with little time to do so before the snap. Check out the game-winning touchdown against Atlanta. Chris Godwin motions from No. 1 on the outside to No. 2 in the slot, and the ball is snapped directly after the motion. The Falcons defenders don't have time to communicate the switch clearly before the snap, so there is immediate confusion when the ball is snapped.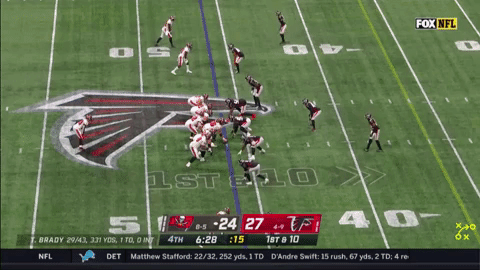 The slot corner shuffles inside as if he's going to match up with Godwin, then bounces outside too late to stem Brown's vertical release. The off corner initially opens slightly outside, as if he's carrying Brown going down the field, but then he realizes nobody has picked up Godwin streaking across the middle of the field wide open. Both cornerbacks are confused by the motion, both are late to react, and Brady has two wide open receivers to choose from. Obviously he picks the touchdown, and the Bucs get the game-winning score due to a schematic improvement as much as an executional one.
Arians and offensive coordinator Byron Leftwich have also started to build elements of their offensive identity based on personnel packages. Early on in the season Tampa Bay ran the ball often out of 12 personnel (one running back, two tight ends, two wide receivers), and they still do to a degree. But they've become less predictable in those situations too, and are using play-action more heavily. Schofield and his Touchdown Wire colleague Doug Farrar had some fascinating information about the Bucs success out of 12 personnel since the bye week.
"With 12 personnel and play-action since Week 13, Brady completed 12 of 20 passes for 239 yards, 108 air yards, five touchdowns, one interception," Schofield said. "On attempts of 20 or more air yards in those same circumstances, Brady has five attempts, four completions, two touchdowns, one interception. So I think play-action out of 12 is a big thing – something we thought they'd be doing anyway – but the recent success with it is a big thing to see."
Arians has always taken shots out of 12 personnel, but now the Bucs are starting to go to the air more on first down and run less from heavy personnel looks, making it more difficult for defenses to latch onto some of Arians' typical tendencies. Combine that with how well Brady has thrown the deep ball all season, and the Bucs are still finding big plays in the passing game without running four verticals out of spread formations.
So from a play-calling, play design and personnel usage standpoint, the Bucs have revamped their offense just in time to get red hot for the playoffs. But they also haven't been tested anywhere close to how Washington's defense will test them on Saturday. Yes, Atlanta's defense did play very well over the second half of the season, but Washington has been on fire defensively for the vast majority of the year. It'll be a completely different challenge for the Bucs offense in the wild card round, squaring up with a defense that is more talented, more confident and has a lot more to play for than Atlanta did in Weeks 15 and 17.
At or near the top of the league in literally every defensive category, Washington specializes in two things that Arians' teams have typically struggled with: eliminating the big play and pressuring the quarterback. The Football Team is tied for first place in the NFL for the least amount of 20+ yard pass plays allowed this season, and they've allowed the second-least amount of yards per attempt of any team in the league this season. They're also creating pressure at the fourth-highest rate in the NFL, and are sixth in the league in sacks with 47, despite not having a single player in double-digits.
Because typical Arians' offenses hunt the long ball religiously, they can get round-housed against certain defensive teams that play a ton of two-high safeties or quarters concepts like Washington. And because Arians' prototypical quarterbacks are pocket passer types that are not especially mobile, ferocious pass rushes have often found ways to wreak havoc when the inefficiencies in the deep passing game start to show up.
But this Arians' offense is finally different…right?
It sure seems that way based on all the data, tape and coaches comments we've seen and heard since the bye week. They've got answers to pressure with the quick screen game and heavier protections, they're being more patient in their quest to hit the deep ball by dicing up teams in the short-intermediate areas of the field and they're feasting off of play-action, something that has been effective against Washington's zone-heavy defense this season. Can they stay true to their new identity on a bigger stage, under the bright lights of a prime time playoff game when scoring success won't come in the offensive bunches it has against Atlanta and Detroit the past three weeks?
I honestly don't know. My work measures process more than it does predict results, and everything I see about the Bucs offense says their process has made significant strides since the bye week, which has borne out exceptional results. Against one of the elite defenses in the NFL this season, the challenges will be greater, but the Bucs newfound offensive principles can still have success. If they trust what they've become and execute to their level of talent, Saturday night can be a significant step toward something much greater than the franchise's first playoff win since 2002.
Share On Socials