If you've followed me on Twitter or read my work for any length of time, you'll know that I rarely like to go deep in my analysis without a decent sample size. I think football, like all sports, has a degree of randomness to it, and I like to see factors stabilize over a certain period of time before dubbing them good or bad.
In late November, I had that sample size. After a disappointing showing against the Rams in Week 11, I wrote in my Bucs Briefing column about how bad the Bucs have been on first down this season, and how it was killing their ability to sustain consistent offense. At the time, these numbers stood out about Tampa Bay's first down offense:
After 11 games, the Bucs EPA on first down is -0.040, 24th in the NFL. For those who don't know, EPA (Expected Points Added) is a football statistic that seeks to measure the value of individual plays in terms of points. This is done by calculating the Expected Points (EP) of the down, distance, and field position situation at the start of a play and contrasting it with the situation at the end of the play. With the talent they have, a negative EPA ranking 24th in the NFL is a truly unacceptable mark.
It gets worse. The Bucs are 30th in the NFL with a 38.7 percent first down success rate, meaning that 61.3 percent of the time, they don't pick up even four yards on first-and-10. Only the Broncos and Chargers are worse on first down.
The biggest culprit is the run game. On first down runs, the Bucs have a 29.7 percent chance of picking up at least four yards, which correlates with a -0.174 EPA. Those marks are terrible enough for 28th and 25th place in the NFL, respectively.
In early December, following a loss to the Chiefs, I wrote about how the Bucs didn't have a Tom Brady-Bruce Arians problem, but they did have a problem, and it was Arians' offensive design not adjusting to an era of offense that has changed a lot since the last time he boasted a successful unit in the NFL. I said he needed to do three things coming out of the bye week – more play-action, more first down passing, more quick game answers for pressure situations – or the Bucs' 2020 offense was going to end the year with a whimper rather than a roar.
Well, it seems they have decided to make some changes I recommended.
Play-Action Passing
Let's look at the Bucs' play-action rates since the loss to the Chiefs dropped Tampa Bay to a soul-searching 7-5 heading into the bye week.
Weeks 1-13: 18 percent, bottom of the league
Weeks 14-16: 28 percent, right around league average
The Bucs have made a concerted effort to increase their play-action usage coming out of the bye week, doing some excellent self-scouting after being the best team in the NFL in play-action when they did use it in Weeks 1-13. In fact, no team in the NFL was seeing the increase in yards per play on play action passes compared to non play-action passes than the Bucs. It probably shouldn't have taken until the bye week for Tampa Bay to make a change, but the effort to lean on play-action heavily since the bye has been clear.
What has been most encouraging is that the Bucs haven't gotten away from play-action, even in games where they were down, weren't running the ball well, or weren't having the success they were used to having on play-action passes. That's a true sign of a team buying into a philosophy and staying confident even when the results aren't there.
Tampa Bay didn't throw many passes or have many offensive plays overall against Minnesota, but over 26 percent of Brady's drop-backs resulted in play-action passes, where he went 4-of-6 for 57 yards and a touchdown. The Bucs averaged almost a yard-and-a-half more on play-action passes against Minnesota than they did on non-play action throws.
The real test came the following week, when the Bucs weren't running the ball well, fell behind 17-0 at halftime and didn't have a ton of success with their play-action stuff early in the game. But Arians and offensive coordinator Byron Leftwich came out of the break with a play-action heavy approach, with Brady opening the half with two play-action passes, a 20-yard strike to Antonio Brown followed by a drop by Mike Evans on the next play. Later on the same drive, a 32-yard pass to Evans off a play fake from shotgun brought the ball down to the 1-yard line, giving the Bucs 52 passing yards on three play-action attempts on the drive.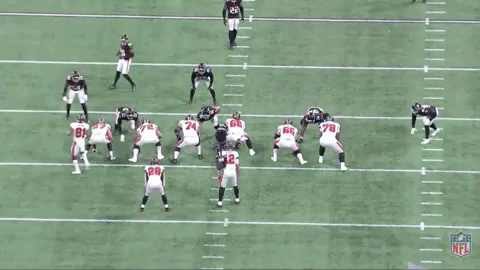 For the game, Tampa Bay didn't do a ton of damage on play-action. In fact, a 3-of-12 outing for 67 yards and no touchdowns was actually one of the only times this season they had worse results on play-action than non-play action, but the process was good the whole game. The reasons for the lack of success were protection issues (fill-in left tackle Josh Wells getting whooped three to four times), a drop by Evans, and a deep shot to Tyler Johnson that narrowly missed when the receiver got tangled up and fell down. The Bucs coaches did a great job of looking past the results and seeing the bigger picture – that play-action had consistently worked for this team in 2020, and would eventually work again if they stuck with it.
Sure enough, against Detroit, the Bucs wrecked their opponent once again with play-action. Per Pro Football Focus, Brady went 6-of-8 on play-action passes in the first half, throwing for 132 yards and two touchdowns. Leftwich used play-action on over 32 percent of Brady's drop-backs, the second-highest mark of the entire season for Tampa Bay (Green Bay was 33 percent). It marked the third straight game out of the bye that the percentage of Brady's play-action drop-backs had increased.
The increase in the Bucs' play-action rates and subsequent impact on their offense is reason to be optimistic heading into the final week of the season and into the playoffs after that. Will the coaching staff stay consistent in their approach? Will Arians and Leftwich continue to move in a play-action heavy direction despite a career long aversion to play-action compared to the rest of the league? We can't know the answer to those questions right now, so all we can do is celebrate the fact that over the course of their bye week, it does appear that the Bucs offense has prioritized play-action passing as something that has to increase within their offense.
First Down Passing
This might be the most important thing that the Bucs have done all season. I've written a ton about why passing is better than running on first down, but the Bucs hadn't gotten the memo going into their bye week. Pro Football Focus' Mike Renner wrote the following in his article on what ails the Bucs offense after the team's loss to the Chiefs.
"Almost every explosive offense around the league has realized that first down is no longer a running down. Except for the Bucs, that is: They still are a "balanced" attack on first down, passing only 50.6% of the time in the first three quarters of the game (so as not to skew stats by blowouts where they're either running out the clock or passing to catch up). Compare that to teams such as the Kansas City Chiefs at 66.9% or the Seattle Seahawks at 60.9%, who are doing everything to put their elite quarterbacks in a favorable position to make plays.
When you combine that with how effective the Bucs have been on those early-down runs, it becomes obvious why they've made moving the ball look like a chore even with an elite collection of talent. They own the third-worst rushing success rate on first down of any team in the NFL (28.0%), yet they continue to establish it."
In three games out of the bye, the Bucs are throwing the ball on almost 55 percent of meaningful first downs, which is closer to where they need to be, albeit still too far away. It gets better over the team's two most recent games however, as the Bucs have thrown the ball on 62 percent of their meaningful first downs, which is among the league-leading teams. It's no surprise that they've scored 78 points in that time span and seen their first down EPA per play jump to second-highest in the league and their EPA per dropback come in at third-highest during the past three weeks.
Arians hinted at the changes since the bye in his post-game presser.
"I think we've attacked more and kept a really nice mix of protections, running the football, taking our shots down the field, getting third downs [and] making first downs on first and second down," Arians said. "We're an explosive football team. When we can keep Tom [Brady] standing, he's going to deliver for us.
"I think that's what we're capable of. If you can get first downs and chunk plays on first and second down, you can score faster and score more often."
The Bucs' peak offensive moments were unsustainable for most of the season because they lived and died so much by what they could do on third down. Even as a good third down team, there was a ceiling to what they could do because even great third down rates are hitting less than 50 percent of the time. Now that Tampa Bay is winning more often on first and second down as an offense, they are maximizing opportunities to score on each drive.
Answers For Pressure
I'm not going to go too far down the rabbit hole on this one, but the Bucs have actually had some issues with pressure over the last two weeks. Atlanta found ways to effect Tampa Bay's protection schemes throughout the game in Week 15, and Detroit got to Brady a few times, although it had no impact on the outcome of the game. But instead of airing it out under pressure like the Bucs were determined to do against New Orleans, Los Angeles and Kansas City – leading to too many misfires and several interceptions – Tampa Bay is finding ways to force teams out of pressure looks or suffer the consequences.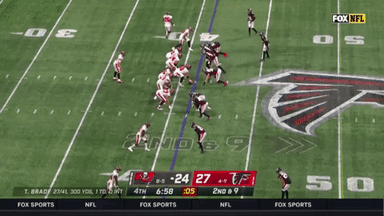 One of the big reasons that Tampa Bay came back against Atlanta was their adjustments to the Falcons' pressure packages. With Atlanta showing blitz pre-snap, the Bucs have a design to get the ball out of Brady's hands quickly and into the hands of his play-makers. It was a great call by the coaches and great execution by the players throughout the second half, when the Bucs hit a number of wide receiver screens for healthy gains.
Against Detroit, many of the same concepts were on display. With the Lions showing pressure pre-snap, Blaine Gabbert hit the tunnel screen to Tyler Johnson for 35 yards. Because the Lions were mugging the line of scrimmage pre-snap, it was simply a matter of hitting two blocks on the perimeter to give Johnson a ton of space to run into post-catch.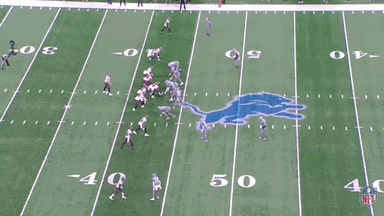 The Bucs will need to refine their screen game to running backs, as they dialed it up three-t0-four times against Atlanta's pressures in Week 15, but couldn't execute despite some great looks. The running back screen game has been a mess all season, but it'll be imperative to hit a few in the playoffs against plenty of defenses capable of bringing pressure.
Another thing that helps against blitz heavy teams goes back to the first two points: throwing more on first down against defenses with heavier personnel on the field that are more likely to play the run first, and utilizing play-action to force defenders into run reads before attacking. While the Bucs have cleaned up some X's and O's protection issues over the past two weeks, the reality is that smarter offensive structure and play-calling will help just as much as making sure assignments are understood up front.
Now, will the Bucs sustain their post-bye tendencies in the final week of the regular season and into the playoffs? That remains to be seen. Arians has altered course before in his career, only to revert to a vertical-heavy offense when he falls behind or gets in a shootout with a quality opponent. All we can do is take the new three-game sample size and be encouraged by the direction Tampa Bay seems to be moving as an offense since the bye week, as their new offensive approach could give them a chance against the top teams in the NFC that they didn't have a month ago.
Share On Socials