After lengthy conversation all offseason long about Tom Brady's ability to throw the deep ball in Bruce Arians' offense, the Bucs couldn't have gotten 2020 off to a better start. Through the first seven weeks of the season, Brady had completed 17 of 39 passes of 20 yards or more, the second highest number of attempts and completions in the NFL.
Not only was Brady throwing the deep ball at nearly a league-high rate, but his accuracy was outstanding too. Over the first seven games of the season, Brady accumulated more passing yards off of 20+ yard throws than any quarterback in the NFL, and his adjusted completion percentage was fifth-best among quarterbacks with 25 or more deep ball attempts. Simply put, Brady and the Bucs receivers were creating big plays down the field as well as any team in the NFL.
But in Weeks 8-10, the results have disappeared. Brady has completed just one of 13 attempts of 20 yards or more in the air over the past three games, the single completion coming on the 44-yard pass to Rob Gronkowski to set up a Bucs score in the second half against Carolina last week. After a terrific start to the season, all of a sudden the deep ball has come up empty for the Bucs since the conclusion of their victory over the Raiders.
There's a myriad of reasons for the issues, and the blame certainly does not fall solely on Brady. Some, especially against the Saints and Giants, have been miscommunications between quarterback and wide receiver based on what the tandem is seeing from the defense.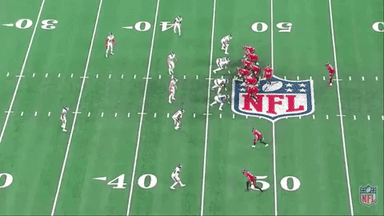 On the post-wheel combination the Bucs are hoping that Scotty Miller can get over top of safety Jabrill Peppers for a big play, but Peppers has great coverage the whole way and breaks up the pass. It looks like Brady is trying to get Miller to play this back shoulder, but Miller continues vertically instead. Can't honestly say for sure who is in the right or wrong here, but the Giants deserve some credit for great coverage.
Against the Giants, the Bucs decision to deploy Jaydon Mickens looked like a mistake early on, as his route-running error cost the team a probable touchdown in the first quarter.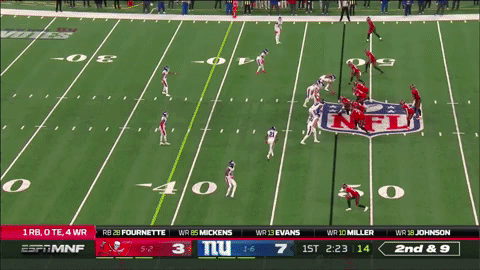 Mickens' hesitation in the first zone window when he should keep moving past the second underneath defender causes the incompletion on what would have been a perfect throw from Brady. These are the issues that arise when a new relationship between quarterback and receiver is still being established, especially with a receiver who has barely played like Mickens.
Still, some deep ball misses are definitely Brady's fault. He absolutely should have hit Mike Evans on a corner route for a big gain against the Giants, but was just a tad late on the throw, allowing James Bradberry to recover. It's an accurate ball, but it has to be out there earlier as Evans creates great separation at the top of his route.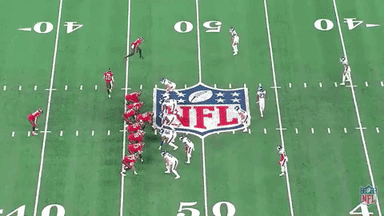 Against the Saints, the biggest issue was communication between receivers and quarterback. Ignore the spotlight on Mike Evans on the first and third clips here, and focus on the other side of the field. In all three instances, Brady throws vertically while his receivers break off their routes. This obviously isn't an accuracy or arm strength issue, it's a communication issue.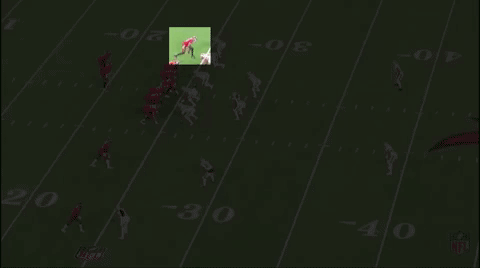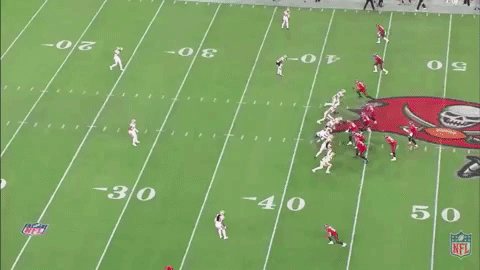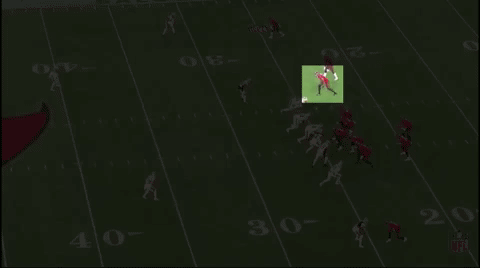 When things go wrong and don't look like they should on tape, it can be hard for a third party such as myself to identify the core issue. Bucs wide receivers coach Kevin Garver shed some light on the disconnect between quarterback and receivers in Week 9.
"Definitely a couple of factors in [deep ball issues]," Garver said. "Chris should have been a little bit deeper in his play. Tom did have a little bit of pressure, but Chris should have been a little deeper in that situation. Antonio, on his on the sideline there, the safety was getting with him and the corner was getting depth there. He read it a certain way, he's supposed to stay on the 'Go' there in that situation. A little bit of both. The corner's giving him a different look than maybe he anticipated.
"On the last one there, I did think that Scotty (Miller) should have continued to run on that. He was maybe anticipating where the ball was going to be, but on those three plays there was some pressure so I think that Tom was trying to get it out of his hand where maybe if there is a little more time for him he maybe has an opportunity to react in a different way, but that's football. When we look at that game, we all learn from it, we all have areas where we need to improve and we have areas in the receiver room where we need to get better at."
As the wide receivers coach, it was no surprise Garver put most of the blame on his guys, but looking at the tape he's probably being honest on at least the misses to Miller and Brown. There's also a healthy amount of pressure impacting several of these throws, which is another good reminder that completing deep balls is about a lot more than just whether a quarterback has a strong arm, or even if he's accurate or not.
Last Sunday against Carolina, Brady was on point with almost everything except the deep ball. He only threw four passes of 20 yards or more, one of which was complete to Gronkowski for that rumbling 44-yarder, but he attempted three others that fell incomplete.
Again, there are a myriad of issues at work here, but the communication problem continued to loom for the third straight week. On the first pass in the clip above, Brady throws vertically to Antonio Brown, who probably would have scored if he doesn't flatten down his route much more than Brady was expecting.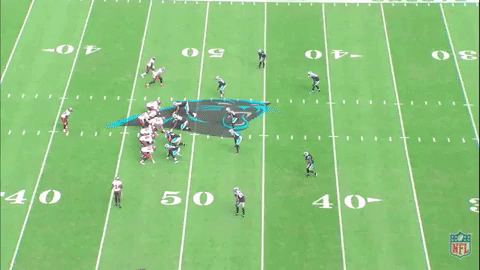 The Bucs are running a Mills concept off of play-action, looking to high-low the field safety. If the safety bites on Evans' dig route, Brady will throw the seam to Brown for what should be a big play, probably a touchdown. But both safeties bite on the dig, leaving a ton of space for Brown to work to across the field, which leads the receiver to bend his route away from the Panthers' Cover 4 field corner getting depth with him.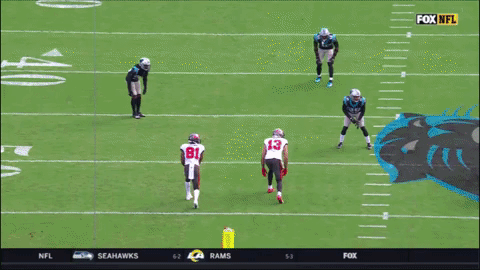 But Brady is anticipating Brown running this post much deeper, which is what he should be doing. Brown turns the post almost into a crossing pattern with how much he flattens it down, and the result is an incompletion on what could have been a big play. I understand why Brown felt it was easiest to adjust his route to all the vacated space by the boundary safety, but Brady's back foot is hitting and this ball is coming out on time based on the concept of the play. Brown has to think about what his quarterback is seeing and what the route concept should look like based on the call.
The other two throws in the Twitter clip above are poor throws by Brady, especially the second one to Evans, where Brady clearly rushes the throw and doesn't set his feet well. Again, there is plenty of blame to go around on the deep ball disconnections, as protection was even part of the problem on the third throw.
So while the Bucs offense has remained more good than bad over the past few weeks (with the exception of the Saints game), the splash plays down the field that they were hitting early in the season have dried up. Some of that is due to quality defense, but most of it has stemmed from communication and chemistry issues between Brady and his receivers.
"It's definitely something we've got to hit," Brady said on Friday. "Our guys are doing a great job of getting open down the field and it's my job to find them and hit them. If you don't hit them, they're just long foul balls. We had a few of those last game. [If] we take those shots, we're going to have to be accurate with them and I know our guys are going to come up with them when I give them a good chance to catch the ball."
Can the Bucs iron out these issues and bring the deep ball back this Monday night against the Rams? If they do, it'll be against all odds. The Rams have allowed a league-best 19 passing plays of 20+ yards this season, as their heavy two-high safety defense and No. 1 wide receiver-eraser in Jalen Ramsey do a wonderful job of taking away an opponent's big plays. In a game that could be a defensive struggle, the Bucs need to be patient with the long ball and chip away at the Los Angeles defense, but it's imperative that when the time comes to strike, Brady and Co. don't miss their shot.
Share On Socials