All-Twenty Tuesday: Bucs QB Jameis Winston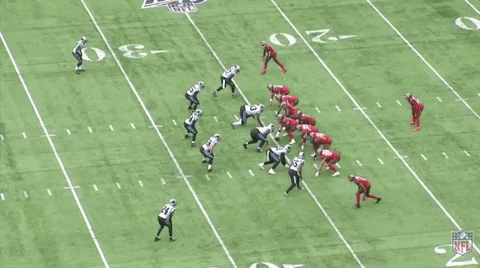 When I first ran through the tape of this game, I got all the way through and thought, you know, Winston actually had a pretty good first half and played relatively mistake free.
I had missed their first play of the game when Winston threw his first interception.
The first turnover of the day was already one that identified the Superman complex that would be a theme throughout the day. Carolina's defensive game plan was very good. They studied the Buccaneers hard and knew exactly what they were going to do in the passing game. They played aggressive in close coverage on the outside, dialed up pressure from the front along the defensive line, and told their linebackers in hook/curl zones to drop deeper and wider to affect potential slant and comeback routes.
As the outside wide receiver to his left, Mike Evans, was what you would consider the "one" on that play, meaning he was first in Winston's progression. But the play had a built in safety valve right in front of Winston if the defense collapsed hard on Evans running the hook route. That's exactly what happened.
Defense can't cover everything. There has to be some weak spots somewhere when you're playing zone. That's just the nature of it. With the corners playing so far off in Cover 3, Winston should have known that the only possible flat defender who would be pair up with Cam Brate was right over him at the line of scrimmage. You have to trust that Brate has the speed and the savviness to gain separation there, as he did. That ball should have been quick and out to Brate the second Winston saw linebacker Luke Kuechly widen out his hook zone.
Instead Winston tried to go for the play that yielded more yards and he paid for it. Have to make the easy play there.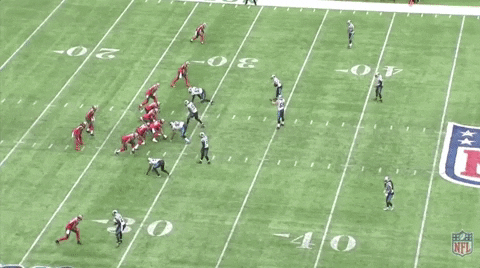 Winston's second interception was not his fault.
It was a good play design to attack Cloud Cover 3 where Evans was being watched by a corner in man coverage and a safety over the top on the right side of the play. (This is the kind of coverage the Saints gave Evans all game in their matchup in New Orleans.) When this happens, there's space and numbers on the other side. The Bucs did a nice job of attacking those zones with route concepts that spread the defenders out, both with depth and direction, and created space. It would have been a nice throw for a completion had Winston's elbow not been hit.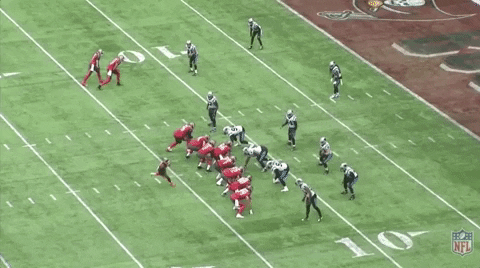 I actually don't think Winston's first fumble was on him, either. I know that when you watch it your first thought is likely that it's a screen and Winston has to get that ball out of his hand — there's no time for pump fakes. That is all true, but it seemed like the Panthers knew exactly what play the Bucs were running.
Look at how they aligned their strong side rushers all the way out wide. They then shifted their defensive line even more as to give the rusher an unfavorable 1-on-3. But they knew it was a screen play, and did that on purpose. The strong side rushers was able to just attack the outside shoulder of the farthest tight end and get right in the throwing window right away.
If Winston threw that ball, he would've had to throw it backwards. that meant if the running back dropped it or if it was tipped that it would be a fumble. Just a disaster of a play because Carolina knew exactly what was coming.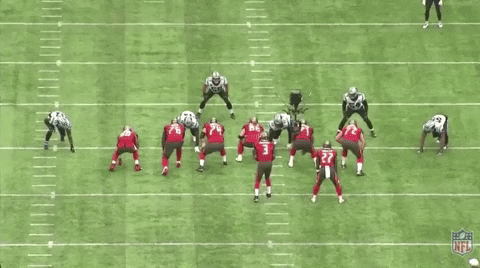 Now this fumble was definitely on Winston. You have to get rid of this ball; there were so many chances to get rid of this ball. For some reason Winston just wouldn't give it up. At the very worst this play should have been a throw away. Instead Winston continued to search for the play. Get rid of it. Fight another down.
This is where it all really started to unravel.
Give the Panthers credit, they baited Winston all game long and he took the bait time and time again. This was once again Kuechly making the play for the Panthers. At the snap, Carolina showed Cover 1 with potential pressure on the pocket coming from all linebackers. As the ball was hiked, Kuechly faked as if he was blitzing around the edge, but then quickly flipped his hips into a middle zone. Winston never even saw it coming and threw the ball right to him.
Great play by Kuechly, but Winston still has to see it, or at least recognize that as a possibility.
At the point in the game in which Winston threw his final two interceptions, the game just was what it was. Carolina knew they could abuse the Buccaneers offensive line. They knew that if they just brought pressure and played off coverage that Winston would eventually give them the game, and he did.
Everything in this offense seems deep and vertical. Carolina knew it. Winston had too many mistakes where he tried to make something out of nothing, or he was looking big when he should have been looking small. But the Bucs roster got out-manned and the Bucs roster got out-coached. That was the story of Sunday's game.