If you've followed my NFL Draft work for long, you know I don't often do player comparisons for prospects when scouting. I think we often reach for perfect comparisons between players which alters the way we see or evaluate the current prospect, and I also don't trust myself to be that good at drawing exact parallels without studying the NFL player closely.
Also, few comparisons are 1:1, so the best comparisons usually pull aspects of a prospect's playing style or physical appearance and relate them to a player in the NFL, rather than comparing all aspects of one player to another. These are more likely to be accurate than 1:1 comparisons, and leave the door open for the nuance required in evaluation when one player's profile deviates from another.
So when I tell you that when I watch LSU WR Ja'Marr Chase win as a prospect in ways very similar to how Antonio Brown wins in the NFL, I'm not saying Chase is AB, nor am I saying they'll have similar careers. I'm also aware that although their physical profiles feature a similar lack of great height and length at the position, that Chase is probably going to come in about two inches taller and 10-15 pounds heavier than Brown (6-2, 200/205 to 5-10, 190ish).
But regardless of the moderate size differences, the way Chase finds success on a football field is pretty similar to how Brown molded himself into the best wide receiver in the league after a few seasons of work in the NFL – by having more nuance and more physicality than any other player at his position.
Scouting Chase's Physicality
If you haven't studied basically every Antonio Brown snap over his NFL career like I have (grew up a Steelers fan, covered the Steelers for years, cover the Bucs now), that last part may surprise you. Brown is noted for being an elite route runner with good quickness and body control, and all of those things are certainly present in Chase's game too. But both guys play the game with a quiet physicality that is one of the premier traits that set them apart from other players at their position.
Neither have the "look" of a prototypical X-receiver like Julio Jones or Calvin Johnson or A.J. Green, but both are so strong and so good at using their hands and bodies to create throwing windows, that almost all press corners end up getting more than they bargained for.
I've gotta talk about just Chase for a second, then we'll get to the comparison to Brown. People need to understand, Chase was 19 years old playing bully ball against EVERYONE. In the best conference in college football Chase saw constant attention from opposing defenses and especially opposing premier cornerbacks like Florida's C.J. Henderson, Alabama's Trevon Diggs, Auburn's Noah Igbinoghene, Clemson's A.J. Terrell, Mississippi State's Cam Dantzler and even a few reps against Alabama's Patrick Surtain Jr. That's four first round picks, a second rounder and a rookie corner that started all season long for Minnesota in Dantzler, and Chase whooped them all.
Yes, Dantzler hung with him better than the others, but Chase was open plenty in that game too. The point is, it is rare to see a college WR get the kind of attention Chase got every week at LSU from top competition, and all he did was catch 84 balls for 1,780 yards and 20 touchdowns.
And he did it by just beating people up. Yes, Chase is a nuanced route runner with outstanding ball skills and the ability to make an impact after the catch, but first and foremost, Chase is a bully.
Igbingohene trying and failing to body Chase up off the line of scrimmage on this over route. Strength to fight through contact, speed to run away from it. Full package.
Both Brown and Chase consistently create separation from press man coverage despite not being freakish athletes, and a lot of it has to do with their strength and balance through contact. You hardly ever see either guy off balance, despite the fact that defenders are always trying to be physical with them from snap to whistle.
This is where Chase draws comparisons to Anquan Boldin, Steve Smith and Deandre Hopkins, as all of those guys knew/know how to physically dominate a cornerback and not get called for it. It's a critical aspect of playing wide receiver, especially when you aren't a physical or athletic freak like Brown or Chase.
For years in Pittsburgh, Brown was a master at using subtle physicality at the top of his route to optimize his positioning for the ball. Chase has this same tendency, keeping himself from getting tied up throughout the route before separating at the last moment. All of it stems from more than just great hand-fighting, as both players have the balance and body control to constantly play through contact and win one-on-one.
The similarities on some of these plays are so awesome. Obviously we're just selecting small sample sizes, but you can see how hard it is to really disrupt either player in their route. You almost have to grab them to avoid giving up that late separation on vertical routes. They don't blaze by you like a Tyreek Hill or a D.K. Metcalf, but they are plenty fast enough to win downfield and they negate your speed by being so physical that before you know it, you've lost position and fallen a step behind.
There are a lot of skill position players in the NFL that may be able to play through contact, but at the end of the day it bothers them. It throws them off their game just a little, and they aren't quite the same player in the fourth quarter if you've bodied them up all day.
That doesn't describe Brown or Chase At. All.
These dudes just Do. Not. Care. about contact at the line of scrimmage, contact in the route, contact in the catch window or contact after the catch. Won't phase them, and won't stop them from producing. I love knowing I'm getting that type of guy in Chase before he ever takes a snap in the NFL.
Chase doesn't get enough credit for being a dog after the catch too. Again, his balance is just outstanding. Dude can take a shot and just keep rolling.
That's where Chase and Brown differentiate a little. Brown certainly has impressive strength after the catch, but Chase is all power and toughness with the ball in his hands, where Brown has a little more elusiveness to his game. Like I said, no comparison is 1:1, and it's important to leave the door open for distinctions.
Creating Separation
Last way the two receivers are similar: how they create separation as route runners, both instinctively and technically.
Chase and Brown have both mastered the art of manipulating defenders with their body language as route runners. Each player's body language fully sells one thing throughout the entire route, all the way up until their pattern breaks and the cornerback is left a step or two behind. They both make every route look the same until it isn't, and that ability to manipulate a defender with timing, footwork, body control and of course hand usage, is truly unique.
Brown is in the slot to the top of the screen in the second clip, and his cornerback attempts to be more physical than Surtain does against Chase in the top clip though. The process for both receivers is similar however: push the route vertical until it's not, then press into the opponent's space and snap the route off to separate. It's less about quickness and more about getting your opponent's feet moving the wrong direction or getting him off balance. Both are deadly.
For all Brown's elite traits, he made a living with Ben Roethlisberger simply by being unstoppable against zone coverages or always finding space in the defense in scramble drills. He felt defenders before he saw them, altering his routes to stay alive and present himself as an ideal option for Roethlisberger in the passing game.
Chase has a little bit of that in his game too. I'll show you the best example against Florida, when the defense tried to cut him on a crosser, so Chase broke the route back outside and picked up a huge gain to bail Joe Burrow out of trouble.
As a lifelong Antonio Brown-watcher, I can't tell you how AB that play is. It showcases the kind of "gamer" quality that will endear Chase to his future starting quarterback in the NFL right away.
Chase is the kind of receiver who you probably don't need 1,500 words to figure out, but I'm here to oblige anyway. His physical dominance and unmatched production against elite competition speaks for itself on tape, and he'll almost certainly be a top ten pick because of it.
I don't know if Chase will be as good as Brown is/was in the NFL, because there are more factors than just individual ability when it comes to producing at that high of a level. But I do know one thing he can still learn from Brown before he reaches his peak as a pro: how to get home on an Immaculate Extension through multiple tacklers at the goal line.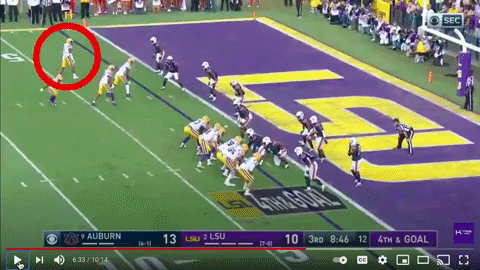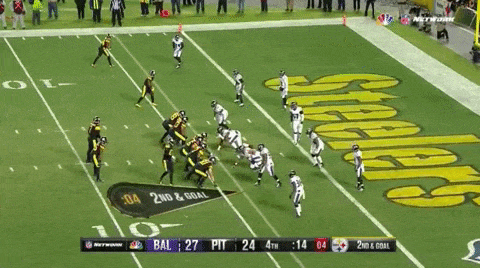 Share On Socials