PewterReport.com analyzes the top players in the 2022 NFL Draft with its' position previews. Josh Queipo keeps things rolling by previewing the safety position, with a comprehensive look at what the Bucs have and what they need at safety. Queipo also provides a detailed list of this year's top safeties. In addition, Scott Reynolds offers up the team needs and the annual PewterReport.com Bucs' Best Bets – the most likely safety for the Bucs to select in Rounds 1-3, and in Rounds 4-7.
What The Bucs Have At Safety
The Bucs have one of the league's best young safeties in Antoine Winfield, Jr. The second-round pick in 2020 made the Pro Bowl in his second season after helping the team win Super Bowl LV as a rookie. Winfield is a playmaker who picked off a pair of passes, forced two fumbles and recovered three in 2021. He primarily plays free safety, but will come down in the box as a blitzer and for certain matchups. Tampa Bay lost starting strong safety Jordan Whitehead to the New York Jets in free agency. The Bucs signed veterans Logan Ryan and Keanu Neal this offseason. Todd Bowles will wait until the OTAs to determine if Ryan will be in the mix at free safety, strong safety or nickel cornerback. Neal is penciled in at strong safety.
The Bucs also have Mike Edwards, a former third-round pick, who is entering a contract year. Edwards emerged as a playmaker last year with three interceptions, including a pair of pick-sixes, and a forced fumble. While he can play some in the box, Edwards is more of a free safety. Thus he's not an automatic replacement for Whitehead. Tampa Bay has moved on from veteran reserve Andrew Adams, but had a pair of developmental safeties on the practice squad. Chris Cooper is a strong safety with the positional flexibility to play some slot cornerback. Troy Warner is a free safety.
What The Bucs Need At Safety
The Bucs will go into the season with five safeties and have four on the roster right now in Winfield, Edwards, Neal and Ryan, who could also be considered a nickel cornerback. Neal and Ryan are only signed for one year, and Edwards is in a contract year. So drafting a safety – likely a strong safety – to develop and eventually start next to Winfield is important. Having Neal on hand means that a rookie won't be pressed into a starting role right away at strong safety.
With Bowles, a former safety, as the team's new head coach, it's a safe bet that the Bucs will come away with a safety in his first draft. Bucs general manager Jason Licht has spent two second-round picks on safeties before (Justin Evans in 2017, Winfield in 2020). And he's also spent a third-rounder (Mike Edwards) on another.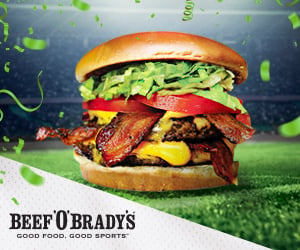 PewterReport.com's 2022 NFL Draft Previews + Bucs' Best Bets are presented by Beef 'O'Brady's – Good Food. Good Sports.
Visit BeefOBradys.com to place your order for Draft Weekend! From to-go to full-on catering – make it Beef 'O' Brady's. Visit any of the 45 Tampa Bay area Beef 'O' Brady's locations. See you at Beef's!
Top Safeties In 2022 NFL Draft
*Important Note: These players are NOT listed in the order of Pewter Report's ranking for them. Rather, the numbers are provided to show you the rough order in which we expect them to come off the board during the draft.
1. Notre Dame S Kyle Hamilton – Junior – 6-4, 220, 4.59
Hamilton began the draft season as one of the best prospects in the class.  That shine has slowly worn off over the past month though. The thoughts on him have changed to something of an enigma. He is still seen as an immensely talented first-round player. But the consensus that he is the next Derwin James has tapered quite a bit. This is despite a very productive career at Notre Dame where he accumulated 139 tackles, 7.5 tackles for loss, 24 passes defensed, and eight interceptions.
Hamilton has rare size at the safety position. He blends his 6-foot-4 frame and incredible instincts to chew up large swaths of field in deep zone coverage. His instincts also allow him to be in position to make plays on the ball that other safeties would never have a shot at. In man coverage Hamilton can be clunky to break on out routes, leading to catches allowed. He isn't a liability in run support, but he isn't a huge asset either. He doesn't come downhill with the sudden urgency you would hope for from a player of his physical stature. Still Hamilton is a proven playmaker, as evidenced by his eight interceptions in just 19 starts. He could go as high as a Top 10 pick and as low as Top 25.
2. Georgia S Lewis Cine – Junior – 6-2, 199, 4.37 
Cine has a great combination of size and speed that he routinely puts on display.  He showed a consistent ability to come downhill and affect the running game with closing burst and physicality. His technique in tackling needs some work, but he brings some thump. He is sticky in man coverage against tight ends. However, this coverage ability didn't translate into ball production, as he only recorded two interceptions and 16 passes defensed over 27 starts. At the next level he will need to improve his route recognition in zone coverage. Yet his 4.37 speed allows him to cover a lot of ground. Cine could go as high as late the first but is more likely to be an early second-rounder. 
3. Penn State S Jaquan Brisker – RS Senior – 6-1.5, 206, 4.43
Brisker is a prototypical strong safety. He is big and tough and at his best when coming downhill. He will enter the NFL as one of the strongest safeties in the league. Brisker can often be found taking on blocks from tight ends and even offensive linemen and winning the rep. In deep zones Brisker becomes more limited, lacking a feel for coverage that will leave him exposed. Over 34 games and 21 starts Brisker recorded 153 tackles, 10 tackles for loss, 19 passes defensed and five interceptions. He should be drafted early in the second round.
4. Cincinnati S Bryan Cook – RS Senior – 6-0, 206, DNP
Cook is a smart, aggressive, player. His college production showed this as he recorded 216 tackles, 11 tackles for loss, one sack, two forced fumbles, 30 passes defensed and seven interceptions over four seasons during his college career. He combines ideal speed and physicality with instinctive play and sound tackling mechanics to be a plus-run defender. A former corner, he is solid, if not spectacular, in coverage. Cook can operate well as a box safety or in two-high alignments. He is a high-floor prospect who should be off the board in the top 100 picks.
5. Maryland S Nick Cross – Junior – 6-0, 212, 4.34
Cross is a really interesting evaluation.  He only started one season at Maryland, but in that year he really lit up the tape. His athletic profile is very good, showing range and closing speed to impact plays across the field. This is backed up with his production in his junior year where he logged 57 tackles, a sack, seven passes defensed and five interceptions. He profiles as a deep safety with ball skills. He could be a late second day or early third day pick.
6. Illinois S Kerby Joseph – Senior – 6-1, 203, DNP
Joseph profiles as a deep free safety. He shows good instincts in the backfield in both single and two-high alignments.  When the ball is in the air, Joseph shows strong closing speed on outside vertical routes and has some ball skills to create turnovers. His biggest knock would be that he is allergic to run defense. Joseph will often come in late, takes poor routes, and hopes that teammates will finish the tackle, so he doesn't have to. Joseph profiles as a third- to fourth-round pick.
Best Of The Rest
7. Toledo S Tycen Anderson – RS Senior – 6-2, 209, 4.36
Anderson was a three-year starter for Toledo. He was named team captain in each of his last two seasons and earned First-Team All-MAC honors in his senior year. Over the course of his career Anderson logged 237 tackles, nine tackles for loss, two sacks, 21 passes defended and two interceptions. Anderson has a long, thin frame but still moves quickly downfield to assist in the run defense. He pairs his speed with excellent lateral movement skills allowing him to work in a multitude of roles including in the slot against agile receivers. Anderson will need to improve his processing speeds to really be a quality starter in the NFL. He should be an early Day 3 pick.
8. Baylor S JT Woods – Senior – 6-2, 195, 4.36
Woods is an uber-athletic player who profiles as a free safety. He became a full-time starter in 2020 and for his career amassed 157 tackles, seven tackles for loss, one sack, 14 passes defensed, and nine interceptions. He relies on his lightning-quick speed to succeed. One of my favorite things about him is his ability to flip his hips and drive from his high-zone to meet the ball on deep outs. He also uses his closing speed to gear up on plays where he is tracking a slot receiver or tight end to disrupt the ball at the catch point.
There is an advanced aspect of his game in how he squeezes routes and uses sound tackling techniques. Woods is still a bit of a liability in run support as he can over-pursue the ball carrier and fails to square up his hips to help him not fall for cut-backs. He is also susceptible to play-action fakes. Woods' thin frame leaves questions about durability in the NFL. He is projected to be an early Day 3 pick.
9. Iowa S Dane Belton – Junior – 6-0.5, 205, 4.43
Belton started for two and a half seasons at Iowa where he accumulated 112 tackles, 6.5 tackles for loss, one sack, 17 passes defensed and five interceptions. What's interesting is almost all of his ball production came in his final season in 2021 where he racked up all of his interceptions and 12 of his pass breakups.
Used primarily as a slot defender, Belton brought a versatile skillset to the position. He was often in man coverage against both tight ends and slot receivers, assisted in run support, and blitzed. Belton displayed a knack for making plays and was effective covering tight ends. He wasn't afraid to come into the run game to make a tackle, although his technique needs to be cleaned up. While Belton ran a stellar 40-yard dash, that speed didn't always show up on film where he struggled to carry receivers vertically. Belton is seen as a fifth- to sixth-round selection and I would be ecstatic if the Tampa native ended up a Buccaneer. 
10. Oregon S Verone McKinley III – RS Junior – 5-10, 192, 4.65
McKinley was a consensus All-American in 2021 after starting for three straight years. A playmaker by nature, McKinley overcomes size and athletic limitations with elite instincts. This led to six interceptions and 12 passes defensed in his junior season. He reads route combinations and tracks quarterback movements to ensure he is consistently around the ball. Despite these positives defending the pass, McKinley is not very adept in run support. He doesn't drive down to the line with much explosiveness, has poor tackling technique and can overrun ball carriers. His size will prevent him from matching up with tight ends in man coverage as well. He is projected to be a late fourth- or early fifth-round selection.
11. Tennessee S Alontae Taylor – Senior – 6-0, 199, 4.36
Taylor was a four-year starter at Tennessee where he played exclusively as an outside corner. Despite that placement Taylor is seen by a lot of evaluators as a safety at the next level. He showed some ball skills logging four interceptions and 19 passes defensed during his career. He has shown a willingness to stick his head down and deliver a big hit in the running game. If Taylor transitions to safety his 4.36 speed and zone skills profile well in a deep safety role. He could be an early Day 3 pick.
12. Louisiana S Percy Butler – Senior – 6-0, 194, 4.36
Butler was a three-year starter at Louisiana where he amassed 169 tackles, nine tackles for loss, one sack, five forced fumbles, 16 passes defensed and three interceptions. His speed is immediately evident as he uses it going both downhill to help in run support and underneath coverages, as well is dropping back to deep zones keeping plays in front of him. He is adept at diagnosing plays and working through traffic to get into the action. He will need to work on his tackling technique at the next level as his target zone can ride high and he can over-pursue his target. His build profiles more as an outside corner leading some to worry about durability concerns at the next level. Butler, who excels on special teams coverage, should be an early Day 3 pick.
13. Kentucky S Yusuf Corker – RS Senior – 6-0, 203, 4.53
Corker was a three-year starter for Kentucky where he accumulated 241 tackles, 6.5 tackles for loss, one sack, one forced fumble, 17 passes defensed and three interceptions. He profiles as a strong safety where his suddenness in moving downhill and ability to keep his eyes in the backfield help him to be an asset against the run. However, Corker isn't a consistent tackler, which is a must for that role. Corker's instincts will help make up for only average speed. That lack of speed means he will struggle to help in the slot. He should be a fourth- to fifth-round pick.
14. Auburn S Smoke Monday – Senior – 6-2, 207, 4.52
Can anyone handle the Smoke? Monday plays with that mentality as he throws himself into contact. Unfortunately for him, his lean frame means the answer to that question is often "yes." That doesn't have to be the case as his frame could support more weight that will hopefully come with more thump. He loves contact, sets the edge and is willing to take on blockers. This helped Monday rack up 137 tackles over his final two years at Auburn when he was a starter.
Monday's opportunities lie in his pass defense. He can be slow to read routes and this leads to late breaks and completed passes. Despite these limitations he plays with an edge that helps him create plays on the ball, as evidenced by his five career interceptions that led to three touchdowns. Monday is seen as a sixth-round pick.
Bucs' Best Bets: Safeties
Bucs' Best Bet – Rounds 1-3: Georgia S Lewis Cine

The Bucs could use a strong safety to replace Jordan Whitehead for the long term, and Cine would be an ideal fit. He' a physical thumper in the box with the speed (4.37) to also be a rangy deep safety in single high, quarters or two-deep. Cine was not only the leading tackler (73) on the national champion Bulldogs last year, he was also the leader of the secondary. He finished his college career with eight tackles, a tackle for loss and a pass breakup in the national championship victory and was the game's defensive MVP.
Cine is a serious football player with a pretty high ceiling that he hasn't reached yet. He could improve his ball skills, evidenced by just two interceptions in three years of action – the last two as a starter. While he develops his hand usage in coverage, Cine will make a living as an enforcer in the box against the run and short and intermediate passing game. Cine is a very coachable, cerebral player that Todd Bowles would likely gravitate towards.
Bucs' Best Bet – Rounds 4-7: S Kerby Joseph

Joseph is an interesting prospect because he's such a late bloomer. He wasn't a starter until his fifth year, and he wound up with five interceptions and second-team All-Big Ten honors. Joseph has really good range to patrol the secondary as a free safety and excellent ball skills. He also broke up seven passes in coverage. Where Joseph struggles is with run support. His physicality at the point of attack and his tackling ability need work. He's a much better free safety than a box safety at this stage of his career.
The Bucs like Joseph and had him in for a Top 30 visit. Tampa Bay also had safeties coach Nick Rapone work Joseph out at his pro day. Joseph doesn't have a 40-time due to a strained quad at his pro day. That, plus his lack of production at Illinois, could push him into the fourth or fifth rounds. The Bucs could view Joseph as a developmental safety and a ballhawk who could replace Mike Edwards, who is in a contract year. Joseph brings tremendous value as a special teams player. He was a gunner the last two years for the Illini and even recorded a safety on a punt this year versus Nebraska.
Share On Socials