The Bucs fell short of another Super Bowl, losing to the Rams in the NFC Divisional playoffs, 30-27. Now it's time for Tampa Bay to reload with new personnel on both sides of the ball.
The Bucs have 24 unrestricted free agents this year, including 10 starters. What happens in free agency will dictate a lot of what happens with Tampa Bay's draft plans – in addition to what happens with starting quarterback Tom Brady. There were reports Brady is retiring after 22 years in the NFL, and Pewter Report believes that will happen this offseason.
Still, it's time for Pewter Report's first of five 2022 Bucs 7-Round Mock Drafts. Tampa Bay will have the 27th overall pick in the 2022 NFL Draft thanks to the team's 13-4 finish.
With the East-West Shrine Bowl and the Senior Bowl on deck, Tampa Bay general manager Jason Licht, head coach Bruce Arians, director of college scouting Mike Biehl and vice president of player personnel John Spytek are hard at work on the Bucs' 2022 draft prep. The Bucs are armed with picks in every round except the sixth due to a previous trade with the Eagles.
Let's take a look at Tampa Bay's personnel needs following the season, and who the Bucs select in Pewter Report's first 2022 Bucs 7-Round Mock Draft of the year – presented by Edmonson Electric • AC • Security.
BUCS PERSONNEL NEEDS
INTERIOR DEFENSIVE LINE
Tampa Bay only has two experienced defensive linemen under contract in 2022 – Vita Vea and Rakeem Nunez-Roches. Practice squaders Benning Potoa'e, Willington Previlon and Kobe Smith were re-signed and will go to camp, but are not locks to make the team. Will 35-year old Ndamukong Suh and 36-year old Steve McLendon retire? Will 30-year old Will Gholston be re-signed? This year's defensive line draft class really lacks quality and quantity. There may not be a defensive tackle taken until the second round this year. So the Bucs might be better off addressing the defensive line in free agency. Getting Gholston back seems likely, and re-signing Suh for one more season would be a major coup.
OFFENSIVE LINE
The Bucs had three offensive linemen make the Pro Bowl this year. One of those Pro Bowlers, center Ryan Jensen, will be a free agent in 2022 along with right guard Alex Cappa. Tampa Bay likely can't afford to bring both back. Re-signing Jensen makes the most sense, as he's the leader up front and the better player. If the Bucs hope to get Tom Brady to stick around for another season, having his starting center back makes sense. Robert Hainsey, the team's fourth-round pick in 2021, is the eventual starter, but he might not be ready yet. Replacing a guard like Cappa would be easier. The Bucs could re-sign Aaron Stinnie as a cheaper option. The team has in-house options in Nick Leverett, Sadarius Hutcherson and John Molchon. This year's draft is full of quality guards and tackles that could be converted to guards.
WIDE RECEIVER
Chris Godwin is a free agent coming off a torn ACL. It's a safe bet to assume he'll re-sign in Tampa Bay, as the Bucs offense is wide receiver-driven. With Antonio Brown gone, there is a clear hole at the No. 3 receiver spot. Breshad Perriman is a free agent, and is really a No. 4 receiver at best. The same could be said of Tyler Johnson and Scotty Miller, who are both under contract in 2022. Cyril Grayson, Jr. will also be back in the mix. This season, Jaelon Darden didn't do much to impress as a rookie receiver. Finding another versatile play-making receiver with starting potential for three-receiver sets is a priority this offseason. This is a good year to find a receiver, as it's filled with quality and quantity.
CORNERBACK
The Bucs will either re-sign Carlton Davis III or use the franchise tag on him. Davis will return along with Jamel Dean and Sean Murphy-Bunting – both of whom are entering contract years. Tampa Bay doesn't need to select a cornerback this year, but it would wise to draft and develop one. The Bucs won't likely have the trio of Davis, Dean and Murphy-Bunting back in 2023. Murphy-Bunting or Dean (or both) could depart. Given the number of injuries the team suffered at the cornerback position, drafting one this year would be wise to have him ready to possibly start in 2023. The cornerback crop seems rather deep this year.
OUTSIDE LINEBACKER
While Tampa Bay spent a first-round pick on edge rusher Joe Tryon-Shoyinka last year, the Bucs might need another young pass rusher that can get to the quarterback. Jason Pierre-Paul is oft-injured, just turned 33 and will have offseason shoulder surgery. He's a free agent and his return is not certain. Shaquil Barrett turns 30 in the fall, and Anthony Nelson is in the final year of his contract. The Bucs had to play several games without JPP and Barrett at the end of the season and the Bucs' pass rush suffered. Drafting Barrett's eventual replacement early and developing him to pair with JTS down the road seems like a wise move. If the Bucs are going to get one, it needs to be early. This is not an overly deep class of edge rushers.
RUNNING BACK
The Bucs only have Ke'Shawn Vaughn and seldom-used Kenjon Barner under contract in 2022. Despite Bruce Arians' assertion that he can be a "lead back" Vaughn's mediocre statistics suggest otherwise. Will Leonard Fournette be re-signed? What about Giovani Bernard? The departure of Ronald Jones II seems inevitable. This year's draft class lacks star power at the position, but there are a couple of intriguing pass-catching backs in this year's class that fit Tampa Bay's system.
TIGHT END
Only Cameron Brate and Codey McElroy, who was on the practice squad, are under contract in 2022, and Brate is set to earn a $6.5 million base salary. Brate will likely have to take a pay cut if the team wants him back. Rob Gronkowski's possible return is likely tied to whether Tom Brady sticks around for another season. O.J. Howard, the Bucs' first-round pick in 2017, hasn't been the same since tearing his Achilles last year. It seems likely that he'll get a fresh start elsewhere. This year's tight end class seems to be deeper than usual with talent.
For the past 40 years, Edmonson Electric • AC • Security has proudly served central Florida with electric services and now proud to add state-of-the-art "Smart Home" technology, security systems and air conditioning to its roster. Whether it's surveillance cameras, home theaters, or smart lighting, Edmonson Electric • AC • Security is automating your home.
Visit EdmonsonElectric.com to find out more about controlling, monitoring and securing your home or call 813.910.3403 for additional information.
Control. Monitor. Secure.
2022 BUCS 7-ROUND MOCK DRAFT
ROUND 1 – Penn State OLB Arnold Ebiketie
6-3, 256 • Senior
This draft has a few quality pass rushers, but not much quantity. With the real possibility that oft-injured 33-year old Jason Pierre-Paul may not return in 2022, Tampa Bay could use another pass rusher in the mix. Shaq Barrett turns 30 in the fall and Anthony Nelson will be entering his contract year.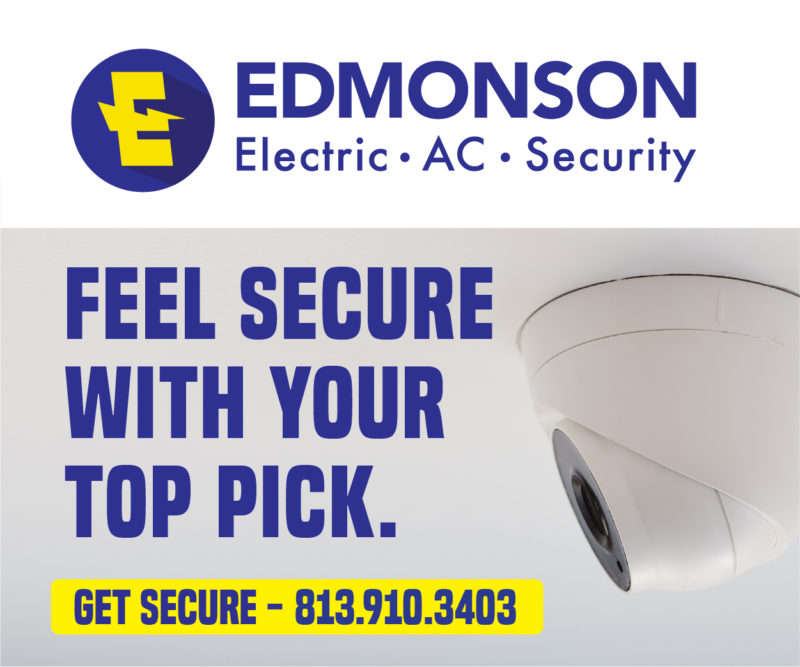 Drafting an athletic playmaker like Ebiketie makes plenty of sense. And it gives Tampa Bay a future pair of bookend pass rushers in Ebiketie and Joe Tryon-Shoyinka, who was the team's first-round pick last year.
Ebiketie, a native of Cameroon, began his career at Temple where he recorded six sacks, three forced fumbles, a fumble recovery and a defensive touchdown. Then he transferred to Penn State where he starred for the Nittany Lions. Replacing Odafe Oweh and Shaka Toney, who left for the NFL, Ebiketie had a breakout season with 62 tackles, 18 tackles for loss, 9.5 sacks and a pair of forced fumbles.
Ebiketie is an extremely hard worker, who plays the run and pass equally well. Although he's closer in size to Barrett, he has the long wingspan of a 6-foot-5 edge rusher. He is a physical pass rusher with plenty of speed and juice to get to the quarterback. Ebiketie is at the Senior Bowl trying to improve his draft status as a fringe first-to-second-round pick.
EBIKETIE'S TEMPLE CAREER DEFENSIVE STATS
2018: 4 tackles
2019: 12 tackles, 2 TFLs, 2 sacks
2020: 42 tackles, 8.5 TFLs, 4 sacks, 3 FFs, FR, TD
EBIKETIE'S PENN STATE CAREER DEFENSIVE STATS
2021: 62 tackles, 18 TFLs, 9.5 sacks, PD, 2 FFs
Ebiketie began his Penn State career with a bang in a season-opening win at Wisconsin. He had seven tackles, two tackles for loss, a sack and a blocked kick. Ebiketie also came up big against Michigan with seven tackles, two sacks and a forced fumble.
He finished his college career with 120 tackles, 28.5 tackles for loss, 15.5 sacks, five forced fumbles, and a fumble recovery for a touchdown. Ebiketie also blocked two kicks at Penn State and can help on special teams in Tampa Bay as a rookie just like Tryon-Shoyinka did.
ROUND 2 – Cincinnati CB Coby Bryant
6-1, 198 • Senior
Jason Licht has drafted four cornerbacks in the second round since taking over as general manager in 2014. That's more than any other position. And after all of the injuries at cornerback this year, Licht knows the Bucs can never have enough talent at the position. The fact that Sean Murphy-Bunting and Jamel Dean are entering a contract year makes it even more important to draft and develop a future starter.
While Ahmad "Sauce" Gardner got nearly all the headlines at Cincinnati, Bryant was just as good. In fact, he won the Jim Thorpe Award for the nation's top defensive back. Bryant notched three interceptions, including a pick-six, in addition to breaking up 11 passes and forcing three fumbles.
At 6-foot-1, 198 pounds, Bryant has the size and ability to play press-man coverage that the Bucs desire. He's a highly competitive playmaker that would fit in nicely in Tampa Bay's secondary.
BRYANT'S CINCINNATI CAREER DEFENSIVE STATS
2017: 4 tackles
2018: 33 tackles, 2 INTs, 9 PBUs, FF
2019: 54 tackles, 2.5 TFLs, INT, 8 PBUs
2020: 35 tackles, TFL, 4 INTs, 7 PBUs, FF
2021: 44 tackles, 1.5 TFLs, 3 INTs, 11 PBUs, 3 FFs, TD
Bryant has improved in each of his four seasons as a starter. While he's given up three touchdowns in each of the last three seasons, he's a pass breakup machine with 35 in his career along with 10 interceptions.
Bryant would likely spend his first season playing special teams and learning behind the likes of Dean, Murphy-Bunting and Carlton Davis III. But he could challenge for playing time as a rookie given his talent and playmaking ability.
ROUND 3 – Nevada WR Romeo Doubs
6-2, 215 • Senior
After a pair of defensive picks to start their 2022 draft, the Bucs turn to the offensive side of the ball. With Antonio Brown's departure and Chris Godwin coming off a torn ACL, the Bucs need help at the receiver position. Former draft picks Tyler Johnson, Scotty Miller and Jaelon Darden just haven't developed to the point where they can be a reliable No. 3 receiver over the course of the season.
Drafting a receiver with size that can play both inside and outside would help Tampa Bay immensely. The 6-foot-2, 200-pound Doubs has the speed to make plays downfield from the slot and outside the hashes. He's a physical receiver that can slip some tackles and has the size to block inside to help Tampa Bay's ground game. Doubs is a smooth route runner who can make cuts at full speed to create separation downfield.
DOUBS' NEVADA CAREER RECEIVING STATS
2018: 43 rec. for 562 yards (13.1 avg.), 2 TDs
2019: 44 rec. for 649 yards (14.8 avg.), 4 TDs
2020: 58 rec. for 1,002 yards (17.3 avg.), 9 TDs
2021: 80 rec. for 1,109 yards (13.9 avg.), 11 TDs

Doubs has been a steady producer at Nevada for QB Carson Strong with back-to-back 1,000-yard seasons. He's shown improvement every season and has strong hands to pluck the ball in traffic. With his size and long arms, Doubs is a nice red zone weapon.
Doubs can also help Tampa Bay on special teams. He averaged 12.5 yards per punt return and scored one touchdown for the Wolfpack. With the ability to stretch teams vertically, play inside and outside and help on special teams, Doubs would be quite a find in the third round for the Bucs.
ROUND 4 – Auburn DB Smoke Monday
6-3, 199 • Senior
Licht loves drafting defensive backs on Day 2. He's done so seven times since 2014, including cornerbacks and safeties. Three of those defensive backs came from Auburn, so it's no surprise that the Bucs would be interested in Monday at the start of Day 3.
The 6-foot-3, 199-pound Monday is a really versatile defender that can play in the slot in addition to playing in the box and playing deep. He's like a taller, lankier version of Antoine Winfield, Jr. and Mike Edwards. Both of those Bucs defensive backs have similar versatility.
With Jordan Whitehead slated for free agency and Edwards entering his contract year, the Bucs could use more talent and quality depth at the safety position. Monday's versatility helps Tampa Bay's secondary in numerous ways.
MONDAY'S AUBURN CAREER DEFENSIVE STATS
2018: 15 tackles, 2 TFLs, 2 sacks, INT
2019: 20 tackles, 2 TFLs, sack, INT, TD
2020: 73 tackles, 4 TFLs, sack, 2 INTs, TD, 3 PBUs, FF
2021: 63 tackles, 9 TFLs, 2 sacks, INT, TD 5 PBUs
Monday has been a big-play machine for the Auburn defense, amassing 171 tackles, eight pass breakups and five interceptions in his career. He also has three defensive touchdowns for the Tigers, including a key pick-six in Auburn's 48-45 Iron Bowl win over Alabama in 2019. His 100-yard pick-six against Tennessee was also a huge play in that 30-17 win.
What also appeals to Tampa Bay is how well Monday plays at the line of scrimmage. Auburn blitzed Monday out of the slot where he recorded six sacks and a forced fumble in his career. He also had 17 tackles for loss in his career, which is an impressive number for a defensive back.
ROUND 5 – Arizona State RB Rachaad White
6-2, 210 • Senior
The Bucs are looking for an all-around running back that can run and catch the ball, and White fits the bill. At 6-foot-2, 210 pounds, White has a similar running style to Leonard Fournette – although not as big – and Le'Veon Bell. He's a patient runner with solid vision and good, but not great speed. Still, White is fast enough to accelerate through the holes and turn the corner at the next level when he hits the gas.
White showed promise in the four games he played in during his first season at Arizona State in a COVID-shortened 2020 campaign. He averaged 10 yards per carry before becoming the workhorse back for the Sun Devils as a senior. In 2021, White ran for 1,000 yards and 15 touchdowns. Yet he was even more impressive as a receiver, catching 43 passes for 456 yards and a healthy 10.6 average.
Prior to transferring to Arizona State, White had a successful career at Mt. San Antonio College in 2018-10. He rushed for 1,264  yards as a sophomore, averaging 6.4 yards a carry and scoring 10 touchdowns.
WHITE'S ARIZONA STATE CAREER RUSHING STATS
2020: 42 carries for 420 yards (10 avg.), 5 TDs
2021: 182 carries for 1,000 yards (5.5 avg.), 15 TDs
WHITE'S ARIZONA STATE CAREER RECEIVING STATS
2020: 8 rec. for 158 yards (18.9 avg.), TD
2021: 43 rec. for 456 yards (10.6 avg.), TD
White had four 100-yard rushing games at Arizona State, including back-to-back games of 202 yards and 184 yards in wins against USC and Washington, respectively. He totaled five rushing TDs in those two games. White also had three games last year in which he ran for 90-plus yards, but didn't hit 100 yards.
The Bucs need another running back that can be a factor in the passing game, and that is one of White's biggest strengths. While he has limited kick and punt return experience in college, White can help provide competition in that area on special teams as a rookie.
ROUND 7 – Virginia TE Jelani Woods
6-7, 275 • Senior
Only Cameron Brate is under contract for 2022, and he's not a lock to stay given his salary. There's a good chance that Rob Gronkowski returns if Brady is back for another year in Tampa Bay. But either way, the Bucs need more talent and depth at the tight end position. It seems likely that O.J. Howard departs in free agency given his stalled development and lack of playing time.
Woods was a big wide receiver at Oklahoma State, who grew into a tight end over the years. Now at 6-foot-7, 265 pounds, Woods has the size to play in-line and as well as being split out wide or lined up in the slot.
WOODS' OKLAHOMA STATE CAREER RECEIVING STATS
2018: 7 catches for 120 yards (17.1 avg.), 2 TDs
2019: 16 catches for 112 yards (7.0 avg.), TD
2020: 8 catches for 129 yards (16.1 avg.), TD
WOODS' VIRGINIA CAREER RECEIVING STATS
2021: 44 catches 598 yards (13.6 avg.), 8 TDs
Woods totaled just 31 catches for 361 yards and four touchdowns for the Cowboys before transferring to Virginia. He caught 44 passes for 598 yards and eight touchdowns. Woods is a big target, who can also use his size and physicality to help Tampa Bay on special teams.
Share On Socials