PewterReport.com analyzes the top players in the 2019 NFL Draft with its position previews. Mark Cook previews the quarterback position with a comprehensive look at what the Bucs have and what they need under center, a detailed list of this year's top quarterbacks, and Scott Reynolds offers up the annual PewterReport.com Bucs' Best Bets – one early round pick, and a pick from the later rounds.
What The Bucs Have At Quarterback
The 2019 season is all about Jameis Winston. The eggs are all in No. 3's basket and the team will succeed or fail with Winston at the helm. Winston, who is entering his fifth-year option and making $20.92 million, is coming off of an up and down 2018 season that saw him miss three games due to an NFL suspension, and then benched before regaining the starting job in late November and holding it through the final six games of the season where he played some of the best football of his four-year career, throwing just three interceptions over the final month and a half of the season. Winston finished 2019 with 2,992 passing yards on 244-of-378 attempts with 19 touchdown passes and 14 interceptions.
The Bucs chose to allow backup Ryan Fitzpatrick to walk in free agency, and the bearded veteran signed a two-year deal with the Dolphins to be their starter. Tampa Bay did re-sign third-string quarterback Ryan Griffin, and he will compete with the recently signed Blaine Gabbert for the right to backup Winston in 2019. Gabbert, who played for Arians in Arizona, and most recently the Tennessee Titans, is the most experienced of the two and probably has the early edge. The former first-rounder started three games for Tennessee in 2018 in relief of an injured Marcus Mariota and had four touchdowns with four interceptions.
What The Bucs Need At Quarterback
What the Bucs need at quarterback is still yet to be determined. Will Winston be the first drafted Tampa Bay quarterback in franchise history to sign a second contract, or will he go down as one of many who flamed out and never lived up to expectations?
If Winston plays well and is given a new deal, then it really doesn't matter much who the backup is. But if it doesn't work out then the Bucs are in a precarious spot in 2020 with no other option waiting in the wings.
Unless Tampa Bay takes a quarterback at some point in this year's draft.
It is unlikely the Bucs draft one early, but could look to bring in a young arm who can be groomed and become that diamond in the rough. Buffalo's Tyree Jackson, who impressed at the Senior Bowl, could be one of those type of players who could spend a year developing into a sound backup and one day even become a starter if Winston isn't re-signed next offseason. Another name to keep an eye on is another small school player in Central Connecticut State's Jacob Dolegala.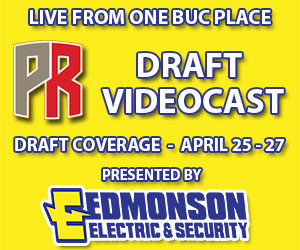 This year's PewterReport.com's 2019 Draft Previews + Bucs' Best Bets and Draft Videocast are presented by Edmonson Electric & Security – the official smart home and security company of PewterReport.com.
Watch Pewter Reporters Scott Reynolds, Mark Cook, Taylor Jenkins and Matt Matera, as well as other special guests, live on-air via PewterReport.com from the team's headquarters at One Buccaneer Place beginning on Day 1 of the 2019 NFL Draft at 7:00 p.m. ET.
For the past 40 years, Edmonson Electric has proudly served central Florida with electric services and now proud to add state-of-the-art "Smart Home" technology and security systems to it's roster. Whether it's surveillance cameras, home theaters, or smart lighting, Edmonson Electric & Security is automating your dream home. Click to find out more about controlling, monitoring and securing your home.
Tomorrow starts now. From home automation controls to structured-wiring and surveillance systems, Edmonson Electric & Security has the team to keep your home current. Call 813.910.3403 for additional information or visit EdmonsonElectric.com.
Control. Monitor. Secure.
Click Page 2 Below For The QB Rankings
Share On Socials