PewterReport.com analyzes the top players in the 2022 NFL Draft with its' position previews. Jon Ledyard keeps things rolling by previewing the running back position, with a comprehensive look at what the Bucs have and what they need at running back. Ledyard also provides a detailed list of this year's top running backs. In addition, Scott Reynolds offers up the team needs and the annual PewterReport.com Bucs' Best Bets – the most likely quarterback for the Bucs to select in Rounds 1-3, and in Rounds 4-7.
What The Bucs Have At Running Back
The Bucs made waves in free agency by re-signing starter Leonard Fournette to a three-year deal worth an average of $7 million per season. That's quite a commitment, but also well deserved after Fournette beat out Ronald Jones II for the role as Tampa Bay's primary back. Not only did Fournette keep Jones off the field, he also took away the third-down duties from Giovani Bernard. Fournette rushed for 812 yards and eight touchdowns while averaging 4.5 yards per carry. He also caught 69 passes for 454 yards and two more scores.
The Bucs re-signed Bernard, and have Ke'Shawn Vaughn, a former third-rounder, for depth. The team is high on Vaughn, who rushed for 180 yards and two touchdowns in a limited role last year. But he's largely unproven as someone who can carry the load as a runner and receiver. Kenjon Barner is also on the roster, but he'll likely compete for a role on special teams as a kick returner rather than offense in training camp.
What The Bucs Need At Running Back
Tampa Bay and Jones predictably parted ways in free agency. Jones' limitations in the passing game made him a liability as a receiver and pass protector. So the Bucs have a vacancy they need to fill on their depth chart and will find a fourth running back in the draft. This year's draft class doesn't have elite talent, but is stocked with versatile backs that fit what the Bucs want to do from a rushing and receiving standpoint.
It's doubtful that the Bucs would draft a running back in the first two rounds with Fournette back as the starter. The team could use its premium picks on more important positions like defensive tackle, tight end and the secondary. But the third or fourth rounds seem like the place where Tampa Bay would select another running back. The Bucs have shown considerable interest in Texas A&M's Isaiah Spiller, Florida's Dameon Pierce, Arizona State's Rachaad White, Alabama's Brian Robinson, Cincinnati's Jerome Ford and Michigan's Hassan Haskins. All have been to the facility for pre-draft visits. The Bucs have also had conversations with South Dakota State's Pierre Strong, a fourth-round prospect.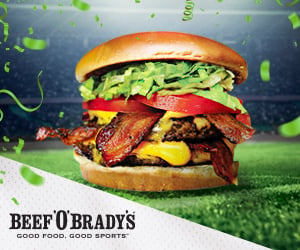 PewterReport.com's 2022 NFL Draft Previews + Bucs' Best Bets are presented by Beef 'O'Brady's – Good Food. Good Sports.
Visit BeefOBradys.com to place your order for Draft Weekend! From to-go to full-on catering – make it Beef 'O' Brady's. Visit any of the 45 Tampa Bay area Beef 'O' Brady's locations. See you at Beef's!
Top Running Backs In 2022 NFL Draft
*Important Note: These players are NOT listed in the order of Pewter Report's ranking for them. Rather, the numbers are provided to show you the rough order in which we expect them to come off the board during the draft.
1. Iowa State RB Breece Hall – Junior – 5-11, 217, 4.39
Hall hasn't gotten much buzz during the pre-draft process, which is hard to understand when you put on his tape. He's impressively elusive, explosive enough and tough to bring down in the open field. Hall's pad level can be a bit high through the line of scrimmage, but his balance is terrific, and his feet are light in space. If he can play behind better blocking in the NFL, Hall will be a feature back. He's also a strong receiver (82-734-6) and capable pass protector.
Frankly, there isn't a lot that Hall is lacking. Like every back, he'll need great blocking/scheme to reach his peak. But he looks like the real deal on tape. Hall has averaged 1,500 yards rushingper season over the last two years and scored 50 rushing touchdowns in this three years at Iowa State.
2. Michigan State RB Kenneth Walker III – Junior – 5-9, 211, 4.38
Walker's game is nimble feet and elite vision as a rusher. He's not a power rusher, but Walker's instincts and balance in space allow him to a slip an impressive numbers of tackles. Watching the Wake Forest transfer is highly enjoyable at times. Walker's vision in so good, he's often able to utilize escape lanes that aren't even where the ball is intended to go. After a pair of 579-yard seasons for the Demon Deacons, Walker rushed for 1,636 yards and 18 TDs for the Spartans.
Unfortunately, he's caught just 19 passes in his career and done very little with those receptions. Until Walker improves as a receiver, route runner and pass protector, his role in the NFL will be limited to early downs. But with his athletic traits, it's easy to see him improving as a receiver in the NFL.
3. Texas A&M RB Isaiah Spiller – Junior – 6-0, 217, 4.63
Spiller may not be the athlete that Walker is, but he's a more complete player right now. Not many college backs exit school with excellent ball skills in the passing game (74-585-1), route-running ability and quality pass protection tape. Those traits alone should make Spiller one of the top backs off the board, but he's also a very good rusher. He totaled 2,993 yards rushing and 25 touchdowns in his Aggies career, averaging 5.6 yards per carry.
Spiller isn't vertically explosive, but his ability to cut laterally and maximize runs through contact is more important. There are very few weaknesses to Spiller's game, even if he lacks an elite skill for the NFL. He'd be a perfect fit in Tampa Bay, but will he make it to the end of round 3 or round 4?
4. Florida RB Dameon Pierce – Senior – 5-10, 218, 4.59
It's hard to watch Pierce and not fall in love. He's a hard-charging back with a directness to his game that is refreshing. Pierce wants to pulverize tacklers, and he has the perfect running back frame to do it. Some NFL team is going to get a tackle-breaking back with a three-down skill set in the mid-rounds. What Pierce lacks is great explosiveness and long speed. He might not hit many home runs, but he's clearly athletic enough to create with the ball in his hands.
Florida didn't realize that however, giving him more than 15 touches just twice in his 50 collegiate games. Pierce never rushed for more than 574 yards (2021) in any of his four years at Florida. But he averaged a healthy 5.5 yards per carry with 23 touchdowns on the ground (13 last year). Pierce also averaged an impressive 9.4 yards per catch with 45 career receptions for 422 yards and four TDs.
5. BYU RB Tyler Allgeier – RS Junior – 5-11, 224, 4.60
What Allgeier lacks in athleticism he tries to make up for in toughness, physicality and versatility. He's arguably the best pass protecting back in the draft, and he's a load to bring down with the ball in his hands. Allgeier doesn't run with a lot of wiggle or burst, but if you're in his path when he gets downhill, good luck. He's every bit of 224 pounds and will shred arm tackles. Unfortunately, Allgeier may not have the explosiveness to be a starter in the NFL. He should be an excellent backup running back who can handle the load in spots and contribute on special teams.
Allgeier had a breakout season in 2020 with 1,130 rushing yards and 13 touchdowns while averaging 7.0 yards per carry. Last year he exploded for 1,601 yards and 23 TDs on the ground, while rushing for 5.8 yards per carry.
6. Georgia RB James Cook – Senior – 5-11, 199, 4.42
Space backs like Cook are falling out of style a bit in the NFL, so it'll be interesting to see where he lands. Cook is most effective as a receiving option, lacking the size and strength to be a workhorse back. But how many third down backs are sheltered in pass protection responsibilities in college? Cook is an explosive player who can be a threat in space with the ball in his hands. But he doesn't create much offense after contact, especially between the tackles.
Cook rushed for 1,503 yards and 14 TDs in his career as a part-time contributor, averaging 6.5 yards per carry. He also caught 67 passes for 730 yards (10.9 avg.) and six more TDs. Cook's usage might be limited unless he lands in the right system. I think he needs an outside zone scheme to be at his best, which might rule Tampa Bay out as a destination.
7. Georgia RB Zamir White – RS Junior – 6-0, 214, 4.40
White is an extremely decisive inside runner who can drop his pad level remarkably low for a man his size. Check that, for any sized running back. I love the physicality and toughness that White runs with. He'll make any backfield in the NFL better thanks to his excellent vision and rapid decision-making. White totaled 2,043 yards rushing and 25 touchdowns in his three years at Georgia.
But White also comes with some limitations. He was barely utilized as a receiver (17-232) or pass protector in college. He also doesn't play with the burst his timed 4.4 speeds would suggest he should have. White should be a quality option in a shared backfield role moving forward.
8. Notre Dame RB Kyren Williams – RS Sophomore – 5-9, 194, 4.65
Williams is one of the smallest and least athletic running backs in the draft. Not checking the boxes in those areas will put a damper on his upside, but shouldn't be a death knell. Playing running back in the NFL is more about instincts than size and speed. He's coming off back-to-back 1,000-yard seasons, scoring a total of 27 rushing touchdowns in 2020-21.
Williams has plenty of the former as one of the best passing downs options in the draft. He's a great pass protector and quality receiver (78-675-4) who can also share carries on the ground. Pass heavy teams should value Williams skill set on Day 3. The Bucs fit that bill, but they've shown less interest in Williams than any back ahead of him on this list.
9. Alabama RB Brian Robinson, Jr. – RS Senior – 6-2, 225, 4.53
Robinson is kind of the opposite of Williams. He's a decisive power back with good vision and instincts. But Robinson's upright style gives tacklers a lot of target area, and elusiveness isn't his game. He shared carries with Najee Harris for years before taking over as the workhorse back in 2021. After back-to-back 400-yard seasons as a sophomore and junior, Robinson had 1,343 rushing yards and 14 touchdowns as a senior.
He's a capable receiver, evidenced by 35 catches for 296 yards and a pair of scores, but at his best on early downs. If Robinson can improve his pass protection and route-running, he might be a future starter. But at minimum he seems like a capable snap share back who will contribute right away in the NFL. Physically, Robinson profiles as a Bucs running back. But his lack of prowess in the passing game could move him down the team's board.
10. Arizona State RB Rachaad White – RS Senior – 6-0, 214, 4.48
I have some issues with White's vision and decision-making at times. He's not the consistent pure rusher that some of the other backs in the draft are, but that could still come. White has lots of potential as a receiving back (43 catches for 456 yards last year), flashing brilliance in space with his creativity. But he's a running back, not a wide receiver. To get on the field as a third down back, White's pass protection will need to improve plenty.
Right now, feature back work seems like a distant goal for the 23-year old, despite rushing for 1,000 yards and 15 TDs last year.  However, the Bucs may feel like they have two backs they can lean on for carries in Fournette and Vaughn. Perhaps that makes them more inclined to find a passing downs difference-maker in the draft.

Best Of The Rest
11. South Dakota State RB Pierre Strong – RS Senior – 5-11, 207, 4.37
If you give Strong a runway, he can fly. And he got a lot of runways on his way to leading the FCS in rushing last year. In an outside zone heavy scheme like San Francisco or Miami, Strong could be a nice fit. But his lack of elusiveness and tackle-breaking are big concerns for me. As athletic as Strong is, it doesn't show up when he has the ball in his hands often enough. He really needs a lane to create offense. If he doesn't have one, don't expect him to break many tackles in condensed spaces.
Strong reminds me of C.J. Prosise – more athlete than running back. Prosise never got on track due to injuries in the NFL, but his upside was noteworthy coming out of college. Strong has an interesting ceiling for teams to examine, but it would surprise me if the Bucs select him. They did meet with Strong virtually over the past month.
12. Missouri RB Tyler Badie – Senior – 5-8, 197, 4.45
At 5-foot-8, 197 pounds, Badie is one of the smallest backs on this list. But he also looks like one of the strongest, with a yoked-up frame that allowed him to step into a feature back role in 2021. After three sub-500-yard seasons at Mizzou, Badie ran for 1,604 yards and 14 TDs as a senior. Badie profiles as a third-down back in the NFL, so his 126 college catches (1,149 yards, 11 TDs) and sure hands are huge assets. I love Badie's vision in space too, maximizing his blocking to pick up yards after the catch.
But for a smaller back, Badie's burst and elusiveness are just average. There's some stiffness to his running style, as he needs to throttle down a bit to cut laterally. However, if he can improve in pass protection, Badie looks like a back that should definitely make a roster. Too much of his game translates to the NFL, even if he breaks fewer tackles there. The Bucs haven't shown much interest that we know of. But Badie makes sense as a potential Giovani Bernard replacement in 2023. He'll be a Day 3 pick.
13. LSU RB Tyrion Davis-Price – Junior – 6-0, 211, 4.48
In a long line of great LSU running backs, Davis-Price accepted the mantle this past season. The junior rushed for just over 1,000 yards and six touchdowns on 211 carries for the Tigers. On tape, however, Davis-Price failed to really stand out. He's well-built and runs hard, but won't make many defenders miss. Teams will appreciate how Davis-Price falls forward through contact and contributes in pass protection. However, his profile as a receiver is near non-existent. He's only had a pair of 10-catch seasons, also won't create much outside of what is blocked for him. You can find backs like Davis-Price in every draft, but at 21 he is one of the younger players in his position group this year.
14. Michigan RB Hassan Haskins – RS Junior – 6-2, 228, DNP
The Bucs brought Haskins in for a Top 30 visit over the past few weeks, so there is some interest here. Schematically, Haskins makes sense as a gap scheme fit for Tampa Bay. He also exploded during his senior season, rushing for over 1,300 yards and 20 touchdowns, a school record.
But while Haskins is tough and physical, there is such limited upside to his game. He offers very little in the passing game and won't create much with the ball in his hands. It's just going to be hard to prioritize ever having Haskins be among your offensive touch leaders in the NFL. Haskins looks like an RB3-4 that will make his mark on special team.
15. Baylor RB Abram Smith – RS Senior – 6-0, 213, 4.50
Smith has one of the most interesting college profiles of any running back in the class. Going into his final year at Baylor, Smith had carried the ball just 12 total times! Injuries and a position switch to linebacker slowed his development at running back considerably. Smith wasn't on any team's radar until a 1,600-yard, 12-touchdown season changed things. Then the redshirt senior impressed at the Senior Bowl as well, putting himself firmly on NFL radars.
Unfortunately, the peripheral stuff with Smith isn't great. He'll turn 24 as the season begins, and has one year of production at running back. Also, he caught just 13 passes for a measly 75 yards last year. Routes, pass protection and ball security all need work for Smith. He's a warrior in the locker room however, and could find a path to a roster spot on special teams.
16. Mississippi RB Snoop Conner – Junior – 5-10, 222, 4.59
Conner is a sledgehammer running back who could become a fan favorite. His grinding rushing style dictates punishment to defenders who dare to challenge him. Conner's build is the ideal frame for a running back, with a low center of gravity and 222 pounds of pure muscle. But Conner needs to develop his passing downs skill set, especially after bombing the Combine. He'll probably never be a feature back as he never rushed for 700 yards in any season. But he's the type of player who can post a couple nice performances behind a quality offensive line.
17. Cincinnati RB Jerome Ford – RS Junior – 5-10, 210, 4.46
Ford is lucky he's only 5-foot-10, because I haven't scouted many backs who run as upright as the 22-year old. Ford took a lot of shots in college, getting hammered at times by oncoming defenders. However, the Cincy starter still ran for over 1,300 yards and an absurd 19 touchdowns in 2021. At the Combine, Ford showed his long speed with a 4.46 40. That speed showed up on tape at times, with Ford running away from defenders on several long scoring runs.
But is the consistency there to be an every down back? Can he continue his evolution in the passing game after 21 catches last year? Developmental running backs aren't really a thing, but Ford might fit that description. After just one full year as a starter, Ford's vision and decisiveness need to become more consistent. He's the rare back that checks some of the ancillary categories, but not all the primary ones right now.
Bucs' Best Bets: Running Back
Bucs' Best Bet – Rounds 1-3: Texas A&M's Isaiah Spiller

The Bucs will want to draft a running back that is capable of taking on a heavier workload if Leonard Fournette went down with an injury rather than drafting a role player. Spiller is remarkably consistent on the ground and through the air. He averaged just under 1,000 yards per season in his three years for the Aggies while averaging 5.5 yards per carry. What you see is what you'll get when you watch his tape. The sure-handed Spiller averaged 25 receptions per season with nearly 8.0 yards per catch.
The Bucs have had Spiller in for a Top 30 visit in addition to formally interviewing him at the NFL Scouting Combine. He can help the Bucs as a runner, receiver and pass protector. While he's not overly fast (4.63), Spiller does a great job of slipping tackles and breaking tackles with his effort and his 6-foot-1, 215-pound frame. He had 16 100-yard games at Texas A&M, including 11 against SEC competition. Spiller would make a great addition to the Bucs' backfield in the third round.
Bucs' Best Bet – Rounds 4-7: Florida's Dameon Pierce

There is a chance that Pierce could warrant selecting in the third round, but he will surely be drafted by the end of the fourth round. At 5-foot-10, 215 pounds, Pierce is all muscle and breaking tackles is his specialty. He's more quick than fast (4.59), but has good vision between the tackles and the agility to bounce runs outside when he sees daylight. Pierce has a nice jump cut and can thrive in gap or a zone scheme at the next level. He was underutilized at Florida by the coaching staff and didn't rush for more than 575 yards in any season. The upside is that Pierce has plenty of miles on his tires.
Pierce can serve a role as a goal line banger, evidenced by 23 rushing touchdowns, including 13 as a senior. Where he excels – and where he helps out Tampa Bay – is in the passing game. He's incredible in pass protection and put on a clinic in this area at the Senior Bowl. Plus, he's a great receiver with the ability to do more than just catch screens and swing passes out of the backfield. Pierce had 45 career receptions for 422 yards (9.4 avg.) and five touchdowns. Like Spiller, the Bucs had a formal interview with him at the Combine and also had him in on a visit with local prospects. Pierce has a winning, team-first attitude and would also be an asset on special teams.
Share On Socials