Before you scroll down any further – yes, the officiating was awful, and it negatively impacted the Bucs far more than it should have in Tampa Bay's 20-19 loss at Chicago on Thursday Night Football. The Bucs also negatively impacted themselves far more than they should have with sloppy penalties – a total of 11 infractions for 109 yards.
Offensively, there was definitely some encouraging aspects of the Bucs' scheme and even some aggressive offensive play-calling, mixed with bizarre situational coaching, decision-making and personnel deployment, never more-so than on Tampa Bay's penultimate drive of the game.
Oh, you mentally blocked it out already? I'll remind you. With the Bucs up 19-17 with 2:48 remaining and Chicago carrying all three timeouts, Tampa Bay essentially needed a first down to seal, or at least nearly close out, the victory.
On first down, a run out of 13 personnel – a three-tight end formation. Why is this a terrible idea? The Bears are already expecting the Bucs to run, and running into a 9-man box is always a terrible idea. This was not a smart play call by offensive coordinator Byron Leftwich.
If the Bucs come out in a lighter personnel grouping, for example three wide receivers, the Bears will respond by removing defenders from the box, opening more space for Ronald Jones II, who had 106 yards on the night, to pick up a few yards and eliminating defensive variables that could make a play in the backfield.
Instead, the Bucs bring bees to honey with their personnel grouping, and the Bears respond with SIX defensive linemen in the game. That means either Tanner Hudson, Cam Brate or both will end up blocking a defensive lineman on the play. With the game on the line, did the Bucs want essentially two big wide receivers blocking defensive linemen? That's not a strategy for success.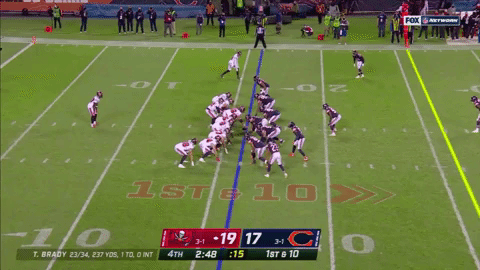 Sure enough, Bears defensive tackle Brent Urban ran through Hudson's feeble block attempt (he looked confused as to his responsibilities), dropping Jones for a loss of two to set up second-and-17. Chicago immediately called a timeout. That put the Bucs in a situation where they had to throw on second down, when essentially a gain of even a couple yards on first down would have allowed for a wider array of options on their next two plays.
I loved a lot of the man-beating route concepts the Bucs used to open up receivers early in the game, but where was that stuff later in the contest? How do you not have an automatic completion to gain a few yards in your second down play call, forcing the Bears to burn a timeout or ensure some clock is run? I know Chicago didn't end up needing their remaining timeouts, but it's still a very poor process by Tampa Bay.
Instead the Bucs come out in 13 personnel again, but keep two tight ends and Jones in to protect. That's an 8-man protection against four Bears rushers, with just two receivers running a route, both of which are run beyond the sticks. That's your best play call to gain a few yards and keep the clock moving on the biggest play of the game?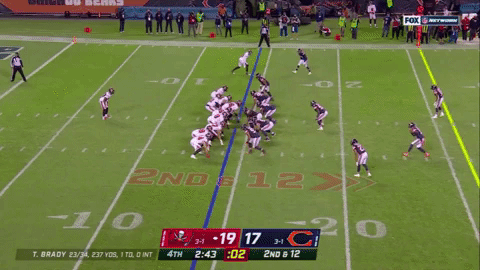 Did it help that after Jones check-released, he looked like he had no idea he could be thrown the football? Did it help that Brady was hit as he threw after center Ryan Jensen was beaten very quickly and the Bucs allowed almost immediate pressure despite having an 8-on-4 initial advantage in protection?
No, but the play-call was destined to fail from the beginning, and players also happening to execute poorly didn't change that. Even good execution in that situation is realistically a 2-yard completion to Jones on a check-release out of the backfield. There is no reason the Bucs coaching staff should have expected that play to succeed, and it didn't.
People will point to the 3rd-and-12 incompletion as another moment of failure, but there aren't a lot of play calls for that situation, especially against a defense that can simply sit at the sticks in that situation because they know you have to throw there or the Bears are getting the ball back in great field position. The clock didn't really matter after the second down incompletion, because the Bears still had two timeouts.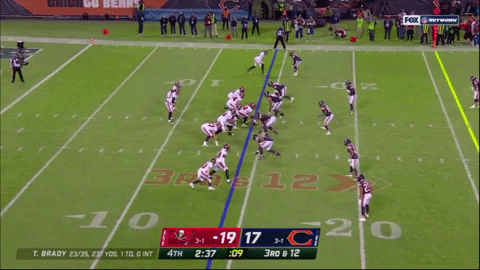 Based on what we can see from the broadcast angle, there's no real option for success on this play. Rob Gronkowski is the only player open after he chips and releases, and he's five yards behind the line of scrimmage. There's no chance he gets to the marker unscathed, and Brady has to get a first down for the play to really matter. There's no clock or field position advantage to be gained by throwing short of the sticks.
I would have loved to see the Bucs' route combinations work the field more horizontally on third down, but chances of picking up a first down in that situation are minimal at best. The drive was lost by Leftwich's poor play-calls and poor personnel deployment on first and second down, and with the short field and plenty of time on the clock for the Bears, the rest was history.
One of the worst things you can do as a coach is give your star quarterback zero shot to be successful in the biggest moments of the game, and that's essentially what happened here. I get wanting to put it on Brady's shoulders to be the guy, but he can only play with the hand he's dealt. Throughout the entirety of this game, from players to coaches, Brady was dealt a terrible hand.
Share On Socials