SR's Fab 5 is exclusively sponsored by Edmonson Electric • AC • Security –
the official smart home and security company of PewterReport.com.
For the past 40 years, Edmonson Electric • AC • Security has proudly served central Florida and Bucs fans in the area with electric services and now proud to add state-of-the-art "Smart Home" technology, security systems and air conditioning to its roster. Whether it's surveillance cameras, home theaters, or smart lighting, Edmonson Electric • AC • Security is automating your dream home.
Visit EdmonsonElectric.com to find out more about controlling, monitoring and securing your home or call 813.910.3403 for additional information.
Control. Monitor. Secure.
---
FAB 1. Brady Brings Greatness To The Bucs – Literally
Not only did Tom Brady bring veteran quarterback play and immense skill as a pocket passer to Tampa Bay last year, he also brought some friends.
We're talking great friends, as in Brady was instrumental in attracting top talent to the Bucs in 2020 to help win Super Bowl LV.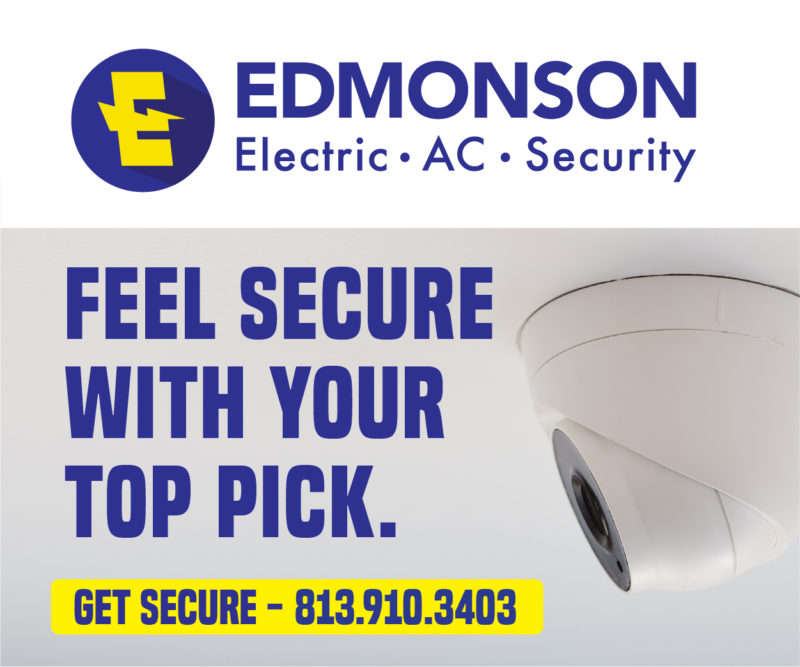 Just weeks after Brady sent shockwaves through the NFL by signing with Tampa Bay in free agency, he helped general manager Jason Licht lure future Hall of Fame tight end Rob Gronkowski out of retirement. Licht then pulled off the trade for Gronkowski with New England.
Months later, Brady's arrival in red and pewter helped influence running back Leonard Fournette to sign with Tampa Bay after he was released by Jacksonville prior to the start of the season. Fournette wanted to play with Brady.
By midseason, seven-time Pro Bowler Antonio Brown was signed as an insurance policy at wide receiver with Brady's help. Brown and Brady played together for a few weeks in New England in 2019.
Was it a coincidence that Brady, Gronkowski, Fournette and Brown accounted for all four of Tampa Bay's touchdowns in the team's 31-9 Super Bowl victory over Kansas City? No, it wasn't.
This offseason has seen Brady help Licht in recruiting Giovani Bernard to fill the need of a pass-catching running back. Bernard, who is friends with Patriots running back James White, a former Brady teammate, said White gushed about playing with the G.O.A.T.
"He had only great things to say about Tom and his work ethic, and everybody knows that, so it was just a no-brainer," Bernard said.
Now Brady's presence in Tampa Bay has attracted another blue chip recruit in cornerback Richard Sherman, a five-time Pro Bowler and three-time All-Pro. Could Licht and head coach Bruce Arians have reeled in Sherman on their own? Probably, but having the greatest QB of all-time only helps their cause.
"He reached out initially and just checked to see if I was in shape," Sherman said of Brady on his podcast. "He and I have had a relationship over the years. He's a great guy. Very encouraging. Obviously, we had our history, but what happens on the field stays on the field. Off the field, I think we have a very solid relationship. And I think we both thought it would be really cool if we had an opportunity to play together at some point in time. Obviously, with our situations, it didn't seem likely at any point in time, but he reached out and said they may express interest. And obviously, he wanted to play with me."
Of course the Jameis Winston apologists have come out of the woodwork to criticize the Bucs.
But Winston isn't Brady – far from it.
And Winston doesn't have the star power to attract other stars from around the league like Brady does.
"I think when you want to talk about a veteran player and you want to win a championship and Tom calls you, you're going to listen," Arians said. "He's going to listen to him, especially knowing the roster we have. I think there's probably a bunch of veterans out there wishing he'd call them."
Sherman and Brady have a past together that dates back to October 14, 2012 when Sherman had an interception and three pass breakups that helped the Seahawks come back and stun the Patriots.
After the game, Sherman tweeted out a pic of him confronting Brady after Seattle's win with the caption, "U Mad Bro?" Sherman even made t-shirts to commemorate the moment.
But that was just two alphas being alphas earlier in their career. There has been nothing but mutual respect between the two ever since – even after Brady's Patriots beat Sherman's Seahawks in Super Bowl XLIX in 2014.
"He actually sent me a jersey – we exchanged jerseys maybe four or five years ago – and he said, 'I'm still mad bro,'" Sherman said. "He wrote it on the jersey! I got it – I'll see if I can find a picture of it and post it. He's a great sport about everything. He's just a competitor.
"We're a lot of the same spirit in that regard – anything that it takes to win. I'm obsessed about this game. A lot of what Kobe Bryant stood for – the late great. You can appreciate that about each other. That's what kind of attracted me to come. I know that … I mean he's the same kind of animal I am – for better or for worse. He'll do whatever it takes to get these wins, and to find a way to get your team where it needs to be."
Brady said the admiration between he and Sherman is mutual. He also laughed about his first game against Sherman back in 2012.
"I like Richard a lot," Brady said. "I got to know him on that one particular day out there. He was kind of young and brash and excitable. I threw him a pick, that was the problem. I should have never tried him, but I didn't quite know the scouting report as well as I should have. He made a great interception. He was a Stanford wide receiver, [they] made him a DB. Obviously he's great against go routes and I tried to throw one up the seam to Deion Branch. I regret that throw."
Sherman is the latest great player Brady has recruited to Tampa Bay. And the way things are going with Brady being a beacon for talented players, he won't be the last.
"Me and Tom have had a great relationship over the years," Sherman said. "I think people get confused [by] on the field stuff, but we've texted over the years and have had a really cool relationship. I always thought it would be really cool to play together if we had the opportunity. It's crazy how things shake out."
FAB 2. Ugly Truth About Bucs Run Game
So what's wrong with the Bucs' running game, which is near dead last in the league with only 169 yards on the ground through three games?
Plenty.
Let's start with the obvious. Tampa Bay's offensive line is not doing a good enough job of creating holes up front. And the Bucs running backs are not doing a good enough job hitting the holes or creating on their own.
Don't believe me? Here's what Bruce Arians said this week about Tampa Bay's 31st-ranked run game.
"Our runners have got to run better and our blockers have got to block better when we are running it," Arians said. "It's not blocking well enough and not running well enough. When you're only getting two, two, two or three [yards] – I mean 'RoJo' (Ronald Jones II) had a couple fives – if you're getting five [yards] you're going to run it. If you're getting two or three [yard runs], throw it. It's just a matter of what it takes to win the game."
Therein lies some of the issues with Tampa Bay's rushing woes. There isn't a commitment to the running game. And there isn't any patience in the play-calling when it comes to running the ball.
There is the evidence that if the Bucs don't get five yards per carry right off the bat, they'll abandon it and turn to the passing game instead.
And do you know what? That's the right call.
From a talent hierarchy perspective, the Bucs have built their offense around the passing game. Jason Licht's first draft pick as general manager in 2014 was selecting wide receiver Mike Evans. The three-time Pro Bowler set an NFL record last year with seven consecutive seasons with 1,000 yards receiving to start his NFL career. He's at the top of the Bucs offensive talent list that also includes wide receiver Chris Godwin, the team's franchise player, wide receiver Antonio Brown, a seven-time Pro Bowler, and future Hall of Fame tight end Rob Gronkowski.
Let's have a look at Tampa Bay's weapons, which I've broken up into two tiers. The first tier is the Bucs' preferred base offense, which is 11 personnel (one running back, one tight end and three receivers). The second tier is made up of reserves on offense.
Bucs Offensive Weapons – Tier 1
WR Mike Evans
Slot WR Chris Godwin
WR Antonio Brown
TE Rob Gronkowski
RB Leonard Fournette
Bucs Offensive Weapons – Tier 2
TE Cameron Brate
RB Giovani Bernard
RB Ronald Jones II
WR Tyler Johnson
WR Scotty Miller
TE O.J. Howard
WR Jaelon Darden

These tiers tell us two things. The first four options on the Tier 1 list are not running backs. Fournette is fifth, meaning the Bucs would rather have the ball in the hands of Evans, Godwin, Brown or Gronkowski on any given play before Fournette. Jones, the backup running back, is somewhere between sixth and eighth on this list – depending on how you view Brate or Bernard.
I put Jones eighth on the list because the coaches don't trust him in the passing game. Because that's what these coaches like to do – pass the ball.
The Bucs offense is run through its wide receivers. The Bucs have three of the best in the league. Having the ball in Fournette's hands or Jones' hands means not having the ball in one of their best weapons' hands on any given play. Tampa Bay's coaching staff is keenly aware of that, which is why the Bucs are a pass-first team and always will be.
Now let's take a look at who's in charge of the running game – aside from running game coordinator Harold Goodwin, whose job is to put the running plays that he believes will work in the game plan.
It's Arians' offensive scheme, and he's known as the "Quarterback Whisperer." Arians played quarterback at Virginia Tech, and has coached quarterbacks, running backs and wide receivers at the NFL level.
The guy calling the plays on game days is Byron Leftwich, a former first-round quarterback. He started for years in Jacksonville and even a year in Tampa Bay before being a backup to Ben Roethlisberger in Pittsburgh where Arians was the offensive coordinator.
The guy under center executing the plays is Tom Brady, who just happens to be the greatest quarterback of all-time.
Do you see the trend?
Quarterback-quarterback-quarterback.
And you wonder why the Bucs' running game is de-emphasized?
Tampa Bay runs the ball to help set up play-action passing and to help keep Brady's arm fresh for an entire season. He can't/shouldn't throw the ball 60 times per game, so the Bucs pass the ball 40 times and run it 20 – generally speaking.
Yet Brady has 141 pass attempts through three games, an average of 47, while the Bucs only have 48 rushing attempts, which is an average of 16 per game. And of those 48 attempts, which are a league-low by the way, seven carries were by quarterbacks and two were end-arounds to wide receivers. Blaine Gabbert kneeled the ball three times. Brady has scrambled on three of his four carries, so they were actually passing plays to begin with.
So realistically, the Bucs have attempted 144 passes and the team's true running backs have only carried the ball 39 times, which skews the numbers even more. Tampa Bay is throwing the ball 78 percent of the time and rushing it 27 percent of the time per game this season.
And do you want to know why the Bucs continue to de-emphasize the ground game? Because that approach has led to an average of 29.6 points per game in 2021 and a 2-1 record. That's winning football, folks.
Tampa Bay is actually averaging 34.3 points per game statistically, but I'm not counting the 14 points Mike Edwards scored on defense against Atlanta. I'm just looking at the offense's point production.
And who has the Bucs' only rushing touchdowns this season? Why it's Brady on a quarterback sneak, and Godwin, a receiver, on an end around. No Tampa Bay running back has scored a rushing touchdown this season. Bernard is the only running back to have scored a TD this year and that came on a pass.
What's curious is that the Bucs ran the ball decently last year, and had seven games in the regular season with 100 yards or more on the ground. Yet Tampa Bay only had two games with more than 125 rushing yards during the 2020 season.
That changed in the playoffs, though. The Bucs had three 100-yard rushing games in the postseason. Tampa Bay ran for 142 yards at Washington, 127 yards at New Orleans, 76 yards at Green Bay and 145 yards versus Kansas City in Super Bowl LV.
Perhaps the Bucs feel like they will become better running the ball as the season goes on. I certainly don't feel like Tampa Bay emphasized it much in training camp or in the preseason. So any progress and development will have to come in-season.
Meanwhile Arians and Leftwich will continue to pay lip service to the ground game as the weeks roll on, the wins continue to come and the points pile up. Maybe the running game will continue to improve as the season progresses.
But in reality, the ugly truth is that the Bucs' rushing attack is an afterthought right now. As it should be, given the way this team has been built.
FAB 3. 4 Matchups To Watch: Bucs Offense vs. Patriots Defense
Each week you can find 4 Match-ups to Watch on offense and defense in my SR's Fab 5 column. Here is preview of Tampa Bay's prime time game at New England where Tom Brady and the 2-1 Bucs travel to face his former coach and team, Bill Belichick the 1-2 Patriots. This Sunday Night Football game has understandably drawn national attention due to Brady's 20 years in New England, winning six Super Bowls and turning the Patriots into a dynasty. Here is a look at Tampa Bay's key players on offense vs. New England's key stars on defense.
Bucs QB Tom Brady vs. Patriots Bill Belichick
While Belichick isn't a player, he's in charge of orchestrating the defensive game plan against Brady, a player he coached for 20 years. Nobody knows Brady's tendencies more than Belichick. The key will be communicating that to the Patriots defensive players. With Dont'a Hightower at age 31 and Kyle Van Noy at 30, New England doesn't have a stellar playmaker on defense in his prime. And Stephon Gilmore, who is age 30, isn't available to help, either. Belichick might have to try to win this matchup and beat the Bucs with scheme over talent.
This isn't a one-way street, as Brady knows Belichick and his defensive tendencies too. Brady is one of the smartest quarterbacks to ever play the game and he'll be up for the chess match against Belichick. He'll expect some blitzes, especially off the blindside from an experienced rusher like Matthew Judon and the athletic Josh Uche. Brady will also likely receive some pressure up the middle from linebacker Dont'a Hightower. Tampa Bay's quarterback and his receivers will need to be on the same page regarding hot routes and also on option routes against New England's zone defense. The fact that Brady and the Bucs targets have more talent than the Patriots defenders will prove to be the difference.
ADVANTAGE: Brady
Tampa Bay RB Leonard Fournette vs. New England LB Dont'a Hightower
The Patriots will likely play a good deal of Cover 2 and dare the Bucs to run the ball. With linebacker Kyle Van Noy being questionable with a groin injury, Hightower, New England's middle linebacker, will have to step up in run defense, especially between the tackles where the Bucs like to run the ball. The Patriots are the league's 24th-ranked run defense, so they can improve in that area. The 31-year old Hightower isn't as dynamic anymore as he was in his youth. He has 11 tackles on the year, but he might need to be dynamic in this game and have that many on Sunday night. Expect Hightower to also be involved in blitzing up the middle.
Tampa Bay has really struggled rushing the ball this year and it's been a combination of poor blocking up front and poor running by the backs. Fournette has been more productive as a runner, receiver and pass protector than Ronald Jones II. When the Patriots are not bringing down another defender into the box, the Bucs will be more likely to run. That's when Fournette will need to step up. He's coming off a 4-carry, 8-yard performance last week. The Bucs don't need 100 yards out of Fournette, but he needs to deliver 55 yards or more and average more than 4.5 yards per carry – both of which he achieved during the four-game postseason last year. Fournette will also need to square off against a blitzing Hightower in pass protection, too.
ADVANTAGE: Hightower
Bucs LT Donovan Smith vs. Patriots OLB Matt Judon
Judon, the savvy veteran, has the slight edge over Josh Uche for the team's sack with 3.5 to Uche's three. The former Raven was signed in the offseason to help New England's pass rush, and so far he's delivered. Judon will blitz from the linebacker level, but will also line up on the line of scrimmage in nickel rush situations. If neither he nor Uche, who is dealing with a back injury, can get to Brady it might be a long night for New England's secondary.
Smith is off to his best start this season, although it hasn't been perfect. He's been flagged for three penalties and he's given up a sack. But those four plays haven't negated the 100-plus snaps that have been really, really good. Smith is in terrific shape this year and has been more focused from snap-to-snap this season. He'll need to keep it up to allow Brady to have a big night in New England.
ADVANTAGE: Smith
Tampa Bay WR Chris Godwin vs. New England CB J.C. Jackson
With Gilmore on the PUP list to start the season and wanting a new contract, the Patriots have relied on Jackson to be their top cover corner. So far through three games, he's delivered. With a 72.2 coverage grade from Pro Football Focus, Jackson has allowed a passer rating of 57.8 this year, in addition to deflecting three passes and picking off two, which leads New England. The 6-foot-1, 198-pound Jackson has a good mix of size and speed and could be the Patriots' choice to line up in the slot to guard the similarly-sized Godwin.
With 19 catches for 241 yards and two touchdowns, Godwin leads the Bucs in receptions and receiving yards through three games. He also scored his first rushing touchdown last week in the team's 34-24 loss at Los Angeles. Godwin is a dynamic playmaker, particularly across the middle of the field. It will be key for Godwin and Brady to be on the same page on option routes that will allow the Bucs to exploit the Patriots zone coverage. Godwin will also have to be mindful of coverage over the top from safeties Kyle Dugger and Devin McCourty.
ADVANTAGE: Godwin
FAB 4. 4 Matchups To Watch: Bucs Defense vs. Patriots Offense
Each week you can find 4 Match-ups to Watch on offense and defense in my SR's Fab 5 columns. While the focus of Sunday's game will be Bill Belichick vs. Tom Brady, it could be how New England's offense fares against Tampa Bay's suspect defense. The Patriots will be starting rookie quarterback Mac Jones against Todd Bowles' defense, which has struggled to rush the passer and in coverage. Here are the key match-ups to watch on Sunday night when New England has the ball.
Bucs OLB Joe Tryon-Shoyinka vs. Patriots LT Isaiah Wynn
Both of New England's tackles are banged up, but let's start with Wynn, who was limited in practice with a knee injury. Wynn, a former first-round pick, is one of the better, more athletic offensive tackles in the league – despite being the size of a guard at 6-foot-2, 310 pounds. Wynn has battled injuries since his arrival in New England a few years ago, and it will be interesting to see how this recent knee injury affects his play on Sunday.
If I'm defensive coordinator Todd Bowles, I'm putting Shaq Barrett back on the right side rushing against the 6-foot-2, 310-pound Wynn. After all, that's where he recorded most of his 19.5 sacks in 2019. But Barrett will likely stay on the left side, and that means Joe Tryon-Shoyinka will get his second start at right outside linebacker. Tryon-Shoyinka's length and speed could give the injured Wynn some real problems. Don't be surprised if JTS gets his first NFL sack on Sunday Night Football. If Wynn can't go, backup Yodny Cajuste will get the start.
ADVANTAGE: Push
Tampa Bay OLB Shaquil Barrett vs. New England RT Trent Brown
Brown played in seven snaps in the first game of the season and then missed the rest of the action and the next two games with a calf injury. Brown is back in New England after spending a few disappointing years with the Raiders. He's a big improvement over Justin Herron – when healthy. If Brown, who was limited in practice this week, starts, he'll have a decisive size advantage over Barrett.
The pressure is on Barrett to get more pressure on the quarterback after signing a contract extension worth $17 million per season. He has one sack on the season and 11 pressures through three games. He'll be counted on to get to Mac Jones and rattle the rookie quarterback. The 6-foot-2, 250-pound Barrett struggled against the 6-foot-8, 330-pound Rob Havenstein last Sunday. How will he fare against another tall right tackle, but one that weighs 50 pounds more?
ADVANTAGE: Brown
Bucs NT Vita Vea vs. Patriots C David Andrews
Andrews is a solid center who bounced back from blood clots in his lungs in 2019 to have a good season. Equally adept at run and pass blocking, Andrews beat out newcomer Ted Karras, who was good competition, for the starting center job. He'll need to play his best game and get some help from guards Shaq Mason and Mike Onwenu to keep Jones upright when trying to keep Vea at bay. Andrews hasn't given up a sack yet, but he has allowed three hits and seven pressures.
The 6-foot-4, 345-pound Vea has a big-time size advantage over the 6-foot-3, 300-pound Andrews. Vea has done a great job of pressuring the quarterback this year by collapsing the pocket. He uses his brute strength to drive opposing guards and centers back into the QB. This week head coach Bruce Arians said that Vea needs to do a better job of finishing. Look for Vea to get his first sack of the year on Sunday against Jones, who has been sacked six times in three games.
ADVANTAGE: Vea
Tampa Bay CB Ross Cockrell vs. New England WR Jakobi Meyers
The 6-foot-2, 200-pound Meyers is leading the Patriots with 29 catches for 176 yards through three games operating mostly out of the slot. He's more of a chain-mover than he is a big-play receiver. Despite 104 career catches for 1,264 yards in his three years with New England, Meyers has yet to score a touchdown in the NFL. Meyers will have a great opportunity to have a productive day against Cockrell, the Bucs' backup cornerback.
Cockrell has been thrust into the role of the starting slot cornerback in nickel defense due to Sean Murphy-Bunting's elbow injury in Week 1. The results haven't been great. He's allowed a passer rating of 122.1, according to Pro Football Focus. Cockrell also gave up a touchdown in the red zone to Calvin Ridley in Week 2. Cockrell isn't a great cornerback, but Meyers isn't a great receiver. Cockrell's job is to make sure it stays that way and that Meyers doesn't have a breakout game.
ADVANTAGE: Meyers
FAB 5. SR's Buc Shots
• BIG-TIME BRADY: Not sure if you're aware, but Bucs quarterback Tom Brady is playing against his former team, the Patriots, at New England this Sunday night. Also not sure if you're aware that Brady is 67 yards away from becoming the NFL's all-time leading passer, surpassing Drew Brees. But maybe you didn't know this – that Brady's 10 touchdowns are the most in the league through three games and that he's on pace to throw for 56 TDs, which would break Peyton Manning's all-time record of 55 set in 2013.
Tom Brady's age-44 season through 3 games

97-141 (68.8%)
1,087 yards (7.7 YPA; 362 YPG)
10 TD, 2 INT, 1 rush TD

109.3 passer rating
8.49 AY/A
7.89 ANY/A
0.206 EPA/play

Record: 2-1 (Bucs: 34.3 PPG)

— Tom Brady Facts (@TB_Facts) September 27, 2021
• BRADY GOES DEEP: Not only does Brady have over 1,000 yards through the first three games of the season, an average of 362.3 yards per game, but most of those yards have come on deep and intermediate throws.
• BUCS-PATRIOTS PREVIEWS ON THE PEWTER REPORT PODCAST: The Pewter Report Podcast is energized by CELSIUS and broadcasts four live episodes each week. Here is the lineup for next week: Monday, Wednesday and Thursday at 4:00 pm EST with the Pewter Pregame, Pewter GameDay and Pewter Postgame on Sunday starting at 6:30 pm EST prior to Bucs at Patriots.
The Pewter Reporters spent this past week discussing the Richard Sherman signing at length. We also previewed Tampa Bay's Week 4 game against New England on the recent episodes of the Pewter Report Podcast. Check out all of this week's shows below.
Pewter Report's Jon Ledyard and Scott Reynolds analyze the Bucs' 34-24 loss the Rams following the game.
Ledyard and Reynolds discuss the shortcomings of the Bucs defense. Should defensive coordinator Todd Bowles shoulder most of the blame?
Ledyard and Reynolds react to the signing of new Bucs cornerback Richard Sherman and what he brings to the team.
Ledyard and Matt Matera preview the Bucs vs. Patriots game, which will see the return of wide receiver Antonio Brown.
Watch the Pewter Report Podcasts live on our PewterReportTV channel on YouTube.com and please subscribe (it's free) and add your comments. All Pewter Report Podcasts are archived so you can watch the recorded episodes if you missed them live.
There is no better time to listen to or watch a new Pewter Report Podcast – energized by CELSIUS – than Friday afternoon on the way home from work, or early Saturday morning during your workout or while running errands.
The popularity of the Pewter Report Podcast continues to grow. In addition to listening to the Pewter Report Podcasts on PewterReport.com you can also subscribe to the free podcasts at PodBean by clicking here and on SoundCloud by clicking here. And of course the Pewter Report Podcast is also available on iTunes and YouTube. Make sure you subscribe so you don't miss a single episode.
• GODWIN BEWARE: Bucs wide receiver Chris Godwin leads the team with 19 catches for 241 yards as Tampa Bay's slot receiver. But the Patriots have done a great job of defending the slot this season. See below.
The Patriots have only allowed 13 receptions for 173 yards and two touchdowns to wrs in the slot this season. While they have intercepted four passes and deflected four more. That's out of 48 total coverage snaps 28 targets and 18 catchable balls.

— JC Allen (@JCAllenNFL) September 30, 2021
• RICHARD SHERMAN HIGHLIGHTS: Welcome five-time Pro Bowl cornerback Richard Sherman to Tampa Bay by watching this highlight reel, Bucs fans.
Share On Socials