SR's Fab 5 is exclusively sponsored by Edmonson Electric • AC • Security –
the official smart home and security company of PewterReport.com.
For the past 40 years, Edmonson Electric • AC • Security has proudly served central Florida with electric services and now proud to add state-of-the-art "Smart Home" technology, security systems and air conditioning to its roster. Whether it's surveillance cameras, home theaters to watch the Bucs play, or smart lighting, Edmonson Electric • AC • Security is automating your dream home.
Visit EdmonsonElectric.com to find out more about controlling, monitoring and securing your home or call 813.910.3403 for additional information.
Control. Monitor. Secure.
FAB 1. 2022 Bucs Future Forecast
Will the Bucs' 2021 season come to an abrupt end on Sunday night with a home loss to the Los Angeles Rams? Or will Tampa Bay's season end with another trip to the NFC Championship Game and perhaps the Super Bowl?
Whether it's in a matter of days or weeks, the Bucs' 2021 season will conclude. Just as it has for all but eight teams left in the NFL playoffs.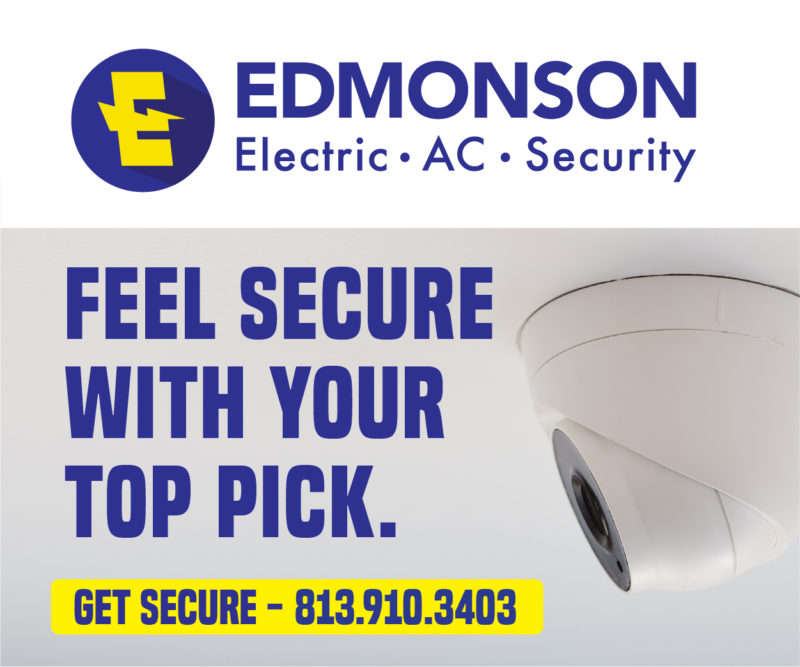 I've spent the last two editions of SR's Fab 5 prepping you for the changes to Tampa Bay's coaching staff that could be coming with the possible departure of offensive coordinator Byron Leftwich and/or defensive coordinator Todd Bowles. Now it's time to take a look ahead at the Bucs roster heading into 2022.
The Bucs had a reduction of nearly $6 million to the 2022 salary cap due to several players' bonuses being achieved at the end of the 2021 regular season, including tight end Rob Gronkowski and quarterback Tom Brady among others. Tampa Bay general manager Jason Licht and vice president of football administration Mike Greenberg was able to roll over $1,426,667 of unused salary cap money from this season into 2022 to help offset the impact of the bonuses.
According to OverTheCap.com, the Bucs have $19,663,533 in salary cap room heading into the 2022 offseason. That includes what could be $11 million in dead cap money if free agent defensive tackle Ndamukong Suh ($6 million) and free agent tight end Rob Gronkowski ($5 million) do not return in 2022.
It would likely take more than $6 million to lure the 35-year old Suh to come back, but the team already has to account for that money anyway – whether Suh is on the roster or not. But if Suh comes back for $8 million, the team would only need to account for the additional $2 million in cap space.
The same would apply to Gronkowski. And that could be kicking the can down the road with more potential dead money in 2023 if Greenberg chooses.
The Bucs will need to create more cap space because of the host of starters that are slated to become free agents in 2022. The list starts with wide receiver Chris Godwin, who had the franchise tag in 2021, and cornerback Carlton Davis III, who could receive the franchise tag in 2022.
Here is a look at the Bucs' 2022 free agent class. Starters are labeled with an asterisk (*).
Tampa Bay's Unrestricted Free Agents
WR Chris Godwin*
CB Carlton Davis III*
OLB Jason Pierre-Paul*
C Ryan Jensen*
DT Ndamukong Suh*
TE Rob Gronkowski*
SS Jordan Whitehead*
RG Alex Cappa*
DE Will Gholston*
RB Leonard Fournette*
RB Ronald Jones II
TE O.J. Howard
QB Blaine Gabbert
CB Richard Sherman
G Aaron Stinnie
DT Steve McLendon
ILB Kevin Minter
RB Giovani Bernard
RT Josh Wells
S Andrew Adams
RB Le'Veon Bell
DE Pat O'Connor
LS Zach Triner
FS Curtis Riley
CB Rashard Robinson
Tampa Bay's Restricted Free Agents
CB Dee Delaney
Count the asterisks and that's 10 regular starters. Not every starter will return – nor should they. This won't be like last year where the team will be kept together. Age and the market value of some players will likely dictate that the Bucs move on from a few starters – perhaps Cappa, Pierre-Paul and Fournette.
Pewter Report will have plenty of articles and columns about what the Bucs should do and likely will do in the coming weeks as free agency draws closer. In the meantime, let's look at the Bucs roster that is under contract for the 2022 season and see where the most obvious holes are.
QUARTERBACK
Tom Brady
Kyle Trask
ANALYSIS: Will free agent veteran Blaine Gabbert be re-signed to back up Brady? With Trask's development, will Tampa Bay finally part ways with Ryan Griffin? Heading into 2022 without a good veteran QB in the mix to compete with Trask and potentially back up Brady seems unlikely.
RUNNING BACK
Ke'Shawn Vaughn
ANALYSIS: Vaughn is thought of as a "lead back" by Arians, but that's a faulty premise. He's really a No. 3 back in the NFL, Tampa Bay would regret heading into 2022 if he was thought of as the starter. Ronald Jones II is as good as gone. He wants a fresh start elsewhere and the Bucs want to move on. Will Fournette return or does it make more sense re-signing veteran Giovani Bernard and drafting another running back? However you slice it, Tampa Bay has just one running back under contract in 2022 right now.
WIDE RECEIVER
Mike Evans
Tyler Johnson
Scotty Miller
Jaelon Darden
ANALYSIS: The Bucs will likely sign Godwin to a contract extension, but this season has proven that Tampa Bay will need more quality receivers with the injuries at the position. Johnson is really a No. 4 wide receiver at best, and Miller is really a No. 5. Darden hasn't proven himself yet as an NFL receiver. There is a glaring hole at No. 3 and that's not necessarily Breshad Perriman, either. Perriman could return on a one-year deal to compete with Johnson and Miller, but look for the Bucs to spend another draft pick on a receiver. This draft is full of them and Bruce Arians' offense is run through the receiver position.
TIGHT END
Cameron Brate
ANALYSIS: Brate is the only tight end under contract, and will have to take yet another pay cut if he's going to return. He's set to earn a base salary of $6.55 million. That's too much for a tight end who will be 31 this summer and is on the decline. Will Gronkowski be back? The early guess is yes, for one more season. But it seems likely that Tampa Bay and O.J. Howard will part ways. Howard needs a fresh start elsewhere. This year's draft class is stocked with intriguing tight ends, so expect the Bucs to select one to develop behind Gronkowski and Brate, in addition to signing another veteran.
OFFENSIVE LINE
Donovan Smith
Ali Marpet
Tristan Wirfs
Robert Hainsey
Nick Leverett
Sadarius Hutcherson
Donell Stanley
ANALYSIS: The Bucs will likely only keep either center Ryan Jensen or right guard Alex Cappa in free agency. The safer bet will be Jensen, as it would be perilous to have Tom Brady in his final season with Tampa Bay play with the unproven Robert Hainsey snapping to him. With Leverett and Hutcherson, the Bucs have some promising in-house candidates to replace Cappa, and they might re-sign Aaron Stinnie to a cheap, one-year deal. Drafting another offensive lineman for depth in 2022 also seems in the cards.
DEFENSIVE LINE
Vita Vea
Rakeem Nunez-Roches
ANALYSIS: Like running back and tight end, the defensive tackle position is nearly bare heading into 2022. The Bucs locked Vea up long term and have Nunez-Roches back for another season. The big question will be whether Suh and/or Gholston return or not. Gholston seems more inclined to want to return to Tampa Bay and has played really well in 2021. Tampa Bay will also have to make a decision on special teams ace Pat O'Connor, who was developing nicely as a defensive lineman. He's coming off a torn ACL. With a very weak draft class at defensive tackle looming, it seems likely the Bucs will have to turn to free agency to help fill out the depth chart.
OUTSIDE LINEBACKERS
Shaquil Barrett
Joe Tryon-Shoyinka
Anthony Nelson
Cam Gill
ANALYSIS: Will Tampa Bay re-sign Pierre-Paul this offseason? At age 33 and with a myriad of injuries over the past three seasons it's just not worth it. Especially at the salary that Pierre-Paul will want. The smart play will be to wait until the summer to see if he's still available and wants to return. Then sign him to a cheap, one-year, incentive-laden deal. With Nelson in the final year of his contract, drafting another good edge rusher to develop alongside Tryon-Shoyinka would be wise. Barrett turns 30 next November.
INSIDE LINEBACKER
Devin White
Lavonte David
K.J. Britt
Grant Stuard
ANALYSIS: The Bucs are set at inside linebacker for another year. Is Minter worth re-signing or is it time to elevate Britt or Stuard to the No. 3 linebacker position behind White and David?
CORNERBACK
Sean Murphy-Bunting
Jamel Dean
Ross Cockrell
ANALYSIS: Davis, the Bucs' top cover corner, will be back in 2022 – either with a contract extension or on the franchise tag. Tampa Bay was rocked with injuries at the position, which means that the team will likely spend a premium pick on another cornerback for depth and development. The 2022 season will be a contract year for Murphy-Bunting and Dean, and the salary cap likely mandates that only one will return. Dean has the early lead and Murphy-Bunting needs to find consistency – quickly.
SAFETY
Antoine Winfield, Jr.
Mike Edwards
ANALYSIS: Jordan Whitehead has made a very strong case for his return by having a really good contract year this season. But Edwards is a starting caliber player if Whitehead receives a budget-busting deal elsewhere in free agency. Adding another safety – likely with a premium draft pick – seems like a must either way. If Whitehead comes back with a rich deal, the Bucs may only be able to afford to keep either Winfield or Edwards down the road. Edwards enters his contract year in 2022.
SPECIAL TEAMS
Ryan Succop
Bradley Pinion
ANALYSIS: Succop and Pinion are under contract. Both have had some ups and downs this season, and let's see how the year ends for them. It's a safe bet that both will be back, but likely with some real competition in camp. Succop will be 36 in September and Pinion, who turns 28 in June, has been dealing with a hip injury this year. The guess here is that the Bucs will re-sign long snapper Zach Triner.
Looking at the Bucs roster this way – with a depth chart of signed players – exposes some serious holes at running back, tight end and defensive line. That is where the focal point will be for Licht and Greenberg in the 2022 offseason. In addition to re-signing Godwin, determining who gets the franchise tag in 2022 (likely Davis) and figuring out the No. 3 wide receiver position and the backup QB plan behind Brady.
Expect another very busy offseason in Tampa Bay.
FAB 2. Latest Bucs' 2022 Mock Drafts
The NFL offseason has officially arrived for all but eight teams, including Tampa Bay. That number will be reduced to four after this weekend. With the East-West Shrine Bowl and the Senior Bowl a week away, let's look at the latest Bucs picks in several new 2022 mock drafts.
Tampa Bay has a draft pick in every round except for the sixth round due to a previous trade.
The first Pewter Report's 2022 Bucs' 7-Round Mock Draft drops next week, so stay tuned.
Buccaneers – No. 30 – Michigan DB Daxton Hill
Hill is part of a Wolverines defense that could end up seeing three players go in Round 1 next spring. He's underrated nationally but watch him play and it becomes clear pretty quickly that he's in the running for one of the best defensive backs in this class. He's listed as a safety but he can line up anywhere.
SR's Take: Hill is an absolutely great fit in Tampa Bay because he's so versatile. He's similar to Antoine Winfield, Jr. and Mike Edwards in that he can play safety and slot cornerback.
Buccaneers – No. 30 – Auburn CB Roger McCreary
With over 2,200 defensive snaps played in his Auburn career, McCreary will be one of the more experienced cornerbacks entering the 2022 NFL Draft. He's a sticky cover corner who has improved his PFF grade every year of his career with the Tigers. He allowed more than 90 yards in just one game throughout the 2021 season and finished the year with an impressive 89.9 PFF grade.
SR's Take: The Bucs love Auburn cornerbacks (see Carlton Davis III and Jamel Dean), and McCreary is a fantastic cover corner. He's a little smaller at 6-foot, 190, but very skilled. This seems like a solid selection – if McCreary is there late in the first round.
Buccaneers – No. 30 – Houston DL Logan Hall
Hall is one of the more underrated prospects in this draft class, and I wouldn't be surprised if he is long gone by this pick. Personally, I like him best as an edge rusher where he has a little bit of a runway and can unlock his quickness and length. But Hall would give Tampa flexibility on the defensive line as Houston head coach Dana Holgorsen has called him "one of the best" defensive tackles he has ever coached.
Buccaneers – No. 62 – Iowa State RB Breece Hall
SR's Take: Tampa Bay takes two Halls? Logan Hall is a beast of a defender, but he played three-technique at 6-foot-6, 260 pounds. Is he a scheme fit? I'm not sure. Anxious to see how he plays at the Senior Bowl. He's not twitchy enough to play outside linebacker in Tampa Bay's scheme. Breece Hall would be a great fit in Bruce Arians' system as a runner-receiver. Great value at the end of the second round.
Buccaneers – No. 30 – Texas A&M DL DeMarvin Leal
Like the Cowboys, the Bucs have several free agents hitting the open market this offseason, including center Ryan Jensen, wide receiver Chris Godwin, cornerback Carlton Davis and defensive end Jason Pierre-Paul. So while time will tell which players they bring back, this pick is about a like-for-like replacement for Ndamukong Suh, who turned 35 earlier this month and has been playing on one-year contracts. The 290-pound Leal could play defensive end in a 3-4 scheme or 3-technique tackle in a 4-3. He has a powerful lower half and strong hands. He had 8.5 sacks for the Aggies in 2021, showing improvement on his ability to take down quarterbacks.
SR's Take: The Bucs could use some young blood along the interior defensive line, but this is a terrible draft in terms of quality and quantity. Leal is athletic, but undersized at 6-foot-4, 290 pounds and doesn't play the run real well. That doesn't help his cause in Tampa Bay and he might not be a great scheme fit.
Buccaneers – No. 30 – Georgia WR George Pickens
To start the year, it seemed the Bucs had almost too many weapons around Tom Brady. Now, with the Antonio Brown era over in Tampa and Chris Godwin likely to get paid (maybe elsewhere?) it's time for the Bucs to think about ways to give Brady more weapons as he moves into his last few years in the league. Pickens is a bit of a risk, considering he hardly played this year due to an ACL injury, but his raw talent and ability seems him projecting to Pro Bowl-level WR play. You didn't go get Brady just to play it safe. Take the swing, Tampa.
SR's Take: This is an absolute reach. Pickens is talented and has good size at 6-foot-3, 200, but missed most of the 2021 season with a torn ACL injury. Pre-draft testing is important, but Pickens would be a much better value at the end of the second round.
Buccaneers – No. 30 – USC DE-DT Drake Jackson
Ndamukong Suh won't be around much longer, so the Buccaneers could go after a defensive line with this pick. Drake Jackson has been great as an edge player, but he could fill out and become a five-technique.
Buccaneers – No. 62 – Alabama CB Josh Jobe 

Cornerback is the one weak group on Tampa Bay's roster. Josh Jobe is a big, athletic cornerback with tremendous upside.
Buccaneers – No. 94 – Iowa State RB Breece Hall
Leonard Fournette and Ronald Jones are set to hit free agency. Breece Hall is a physical runner who has quality receiving skills.
SR's Take: Jackson resembles Jason Pierre-Paul in that he's long and somewhat lanky. There is no way he fills out enough to become a defensive tackle. But Jackson is an intriguing edge rusher, and could climb into the late first round with nice pre-draft testing. I'm not as big of a fan of Jobe, and that might be a little high for the Alabama cornerback. Hall likely won't last into the third round. He's a steal if he's there.
Buccaneers – No. 30 – Alabama WR Jameson Williams
Unless Tampa Bay's young receivers impress in the postseason, the team could target receiver help in the 2022 NFL Draft. Antonio Brown is gone, and Chris Godwin is entering free agency. The Ohio State transfer was an electric playmaker for the Crimson Tide this season, averaging 19.9 yards per catch for 1,572 yards and 15 touchdowns on 79 catches. The 6-foot-2, 189-pound Williams has quality height and explosive speed alongside suddenness and a burst that catches defensive backs by surprise. Williams has put himself in contention to be a late first-round or early second-round pick in the 2022 NFL Draft.
Buccaneers – No. 62 – Washington CB Kyler Gordon
Tampa Bay could use more young talent at cornerback. Gordon recorded 45 tackles, two interceptions and seven passes broken up in 2021. The 6-foot, 195-pounder was a solid corner for the Huskies over the past few seasons. He flashed in 2019 while recording 32 tackles and four pass breakups. With his solid frame and strength, Gordon looks like an outside corner for the NFL.
SR's Take: It's doubtful that Williams lasts to No. 30 – even though he tore his ACL. With Mike Evans and Chris Godwin, who is expected to re-sign, Williams would have time to recover and the Bucs wouldn't necessarily need him at the start of the season. Gordon is a versatile cornerback who can play outside and in the slot. He might not be there late in the second round.
Buccaneers – No. 30 – Arkansas WR Treylon Burks
Ahem… much like the decision to invest in a wide receiver for the Bills and Chiefs, this feels like the right time and place to double down on offensive weapons for the Buccaneers. Antonio Brown's departure has been well documented and the team may have to transition away from Chris Godwin as well depending on how contract negotiations go. Treylon Burks is a big-bodied player, but he's shown good speed in the open field and has a pretty diverse resume of usage at Arkansas. Keeping Tom happy with his selection of weapons is an important factor here as the team looks to stay firmly in the hunt in 2022.
SR's Take: Burks is a monster at 6-foot-3, 225 pounds with great speed and play-making ability. He can play in both the slot and out wide and would be a great scheme fit. Tampa Bay would love to see him fall to No. 30, but don't hold your breath.
Buccaneers – No. 30 – Cincinnati CB Ahmad Gardner
After "running it back" with virtually the same roster in 2021, something's gotta give with the Buccaneers' personnel next offseason given the list of contracts set to expire. The draft is likely going to be about replacing whoever they lost. In this scenario, let's operate as if Carlton Davis is not retained. Sauce Gardner has loose hips, quick feet, excellent length, and outstanding speed. He has good ball skills and fits the mold of cornerback that we've seen Tampa Bay gravitate toward. He is excellent in press coverage and is a physical player.
SR's Take: Gardner is one of my favorite defenders in this year's draft class. At 6-foot-2, 188 pounds, he's an ideal fit in Todd Bowles' defense as a press-man corner. Gardner never gave up a touchdown in three years as a starter for Cincinnati. It's doubtful that Gardner lasts to No. 30.
FAB 3. 4 Matchups To Watch: Bucs Offense vs. Rams Defense
Each week you can find 4 Matchups to Watch on offense and defense in my SR's Fab 5 column. Here is an advanced look at Tampa Bay's NFC Divisional Playoff game vs. Los Angeles. The Bucs are 8-1 at home where they've scored at least 30 points in all but one game. The Rams are 7-2 on the road, and beat the Bucs in L.A. in Week 3, 34-24. Let's take a look at the matchups to watch when Tampa Bay is on offense against Raheem Morris' defense.
Bucs LG Ali Marpet vs. Rams DT Aaron Donald
Donald had one sack and four pressures against the Bucs in Week 3. That sack came against tight end Rob Gronkowski when Donald was lined up outside as an edge rusher. Morris will move Donald all over the line to find favorable matchups, but home base for the All-Pro is in the weakside B gap. That means he'll face against Marpet the majority of times. This pair of Pro Bowlers has squared off in each of the last three seasons – and it's been a war for the most part.
Marpet struggled in the Week 3 matchup, giving up five pressures (not all against Donald) and earning a low 26.2 pass rush grade. That was the lowest of all five Tampa Bay offensive linemen out in Los Angeles. Marpet will have to have the game of his season to help contain Donald and keep him off of Tom Brady.
ADVANTAGE: Donald
Tampa Bay RBs Leonard Fournette and Gio Bernard vs. Los Angeles Linebackers
The Bucs ran for a paltry 35 yards on 13 carries (2.7 avg.) in the Week 3 loss at Los Angeles. Linebacker Kenny Young had a great game with 10 tackles, three tackles-for-loss and a sack. But Los Angeles traded him to Denver, and the Rams inside linebackers are now the weak link. Travian Howard and Troy Reeder, who is questionable with an injury, can be exposed if the Bucs running backs are put in position to do so, especially in the passing game.
Brady was Tampa Bay's leading rusher in Week 3 with 14 yards and a touchdown on three carries. Fournette had eight yards on four carries, while Ronald Jones II had only 11 yards on five carries. Fournette is expected to return from a hamstring injury and will need a much better performance. He had three catches for 26 yards against the Rams and may need to produce more as a receiver. Bernard came alive as a receiver in the fourth quarter with nine catches for 51 yards and a touchdown. He'll need to have a similar type outing as the No. 2 back on Sunday.
ADVANTAGE: Fournette and Bernard
Bucs WR Mike Evans vs. Rams CB Jalen Ramsey
Ramsey spent a good deal of the last game against slot receiver Chris Godwin. Los Angeles plays a lot of zone coverage, but it masquerades as man coverage because the Rams defensive backs play tight in zone. Without Godwin in this game, there is a good chance that Los Angeles will match coverage with Evans to try to take him out of the game with the Pro Bowl cornerback. Ramsey and Evans have squared off plenty before, so that won't be anything new.
Evans had eight catches for 106 yards out in Los Angeles in Week 3. That was a game in which the Bucs didn't have Antonio Brown, but did have Godwin. Now with just Evans and tight end Rob Gronkowski as the primary offensive weapons in the passing game, the 6-foot-5 receiver must come through with another 100-yard game for Tampa Bay. Even if that means doing it nearly every down against Ramsey.
ADVANTAGE: Push
Tampa Bay TE Rob Gronkowski vs. L.A.'s Safeties
The Rams are expected to be without starting safety Taylor Rapp for another playoff game as he is recovering from a concussion. Jordan Fuller, Los Angeles' other starting safety, is on injured reserve. The Rams were forced to start reserves Terrell Burgess and Nick Scott and there were some communication issues in Week 18. Will they be better this week in Tampa Bay? They'll have to be against Gronkowski, who will be attacking the seam.
Gronkowski was knocked out of the Week 3 game in the second half with cracked ribs and a punctured lung. He was on his way to having a big game with four catches for 55 yards before he left. Gronkowski will be looking for revenge in the playoffs, and try to take advantage of the inexperience at the safety position for Los Angeles. We might even see Eric Weddle, who has been retired for two years, play in this game if Gronkowski starts to go off.
ADVANTAGE: Gronkowski
FAB 4. 4 Matchups To Watch: Bucs Defense vs. Rams Offense
Each week you can find 4 Matchups to Watch on offense and defense in my SR's Fab 5 columns. Matthew Stafford threw four touchdowns and no interceptions in a 34-24 win over Tampa Bay in Week 3. The Bucs only sacked Stafford once and allowed the Rams to amass over 400 yards of offense. How will Todd Bowles' defense match-up against Sean McVay's high-octane offense? Let's find out.
Bucs OLB Shaquil Barrett vs. Rams RT Rob Havenstein
After surrendering a sack and five pressures against Barrett in a 55-40 loss in 2019, Havenstein has shut him out the last two meetings. At 6-foot-8, 330 pounds, Havenstein is a massive man with a huge wingspan. When he gets his hands on the 6-foot-2, 250-pound Barrett, he usually engulfs him. Havenstein hasn't had his best year. He surrendered seven sacks and committed three penalties during the regular season.
Barrett returned to action last week after missing the last two-and-a-half games of the season with a knee sprain. While he didn't record any tackles or sacks against Philadelphia in the Wild Card round, Barrett did have a key interception. Barrett knows he needs to get pressure on Matthew Stafford. That means going through Havenstein. If he doesn't have success against the Rams right tackle early, defensive coordinator Todd Bowles might want to move him to the right side against left tackle Andrew Whitworth. Barrett had six pressures in Week 3 against Stafford, but it didn't slow him down, evidenced by four touchdowns.
ADVANTAGE: Havenstein
Tampa Bay DB Mike Edwards vs. Los Angeles WR Cooper Kupp
Kupp became an All-Pro receiver this year with a league-leading 145 catches for 1,947 yards and 16 touchdowns. In the last three games against Tampa Bay, he's amassed 29 receptions for 362 yards and three TDs. Kupp had nine catches for 96 yards and a pair of scores in Week 3. The Bucs used Ross Cockrell in the slot against Kupp when he lined up there. The problem is, the Rams line up Kupp everywhere – including in the backfield – to scheme him open. He'll be a tough assignment for any Bucs defender.
Edwards didn't play much in Week 3, but when he did it was at safety and rarely in the slot against Kupp. He played a role in surrendering Jackson's 75-yard touchdown in the last game. Since then Edwards has become a much better defender and has taken far more snaps in the slot than Cockrell. The Bucs switched Edwards and free safety Antoine Winfield, Jr. last week against Philadelphia. It will be interesting to see if Todd Bowles does that again or goes with Edwards in the slot if Sean Murphy-Bunting's hamstring injury prevents him from suiting up again.
ADVANTAGE: Kupp
Bucs CB Carlton Davis III vs. Rams WR Odell Beckham, Jr.
Los Angeles signed Beckham right before Robert Woods suffered a season-ending knee injury in practice. It turned out to be a saving grace for the Rams' passing game as he's been an effective contributor with six touchdown catches, including one in last week's playoff win. Beckham isn't the dynamic player he was years ago with the Giants, but he's still a threat in the passing game that must be accounted for on every snap. He's a TD waiting to happen.
Davis saw action against Kupp, Woods and DeSean Jackson in Week 3. Woods is on injured reserve and Jackson was cut and ended the season in Las Vegas. Jackson had three catches for 120 yards and a touchdown against Tampa Bay, including a 40-yard reception against Davis. Out of all of the current Rams receivers, Davis' playing style matches up better against Beckham, who sees a decent amount of time on Davis' side of the field. Holding Beckham under 50 yards and out of the end zone is the plan.
ADVANTAGE: Davis
Tampa Bay NT Vita Vea vs. Los Angeles LG David Edwards
Edwards allowed four pressures in the Week 3 meeting, which was the highest of any Rams lineman in the game. He also had a poor 54 pass blocking grade from Pro Football Focus, allowing three hurries and a QB hit. Edwards has surrendered six sacks on the season and committed three penalties. He's the weak link of L.A.'s offensive line and the Bucs need to take advantage of it to get to Matthew Stafford.
Vea was held to just two tackles in the first game against the Rams. Since then he's recorded a season-high four sacks on the year and received a massive contract extension. While he doesn't have to be the pass rusher that Barrett is, he needs to get to the quarterback more often. Pressures are okay. Hits are better. Sacks are the best. When Vea is singled up on Edwards he needs to win and get Stafford on the ground. Vea had three pressures and three sacks in Week 3, but needs an even better showing on Sunday.
ADVANTAGE: Vea
FAB 5. SR's Buc Shots
• TOM TROLLS THE EAGLES: Bucs quarterback Tom Brady trolled Eagles fans on social media this week. Brady posted a clip of him famously dropping a throwback pass in New England's Super Bowl loss to Philadelphia, followed by him catching an errant Jalen Hurts pass on the sidelines last Sunday. Funny stuff.
• LEWIS IS A NAME TO WATCH ON BUCS COACHING STAFF: I've written about some possible changes coming to the Bucs' coaching staff over the past two weeks in SR's Fab 5. Here's one name I haven't mentioned yet – assistant receivers coach Thaddeus Lewis. A former NFL backup quarterback from 2010-17, Lewis interned with the Bucs during training camp last year and then was signed as an offensive assistant for the 2020 season. This year he was promoted to assistant receivers coach where he has worked alongside Kevin Garver.
Bruce Arians and the coaching staff think highly of the 34-year old Lewis. He's got a bright future, and like Garver, could be a future offensive coordinator in Tampa Bay or elsewhere – sooner rather than later. If play-caller Byron Leftwich gets a head coaching job, Garver could ascend to the offensive coordinator role. That means that Lewis could become Tampa Bay's wide receivers coach.
• BUCS-EAGLES PLAYOFF PREVIEW ON THE PEWTER REPORT PODCAST: The Pewter Report Podcast is energized by CELSIUS and broadcasts four live episodes each week. The Pewter Pregame show for the Bucs vs. Rams game starts at 2:00 p.m. ET prior to the 3:00 p.m. ET kickoff with Pewter GameDay. The Pewter Postgame podcast follows later Sunday night. Then we'll have Pewter Report Podcasts on Monday, Wednesday and Thursday at 4:00 pm EST previewing the Bucs' next playoff game if they advance.
It was another Victory Monday as Jon Ledyard and Scott Reynolds broke down the victory over the Eagles and looked ahead to the NFC Divisional Playoffs.
On Wednesday, Ledyard and Reynolds previewed the Bucs vs. Rams playoff game and provided the latest injury updates.
On Thursday, Ledyard, Matt Matera and Kasey Hudson talked about some possible vacancies on the Bucs coaching staff and answered fans' questions.
Watch the Pewter Report Podcasts live on our PewterReportTV channel on YouTube.com and please subscribe (it's free) and add your comments. We archive all Pewter Report Podcasts. So you can watch the recorded episodes if you missed them live.
There is no better time to listen to or watch a new Pewter Report Podcast – energized by CELSIUS – than Friday afternoon on the way home from work. Or early Saturday morning during your workout or while running errands.
The popularity of the Pewter Report Podcast continues to grow. In addition to listening to the Pewter Report Podcasts on PewterReport.com you can also subscribe to the free podcasts at PodBean by clicking here and on SoundCloud by clicking here. And of course the Pewter Report Podcast is also available on iTunes and YouTube. Make sure you subscribe so you don't miss a single episode.
• OLD MAN BRADY: ESPN posted an amazing statistic on Twitter this week regarding Tom Brady's age (he's 44).
• BRADY IS NO LONGER A 49ers FAN: Tom Brady grew up in California as a fan of the 49ers and Hall of Fame quarterback Joe Montana. Years later, is he still a San Francisco fan?
Jim Gray asked Tom Brady is he still pulls for the 49ers.

"I lost my allegiance for the Niners when they skipped over me six times 22 years ago and drafted Giovanni Carmazzi after they had me do a local workout with Steve Mariucci and decided I wasn't good enough to play there." pic.twitter.com/fpZi7LwjEo

— Michael Hurley (@michaelFhurley) January 18, 2022
Share On Socials