SR's Fab 5 is exclusively sponsored by Edmonson Electric • AC • Security –
the official smart home and security company of PewterReport.com.
For the past 40 years, Edmonson Electric • AC • Security has proudly served central Florida and Bucs fans in the area with electric services and now proud to add state-of-the-art "Smart Home" technology, security systems and air conditioning to its roster. Whether it's surveillance cameras, home theaters, or smart lighting, Edmonson Electric • AC • Security is automating your dream home.
Visit EdmonsonElectric.com to find out more about controlling, monitoring and securing your home or call 813.910.3403 for additional information.
Control. Monitor. Secure.
---
FAB 1. Cornerback A Pressing Need For Bucs In 2022 Draft
The Bucs are expected to either re-sign Carlton Davis III to a multi-year contract extension or use the franchise tag on him next year. Sean Murphy-Bunting is expected to rejoin the team on the active roster as early as the team's Monday night game against New York. Both he and Jamel Dean will be back in 2022 in their contract years.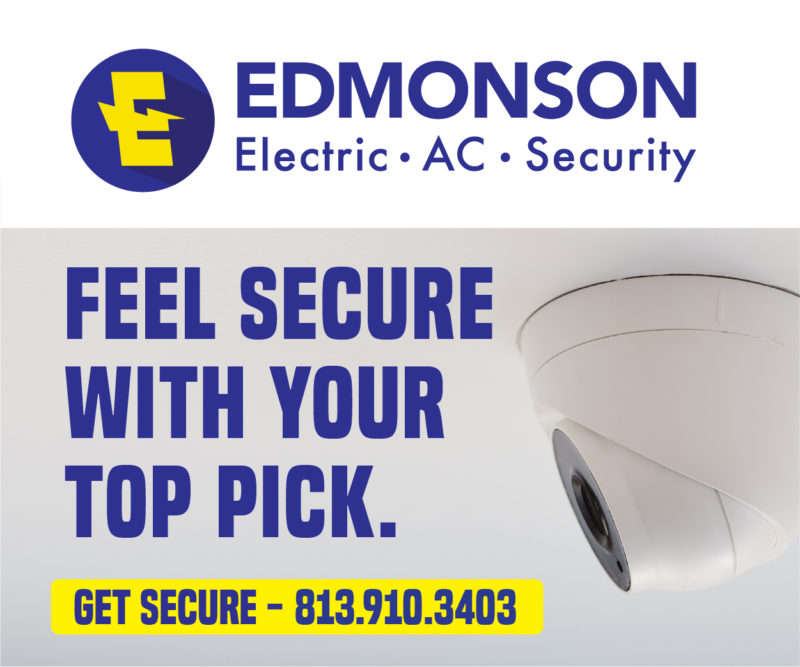 Ross Cockrell will also return next year as the team's fourth cornerback, and will be in a contract year, too. So the Bucs will be set at cornerback in 2022, right?
Wrong.
Bucs general manager Jason Licht will look to the draft for another young, talented, developmental cornerback to add to the mix. And given his track record for drafting defensive backs early, he could add a cornerback in rounds 1-3 next April.
The reason? In 2019, Licht and new head coach Bruce Arians Bucs saw three of the team's top four wide receivers wind up on injured reserve at the end of the season when Tampa Bay was still in the playoff hunt. Mike Evans, Chris Godwin and Scotty Miller all missed the last couple of games with hamstring injuries. Instead of finishing 9-7 in 2019, the Bucs faltered without their weapons and finished 7-9.
So when Evans, Godwin and Miller returned to action in 2020, the Bucs fortified the receiver position even more by drafting Tyler Johnson in the fifth round and signing Antonio Brown.
Expect Licht to take the same approach this offseason after suffering a rash of injuries at the cornerback position this year. Licht had to sign Pierre Desir, Richard Sherman, Rashard Robinson and Blidi Wreh-Wilson in-season just to deal with the team's multitude of injuries at the cornerback position that has seen Murphy-Bunting sidelined since Week 1 and Davis out since Week 4.
And given the salary cap economics and the fact that Davis, the team's top cover cornerback, is in line for a rich deal worth north of $12 million per year, the Bucs likely won't be able to afford to keep both Murphy-Bunting and Dean for the long haul past 2022. So drafting a new cornerback with starting-caliber talent to groom behind them is important – sooner rather than later. And there is a chance that Murphy-Bunting and Dean don't return, too.
Murphy-Bunting had a very average second season in the NFL last year, dealing with a myriad of injuries before coming up with some clutch interceptions in the postseason. But he's missed half of his third year in the league and there is no guarantee that he'll play well when Murphy-Bunting returns from his dislocated elbow. He didn't play well in the first quarter of the Bucs' Week 1 win over Dallas prior to injuring his elbow.
Even if Murphy-Bunting has an okay season next year in his contract year, will there be enough evidence on film to reward him with a sizable contract for a No. 2 cornerback? And what about Dean, who plays well in spurts, but hasn't put it together for long stretches or an entire season yet?
Both cornerbacks are serviceable and are decent fits in Todd Bowles' scheme, but aren't in the same caliber as Davis in terms of consistency and level of play. Adding another playmaking cornerback to the mix in 2022 makes a ton of sense, and there appears to be a pretty good crop of cornerbacks in next year's draft.
So what are the Bucs looking for in a cornerback? Let's review Licht's latest draft picks and glance at the current roster for some clues.
Tampa Bay has only one cornerback who is shorter than 6-foot, and that's Dee Delaney, who is 5-foot-11, 200 pounds. Slot cornerbacks Murphy-Bunting and Cockrell are both 6-foot. Davis and Dean are both 6-foot-1, as is Wreh-Wilson. Desir is 6-foot-2, and Sherman is 6-foot-3.
Bowles likes bigger, rangy cornerbacks who can play press man as well as zone coverage. The Bucs have been forced to play less man coverage this year – and hardly played any man coverage in last week's 29-19 loss at Washington – because they've been without their more talented starting cornerbacks for most of the season.
Licht also prefers drafting bigger cornerbacks after burning a first-round pick on Vernon Hargreaves III, who is 5-foot-10, 204 pounds. Hargreaves was often out-muscled by bigger receivers and didn't have the size to contest catches on 50-50 balls.
More than half of the cornerbacks in the 2022 NFL Draft will be at least 6-feet tall. As receivers get bigger at the college and NFL levels, so do the cornerbacks that are covering them.
Pewter Report won't dive deep into its draft study until the offseason. But in my initial film study and statistical deep dive, I've identified 10 cornerbacks that on the surface appear to be very good fits
This list can and will change as there are a few college games left in the season plus bowl games to evaluate, followed by college all-star games and the pre-draft evaluation process. That's where some cornerbacks that are listed as 6-foot-1 might end up being 5-foot-11 at the East-West Shrine Bowl, Senior Bowl or NFL Scouting Combine, and some cornerbacks listed at 6-foot in the college media guides might actually measure 5-foot-10 or 5-foot-11 officially.
Size matters in Bowles' scheme. So let's take a look at some of this year's more talented big cornerbacks so that these names can be on your radar as the college football season concludes soon.
FAB 2. The Bucs Could Use Some "Sauce" At Cornerback
I'll list 10 bigger cornerbacks that I feel would be ideal fits in Tampa Bay based on Jason Licht's draft history and the type of cornerback Todd Bowles likes. But first, let's talk about some of the cornerbacks that won't be in the conversation and explain why.
LSU's Derek Stingley is widely regarded as this year's top cornerback prospect and should be a Top 10 pick – perhaps even Top 5. At 6-foot-1, 195 pounds the playmaker definitely fits the Bucs' mold. Even if the Bucs don't fare well in the postseason, have an unexpected early playoff exit and pick in the low 20s in next year's NFL Draft as a result, there's no way they'll be in the mix for Stingley.
The next cornerback off the board might be Washington playmaker Trent McDuffie, who has a very high grade from Pro Football Focus. He's been projected in the Top 15 in several mock drafts, and is a bit undersized at 5-foot-11, 195 pounds. It wouldn't be shocking if he winds up being closer to 5-foot-10 after pro scouts measure him.
Washington has produced a ton of NFL defensive backs over the years, but the Bucs haven't drafted any of them. Instead, Licht has preferred the Huskies defensive linemen, including tackles Vita Vea and Benning Potoa'e and edge rusher Joe Tryon-Shoyinka.
Clemson cornerback Andrew Booth, Jr. is also expected to be a Top 20 selection, and thus out of the Bucs' reach. At 6-foot, 195 pounds, he might get some consideration, but doesn't have the ideal length Bowles wants in his cornerbacks. Booth only has two interceptions in 22 college games, and none this year. He might grow on me with more film study, but I'm lukewarm on Booth right now.
So which cornerbacks would be ideal fits for the Bucs? Here are 10 that I could see in red and pewter.
Cincinnati CB Ahmad "Sauce" Gardner – 6-2, 188 – Junior
Gardner is a long, rangy cornerback who is plenty physical despite his wiry frame. He's a big-time playmaker for the undefeated Bearcats with three interceptions in each of his three seasons as a starter, showing that he's a model of consistency. Gardner has nine career interceptions, including two pick-sixes, 14 pass breakups and 2.5 sacks.
According to Pro Football Focus he has an 80.8 coverage grade and a 78.8 run defense grade this year. Gardner has been targeted 123 times and surrendered just 62 catches for 668 yards in three years and has yet to surrender a touchdown, which is amazing. In 2020, Gardner has been targeted 25 times and only allowed 12 catches for 87 yards. He's only allowed a 48 percent completion percentage this season. Gardner is coming off his best game of the season (82.1 grade) against USF where he had one interception and a sack.
Gardner got his "Sauce" nickname as a six-year old playing youth football where his coach called him "A1 Sauce Sweet Feet Gardner." He later shortened it to just "Sauce." The Bucs could use some Sauce in their secondary opposite Davis.
I absolutely love Gardner's game and think he would be a perfect fit in Tampa Bay. He's currently being mocked in the back half of the first round, so there might be a chance he's available for the Bucs to draft, but his 40-time and athletic testing will determine where he ultimately goes in the first round. His production and tape suggests he's a cornerback that should be drafted in the Top 10.
Florida CB Kaiir Elam – 6-2, 196 – Junior
Elam has appeared anywhere from the middle to the late part of the first round in recent mock drafts. At 6-foot-2, he has the prerequisite size Bowles is looking for. And his game is nothing like Hargreaves' was at Florida, so Licht won't have any bias towards drafting Gators cornerbacks. Elam has five career interceptions and 20 pass breakups in addition to a fumble recovery. He's great at high-pointing the ball and going up and getting interceptions due to his great length.
Elam is a physical defensive back that has enough speed to cover downfield, although he's not a track star. The Florida junior is a very good run defender and has allowed just a 50 percent completion rate this year. He's surrendered only 12 catches for 109 yards in 2021 with one interception, but has allowed a pair of touchdowns.
Auburn CB Roger McCreary – 6-0, 190 – Junior
McCreary is inching his way up the first round and is currently Pro Football Focus' top-graded cornerback with a 90.3 grade. After giving up five touchdowns last year, McCreary has only allowed one score this year and has two of his six career interceptions in the 2021 season.
McCreary is an active defender with 26 pass break-ups, two fumble recoveries, a forced fumble and a pair of defensive scores. He's a smooth, athletic ballhawk with good, active hands in coverage. The Bucs have drafted a pair of cornerbacks from Auburn in Davis and Dean, in addition to linebacker K.J. Britt. Licht has turned to Auburn for defenders multiple times, which guarantees McCreary's placement on this list.
Georgia CB Derion Kendrick – 6-0, 190 – Senior
Like McCreary, Kendrick is another cornerback with fringe size, but he's such a good defender that he'll be given consideration. After spending three seasons at Clemson before transferring to Georgia, Kendrick is battle-tested. He's got five career interceptions, including a pair this season in his first year with the Bulldogs.
Kendrick is an opportunistic playmaker with decent speed, but he's not a burner. He's fabulous in run support and has 13 pass break-ups, two fumble recoveries, a forced fumble and a defensive score. Georgia has so many defensive stars like Kendrick, who is likely a second-rounder, that teams looking for defensive help will have to take note.
Auburn CB Nehemiah Pritchett – 6-1, 180 – Junior
Pritchett starts opposite McCreary for the Tigers and is another Auburn player that will surely be on Tampa Bay's radar on Day 2. While he has the length of Davis and Dean, he's not nearly as big at 180 pounds. In fact, Pritchett is 26 pounds lighter than Davis and Dean, who are each 206 pounds.
Pritchett is a bit of an athletic project, too. The junior is only in his second season as a starter and has one career interception, which came last year when he broke up 10 passes. Pritchett has yet to record a pick this season and has just three pass breakups. He does add some value on special teams, as Pritchett is the Tigers' kick returner. He's averaged 28.5 yards per return with a long of 72 this season.
Iowa CB Riley Moss – 6-1, 194 – Senior
I might be higher on Moss than others, but the senior has been incredibly productive on the field when healthy. Moss has battled injuries throughout his career and has yet to play more than eight games in a season for a total of 26 in his four years at Iowa. That will be a red flag to NFL teams and could push him into Day 3 consideration as a result.
But Moss is a playmaker when he's on the field, evidenced by 10 career interceptions, including four in seven games during his senior campaign. Moss has 13 career pass breakups and three pick-sixes, including a pair in 2021 and a fumble recovery. He has great instincts and enough athleticism to get the job done. At 6-foot-1, Moss has ideal size, but the injuries are a concern. He injured his PCL after recording an interception against Penn State earlier this season. Moss should be back for Iowa's bowl game.
Virginia Tech CB Jermaine Waller – 6-1, 180 – Junior
Waller checks the Bucs' length box, but like so many other cornerbacks in this draft he's not close enough to the 200 pounds Tampa Bay would like. But Waller is rangy enough to make plays on the ball when it's in the air. He has seven career interceptions and 15 pass breakups. He's also a capable blitzer with 1.5 career sacks, which is something Bowles loves in his cornerbacks.
Bruce Arians is a Virginia Tech alum, and had some serious interest in drafting running back Khalil Herbert from his alma mater last year. So he'll have an interest in a Hokie like Waller, especially one with sticky hands. Waller has great hand placement and timing when it comes to breaking up passes.
Mississippi State CB Martin Emerson – 6-2, 195 – Junior
Emerson is a bigger, thicker cornerback like Gardner and Elam, but without the production. He wears jersey No. 1 and likes to talk, but doesn't do a whole lot to back it up. Emerson has 14 pass breakups and a forced fumble, but just one career interception, which came in 2019. Emerson had a better season last year, surrendering just one touchdown. This year he's given up three TDs. Emerson is solid, but not spectacular in coverage, and is good in run defense.
Emerson may not be the best cornerback at Mississippi State. That could be sophomore Emmanuel Forbes (No. 13). The 6-foot, 180-pound Forbes has eight interceptions, including three pick-sixes, 10 pass breakups, a forced fumble and a sack in two years.
Tennessee CB Alontae Taylor – 6-0, 193 – Senior
Taylor isn't the long, rangy cornerback that the Bucs prefer, but he is a very physical defensive back who plays with a mean streak. He's accumulated four interceptions, 14 pass breakups, three forced fumbles, a defensive score and half-a-sack.
Pre-draft testing will be important for Taylor, who could be a middle or late-round draft pick. But there is a lot to like on tape where Taylor's competitiveness and physical style of play are very apparent.
Marshall CB Steven Gilmore – 6-2, 170 – Senior
Gilmore was a pleasant surprise during the initial film study. He has somethings working against him, such as the fact that he's only 170 pounds, which is about 20-30 pounds lighter than the Bucs would prefer. But what Gilmore has going for him is plenty of production in his four years for the Thundering Herd. Gilmore, who can play outside and in the slot, has six career picks, 19 pass breakups, three forced fumbles and 2.5 sacks.
Three of those interceptions have come during his senior year where he's used his ability to close quickly in zone coverage to come up with those takeaways. The rangy Gilmore is quite physical for his size and isn't afraid to throw his body around in run support or on special teams, where he's starred as a gunner. Gilmore is also an effective blitzer from the slot. He would be a great developmental cornerback in Tampa Bay as a mid-round pick.
FAB 3. 4 Match-ups To Watch: Bucs Offense vs. Giants Defense
Each week you can find 4 Match-ups to Watch on offense and defense in my SR's Fab 5 column. Here is preview of Tampa Bay's Monday Night Football game against the visiting New York Giants, who are 3-6 and coming off a bye week. Here is a look at the Bucs' key players on offense vs. the Giants' top defenders.
Tampa Bay QB Tom Brady vs. New York FS Logan Ryan
Ryan spent the first four years of his career playing alongside Brady in New England from 2013-16 – and playing against him in practice. At age 30 he isn't the playmaker he used to be with the Patriots where he snared 13 interceptions in his first four seasons in the NFL. But Ryan is a crafty veteran, who is still effective due to his high football I.Q. and his experience. Ryan has also become a heavy hitter with five of his 13 career forced fumbles coming in the last two seasons in New York, including two this year.
In the last two games Brady has made an errant throw resulting in an interception. Ryan is opportunistic and could make Brady pay with another targeted throw. The ninth-year safety doesn't have a pick yet this season and Brady needs to keep it that way. Ryan has also proven to be an effective blitzer over his career with 12 sacks. That's an area Brady needs to look for when playing his former teammate. After throwing four interceptions in the last two games, although only two were his fault, it's time for Brady to play a clean game at home against a better than average Giants secondary.
ADVANTAGE: Brady
Bucs LG Ali Marpet vs. Giants DE Leonard Williams
Williams is by far the best player the Giants have on defense. He's the fourth-leading tackler with 50 stops and is tied for the team lead with rookie Azeez Ojulari with 5.5 sacks, in addition to a forced fumble and fumble recovery. Williams has the highest Pro Football Focus grade of any defensive player in New York with a 78.3 overall grade and an 82.8 run defense grade. PFF has Williams with 20 pressures and five hits in addition to his sacks. Williams had four tackles and a sack last year in the Bucs' narrow 25-23 win at New York.
Marpet had his worst game of the season at Washington, where he was repeatedly beaten by defensive tackle Jonathan Allen. While he didn't give up any sacks, Allen did beat Marpet to lay big hits on Brady last Sunday. Now Marpet has his hands full against Williams, who recorded a sack against Tampa Bay last year, but it didn't come against Marpet. It's rare that Marpet has two bad games back-to-back, so expect him to bounce back on Monday night.
ADVANTAGE: Push
Tampa Bay WR Mike Evans vs. Giants James Bradberry III
Bradberry was Evans' kryptonite for years when he was a Carolina Panther. The big, physical Bradberry gave Evans fits twice a year in their NFC South showdowns. But Evans finally got the better of Bradberry last year in New York on Monday Night Football with five catches for 55 yards, including a key, 8-yard touchdown in the fourth quarter to finally give Tampa Bay the lead. Bradberry has had a good, but not great year in coverage for the Giants. He does have 10 pass breakups and three interceptions, and will once again provide a formidable test for Evans on Monday night.
Evans has nine touchdowns this year, which leads the Bucs and is second in the NFL behind Cooper Kupp's 10. He's averaging a touchdown per game and is on pace for 17, which would shatter his own franchise record of 13 set last year. Seven of his nine TDs have come at home, including three against Miami in Tampa Bay's last home win. Evans has scored five of those nine touchdowns in the last three games in a row. Look for that trend to continue with another big touchdown from Evans against Bradberry in prime time.
ADVANTAGE: Evans
Bucs WR Chris Godwin vs. Giants SS Xavier McKinney
What makes McKinney a unique strong safety is that he is not just a box defender against the run. He is equally adept in coverage, and at 6-foot, 201 pounds, he has the size to match up with Godwin in the slot. McKinney, a former second-round pick from Alabama, is the Giants' leading interceptor with four picks, including a pick-six, in addition to seven pass breakups. McKinney, who has a 72.6 PFF grade, is emerging into a star defensive back in his second year in the NFL.
Godwin is battling a foot injury and that limited his production a bit in Washington. But with the Bucs likely without Antonio Brown this week, Godwin will need to continue to play big alongside Evans. Godwin leads the team in receptions with 57, which is 16 more than Evans, and has 717 yards to Evans' 606 yards. He's definitely on pace for his second career 1,000-yard season and has four touchdown catches in 2021. The Bucs hope the extra day of rest this week can get Godwin closer to 100 percent by kickoff.
ADVANTAGE: Push
FAB 4. 4 Match-ups To Watch: Bucs Defense vs. Giants Offense
Each week you can find 4 Matchups to Watch on offense and defense in my SR's Fab 5 columns. Tampa Bay's defense underwhelmed in last week's 29-19 loss at Washington. While the Bucs recorded five sacks and one takeaway, it wasn't enough. Tampa Bay's defense couldn't get off the field on a 19-play, 80-yard touchdown drive that consumed over 10 minutes in the fourth quarter. Here are the key matchups to watch on Monday when the Giants have the ball.
Tampa Bay CB Pierre Desir/Sean Murphy-Bunting vs. New York WR Kadarius Toney
Toney, the Giants' first round pick, has good size at 6-foot, 193 pounds and blazing speed at 4.38. The former Florida receiver is an electric playmaker with the ball in his hands. The Giants use Toney the way he was used with the Gators, which was on quick, wide receiver screens in addition to some deep shots downfield. Toney leads the Giants with 28 catches for 352 yards, but is without a touchdown yet. His best game came at Dallas where he caught 10 passes for 189 yards (18.9 avg.). Toney has only caught five passes for 35 yards (7.0 avg.) over the last two games. While he's cooled off a bit, Toney's speed makes him dangerous – especially against a slower cornerback like Desir.
Desir is filling in for the injured Dee Delaney, who filled in for the injured Richard Sherman, who filled in for injured starter Carlton Davis III. That's how far Desir is down the Bucs depth chart. But because of all those injuries, Desir will likely get the start unless Sean Murphy-Bunting is activated from injured reserve and starts instead. Desir has good size at 6-foot-1, 198 pounds, but doesn't have great speed (4.52). That could present a problem on Monday night against Toney, who is both quick and fast. If Murphy-Bunting, who had an INT against Daniel Jones last year, plays, it will be his first game back since Week 1. He will likely be rusty.
ADVANTAGE: Toney
Bucs SS Jordan Whitehead & LB Lavonte David vs. Giants TE Evan Engram
At 6-foot-3, 240 pounds, Engram is more of a big receiver than a traditional tight end. The Giants' first-round pick in 2017 has 4.42 speed, but surprisingly is only averaging 8.6 yards per catch this season. Engram has 26 catches for 224 yards and two touchdowns this season, but has the big play ability to be even more of a vertical threat in New York's offense. Both of those touchdowns have come in each of the past two weeks. His 30-yard TD against Las Vegas is Engram's longest catch of the year. Engram had six catches for 61 yards and a carry for nine yards in last year's game against Tampa Bay.
The Bucs will use multiple defenders to cover Engram, and the most likely are Whitehead and David. Bucs defensive coordinator Todd Bowles seems to trust those two the most in coverage when it comes to matching up with tight ends. David has a pair of pass breakups this season, while Whitehead has three pass breakups and an interception. Engram had a 53-yard touchdown last year and a 75-yard score in 2019, so he's capable of stretching the field vertically. David and Whitehead will have to be physical near the line of scrimmage and not give Engram a clean release.
ADVANTAGE: Whitehead & David

Tampa Bay OLB Jason Pierre-Paul vs. New York LT Matt Peart
Giants left tackle Andrew Thomas was placed on injured reserve with an injured ankle after attempting to play on it last week. Peart, who has started three games at left tackle and one at right tackle, stepped in for last year's first-round pick and gave up four pressures and a sack. Playing in six games this year, Peart has surrendered eight hurries, three sacks and one QB hit. Thomas was the Giants' best offensive lineman before he got hurt and will be missed on Monday night.
It's clear that the torn rotator cuff Jason Pierre-Paul is playing with is hindering his play. Pierre-Paul had just one tackle last week in the loss to Washington and did not play well. The Giants' third-round pick last year is 6-foot-7 and has a great wingspan, but struggles to move laterally. Does Pierre-Paul have enough left in the tank at age 32 playing through injuries to take advantage of that? If JPP were healthy this might be a two-sack game for the veteran. But the shoulder injury has compromised his play and evens things up for Peart.
ADVANTAGE: Push
Bucs OLB Shaquil Barrett vs. Giants RT Nate Solder
Solder was a solid offensive tackle who won two Super Bowls in New England, but he's never been to the Pro Bowl even though he's been paid like a Pro Bowler. He's underwhelmed in New York, and at age 33 he isn't going to get any better. Solder has already surrendered a team-high 27 pressures, including 18 hurries, six hits and three sacks. Ideally the Giants should be starting Peart at right tackle. The team might be doing so if Thomas were healthy enough to resume starting at left tackle. But he's on injured reserve with an ankle injury. Solder has a 55.1 overall grade with a 44.5 pass block grade. Barrett should be able to take advantage of him.
Barrett played so bad in Washington that he did not even record a single statistic outside of one quarterback hit. In order for the Bucs defense to play well, Barrett, who is making an average of $17 million per year, needs to play better. That message was likely sent during the week, and he should rebound with a more robust effort. Solder has struggled this year and Barrett, who hasn't played well the past two games, should have a breakout performance against him.
ADVANTAGE: Barrett
FAB 5. SR's Buc Shots
• BUCS COMING UP BIG IN PRIME TIME: Not only are the Bucs undefeated at 3-0 in prime time games this year, but Tampa Bay's season-opener against Dallas and Week 3 trip to New England were among the most watched NFL games so far in 2021.
Viewership for @NFL games remains strong through Week 10

*16.4 million avg. viewers per game (TV+Digital) — up +8% vs. 2020

*NFL games are 48 of the top 50 shows on TV since the start of the 2021 season pic.twitter.com/jT98Lzm0yc

— NFL Media (@NFLMedia) November 17, 2021
• EVANS IN ELITE COMPANY: Bucs wide receiver Mike Evans will break Mike Alstott's career touchdown record of 71 with one more score. Evans has nine touchdowns on the season, which is an average of one per game. The last time Evans was at Raymond James Stadium he scored three TDs in a 38-3 win against Miami. Six of Evans' nine touchdowns have come at home.
Only 5 players in #NFL history have recorded 70+ TDs and 8,500+ receiving yds through their first 115 GP.#Bucs Mike Evans
#Colts Marvin Harrison (HOF)#Lions Calvin Johnson (HOF)#Vikings Randy Moss (HOF)#49ers Jerry Rice (HOF)

— NFL Stats (@mynflstats) November 13, 2021
• BRADY ON TOP WITH NO. 27: Not only does Bucs quarterback Tom Brady lead the league with 27 touchdown passes after throwing a pair of scores at Washington. He's also accomplished the feat of throwing 27 TD passes in a season more than any other QB in NFL history.
Tom Brady threw his 27th TD pass of the season yesterday, giving him his 14th season with at least 27 TD passes, breaking a tie with Peyton Manning and Drew Brees for the most such seasons of all time (via @Stathead) pic.twitter.com/YPb8UGnmH5

— Tom Brady Facts (@TB_Facts) November 15, 2021
• BUCS-GIANTS PREVIEWS ON THE PEWTER REPORT PODCAST: The Pewter Report Podcast is energized by CELSIUS and broadcasts four live episodes each week. Here is the lineup for next week during Thanksgiving week: Monday night Pewter Pregame show starts at 7:30 p.m. followed by Pewter GameDay at 8:20 p.m. ET and the Pewter Postgame after the game. Then we'll have Pewter Report Podcasts on Tuesday and Wednesday at 4:00 pm EST before taking off Thursday for Thanksgiving. The Pewter Pregame, Pewter GameDay and Pewter Postgame return on Sunday, November 28 at Noon EST prior to Tampa Bay at Indianapolis.
Pewter Report's Ledyard, Scott Reynolds and Kasey Hudson wrapped up the Bucs' disappointing, 29-19 loss at Washington on Sunday night.
Ledyard and Paul Atwal broke down the All-22 film of the Bucs' loss at Washington on Monday to examine what went wrong on offense.
Ledyard and Reynolds previewed the Bucs vs. Giants Monday Night Football game on Wednesday and discussed whether the offense will bounce back.
Ledyard and Matt Matera helped the Bucs fan base cope with back-to-back losses by Tampa Bay with a Q&A therapy session on Thursday.
Watch the Pewter Report Podcasts live on our PewterReportTV channel on YouTube.com and please subscribe (it's free) and add your comments. All Pewter Report Podcasts are archived so you can watch the recorded episodes if you missed them live.
There is no better time to listen to or watch a new Pewter Report Podcast – energized by CELSIUS – than Friday afternoon on the way home from work. Or early Saturday morning during your workout or while running errands.
The popularity of the Pewter Report Podcast continues to grow. In addition to listening to the Pewter Report Podcasts on PewterReport.com you can also subscribe to the free podcasts at PodBean by clicking here and on SoundCloud by clicking here. And of course the Pewter Report Podcast is also available on iTunes and YouTube. Make sure you subscribe so you don't miss a single episode.
• MORE HOT "SAUCE": Cincinnati cornerback Ahmad "Sauce" Gardner is coming off his highest-graded game of the season against USF in Tampa. Gardner had his third interception of the season plus a sack against the Bulls at Raymond James Stadium. You can find those highlights in the highlight reel below, which includes 2020 plays.
Share On Socials