SR's Fab 5 is exclusively sponsored by Edmonson Electric • AC • Security –
the official smart home and security company of PewterReport.com.
For the past 40 years, Edmonson Electric • AC • Security has proudly served central Florida and Bucs fans in the area with electric services and now proud to add state-of-the-art "Smart Home" technology, security systems and air conditioning to its roster. Whether it's surveillance cameras, home theaters, or smart lighting, Edmonson Electric • AC • Security is automating your dream home.
Visit EdmonsonElectric.com to find out more about controlling, monitoring and securing your home or call 813.910.3403 for additional information.
Control. Monitor. Secure.
---
FAB 1. JTS – Learning How To Finish
Bucs rookie Joe Tryon-Shoyinka is out-performing veteran Jason Pierre-Paul as a pass rusher.
There, I said it.
I know that Pierre-Paul is a warrior. He's gutting it out despite playing with a painfully torn rotator cuff in his shoulder. Most NFL players would opt for surgery right away and go on injured reserve.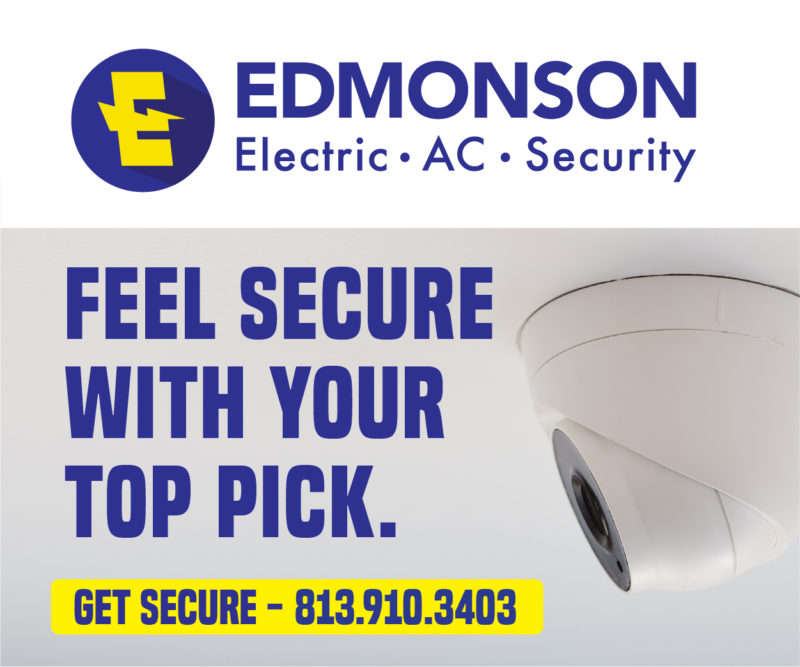 But not the soon-to-be 33-year old Pierre-Paul. Not when his NFL days are numbered. Not in the middle of another Super Bowl run.
Yet the film doesn't lie. The stats are what they are.
Tryon-Shoyinka, the Bucs' first-round pick, has three sacks, five QB hits and 16 hurries, according to Pro Football Focus. That's 24 total pressures.
Pierre-Paul has 2.5 sacks, two QB hits and 16 hurries, according to PFF. That's 21 total pressures.
The only problem is that the Bucs rookie has played just 294 snaps this season, including 90 on run downs and 204 snaps against the pass. Pierre-Paul has played 467 snaps, including 138 against the run and 329 against the pass.
Tryon-Shoyinka has been slightly more productive despite playing 161 fewer snaps than the veteran, including 125 less passing downs.
PFF doesn't keep track of missed sacks, but Tryon-Shoyinka should have more sacks than he currently has. How many?
"Too many," Tryon-Shoyinka said. "I ain't happy about any of them. I ain't happy at all."
JTS should have at least three more sacks by Pewter Report's count. He took a wrong angle when tracking down Miami's Jacoby Brissett – running to where the Dolphins QB was rather than where he was scrambling to. Tryon-Shoyinka also underestimated Brissett's speed.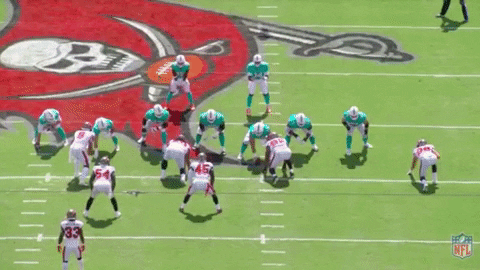 Against the Giants in a 30-10 victory on Monday night a few weeks ago, the Washington product had Daniel Jones in his grasp but let the elusive QB slip away. Look at the polish JTS has in his game at such an early stage of his game, whipping out the push-pull-swim transition to close in on Jones.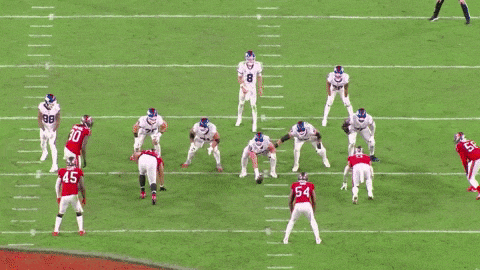 In last week's 30-17 win at Atlanta, Tryon-Shoyinka had a fantastic inside pass rush – more on that in Fab 2. It was an absolutely brilliant move – an athletic move that only a few NFL pass rushers could even make. Tryon-Shoyinka wasn't even set at the snap, then went from the strongside B gap to the weakside A, crossing the center's face and getting by him to close in on Matt Ryan.
He had a point blank read on Ryan on third down – only to miss and watch Ryan complete a pass for a first down. JTS was beside himself after the play.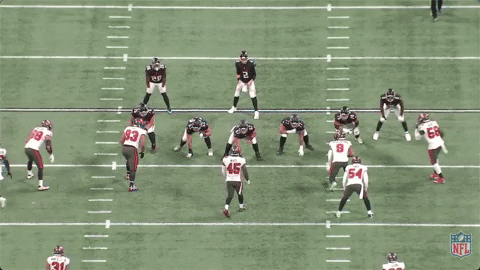 "What was going through my mind?" Tryon-Shoyinka said. "First off, there is no way I just let that happen. The million-dollar move is the hardest move to finish. That's what I am figuring out. You can make the best move, but if you don't finish you're not going to be happy about the result.
"In my head, being able to make that move was cool and all, but I positively impact the team and get the defense off the field if I get him down. That's what I really wanted. But learning the game and learning at this level – there is always room for improvement. Those are definitely learning moments."
So why is the Bucs' talented rookie missing some of these point-blank sacks?
"I'm still trying to figure that out, to be real," Tryon-Shoyinka said. "Because I'm in position. I know all of those plays I'm capable of making. It's just being able to finish. That's really what makes the separation between people in this league. Dudes having multiple-sack games and having double-digit sacks versus not having that. It's being able to finish.
"You're going to get to the quarterback, but they are going to get the ball out. They are going to scramble and get out of your hands. Just being able to finish is probably the hardest part. That's what I'm realizing right now, and that's definitely something I'm working on. I've definitely taken notice of it. In my mind, that's all I'm worried about."
Tryon-Shoyinka sounds believable – in addition to being incredibly humble. He knows what the problem is and he's working to correct it. He wasn't drafted to pressure the quarterback. JTS was drafted to sack the quarterback.
"We've got to be able to finish at the top of the play," Bucs defensive coordinator Todd Bowles said. "We talked about it, and we continue to talk about it and work on it. He understands that. We look forward to that changing hopefully in the near future."
The kid is going to be a fantastic pro. It would be shocking if Tryon-Shoyinka doesn't have Pro Bowl seasons in his future. He's already had a taste of success and wants more.
Tryon-Shoyinka got a cheap sack at Washington on a Taylor Heinicke scramble when the QB ran right at him, but really earned the ones he got in his second NFL start at New England.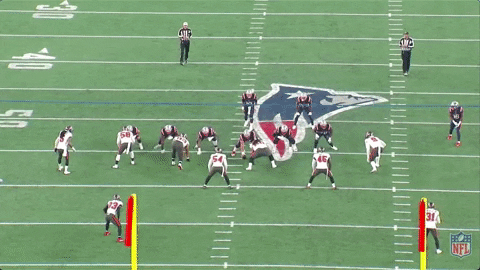 "It felt awesome because when you get that first one you're like, 'finally!'" Tryon-Shoyinka said. "I didn't have to worry about starving for that first one (after that). At the same time you want more. Being able to get multiple sacks in a game – it's funny because at the time I was juiced up and ready to celebrate. But looking back, it was all the work I had put in and it was a culmination of opportunity meeting preparation."
And the fact that Tryon-Shoyinka got those two sacks of Patriots quarterback Mac Jones by running games with fellow Washington alum Vita Vea was all the better.
"Hell yeah!" Tryon-Shoyinka said.
It was nice that Vea's stunt helped JTS get his first NFL sack against New England, because the big, 345-pound nose tackle inadvertently took him out in Week 2 against Atlanta, robbing the rookie of his first NFL sack in that game. You can see Tryon-Shoyinka pound the ground in frustration.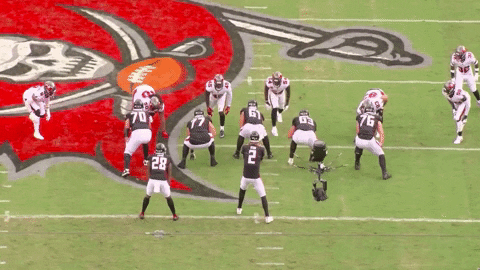 The Bucs already had two former Huskies along the defensive line in Vea and defensive tackle Benning Potoa'e on the roster when they used the 32nd overall pick on Tryon-Shoyinka back in April. Those two Washington products have helped JTS not only make a quick transition to Bowles' defense, but aided his transition as an NFL player in general.
"It's been awesome because I talk to them every day and hang out with them on and off the field," Tryon-Shoyinka said. "Doing all the stuff we did in college. I'm very grateful to have them here."
Despite being a productive rookie, Tryon-Shoyinka saw a season-low eight snaps in Tampa Bay's Week 8 loss at New Orleans. The fact that Bowles only deployed him eight times in that game was criminal.
"Obviously, everyone wants to be out there playing football," Tryon-Shoyinka said. "But at the end of the day, I'm a rookie and I'm here to learn. Snaps help you learn, but sitting on the sideline learning how to play your role also helps as a rookie. I'll never question the coaches about my playing time. They definitely have been doing this for a long time. I'm doing whatever they've got for me. I'm all ears."
Tryon-Shoyinka saw 19 snaps at Washington, where he recorded his third sack of the season. That earned him more playing time over the last three games, including 29 snaps against the Giants, 34 snaps against the Colts and 28 snaps against the Falcons. Although he hasn't recorded a sack, Tryon-Shoyinka has nine combined pressures in those games, including a season-high six against New York.
Many of those recent reps have come inside at defensive tackle in nickel rush situations. So is playing JTS inside stunting his growth as an edge rusher? How does JTS feel about rushing inside? Find out in Fab 2.
FAB 2. JTS – Learning How To Become An Inside Rusher
One of the many talents that three-time Pro Bowler Jason Pierre-Paul brings to Tampa Bay is not just his ability to be a quality edge rusher, but also the ability to be an interior pass rusher in nickel defense. The 6-foot-5, 275-pound Pierre-Paul uses his length, strength, quickness and athleticism inside against overmatched guards and centers to cause havoc on third downs and obvious passing downs – when healthy.
But a torn rotator cuff that JPP suffered in Week 1 has prevented him from rushing inside, where he wouldn't be able to withstand double-teams from guards and centers. So with Joe Tryon-Shoyinka forcing his way into more playing time, Bucs defensive coordinator Todd Bowles has inserted the rookie at defensive tackle alongside Ndamukong Suh or Vita Vea in the team's nickel rush package.
That has allowed Pierre-Paul to stay on the field at outside linebacker and rush off the edge opposite Shaq Barrett. So how has Tryon-Shoyinka felt about being an undersized interior rusher at 6-foot-5, 265 pounds?
"It's been a lot of fun," Tryon-Shoyinka said. "Because I have a lot of great dudes, a lot of veterans like Suh, Vita, JPP and all the dudes that have been doing it and having a lot of success in the NFL. I've got all of them to lean on with all the tips and tricks that they have for me. But at the end of the day, it's still on me. I'm going to soak in all of that knowledge that they give me. But I have to be able to translate that on the field.
"In my mind, playing inside – I love it. I like using my length and being fast and all, but still, I've got to press the pocket more. I have to use more power. That's probably the biggest thing right now."
Playing inside is forcing Tryon-Shoyinka to become a more physical pass rusher, which is a good thing. But is it stunting his growth as an NFL edge rusher? After all, that will be his position when he eventually replaces Pierre-Paul – perhaps as soon as next year.
"Not at all," Tryon-Shoyinka said. "It's just a different mindset. At the end of the day, it's still pass rushing, it's just a different environment. It's not stunting my growth, it's just sharpening a different tool. It has helped my overall feel for angles and pocket presence.
"I'm athletic, so it's just using that inside move and beating them across their face and using my length and getting them off me. I think it's similar to rushing outside, it's just that your angles to the quarterback are different. You are more in his face and he feels you more than on the edge."
The biggest difference that Tryon-Shoyinka has experienced has been the double-teams. He's giving up 50 pounds to most NFL guards and centers already. When they lock him up in a double team, it's over 600 pounds of beef to try and break free from.
But as JTS has learned, he's got to be careful when trying to escape a double-team. Sometimes the best tactic is to take on the double-team and anchor to not give up his gap.
"You don't want to get away from them on some plays," Tryon-Shoyinka said. "On some plays, you have to just sit there and push the pocket. If I have a double-team, I can't just try to move outside and create a big-ass A gap for the quarterback to step in and run through. It's a learning curve. That's what I'm learning right now."
Tryon-Shoyinka played 17 of his 29 snaps against the Giants inside. And the experience of rushing inside has helped him as an edge rusher when it comes to his stunts on games with defensive tackles. See the play below.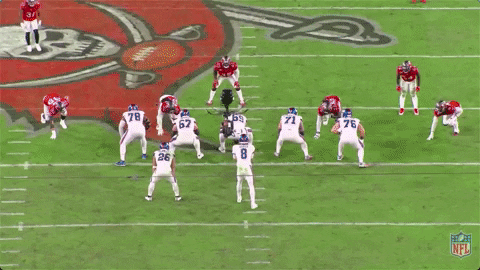 The play below is just an amazing tribute to Tryon-Shoyinka's athleticism, hustle and closing speed. JTS is lined up over left tackle Andrew Thomas but keeps his eyes on Jones as he executes a play-action rollout to get outside the pocket. The rookie goes from the left tackle to outside the right tackle in an instant to create pressure and force an incompletion. Just an amazing sign of what's to come from the Bucs' first-rounder.
With pass-rushing defensive tackles becoming scarce in the NFL these days, the Bucs could draft another edge rusher to help out in the future nickel defense. This might allow JTS to stay inside as an interior rusher, the way Bowles used Pierre-Paul in previous seasons.
The rookie has learned a lot from both Pierre-Paul and Barrett so far this season.
"JPP is just a dog, man," Tryon-Shoyinka said. "He's going to be out there no matter what if he can go. He's a warrior. The way he pass rushes, you can't even explain it, so it's hard to pick up his technique because he's the only one that can do it.
"Shaq is real refined in his pass rush approach. But also, people sleep on his power. That's a great rush for him. He has a really good power move. He's not even the biggest dude, but this dude has a lot of sacks off power. So in my head, I don't really need to be using all the moves. Honestly, power is what sets up a lot of things and a lot of success as a pass rusher."
Tryon-Shoyinka has been gradually learning how to create speed-to-power rushes this season. Here's an example of him working over Rams left tackle Andrew Whitworth from the edge for a pressure that resulted in an incompletion in Week 3. The reps he's had inside have only accelerated that development.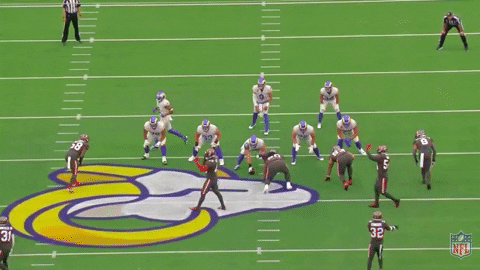 "Yeah, just finish the deal, get him on the ground," Bucs head coach Bruce Arians said. "Don't get thrown off. I think sometimes he comes in a little high. You can't hit them low and you can't hit them high. It's just learning that strike zone and then getting a big quarterback on the ground and finishing the deal. He's doing a heck of a job as an interior pass rusher because of the games and his speed. When he loops around, that's a fast dude coming around on those stunts, and that's helping Suh and Vita also."
With five more games, Tryon-Shoyinka has more sacks to collect this year. His speed and athleticism will be instrumental against Buffalo's mobile quarterback Josh Allen this Sunday. Whether it's generating pressure from the inside or on the edge, the key for the Bucs rookie will be to wrap up and seal the deal.
FAB 3. 4 Match-ups To Watch: Bucs Offense vs. Bills Defense
Each week you can find 4 Matchups to Watch on offense and defense in my SR's Fab 5 columns. Tampa Bay's defense recorded five sacks in Atlanta in the Bucs' 30-17 win. The defense will need to produce a similar amount of sacks to keep Josh Allen from having the freedom to run or complete throws on the road. Getting a couple of turnovers would help, too. Here are the key match-ups to watch on Sunday when the Bills have the ball.
Bucs QB Tom Brady vs. Bills FS Jordan Poyer
Poyer has the highest Pro Football Focus coverage grade of any Bills defender with an 89.1 grade. He's Buffalo centerfielder more often than not when the defense is in Cover 3 or Cover 1 man under. Poyer leads the team with five interceptions and eight pass breakups. He's squared off against Brady since joining the Bills in 2017, so the two know each other after playing in the AFC East together twice a year. Poyer is also no slouch in run defense, either.
Brady is one of the best in the league when it comes to manipulating safeties with his eyes. When attacking the sidelines he'll often stare at the free safety, holding him in place in the middle of the field while allowing the routes to develop. Then he'll fire the pass before the safety has time to react. Where Brady must be careful is hitting Rob Gronkowski and Chris Godwin over the middle, making sure his passes don't sail overhead and into Poyer's waiting arms. Brady is having an MVP-caliber season at age 44 and is literally on top of his game – and the NFL – with 34 touchdown passes so far.
ADVANTAGE: Brady
Tampa Bay WR Chris Godwin vs. Buffalo SS Micah Hyde
Hyde is one of the most versatile defensive backs in the NFL. At 6-foot, 197 pounds, Hyde can cover and support the run equally well. He's just below Poyer in terms of his PFF coverage grade at 88.1. Hyde has seven pass breakups, three interceptions and a forced fumble on the season. He'll be charged with guarding Godwin in the slot for some of the time, and will also match up with Gronkowski on occasion when he's lined up in the slot.
Godwin is coming off a career-best 15-catch, 143-yard performance at Atlanta. The 15 receptions was a single-game franchise record. Playing on the franchise tag, Godwin is having a career year. He'll have to use his speed and size to break away from the physical Hyde in coverage. Look for Godwin to get his targets on Sunday, but given the Bills' excellent pass defense, he certainly won't catch 15 passes and may not top 100 yards, either.
ADVANTAGE: Push
Bucs TE Rob Gronkowski vs. Bills LB Matt Milano
Milano is one of the most unheralded linebackers in the NFL, but he's also one of the best. The third-leading tackler in Buffalo with 67 stops, Milano has three pass breakups, two fumble recoveries and a sack – showing his versatility as an every-down linebacker. Milano is a much better coverage linebacker than fellow starter Tremaine Edmunds and will be charged with covering Gronkowski on those vertical routes down the seam.
At 6-foot-6, 265 pounds, Gronkowski has a huge size advantage over Milano, who is 6-foot, 223 pounds. With long arms, Gronkowski has a huge catch radius, which will make things tough for Milano in jump-ball situations. Since returning from his broken ribs, Gronkowski has caught 17 passes for 252 yards and two touchdowns in the last three games – making a big impact in each one. Look for that trend to continue against Buffalo, a team Gronkowski knows well from his days in the AFC East.
ADVANTAGE: Gronkowski
Tampa Bay RT Tristan Wirfs vs. Buffalo DE Gregory Rousseau
Rousseau, the Bills' first-round draft pick, has been a starter at left defensive end opposite veteran Jerry Hughes. He's got three sacks on the year, but none in the past seven games. Rousseau wins as a pass rusher with his length, as he's 6-foot-6. But he'll have a hard time getting around Wirfs, who is 6-foot-5, 320 pounds. Rousseau also has an interception and 41 tackles on the season, but seems to have hit a rookie wall.
Wirfs, who is in his second season in the NFL, has established himself as one of the best tackles in football. He's surrendered just one sack this season and only two since entering the league as the Bucs' first-round pick in 2020. Rousseau doesn't appear to be much of a threat as a pass rusher, as he's logged just five pressures in the last five games combined. Wirfs' dominant play will continue on Sunday against Buffalo.
ADVANTAGE: Wirfs
FAB 4. 4 Match-ups To Watch: Bucs Defense vs. Bills Offense
Each week you can find 4 Matchups to Watch on offense and defense in my SR's Fab 5 columns. Tampa Bay's defense recorded five sacks in Atlanta in the Bucs' 30-17 win. The defense will need to produce a similar amount of sacks to keep Josh Allen from having the freedom to run or complete throws on the road. Getting a couple of turnovers would help, too. Here are the key match-ups to watch on Sunday when the Bills have the ball.
Bucs OLB Joe Tryon-Shoyinka vs. Bills QB Josh Allen
Allen is the highest-graded Bills offensive player – and for good reason. He's a rising star in this league. He's thrown for 26 touchdowns and just 10 interceptions this season. With five games left, Allen has a chance to surpass his career-high of 37 TD passes from a year ago. What makes the 6-foot-5, 237-pound Allen even more dangerous is his ability to keep the play alive behind the line of scrimmage or scramble for first touchdowns or touchdowns. Allen has 422 yards rushing and three touchdowns this year, while averaging 5.6 yards per carry.
Tryon-Shoyinka will be one of several Bucs defenders to try to corral Allen. The Bucs rookie will see some snaps coming off the edge, as well as inside at defensive tackle as an interior rusher in nickel defense. Tryon-Shoyinka has the speed and athleticism to track Allen down and sack him. All he has to do is wrap up and finish the job. The Bucs' first-round pick has three sacks on the season, but has missed several sacks as well. When JTS has a chance to take Allen down, he can't miss this week.
ADVANTAGE: Allen
Tampa Bay CB Carlton Davis III vs. Buffalo WR Stefon Diggs
Diggs was a Pro Bowler last season, leading the league with 127 receptions for 1,535 yards and eight touchdowns. The 6-foot, 191-pound receiver plays bigger than his size. He's got 71 catches for 898 yards (12.6 avg.) and seven touchdowns on the season. Diggs is tough to defend and makes the Bills' passing game go. He hasn't had a 100-yard game since eight catches for 162 yards and a TD against the Jets in a 45-17 win a month ago. He's due for another big game.
Davis, the Bucs' top cover cornerback, returned to action last week after missing over a month with a quad injury. While he had a few rough snaps, Davis had three pass breakups, including a near interception in the fourth quarter. Bucs defensive coordinator Todd Bowles will try to match up Davis on Diggs as much as possible. He could even have Davis, who usually plays left cornerback, travel with Diggs across the field. Davis had a bit of rust in his game last week that he'll need to have shaken off by the time he plays against Diggs.
ADVANTAGE: Push
Bucs CB Jamel Dean vs. Bills WR Gabriel Davis
While Diggs is Allen's primary go-to receiver, Davis is the seldom-used deep threat. With Diggs, slot receiver Cole Beasley and veteran Emanuel Sanders, Gabriel gets the leftovers in the passing game. But with Davis, who played collegiately at UCF in Orlando, he could be in for a big game because he's talented. Davis averaged 18 yards per catch last year as a rookie while catching eight touchdowns. He's averaging 17.1 yards per reception this year and has three TDs on the season.
Dean has had a couple of rough weeks with a shoulder injury and a concussion. But when he's been healthy, Dean's play has been as good as ever. This year he's developed a consistency that the Bucs have been waiting for. Dean has won the outside cornerback position over Sean Murphy-Bunting opposite Carlton Davis III. If he's ready to play on Sunday afternoon, Dean will have to use his speed and length to match up with the 6-foot-2, 210-pound Davis.
ADVANTAGE: Dean
Tampa Bay ILB Lavonte David vs. Buffalo TE Dawson Knox
Knox is yet another weapon in the Bills' diverse passing attack. The 6-foot-4, 245-pounder is more of a receiving weapon than he is a blocker. He's caught 33 passes for 429 yards this year, which is a career-high. Knox has the speed to get deep and is averaging 13 yards per catch. He had three catches for 117 yards and a touchdown against Kansas City. Knox's seven touchdowns is tied with Diggs for the team lead this year and he's proven to be a reliable red zone target.
David is one of many Bucs defenders that will be charged with covering Knox in Tampa Bay's zone coverage. The Bucs will use safeties Andrew Adams and Antoine Winfield against Knox on occasion, and possibly slot cornerback Sean Murphy-Bunting, too. But David has a history of being a reliable cover linebacker and has erased his fair share of tight ends. David needs to lock down Knox, especially in the red zone.
ADVANTAGE: David
FAB 5. SR's Buc Shots
• TRYON-SHOYINKA WITH THE FORKLIFT: Bucs rookie outside linebacker Joe Tryon-Shoyinka has shown incredibly polished moves for such a young NFL player. One of his many moves was on display in Atlanta when he used what's called "the forklift" to stone a Falcons tight end at the line of scrimmage, win the D gap and stuff running back Mike Davis for a minimal gain. The forklift is a move used by defensive linemen to grab the hand of an offensive lineman or tight end, raise it above his head so he loses leverage.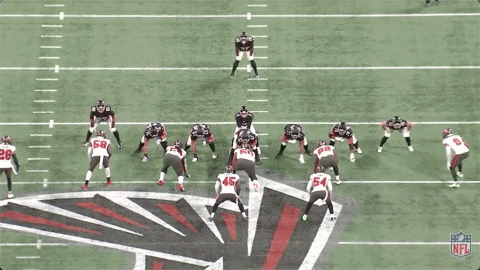 "I learned that from my coach in college," Tryon-Shoyinka said when asked about his forklift move. "He taught us little tips and tricks from when he played defensive line. It's just in my head. His hand was there so I just applied pressure and lifted it up. It's a great move."
• PLAYOFF LENNY CONTINUES: Tampa Bay running back Leonard Fournette has been on quite a tear since becoming "Playoff Lenny" last January during the Bucs' playoff run. Quite impressive numbers over the last 16 games.

Fournette last 16 games beginning with last year's playoffs: 1515 all purpose yards with 13 total TD's. Also surprisingly has 76 receptions during that stretch. Keep feeding Lenny!!

— Jeremy Stoeckel (@JeremyStoeckel) December 7, 2021
• BRADY'S ON ANOTHER LEVEL THIS YEAR: Hand Tom Brady the NFL MVP this year. Brady has a league-leading 34 touchdown passes in addition to a rushing touchdown. That's more than several teams this year.
Tom Brady has 35 total touchdowns this season.

That's more than these teams:
– GB
– BAL
– CLE
– SEA
– MIA
– LV
– WFT
– DEN
– NYJ
– PIT
– ATL
– CAR
– CHI
– DET
– JAX
– NYG
– HOU

He leads the league in passing yards and TDs.

🐐 44 years old
🐐 22nd NFL season@brgridiron pic.twitter.com/CFqPOeHCgW

— Bleacher Report (@BleacherReport) December 6, 2021
• BUCS-BILLS PREVIEWS ON THE PEWTER REPORT PODCAST: The Pewter Report Podcast is energized by CELSIUS and broadcasts four live episodes each week. The Pewter Pregame show for the Bucs vs. Bills game starts at 3:30 p.m. ET prior to the 4:25 p.m. ET kickoff with Pewter GameDay. The Pewter Postgame podcast follows at 8:00 p.m. ET. Then we'll have Pewter Report Podcasts on Tuesday, Wednesday and Thursday at 4:00 pm EST previewing the Bucs vs. Saints game next Sunday.
Jon Ledyard and Scott Reynolds discussed the situation at safety on Monday when news broke that Richard Sherman might be cross-trained at safety.
Ledyard and Reynolds broke down the upcoming Bucs vs. Bills game and looked at several key match-ups.
Ledyard, Josh Allen and Kasey Hudson discussed the Bucs players that could and should make the Pro Bowl this year.
Watch the Pewter Report Podcasts live on our PewterReportTV channel on YouTube.com and please subscribe (it's free) and add your comments. All Pewter Report Podcasts are archived so you can watch the recorded episodes if you missed them live.
There is no better time to listen to or watch a new Pewter Report Podcast – energized by CELSIUS – than Friday afternoon on the way home from work. Or early Saturday morning during your workout or while running errands.
The popularity of the Pewter Report Podcast continues to grow. In addition to listening to the Pewter Report Podcasts on PewterReport.com you can also subscribe to the free podcasts at PodBean by clicking here and on SoundCloud by clicking here. And of course the Pewter Report Podcast is also available on iTunes and YouTube. Make sure you subscribe so you don't miss a single episode.
• UPDATED BUCS RANKINGS: The Athletic's Greg Auman summarized the Bucs offensive and defensive rankings at the three-quarter mark of the 2021 season. Tampa Bay is the only team that is currently averaging over 30 points per game. The Bucs are averaging 31.4 points per game. The Bills, who are this week's opponent, rank fifth in scoring, averaging 28 points per game.
Updated offensive rankings for Bucs: 1st in scoring offense, 2nd in total offense, 1st in passing, 25th in rushing, 1st in sack %, 7th in interception %, 3rd on third down, t-5th in red zone.

— Greg Auman (@gregauman) December 7, 2021
Updated defensive rankings for Bucs: 10th in total defense, 16th in scoring, 2nd vs. run, 20th vs. pass, 13th in sack %, 7th in interception %, 24th on third down, 12th in red zone.

— Greg Auman (@gregauman) December 7, 2021
Share On Socials