Jameis Winston doesn't discriminate when it comes to spreading the ball around.
At least, that's what he'll tell you.
Outside of Mike Evans, who will likely always see the most targets because, he's Mike Evans, it is well documented that Winston has an affinity for his tight ends.
Since his days at Florida State Winston has used his sure-handed tight ends as his safety blanket. When Winston took the reins of Jimbo Fisher's offense in Tallahassee, that tight end was Nick O'Leary. Over two years Winston connected with O'Leary for 14 touchdowns, transforming O'Leary from an underutilized weapon into a fan favorite.
His penchant for looking for his tight ends has carried over into the NFL and continues to be successful. Last year, Winston connected with Cameron Brate for a league-leading eight touchdowns. Brate also posted a career high 660 yards receiving working with Winston.
Fast forward to 2017 and the third-year signal caller is in tight end talent heaven with Brate and first round pick O.J. Howard. After a slow start to this year's campaign, Winston's connection with his tight ends was on full display against the New York Giants. Brate and Howard combined for six receptions, 143 yards receiving and two scores.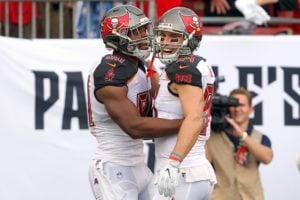 The rookie Howard opened his NFL account on a scoring play that might have looked familiar to viewers. That's because he's done it before. Howard scored on a similar play months earlier in the college football National Championship. Howard himself was reminded of the play when he found himself wide open close to the Buccaneers sideline.
"Same side of the field, up that same sideline," Howard said. "It was like déjà vu. It was a great feeling, just as the one in January was. I was really excited about it."
Quarterback Jameis Winston was looking forward to getting Howard, a fellow Alabama native, his first touchdown in the pros.
"I told O.J. at the beginning of this week, 'you're from Alabama. If you don't give me a touchdown, we're going to have some problems," Winston exclaimed. "He went out there and executed. That is what he does. He is getting better every single week."
Head coach Dirk Koetter shared the excitement and looks forward to more of the same from his first round draft pick.
"Shoot, if we can get him that wide open for a touchdown every game that would be beautiful," Koetter said. "It's pretty cool to get the first touchdown of your career like that. A long one like that where you're wide open. I'm happy for O.J. He's got a lot more in him."
While Koetter will certainly be looking forward to more of the same from the rookie, what he got out of Cameron Brate was business as usual. The Harvard product is picking up right where he left off last season with two scores already in the bag in just three games. Along with his touchdown against the Giants, Brate converted a crucial third down that lead to the game winning field goal. The aforementioned play was one that the team had never formally practiced, showing the confidence Dirk Koetter has in not only his quarterback, but the trusty tight end.
"It's a play that we never really practiced," Koetter said. "We practiced parts of it, we just haven't practice that part. Jameis and Cam have practiced that part. That particular one fit in the concept because those guys have practiced it. They told me it was game ready, so we let it rip."
It's not often that a head coach in the NFL has enough trust in two players that he tells them to let it rip on an unpracticed play. Even Brate was a bit taken back by the amount of trust his head coach put in him with the gutsy play call.
"Coach shouted a play that I don't think we have ever ran before," Brate said. "We've talked about it earlier in the week, but to call it with a minute left on third-and-one shows a lot of trust in me and Jameis. It was pretty awesome that we came through for us."
As surprised as Brate might have been, the clutch nature of comes as no surprise to Winston, who will be the first to tell you that Brate is the hardest working player on the team.
"Me and Cam work on everything," Winston said. "It's just a testament to how hard he works. Coach Koetter – when it's time to make a play – he can call it. He can call it with the best of them. Shout out to him. Cam is consistently working hard every single week. He's the last one off the field. It's a blessing that he got that pass."
Winston and his shiny new dynamic duo will look to continue their success on Thursday night against the defending champion New England Patriots, a team that is no stranger to including tight ends in their offense.
–Story written by Austin Dewitt