With Tom Brady in hand for the next year or two, is there a young developmental quarterback that the Bucs could draft in the mid-rounds that fits Bruce Arians' system?
That's one of the many questions we attempt to answer in this week's Bucs Briefing, as we break down three prospects the team is likely to consider in the first, second and third rounds of the 2020 NFL Draft.
Remember, Bucs Briefing is NOT meant to be viewed as a comprehensive mock draft. I'm simply evaluating three different prospects in three different rounds that Tampa Bay could be interested in, with the hopes of having eventually covered the three players they will eventually draft. The three players I'll break down below aren't meant to be viewed as a three-round mock.
Today's first-round pick forces us to face a scenario where four tackles are likely off the board, resulting in a quandary for the Bucs. If they choose to select my fifth-ranked offensive tackle, here's what they'd be getting at No. 14:
Round 1, Pick 14
Josh Jones, OT, Houston
Height: 6-5
Weight: 320
Class: Junior
D.O.B.: 6/21/97
Statistical Profile: Jones has started every game he's played in over the past four years at Houston, amassing 45 starts after his redshirt season in 2015. Every start came at left tackle.
Scouting Jones: Jones' detractors point to his unorthodox pass sets and wonder how he'll acclimated to a totally different caliber of pass rusher in the NFL. These questions are very fair, and it is undoubtedly the difficulty in evaluating Jones, or any other non-Power 5 offensive lineman.
The good news about Jones is that while he certainly has some room to grow in his footwork, his tape is about as dominant in pass protection as one can be, and that's been the case going back the past two or three seasons. The redshirt senior just hardly allowed a dent in his four seasons as a starter, locking down the left side with excellent hand usage, a strong anchor and the ability to mirror pass rush counters with smooth feet.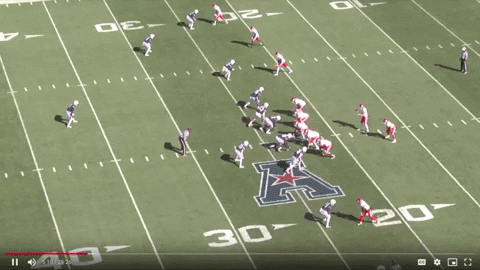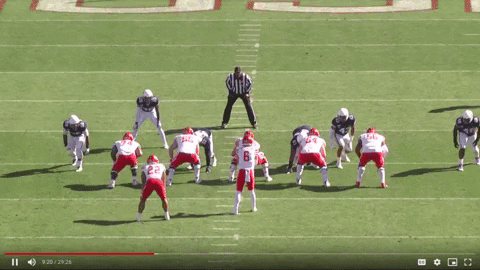 Jones is an average athlete with about average length for the tackle position, so it's fair to wonder how he'll match up with some of the best athletes in the world at the next level (edge defender is one of the most athletic positions on a NFL field). While we obviously can't say for certain, the best barometers we have are the top teams Jones has played, Oklahoma and Washington State, and the fact that he was completely dominant against both of them.
Granted, neither of those Power 5 teams are boasting elite edge rushers, but the Senior Bowl had a few, and Jones was easily the best offensive tackle there. He won far more than he lost, and he did so even while seeing a few reps at guard and a good chunk at right tackle – two spots he didn't play while at Houston.
josh jones is on another level

— Austin Gayle (@PFF_AustinGayle) January 23, 2020
Another thing to consider about Jones when we talk about how his footwork needs to improve in pass protection: he's not starting from square one and he doesn't have a big false step or other bad habits. He takes real pass sets on tape, it just doesn't happen all the time and the Senior Bowl revealed situations where he may need to set a little deeper against speed rushers.
ANOTHER Josh Jones highlight💪 pic.twitter.com/F9oWst7lQ0

— PFF Draft (@PFF_College) January 23, 2020
Anae's cross chop beat Josh Jones. This Utah edge rusher has had a nice week, he's more ready to impact than some edges getting more hype pic.twitter.com/qG8lS6SFic

— Jon Ledyard (@LedyardNFLDraft) January 24, 2020
First rep is against a power rusher, which Jones handles with ease. We've still gotta see how he handles some of the Gumby-style long arm rushers he'll see in the NFL, but Jones drops anchor against bull rushes and shuts down the majority of inside moves.
The second tweet shows where some of the concerns exist, as Jones short set Utah's Bradlee Anae and was beaten around the edge as a result. When you short set you often end up reaching to stop guys' up-field momentum, rather than moving your feet to obstruct their path. Jones will need to grow in that area moving forward.
One of my favorite things about Jones is that he plays with a nasty edge to his game, a demeanor that would suit him well even if he gets moved inside at the next level. Jones plays so under control and smooth that you almost sleep on his power, but it's there in droves, especially considering he's a non-Power 5 tackle. He doesn't play with consistent enough leverage in the run game to be considered a "people mover," but he still generates enough movement to open holes and seal off rush lanes.
If Austin Jackson gets drafted before this man, we riot (LT #74) pic.twitter.com/n7Zhis8zHG

— Jon Ledyard (@LedyardNFLDraft) February 21, 2020
Jones is also a savvy pass protector, often using snatch-and-trap moves and swatting down rushers hands with a quick swipe to knock them off balance. He's great at throwing a faux punch out there to draw out his opponent's hands first, allowing Jones to then go on the offensive.
The risk with Jones is real in that he's going to see a significant uptick in competition level and his technique does need improvement. But his balance, body control, strength, hand usage and smooth movement skills should project just fine to the NFL. Remember, almost all rookie offensive tackles struggle early in their careers as starters. It's a huge leap for all of them. But Jones has the traits, mentality and enough technique and athleticism that he should become a strong starter at the next level.
Bucs Fit: The Bucs' biggest concern with drafting Jones is likely whether he could play right tackle or not. He looked comfortable enough at the Senior Bowl to believe he can make the transition, but the sample size is pretty small.
If the Bucs determine he can, is he worth the 14th overall pick? Even as a Jones fan, that's a little rich for my blood. I would understand the move and it could work out fine in the end, however there is a decent amount of projection to his fit in Tampa Bay that makes me a little wary. Ideally, the team could trade down a few spots and select Jones, but that's tough to do with some offensive tackle-needy teams close behind the Bucs, starting at No. 18 in Miami.
Share On Socials