PewterReport.com analyzes the top players in the 2022 NFL Draft with its' position previews. Matt Matera keeps things rolling by previewing the tight end position, with a comprehensive look at what the Bucs have and what they need at tight end. Matera also provides a detailed list of this year's top tight ends. In addition, Scott Reynolds offers up the team needs and the annual PewterReport.com Bucs' Best Bets – the most likely tight end for the Bucs to select in Rounds 1-3, and in Rounds 4-7.
What The Bucs Have At Tight End
Tight end might be the biggest need in Tampa Bay due to the current state of the depth chart. The Bucs have just two tight ends on the roster in veteran Cameron Brate and Codey McElroy. Brate has been a big contributor and part-time starter for years, but turns 31 in July. His play has been on the decline the last couple of years and the team needs a youth movement at the position, especially after moving on from O.J. Howard. McElroy is 29 and has spent years on the practice squad developing. But what's his ceiling – TE3?
Of course the Bucs would love to re-sign starter Rob Gronkowski, but he remains uncommitted to playing football right now. If he returns in 2022 it would be to Tampa Bay for another season with Tom Brady. But at age 33, Gronkowski might not be re-signed until after the draft. He's busy preparing for his big Gronk Beach party in Las Vegas during draft weekend. Gronkowski likely wants to skip OTAs, so if he does return he could sign with the Bucs in time for the mandatory mini-camp in June or training camp in late July after some more time off.
What The Bucs Need At Tight End
The Bucs have a big need at tight end. Not just for another body or two to fill out the depth chart, but also for a future starter once Gronkowski retires or moves on in 2023. There are several quality tight ends in this year's draft, but mostly players that could be ideal No. 2 tight ends. Colorado State's Trey McBride has the best chance of becoming a legit starting caliber tight end. The Bucs have shown a lot of serious interest in him in the pre-draft process.
It wouldn't be far-fetched to see Tampa Bay actually draft a tight end early and then use one of its two seventh-rounders on another one. There are a decent amount of interesting Day 3 prospects that could be added for depth to compete with McElroy. If Gronkowski and Brate are gone after 2023 and McElroy doesn't pan out, the Bucs would as many as three more tight ends to fill out the depth chart next year. Why not start that process early and team two rookies with Gronkowski and Brate for a year?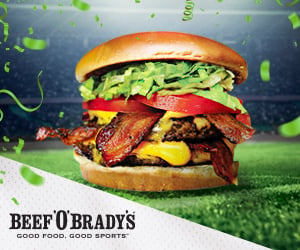 PewterReport.com's 2022 NFL Draft Previews + Bucs' Best Bets are presented by Beef 'O'Brady's – Good Food. Good Sports.
Visit BeefOBradys.com to place your order for Draft Weekend! From to-go to full-on catering – make it Beef 'O' Brady's. Visit any of the 45 Tampa Bay area Beef 'O' Brady's locations. See you at Beef's!
Top Tight Ends In 2022 NFL Draft
*Important Note: These players are NOT listed in the order of Pewter Report's ranking for them. Rather, the numbers are provided to show you the rough order in which we expect them to come off the board during the draft.
1. Colorado State TE Trey McBride – Senior – 6-4, 246, 4.56
Depending on who you ask, McBride is the best all-around tight end of this group. Coming from a smaller school in Colorado State, he's benefitted from performing well at both the Senior Bowl and NFL Combine. McBride came from a very run-heavy offense, so you know he's willing to get a hat on a hat and accomplish the job. His willingness to block, and block impactfully comes as a positive to any team, especially the Bucs. He only had one touchdown in his last year of college football, which could alarm some. But I'd chalk that up to the offense he was playing in. McBride won the John Mackey award as the nation's most outstanding tight end.
McBride showed his receiving prowess with a great week of practice at the Senior Bowl. He matched his production of touchdown receptions by scoring in the game. Also, McBride was near the top of all tight ends with a 4.56 in the 40-yard dash. McBride has great instincts as a player, which is why he still played special teams even as a senior. He's a reliable blocker and very capable of making tough catches as well. McBride had 90 receptions for 1,121 yards and a score last season.
2. UCLA TE Greg Dulcich – RS Junior – 6-4, 243, 4.69
As far as receiving tight ends go, Dulcich is the best of the group. He's as athletic as they get, with good speed going down the field. I enjoy watching him make defenders miss once he has the ball. Dulcich has a very sizable catch radius and can be a threat in the passing game. He was a two year starter for UCLA, where he excelled as a pass catcher.
The problem is – despite his long arms, he doesn't have a large frame. This hurts him as a blocker where he is considered shaky at best. There's no strength there to hold off defenders. If he could improve as a blocker at all, Dulcich could make a case as the best tight end on the board. He caught 68 passes for 1,242 yards and 10 touchdowns in the two seasons he was a starter. Dulcich was first-team All Pac-12 as a redshirt junior last year.
3. Washington TE Cade Otton – RS – 6-5, 247, DNP
Jason Licht has a history of drafting Washington players at defensive line. Would he do it on the other side of the ball? Otton has an old school look to him since he doesn't wear any gloves. He's a steady blocker who's efficient taking on a defender. But he will need to upgrade his footwork. Otton isn't a bad receiver by any means, but isn't the most athletic. He could use a little more work on his route running. Otton is able to adjust comfortably to make receptions away from his body. On top of that, he performed well making important third and fourth down receptions. You'll always want someone you can rely on for that.
He started all four years for the Huskies. As a sophomore, he had his best statistical year by recording 334 yards on 32 catches and two touchdowns. His best year came a season later, despite only having four games due to a COVID season in 2020. Otton made the most of it by racking up 258 yards with 18 receptions and three touchdowns. The 14.3 yards per reception was the highest of his career. The next year wasn't as much of a success, as he recorded just 250 yards on 28 catches and a touchdown in eight games. It's surprising that he had eight less yards in double the contests. Otton also missed two games that year after going on the COVID list, and another two from a foot injury.
4. Ohio State TE Jeremy Ruckert – Senior – 6-5, 252, DNP
Ruckert is the toughest player to figure out due to the amount of years as a starter, limited production and the talent around him. Ruckert started for only a season at Ohio State. He was the number one ranked player coming out of Long Island, New York. Then, of the entire country, he was second among all tight ends. Ruckert got his reps as a senior starting in 11 games and playing in 13 of them. Because of the extremely talented Buckeyes' roster, he was more of a fourth option. He caught 26 passes for 309 yards and three touchdowns.
It feels like there's a lot more meat left on the bone for Ruckert. He gets real physical at the line of scrimmage and shows a willingness to do it. Don't overlook his receiving skills either if he becomes more of a focal point. He's quicker than you think and can make the important catches in tight spots. Ruckert has solid hand-eye coordination to go with good size and power.
5. Virginia TE Jelani Woods – Senior – 6-7, 253, 4.61
The height and length stand out first when you're talking about Woods. But he also led all tight ends in the bench press at the NFL Combine with 24 reps. Woods is a former high school quarterback that was mainly a blocking tight end at Oklahoma State. He then transferred to Virginia as a senior, where he started forming as a receiver. There's still a lot of raw talent with him. His size makes him a capable blocker and he's good with the ball in his hands.
As far as route running, there's a lot more to go. Woods is still new at the position and needs to pick up on things. In his best year as a receiver, he put together 598 yards on 44 catches and 12 touchdowns. He produced more that season than his other three previous years combined. It would be intriguing to have the Bucs take a look at Woods as a player that could continue to develop and work with.
6. Iowa State TE Charlie Kolar – RS Senior – 6-6, 252, 4.62
I like Kolar's game as a receiver. I thought he performed well at the Senior Bowl just behind McBride out of all tight ends. Kolar makes the important contested catches and can win one-on-one against defenders.
He's not the most athletic, but has solid ball skills. He didn't run at the Combine, however his 4.62 Pro Day 40-time would have tied him for third among tight ends. Kolar really needs to improve as a blocker. He can line up in the slot to contribute on offense as well.
7. Wisconsin TE Jake Ferguson – RS Senior – 6-5, 250, 4.81
Ferguson is more of a block first type of tight end. He is the grandson of former Wisconsin head coach and athletic director, Barry Alvarez, a legendary figure at Wisconsin. An aggressive blocker, Ferguson is physical from the get-go. He stays on his defender and is powerful in the run game. He has the right mind for it at the next level. Ferguson can help out in the pass game with his sure handedness.
You might not see too much athleticism, but he can make tough catches. Through four years, Ferguson recorded 145 receptions, 1,618 yards and 13 touchdowns. I can see Ferguson landing as a day three pick to the Bucs and helping in a small role to fill out the depth chart.
8. San Diego State TE Daniel Bellinger – Senior – 6-5, 253, 4.63
Solid blocking mixed with average receiving skills is what you'll get from Bellinger. While lacking explosiveness, Bellinger is able bodied enough to get open and make some plays on intermediate routes. He's good at the point of attack when blocking, though he needs to improve on technique. Bellinger accumulated 771 receiving yards on 68 catches and five scores.
He continued a nice senior year at San Diego State by making plays at the Senior Bowl and winning offensive practice player of the week honors for the American team. Bellinger is still young at age 21 and showed maturity as a team captain. He'd be a good addition to locker room morale. 


Best Of The Rest
9. Virginia Tech TE James Mitchell – Senior – 6-4, 249 – DNP
A former high school basketball player, Mitchell used that playing experience to have above average body control as a tight end. He can be used in many different ways on offense thanks to his athleticism. Unfortunately, Mitchell suffered a torn ACL early in the season, forcing him to play in only two games. He had plenty of signs of continued improvement as a sophomore and junior, averaging over 400 yards and over 21 receptions that year. That includes six touchdowns.
Mitchell needs to clean up a lot of areas with his blocking. At the end of the day, a lot will depend on how he recovers this offseason. He was a team captain for the Hokies, showing he has leadership qualities. The Athletic's Dane Brugler has Mitchell going in the fourth or fifth round in his "The Beast" NFL Draft guide projections.
10. Coastal Carolina TE Isaiah Likely – Senior – 6-4, 245, 4.82
Likely started his college career off well by leading the team in touchdowns as a freshman with five. He got incrementally better each season, capping a senior year off with 59 receptions for 912 yards and 12 touchdowns. Likely has a lot of athleticism and a propensity to score. One of those scoring plays included a 99-yard touchdown.
I also enjoy his ability to go up and track the ball. He can make plays for you, but needs to bulk up and play more physically if he wants to be consistent. Likely is a two-time All-Sun Belt recipient, a finalist for the John Mackey award and second-team All-American. But small and slow is a bad combination for a tight end who can't block. Likely's 4.82 pro day 40 time could have him falling down boards on draft day.
11. Nevada TE Cole Turner – Senior – 6-6, 249 – 4.76
Turner has great size and catching ability. He's better off lining up off of the line of scrimmage. Leverage has been an issue because of his size, and he's not going to get by most defenders with any type of speed or route-running ability. Turner can win battles as a receiver. It's the blocking part that won't help him play. I didn't see much from him at the Senior Bowl either.
Turner was able to get two years of starting experience with Nevada. In that time he scored 19 touchdowns, caught 111 passes and had 1,282 yards.
12. Maryland TE Chigozeim Okonkwo – Senior – 6-2, 238, 4.52
Okonkwo has potential as a receiver, but would have to pick it up as a blocker. He was the fastest of the tight ends in the 40, running at 4.52 at the Combine. Okonkwo also showed great vertical ability as an option in the passing game. He'll need to add more size to his frame if he wants to hold his own as a blocker.
Okonkwo knows how to persevere as well. Following a stat line of 19 catches for 201 yards and two touchdowns in 2019, he missed all of 2020 with a medical injury. During his senior year in 2021, Oknokwo bounced back by doubling his production and putting together 447 yards on 52 catches and five scores.
13. Nebraska TE Austin Allen – RS Senior – 6-8, 253, 4.83
Allen is another tight end with a huge frame. The size pops out at you first, so there's hope that he can progress into a better blocker. At the moment, pad level has been an issue. Allen isn't the fastest moving player on the field, but he has enough acceleration to contribute on a roster.
Allen played all four years and was a starter for three of them at Nebraska. He compiled 65 catches, 975 receiving yards and three touchdowns. As a senior, his accolades included getting named team captain and winning Big Ten tight end of the year. He left his stamp on the Cornhuskers' history books with 602 yards, the most ever in a season from a tight end.
Bucs' Best Bets: Tight Ends
Bucs' Best Bet – Rounds 1-3: Colorado State TE Trey McBride

The Bucs love McBride. The team did a formal interview with him at the NFL Scouting Combine and had him in for a Top 30 visit. And what's not to love? McBride led all tight ends with 90 catches for 1,121 yards and a touchdown last year. He earned the John Mackey Award as the nation's top tight end. Then he finished off his collegiate career with another touchdown in the Senior Bowl. McBride finished his four years with the Rams with 164 catches for 2,100 yards and 10 touchdowns. The 6-foot-4, 246-pounder is one of the fastest and most athletic tight ends in this year's draft with a 4.56 time in the 40-yard dash. That speed showed up in eight games in which posted 100 yards receiving or more.
McBride is also an effective and tenacious blocker in the run game. His serious, no-nonsense love of football and humble, hard-working Midwestern attitude made him a two-time team captain. He's definitely a Tampa Bay target in the second round, and don't rule out the Bucs taking him late in the first round, either. McBride would be a big-time contributor as a rookie and the ideal candidate to replace Rob Gronkowski as the starter in 2023.
Bucs' Best Bet – Rounds 4-7: Washington TE Cade Otton

NFL scouts have mixed reviews on Otton, as he is projected to be drafted anywhere from the second to the fourth round. Some teams view him as the second-best tight end after McBride, while other teams likely have him somewhere between No. 5-10 on their draft boards. Otton is a big-bodied tight end with a 6-foot-5, 247-pound frame. He has good, but not great hands, and good, but not great speed. Otton is coming off ankle surgery from last November and wasn't able to run for scouts this offseason. The tape shows a player that has enough speed to create some separation, but not enough speed to get yards after the catch.
Otton caught 91 passes for 1,026 yards (11.3 avg.) and nine touchdowns in his four years at Washington. He's a decent in-line blocker, but wins more with body positioning than with brute force or strength in the run game. The Bucs had him in for a Top 30 visit prior to the draft. Either he or Jelani Woods could be a fall-back option in case Tampa Bay misses out on McBride. Otton could be drafted in the third round, but his lack of elite tools makes him a better value in the fourth round if he's still available.
Check out Tuesday's episode of the Pewter Report podcast where Jon Ledyard, JC Allen and Matt Matera went in-depth on the tight end draft class. We discussed which player the best fit for the Bucs and what round is the right time to make a selection for a potential future starter.
Share On Socials