A lot has been made about the Bucs' lack of success on deep passes in recent weeks, for good reason as Tom Brady's adjusted completion percentage on deep balls has dipped to 36.2 percent, per Pro Football Focus. In my column this week I want to look at why exactly the deep ball has suddenly gone wrong for Tampa Bay and Brady.
I didn't feel like looking back at the Saints game as a meaningful example, because that game is an outlier, a contest where nothing in any fashion went well for the Bucs. So I'll look at how the deep ball has fared against the Carolina Panthers and the Los Angeles Rams over the past two games.
There's been a lot of talk about what the issues are, whether it's the game plan, the play calling or Tom Brady's accuracy, and I believe that there is blame to be placed on each.
Head coach Bruce Arians' offense can be an impatient one, one that wants to take shots and move down the field in chunks. This results in an offense that ranks sixth in the NFL with 29.1 points per game and 10th in the NFL with 2.53 points per offensive drive despite ranking 21st with just 33.41 yards per drive, 26th with 5.97 plays per drive and 20th in drive success rate – the percentage of series of downs that result in a first down or touchdown. Brady also ranks seventh in deep ball percentage and fifth in intended air yards per attempt with 8.7, trailing only Drew Lock, Carson Wentz, Kirk Cousins and Russell Wilson, per Pro Football Focus.
This means that the Bucs are often working with a mix of good field position thanks to the Bucs' defense – Tampa Bay currently has the sixth-best starting field position in the NFL – and short drives, regardless of whether those drives result in a score or a punt.
And Arians' offense isn't changing for anyone, as much as people want to assume that Brady has his hands all over the game plan. The offense isn't even changing for the team they're playing that week, as Arians said himself after the Bucs' loss to Los Angeles on Monday night.
"I think each and every week's different," Arians said. "Right now it's just about trying to win a ball game, it's not about what's best to beat this next team. It's not about, 'Hey Byron [Leftwich], have the whole offensive playbook in,' and all this and that. It's just take this game plan and try and win this week and we'll worry about all that next year."
This makes Tampa Bay's offense extremely volatile, putting up massive point totals against more susceptible defensive units in Green Bay, Las Vegas and Carolina, and reliant on good match-ups against opposing defenses that are weak against what the Bucs strive to do.
This is reason to believe why Tampa Bay – averaging 29.1 points per game throughout the season, as previously mentioned – has averaged an extremely contrasting 17.25 points per game in four contests against the Saints, Rams and Bears, all teams that rank within the league's best 10 scoring defenses.
In addition to ideological issues that lie within the Bucs' scheme, some of the fault on deep ball success lies within the execution from Brady and Leftwich.
Brady started the year strong, with 16 "big time throws" in the first four games of the year, per PFF. Then, between Week 5 and Week 9, Brady connected on just three of his 28 passes that traveled over 20 yards in the air, with all three of those completions coming against Las Vegas in Week 7 and no completions on six deep attempts with an interception in the Bucs' second match-up with New Orleans.
Brady improved in Week 10 against Carolina, completing eight passes for 156 yards and a touchdown on passes 10+ yards down the field, but still missed multiple deep shots that you would expect the 21-year veteran to hit.
The first big miss against Carolina came on first-and-10 in the first quarter, when Antonio Brown split the deep safeties down the seam and Brady overthrew his newest receiver. Perhaps an issue of chemistry is still being worked out as Brown runs his route farther to the boundary side of the field than Brady was anticipating, leaving the ball too far inside on an otherwise well-placed pass. Brady missed Brown on another vertical route against Los Angeles that went off of his fingertips.
Later in the contest, Mike Evans gets past his defender and it results in another very open opportunity for Brady as the single-high safety is pulled toward the vertical route from Rob Gronkowski. Brady once again fires too far for his intended target and the Bucs would eventually settle for a field goal on the drive.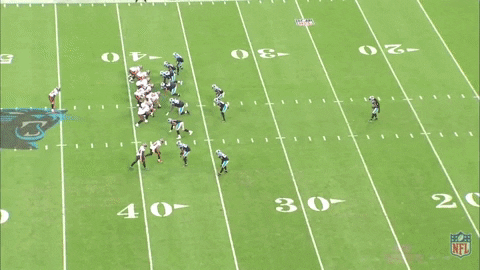 And on Brady's third miss of the day, a chemistry issue is far from a possible problem. As Tampa Bay runs two vertical routes on the outside and a deep curl over the middle of the field on second-and-19, which draws the deep middle defender from Carolina and allows Gronkowski to split the two deep safeties. And for the third time in the contest, on the same drive as the miss to Evans, Brady misses an open touchdown after being forced out of the pocket due to pressure.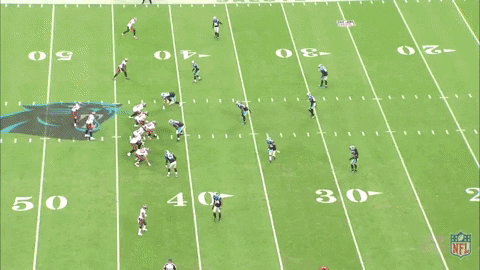 These are the plays that Tampa wants to hit in their offense. The Bucs had a huge day against Carolina, but there are shot plays that need to connect from Brady as the candle burns down on the regular season.
Then finally, there comes play-calling.
While the plays above opened up against a defense like Carolina, it didn't quite work the same way against a Rams defense that held Brady without a completion and forced two interception on six deep attempts. Again, reliance on match-ups.
The Bucs are seemingly willing to throw the ball deep in nearly every situation, from first-and-10 to manageable down and distances like third-and-6, but I've noticed two very unique distinctions about their play calling when going deep. First, the Bucs refuse to throw the ball on second-and-1 unless they're on the opposing goal line.
Tampa Bay has faced second-and-1 six separate times this season outside of goal-to-go situations. Of those six times, Tampa Bay has run the ball five times, with their lone pass coming on a 15-yard completion to O.J. Howard in Week 1. There's something to be said about running the ball in pass-friendly situations, but when you never pass the ball on second-and-short in an offense with such a propensity for throwing the ball deep, they become wasted opportunities.
The second glaring issue that I've noticed is the route combinations on their deep shots.
The Bucs' first deep attempt against Los Angeles came on third-and-10. In a 2×1 formation, Tampa Bay ran three vertical routes all designed for a deep pass, with just one route aimed at just getting the Bucs past the sticks for a conversion, a check-release route from Gronkowski that couldn't even develop before pressure was on Brady. Luckily the Bucs were able to draw a pass interference penalty that kept the drive moving.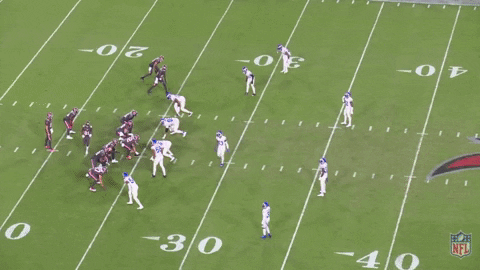 Later in the half, the Bucs ran a nearly identical route combination, and Brady had no choice but to make a tough pass to a covered Evans that eventually sailed out of bounds to avoid a possible turnover, leading to second-and-10.
And just before half, driving down the field in a two-minute drill with the game tied 14-14, Tampa Bay repeated a similar route combination for a third time, this time with Godwin running a post.
The biggest difference in this third attempt is how the Rams defended it. After seeing Brady throw toward Evans twice already on similar plays, the deep safety nearly came up with an easy interception as he read Brady's eyes, recognized the route and broke on the ball perfectly for a near interception.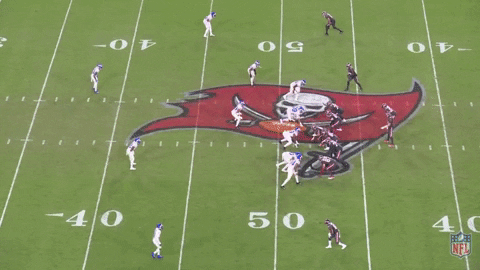 From a play-calling perspective, Tampa Bay must make changes that give Brady a better chance to succeed on deep passes, especially when facing a defense that counters deep attempts as well as the Rams do with such talented cornerbacks in zone defense.
Looking at examples from when Buffalo took on Los Angeles in Week 3, where Josh Allen made three "big time throws" on the day, the Bills took advantage of pre-snap motion, misdirection and play action to isolate receivers for deep balls.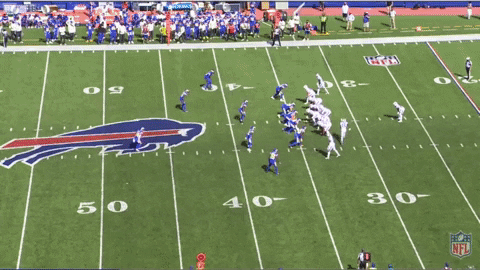 And in a number of cases where Allen was able to find receiver Cole Beasley down the field, finishing the game with 100 receiving yards on six receptions, the Bills used complimentary route combinations with three receivers to one side of the field, designed to spread out the Los Angeles defense and ultimately get a receiver free in coverage.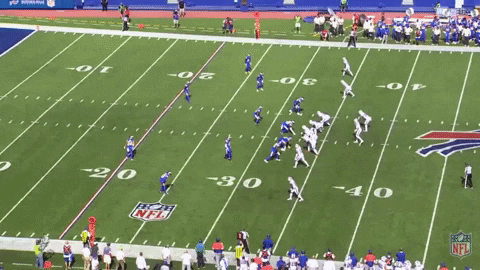 So while many of the Bucs' woes throwing the ball deep lately have been blamed on a scheme that doesn't fit Brady's strengths or Leftwich's play-calling or Brady's accuracy, we can see that there is some blame that falls on all parties involved. And as the season winds down and the playoffs grow closer, the Bucs will have to make adjustments offensively if they truly want to make a deep playoff run in 2020.
Share On Socials