In 65 snaps this season, Bucs safety Mike Edwards has played better than any safety in the entire NFL. Re-read it, digest it, pray about it, but understand that it is true.
It's not hyperbole. Obviously sample size matters immensely, but in the 65 snaps that he has played, I can poke zero holes in Edwards' play. He's been unbelievably instinctive in coverage, he's taken away all big plays in his zone, he's consistently made game-changing plays on the football and he's tackled extremely well.
As much as the Bucs love Jordan Whitehead and Sean Murphy-Bunting, and as good as Antoine Winfield has been at free safety this season, Tampa Bay is doing a disservice to their own team if they don't find a way to get Edwards on the field on close to a full-time basis.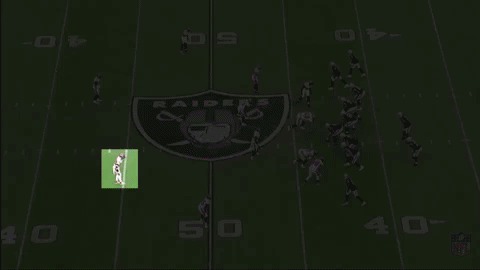 It was tragically negated by an offsides penalty on Shaq Barrett, but Mike Edwards' third quarter interception of Derek Carr is one of the best plays you'll see all season. From a two-high alignment the Bucs safeties work off the hashes to their respective sides, but Edwards recognizes there are no threats in his area, so he takes off to rob the post route from the trips side of the field (I plan to ask defensive coordinator Todd Bowles about this play on Thursday, if possible).
That's an incredible read, angle and jump on the ball, and it denotes the game-changing ability we've seen from Edwards all season long. He's intercepted two passes, had the aforementioned pick erased by a penalty, and made one of the best plays of the year by a Bucs defensive back when he jumped a Nelson Agholor dig route and deflected a pass that ended up in Winfield's arms for a game-sealing turnover.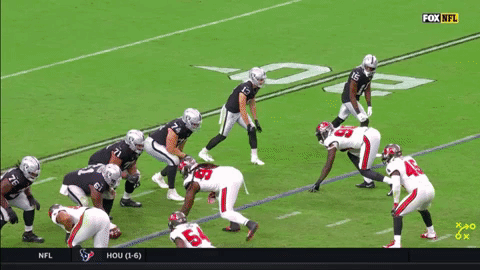 According to Pro Football Focus, when you remove a minimum snap count filter, Edwards is the highest graded defensive player to take a snap in the entire league this season. Obviously he is unlikely to maintain that ridiculous level of play over a larger sample size, but Edwards offers all of the most important traits you can ask for in a free safety, especially given the way he's playing this season. Ball skills, instincts, route recognition and range are all there, and Edwards is also tackling much better when given the opportunity to do so this year.
Edwards has surrendered just a single six-yard completion this season against Denver, a play on which he made an excellent open field tackle short of the sticks. It's a small sample size of just three targets, but when you combine his 2020 tape with an excellent training camp and the struggles of some other members of the Bucs secondary, it is easy to see why Edwards needs to be on the field.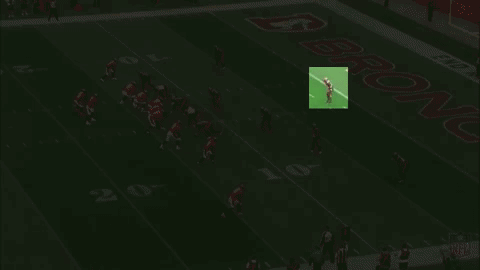 There are two aspects of evaluation in choosing who should man the top 4-5 defensive back spots for an NFL team on Sundays: finding the 4-5 best players and finding the 4-5 best players that fit the specific strengths of each position.
The first part should be relatively simple for defensive coordinator Todd Bowles and cornerbacks coach Kevin Ross to figure out. This season and most of last season (for those who were on last year's roster), the Bucs best four defensive backs are Carlton Davis, Jamel Dean, Antoine Winfield and Mike Edwards. Two of those four are not currently "starting" although Dean sees the field a lot because nickel is such a prevalent defensive package in today's NFL.
From a pure talent and execution standpoint, the Bucs have better options than Sean Murphy-Bunting and Jordan Whitehead already on their roster, and they aren't using them enough. I've already written extensively about Whitehead's significant limitations in coverage, but allow me to pontificate on Murphy-Bunting's struggles for a moment.
Pro Football Focus has Murphy-Bunting as one of the lowest-graded starting cornerbacks in the league this season, and if you've watched him play, that shouldn't be a surprise. After an encouraging Week 1 performance against the Saints, Murphy-Bunting has been the most consistent weakness on the Bucs defense, getting gashed for several big plays and a pair of touchdowns. PFF has the second-year cornerback targeted 35 times and allowing 32 completions for 369 yards, and Sunday against the Raiders might have had some new low points.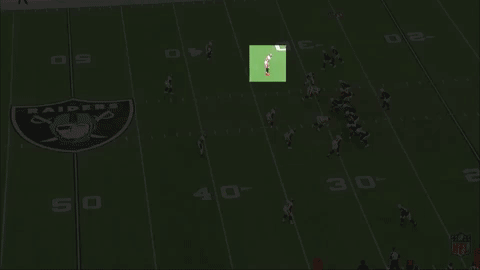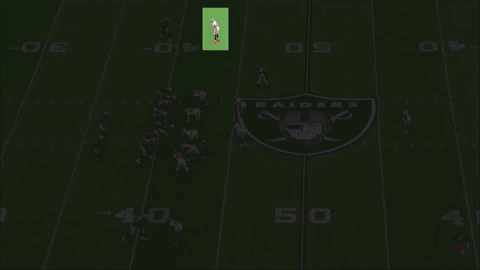 Two different plays, but the issues are the same. SMB is simply playing way too fast and not processing or using his technique consistently enough. He's over-aggressive to get over the top of both of these routes as the receivers break, allowing them to double move back in the opposite direction and leave Murphy-Bunting grasping at air. The Central Michigan product needs to play with more measured patience as a defender, both in his footwork and in his hand usage.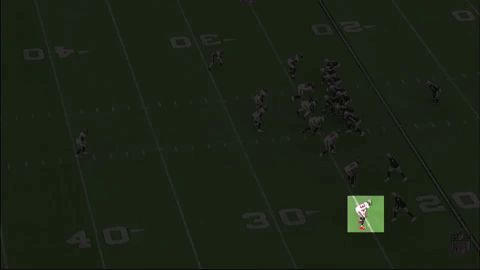 Murphy-Bunting is in fine position here, he doesn't need to grab Henry Ruggs as the receiver breaks. He might surrender some separation, but he can close that with a little route anticipation and good footwork to breakdown and accelerate back to the ball. Because Murphy-Bunting's technique isn't good enough, he's struggling to play in man coverage without getting beaten or being penalized.
Over the past six games, there really hasn't been a redeeming quality with Murphy-Bunting. He's been consistently beaten in man and zone, given up big plays, given up touchdowns, has just one pass-breakup on the season and has missed five tackles while looking pretty shaky on a handful of other attempts. Everything is moving too quickly for SMB, who looks overwhelmed in all phases right now.
Meanwhile, Dean has blossomed despite giving up a big pass play to Agholor on Sunday. Pro Football Focus has Dean graded as the second-best cornerback in the NFL this season after Green Bay's Jaire Alexander, with five pass breakups and one interception. Dean has been a dominant cover man in his second season, while also being an elite tackler and excellent run defender.
If Murphy-Bunting's struggles continue, the Bucs should look at shuffling their secondary more dramatically. In base 3-4 alignments, Davis and Dean as the outside cornerbacks with Edwards at free safety and Winfield at strong safety would allow them to get their best four defensive backs on the field. In nickel looks, Winfield could step into the slot while Whitehead plays strong safety, and Murphy-Bunting remains on the sideline as the backup outside cornerback.
These personnel groupings would allow the Bucs to do a few things that could make their defense even more effective and even less predictable than it has been so far this season.
With Edwards and Winfield on the field together, you have two safeties who are capable of playing deep, in the box or in the slot. This allows for late safety rotations and more disguised coverages because the two players are truly interchangeable. Whitehead currently plays all over for the Bucs as well, but he simply isn't very good at roles outside of box play against the run and blitzing. In nickel Whitehead still may be their best option at strong safety, or Winfield could be a more versatile strong safety with more man coverage ability, allowing Murphy-Bunting to be a flexible slot that could even kick back to safety at times.
Some may question how Winfield would handle the positional switch, but he has plenty of experience playing around the line of scrimmage, and he's already an excellent blitzer. His physicality and sound tackling should bode well against opposing rushing attacks, allowing the Bucs to keep the traits they love in Whitehead on the field while adding more athleticism and much better coverage ability.
Relegating Murphy-Bunting to at least slot-only duties would put Dean on the field 100 percent of the time, which is a big step in the right direction for the Bucs defense. While Dean does see the field a lot because of how often the Bucs are in nickel, Murphy-Bunting has still out-snapped him by 100 plays this year. That's 100 plays the Bucs could have had better play at one of their outside cornerback spots, but didn't.
Again, I know the sample size is small with Edwards, but he's been so elite this season that he deserves the opportunity to start until he proves incapable. Playing defense in the NFL in 2020 is about creating splash plays and eliminating splash plays from the opposition, and Edwards has done both as much as almost any player on the team despite playing a fraction of the snaps compared to his teammates.
The Bucs can win with Murphy-Bunting and Whitehead on the field, but with the options they have behind them, why are they trying to? Dean and Edwards have proven to be two of the best playmakers on the Bucs defense. Continuing to play them less than their struggling positional counterparts may not bite the Bucs in the backside against teams like the Giants this Monday Night, but with a treacherous 4-game stretch looming against New Orleans, Carolina, Kansas City and the Los Angeles Rams, Tampa Bay would be wise to get their top talent on the field.
Share On Socials