Tampa Bay safety Chris Conte is one of the most misunderstood Buccaneers on the roster. Unfairly compared to former Bucs safety Sabby Piscitelli because of the physical resemblance, Conte hasn't exactly been a fan favorite in Tampa Bay because of a reputation that followed him from his days in Chicago. But his pick-six against the Bears last year was the catalyst for a defensive turnaround that fueled the Bucs to a 6-2 finish and a 9-7 record. Tampa Bay fans began to really appreciate Conte's play when his end zone interception at Kansas City in the fourth quarter led to Tampa Bay's comeback win at Arrowhead.
Conte was re-signed to a two-year deal in the offseason as the Bucs chose him over Bradley McDougald, who signed with Seattle in free agency. While newcomers J.J. Wilcox and Justin Evans, the team's second-round pick, will provide competition, Conte enters training camp as the starting free safety next to strong safety Keith Tandy, who was tied for the lead in interceptions with four. Now it's up to Conte to keep the rookie and the former Dallas Cowboy at bay.
It's been a busy this offseason as Conte and his girlfriend, former Buccaneers Cheerleader Stephanie Everett, are expecting a child and he bought a house in Tampa where they plan to call home after his football career is over. But with the offseason in the books and training camp is here, follow Conte on his journey to improve as a player, keep his starting job and help get the Bucs into the playoffs in his Training Camp Diary on PewterReport.com.
SO I HAD TO GET IN HIS FACE
By Chris Conte as told to Mark Cook
Cincinnati was our first time putting it all on the field, traveling and going through all the pregame warmups. So it was kind of just like a rehearsal for the regular season. That is kind of what that game is. You don't even have a full game plan in as far as your whole defense installed. You aren't running everything you would be if it were a regular season game. You aren't prepared for all the situations that would come up. It is truly a practice run and first time for all the guys to go through it.
The first teams didn't play very much but to come out with a turnover was good. It was good experience that we can learn from going forward. There were a lot of things we didn't do well, a lot of things we need to work on, but it is to be expected in your first preseason game. I am looking forward to playing Jacksonville. I think we know there are things we have to get better at and the starters are going to play a lot more this week and that gives guys more chances to make plays and to work on things we need to get better at before we play that first game against Miami.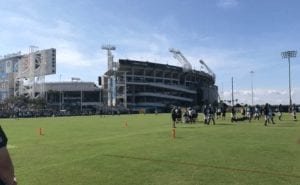 Practicing against Jacksonville this week was a good experience for everyone on the team for the two days. it kind of sucks leaving Tampa and spending a whole week in a hotel where you are away from everything, and it is unfamiliar territory for everyone, but it was good for us, and we got a lot out of it. Going against a different offense that is going to try and attack you in different ways and to see different people. Overall it was good for us.
As the week went on I think our defense played pretty well as a whole. We did some good things in practice. But there are times when you aren't going against your own teammates where guys will get a little frustrated. We had a red zone period on Tuesday where it started getting a little heated between guys. Things happen in football. Sometimes people get hit a little bit too hard, or someone feels like they are getting grabbed or held. Guys are competing hard and some of their offensive guys were getting frustrated and started shoving and different things, and that led to guys on our team, myself included, not really wanting – we are not going to just let that stuff happen. So one of their receivers started shoving me after a play so I had to get in his face and then both teams got together. Then the next play one of their players took a swing at one of our guys. But those are the things that happen on he field. Especially as a long week goes on. You are going against them and little things can happen and tempers flare.
As far as this preseason, I think in this defense communication is extremely important and everyone has to be on the same page. The goal is to always to get better and it takes time in this defense. We want to start this season off strong and not have that lull and slow start like last year and same issues. We have had more time in this system and we want to pick up where we were late last season as a defense.
Follow veteran Buccaneers free safety Chris Conte on Twitter at @WhiteUnicorn23.

Be sure to visit PewterReport.com multiple times throughout the day during training camp for new stories and updates from practice live from One Buccaneer Place, and follow us on Twitter at @PewterReport.
7-28 Conte's Bucs Training Camp Diary: I Was Really Impressed With Jameis
7-30 Conte's Bucs Training Camp Diary: We Have Some Real Playmakers On Offense
8-3 Conte's Bucs Training Camp Diary: DeSean Is Motivated; Hard to Stop

8-6 Conte's Bucs Training Camp Diary: Home Field Advantage
 8-10 Conte's Bucs Training Camp Diary: Let's Play A Damn Game Already
Share On Socials